She-Hulk: Attorney At Law Trailer: She's Jacked, She's Green, She's Coming To The Small Screen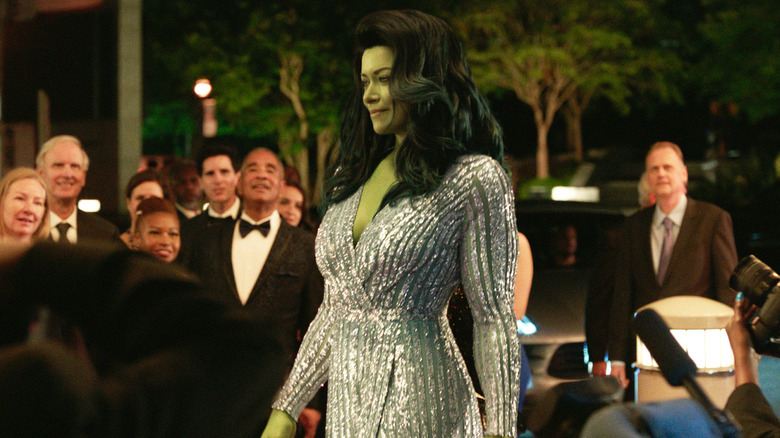 Disney+/Marvel Studios
We're seemingly more than half-way into Phase 4 of the Marvel Cinematic Universe, and so far, it's been a bumpy ride. Between sprawling multiverse adventures and films that make Choices with a capital "C," Phase 4 has arguably split the masses more than any other era in the mega-popular franchise to date. On the flip side, this period has seen the House of Ideas take bigger swings with "Eternals" and "Moon Knight," and the recently-concluded "Ms. Marvel" currently ranks as the property's highest-rated title ever on Rotten Tomatoes (and rightly so).
Up next is "She-Hulk: Attorney at Law," another MCU project that also seems to be making Choices™, for better or for worse (fingers crossed, for better). The series once again finds "Orphan Black" star Tatiana Maslany playing several roles, albeit this time in a more figurative sense. Maslany stars here as attorney Jennifer Walters, an Ally McBeal type who's wisely chosen to specialize in cases involving super-powered individuals in a world where city-leveling superhero conflicts are a common occurrence. What's more, she can turn into She-Hulk, a 6-foot-7-inch tall, green, super-strong being who's capable of fighting the battles Jennifer simply cannot.
With the premiere date for "She-Hulk" coming up quickly, Marvel Studios and Disney have dropped a new trailer at Comic-Con to try and further hype the series. You can check it out below.
Watch the new She-Hulk trailer
The most effective MCU projects are the ones that feel like the result of a team of artists trying to put a unique and imaginative spin on the franchise, be it the neo-realist touches in "Eternals," the action-horror vibes of "Moon Knight," or the Generation Z stylings of "Ms. Marvel." In the case of "She-Hulk: Attorney at Law," Tatiana Maslany described the MCU series to Empire Magazine as a "really absurd take on a legal show." Maslany also said she looked for inspiration from the cult Scottish musician and trans artist Sophie (per their reps, Sophie preferred not to use gendered or non-binary pronouns at the time of their death in 2021):
"I always come back to Sophie, who's this amazing trans artist who unfortunately died last year. What I love about Sophie's music is this combo of organic and electrical, industrial-type sounds that felt connected to She-Hulk."
It's worth noting "Ally McBeal" itself could often be what many would consider a "really absurd take" on the idea of a legal TV show, which only makes the comparisons to "She-Hulk" more apt. Despite some wonky visual effects (a recurring issue in Phase 4 that has less to do with the skills of the MCU's VFX teams and more to do with Disney and Marvel Studios' impractical demands), the quirkier elements in the series' trailers similarly point to "She-Hulk" having some personality to go with the usual MCU tropes. Hopefully, that will come through in the actual show, but best to keep your seatbelt buckled for the time being — the turbulence in Phase 4 may be far from over.
"She-Hulk: Attorney at Law" debuts August 17, 2022, on Disney+.