Game Of Thrones Author George R.R. Martin Was Left Out Of The Loop During The Later Seasons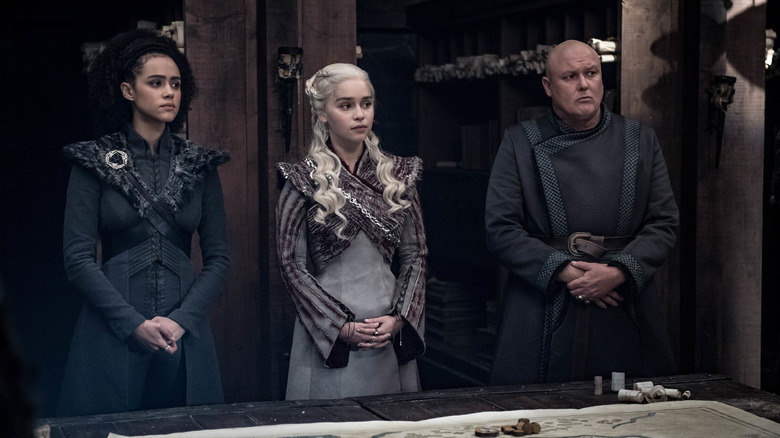 HBO
George R.R. Martin created one of the most cherished fantasy worlds in history with "A Song of Fire and Ice," the series of novels that ultimately inspired HBO's "Game of Thrones." For several years, there were few things in pop culture that could compete with the show as it became a true global phenomenon. Yet the eighth season of the show notoriously dropped the ball with fans and tarnished its reputation irrevocably. While correlation doesn't always equal causation, it is worth pointing out that Martin had almost no involvement in the show's last several seasons.
Speaking with the New York Times recently in anticipation of "Game of Thrones" prequel series "House of the Dragon", Martin said to the outlet that "By season 5 and 6, and certainly 7 and 8, I was pretty much out of the loop." The author also didn't have a good answer for why he was cut out, saying, "I don't know — you have to ask [showrunners] Dan [D.B. Weiss] and David [Benioff]."
It is important to note that the show moved beyond Martin's books in the later seasons, as the most recent entry in the saga, "The Winds of Winter," is still awaiting publication. Martin has said repeatedly his ending will differ greatly from the show, but in any event, it seems Benioff and Weiss became less interested in Martin's input once they moved beyond his source material.
Probably not a great idea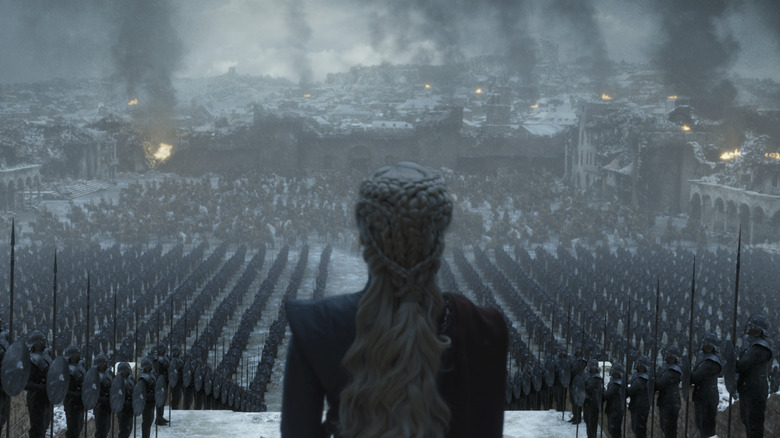 HBO
As stated, "Game of Thrones" season 8 was nothing shy of a disaster in the eyes of many fans. The series had been at the forefront of the conversation in pop culture and had the chance to cement its legacy as one of the greatest shows of all time, right alongside the likes of "Breaking Bad" and "The Sopranos." Instead, now a few years removed from the show's finale, conversation about it still generally results in head-shaking from fans and little enthusiasm.
It would be difficult to argue that Benioff and Weiss stuck the landing, even though there are certainly viewers out there who will defend those final episodes. One has to imagine that if Martin had the opportunity to provide some input during those final seasons, things might have concluded differently. Would that version of revisionist history have turned out better? It's impossible to say, but it's hard to imagine it could have gone worse in terms of overall public perception.
Distanced no longer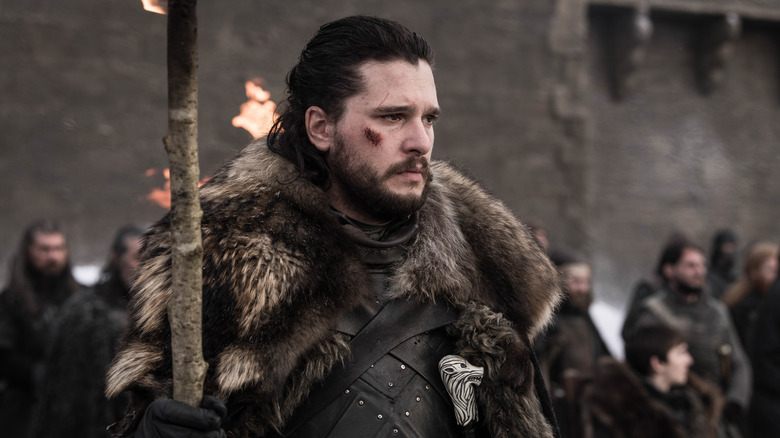 HBO
The good news for fans is that we have much to look forward to. There are several "GoT" shows in development right now, including both the upcoming Targaryen prequel "House of the Dragon" and a Jon Snow spin-off. One thing is for certain: HBO won't be making the same mistake twice. Casey Bloys, HBO's Chief Content Officer, explained in the same NYT piece that Martin is a valuable resource for the next era of the franchise. "George, for us, in this process has been a really valuable resource," he said. "He is literally the creator of this world. He is its historian, its creator, its keeper. And so I can't imagine doing a show that he didn't believe in or didn't endorse."
So, come what may, the future of "Game of Thrones" will be tied to Martin's creative input. He is not going to be boxed out again. Or, at the very least, not in the early going for these various shows. We'll see what happens when/if they get to eight seasons.
"House of the Dragon" arrives on August 21, 2022.