Game Of Thrones' Final Season Seemed 'Designed To Break' The Cast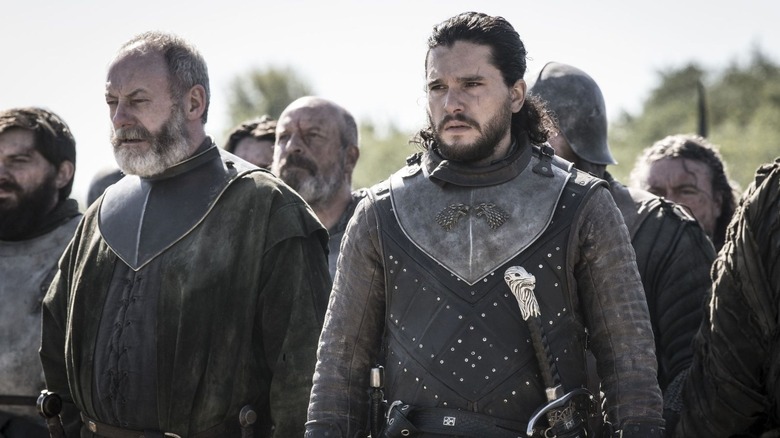 HBO
Every few years, a television show comes and takes over the world, dominating pop culture and media discourse unlike anything we've seen before. "Game of Thrones" has been a global phenomenon since it first premiered in 2011 — until its eight-season run culminated in 2019. 
Despite its rather laborious ending, "Game of Thrones" created a world that was impossible to navigate, one that was imbued with texture and realism in great detail against a rich tapestry of fantasy elements. The world-building draws you in from the beginning as you dive deeper into the meticulous, political, power-hungry world of Westeros. A show of such nature and cinematic scope is not easy to make, and to wrap the story in a fitting, deserving way is a challenge that is much harder than it may seem. It's no wonder several "Game of Thrones" cast members have confessed that the last season drew from their strengths, exhausting them in the process. In fact, two cast members have inferred that the final season of the HBO series was "designed to break" the cast, and it did so emotionally and physically.
The workload on the final season was overwhelming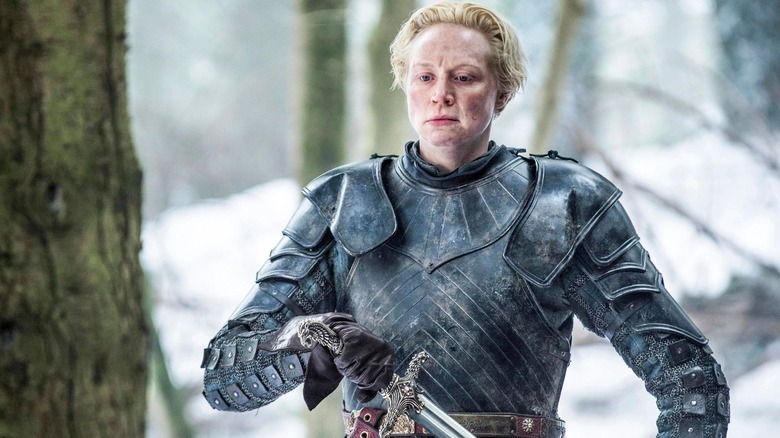 HBO
During a 2019 interview with The Guardian, actress Gwendoline Christie (who played the warrior Ser Brienne of Tarth) said filming on the final "Game of Thrones" season was "a lot, a lot, a lot." In season 8, Christie's character swiftly moves into the center of the action, fighting on the frontlines to save Winterfell from the Army of the Dead (if you haven't watched the show, think of them as ice monster zombies who won't die.)
The actress agreed with the words of her co-star Kit Harington (who played Jon Snow), who previously noted that the workload on the season had explicitly been "designed" to break the actors (via GQ Magazine). It's a long journey to stay with the same character for years, and it appears that season 8 was particularly challenging, not only because of its expansive scope but also because it weighed emotionally on the actors.
"The last season of Thrones seemed to be designed to break us," Harington said in his interview with GQ.
"Everyone was broken at the end. I don't know if we were crying because we were sad it was ending or if we were crying because it was so f***ing tiring. We were sleep-deprived. It was like it was designed to make you think, Right, I'm f***ing sick of this. I remember everyone walking around towards the end going, 'I've had enough now. I love this, it's been the best thing in my life, I'll miss it one day – but I'm done.'"
Gwendoline Christie agrees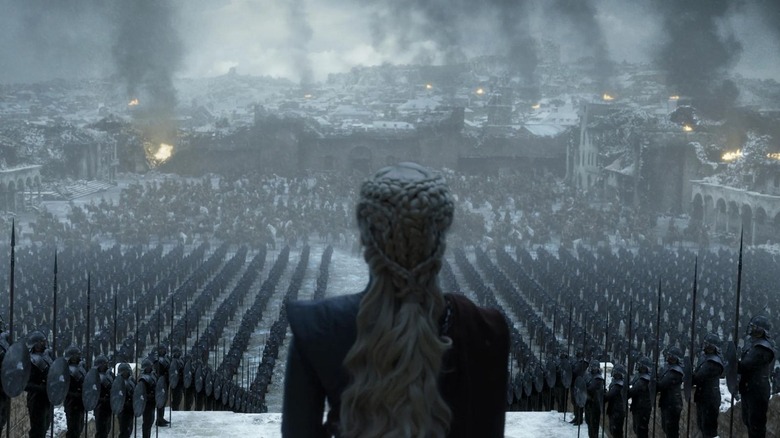 HBO
"It was just a lot, a lot, a lot. It was a lot!" Christie noted, describing the filming of the last season. After hearing what her co-star had to say, the actress confirmed that she agreed, and the feeling was mutual.
"I agree with Kit. They squeezed the orange. Every last drop of juice out of that orange! And just a husk was left behind."
It's no easy feat to achieve the popularity and critical acclaim that "Game of Thrones" did. The show's cinematic accomplishment is an undoubted triumph in television; its groundbreaking achievements in cinematography and storytelling might be replicated by others, but its magic can never be captured. Even though the show's final season was a disservice to the long-running story, and its legacy is a bit complicated, it's impossible not to credit the show for what it was able to do: bridge the distance between millions of viewers across the world.