George R.R. Martin Personally Recommended House Of The Dragon's Showrunner To HBO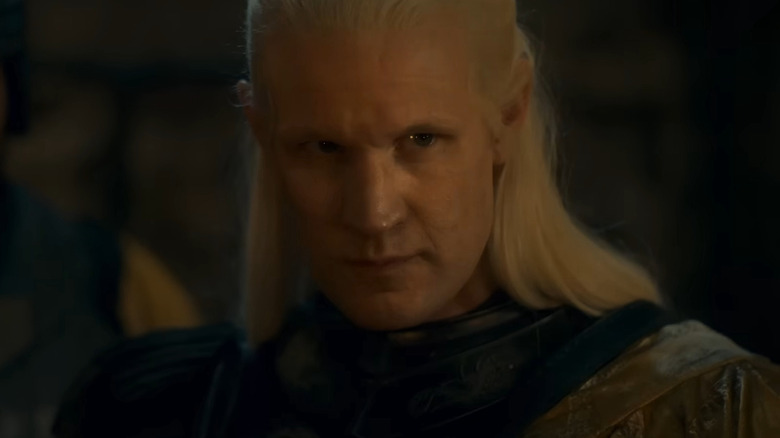 HBO
To the relief of many people, David Benioff and D.B. Weiss have no involvement in the forthcoming series "House of the Dragon." The two shepherded "Game of Thrones" for its eight seasons, and the response to the show's final season showed there was little love remaining from the fans. While I'm not as hard on the final season as a lot of people, I can't deny there was a drop in quality as the show reached its conclusion. After that much time, some other creative folks needed to take the reins and see what they could do with Westeros.
Out of all the proposed prequels, sequels, and spin-offs (including a pilot that was not picked up), we finally have one hitting our television screens in less than a month, and I couldn't be more excited. A major reason for that excitement is that the showrunners of "House of the Dragon" are a mix of the familiar and the unfamiliar. On the one hand, we have veteran "Thrones" director Miguel Sapochnik, who gave us incredible episodes like "Hardhome" and "The Winds of Winter." Even though the show was starting to sputter out, Sapochnik never failed to up the ante when it came to the show's visual majesty. The other person helming the prequel series is a newcomer to the "Thrones" world, co-creator Ryan Condal.
Admittedly, my familiarity with Condal's work is basically nonexistent. He was one of the writers on two Dwayne Johnson films ("Hercules" and "Rampage"), and he co-created the USA show "Colony" with Carlton Cuse, all of which I have never seen. "House of the Dragon" is a significant step up for someone of his stature, but he had one major champion in securing the gig: the creator of "A Song of Ice and Fire" himself, George R.R. Martin.
The right person for Martin's passion project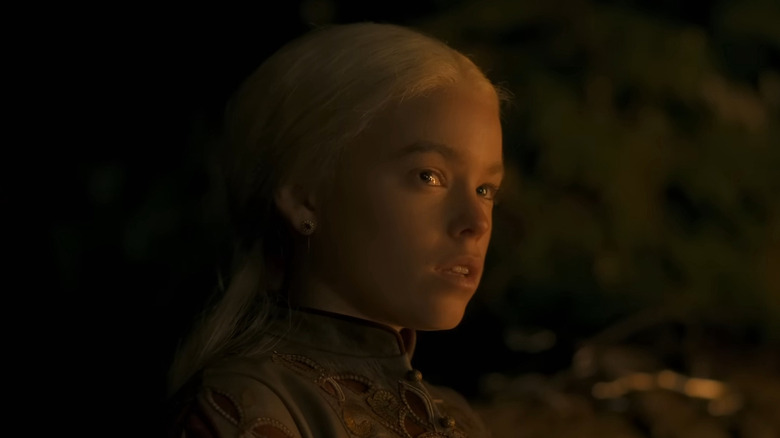 HBO
George R.R. Martin and Ryan Condal first met in 2012 while Condal was shooting a pilot out in Santa Fe, where Martin lives, and the two became friends, as Condal was a big fan of the book series. Since their meeting, Martin put a lot of his writing energy into "Fire & Blood," which chronicles the history of the House Targaryen and serves as chief inspiration for the "House of the Dragon" series. Out of all the potential followups to "Game of Thrones," adapting this work, particularly the "Dance of the Dragons" civil war, was Martin's pet project.
That is when he turned to Ryan Condal. Martin needed somebody he believed in to handle the material, as he did with Benioff and Weiss over a decade ago. Speaking with Empire Magazine for their September 2022 issue, Condal described how Martin became his champion:
"He hadn't quite found the right writer yet. He said, 'You know my books, I really like you, I like your writing. I'd like you to take a shot at this, and I'd like to tell HBO to hire you.' So I said, 'That's amazing.' And my head exploded."
I'm reminded of Christopher McQuarrie describing how he got the job of directing "Mission: Impossible – Rogue Nation," relayed in the "Cast Roundtable" Blu-ray featurette. He and Tom Cruise were working on the script for "Edge of Tomorrow," and Cruise just comes out and says, "You should direct the next 'Mission: Impossible." Cruise gets on the phone, calls up the head of Paramount, and McQuarrie has the job. So much of the entertainment business is networking and connections, and if you have the right one, it can get you a gig that can change your life.
Martin was not Condal's only connection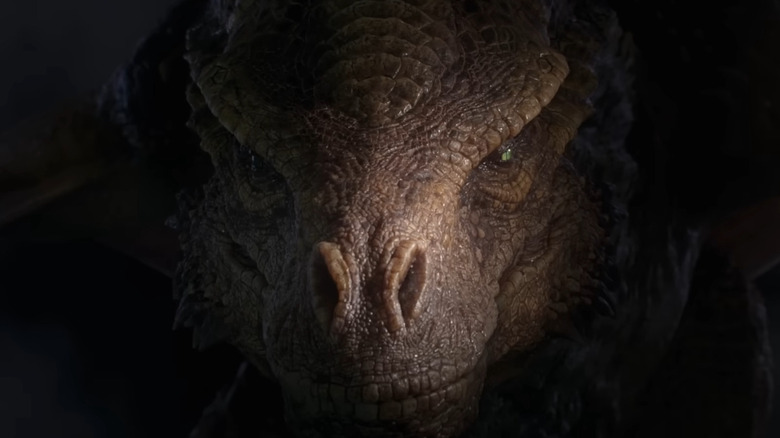 HBO
While he may not have as much power as George R.R. Martin, Ryan Condal also had the good fortune to have another in with HBO, someone with whom he would end up running the show alongside. Miguel Sapochnik also stuck his neck out for Condal in the early days of "Game of Thrones" spin-off developments, but HBO was more keen on having more established writers heading up these shows that early. Sapochnik relays to Empire Magazine:
"At the time I mentioned to them, 'You should speak with Ryan Condal,' who I was developing a Conan [The Barbarian] project [for Amazon] with. They said, 'Yeah, yeah, yeah,' and went forward with these five different writers: Max Borenstein, Carly Wray, Bryan Cogman, Jane Goldman, and Brian Helgeland."
These writers certainly have more classically distinguished resumes than Condal, ranging from HBO prestige dramas to superhero blockbusters. Bryan Cogman was even a writer on "Game of Thrones" for its entire run. You could see why HBO was not initially taken with Condal as a prospect, but if you have backing of two of the most important fixtures for "Game of Thrones" behind you, the executives eventually just have to succumb to the people who probably know what they are talking about artistically more than them.
I hope Ryan Condal, Miguel Sapochnik, and the team of writers and artists they have assembled are able to restore "A Song of Ice and Fire" back to being the cultural behemoth we all enjoyed being apart of for so many years, but they are able to do so on their own terms with their own vision. The September 2022 issue of Empire hits newsstands August 4, 2022, and "House of the Dragon" is set to premiere on August 21, 2022.