Game Of Thrones Prequel Bloodmoon Shot A $30 Million Pilot That No One Will Ever See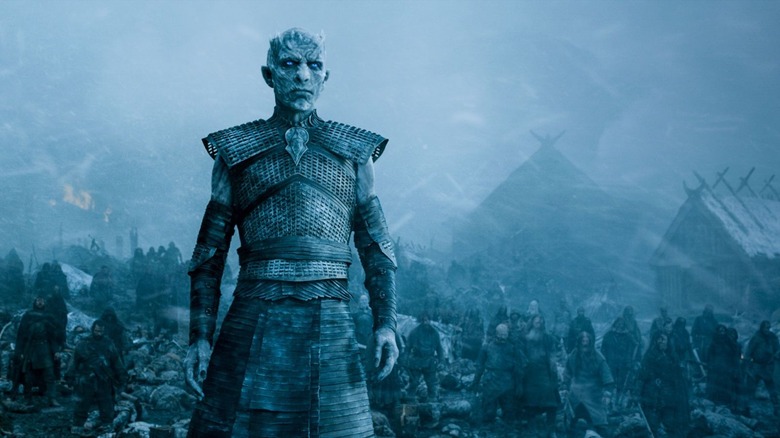 HBO
Working in television can be a notoriously punishing experience. It's hard enough for toiling writers to get their scripts commissioned in the first place and exciting new shows have a long road to walk in development. But as difficult as it is to attain even that level of success, too often these projects end up languishing in production hell or, perhaps even worse, resulting in a pilot that never actually gets picked up as a series. Any series that makes it to the finish line and is actually of a high enough quality for millions of viewers to enjoy is, with no exaggeration, a miracle.
"Game of Thrones" itself wasn't even immune to this, as its original pilot was scrapped when too many elements simply weren't coming together as hoped. When HBO was figuring out how best to proceed after the series came to an infamous end in 2019, those involved knew that there was little chance that every series in development would justify full-fledged spin-off shows of their own. But unlike most other networks, only HBO seems to have the resources to pour into wildly expensive pilots that, for better or worse, will never actually see the light of day.
That sadly proved to be the case with the spin-off series formally announced back in 2018, promising to explore the "true origin of the White Walkers." Jane Goldman ("Kick-Ass," "X-Men: First Class," "Kingsman: The Secret Service") was announced as the showrunner and Naomi Watts was cast as the lead, but HBO ultimately passed. According to a new report, hardly anyone has ever laid eyes on that exorbitantly-priced pilot, not even author George R.R. Martin.
'A very difficult assignment'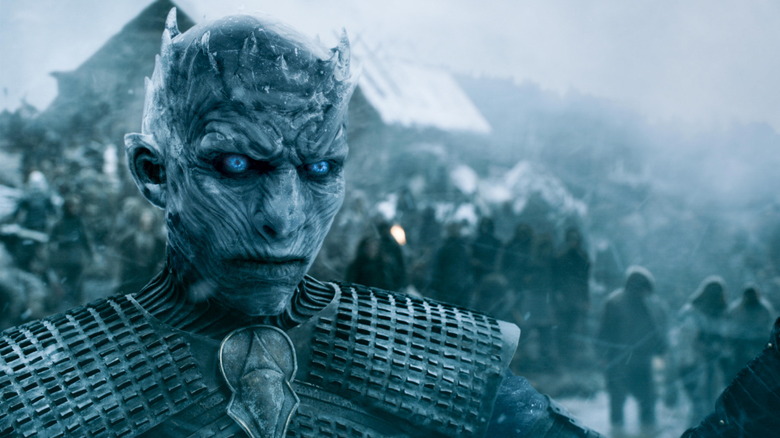 HBO
Long before "Game of Thrones" aired its final season, the bosses at HBO confronted the question of whether their next plans set in George R.R. Martin's prolific fantasy world should feel like more of the same from the original series, with political squabbling and bloody wars front-and-center like the upcoming "House of the Dragon," or diverge completely from what fans would expect. Enter the spin-off under the working title of "Bloodmoon," which would've detailed the conflict set thousands of years in the past between the earliest inhabitants of Westeros and the terrifying White Walkers. That was not to be, however, and a new THR report has explained why.
HBO executive Francesca Orsi described it this way:
"'Bloodmoon' really stood out as different, with unique world-building. Tonally it felt very adult, sophisticated, and intelligent, and there was a thematic conversation at the center of it about disenfranchisement in the face of colonialism and religious extremism."
Sounds fascinating, no? Unfortunately, this concept proved difficult to conceptualize given that Martin's original novels only ever included roughly eight(!) lines of text describing this ancient period of time. Even Martin admits that it was "a very difficult assignment," one that necessitated Goldman and her creative team to invent entire swaths of lore out of thin air. 
Nevertheless, a pilot was filmed at the pricey budget of $30-35 million, confirming previous reports, though it was destined to be scrapped and locked away forever once the HBO bosses found that it didn't take viewers to "...the same place as the original series. It didn't have that depth and richness that the original series' pilot did," according to then-chairmen of WarnerMedia Robert Greenblatt.
Ultimately, the setback with "Bloodmoon" paved the way for "House of the Dragon" to come into existence, which premieres on August 21, 2022.