George R.R. Martin Has Seen House Of The Dragon, Says It Improves Upon His Work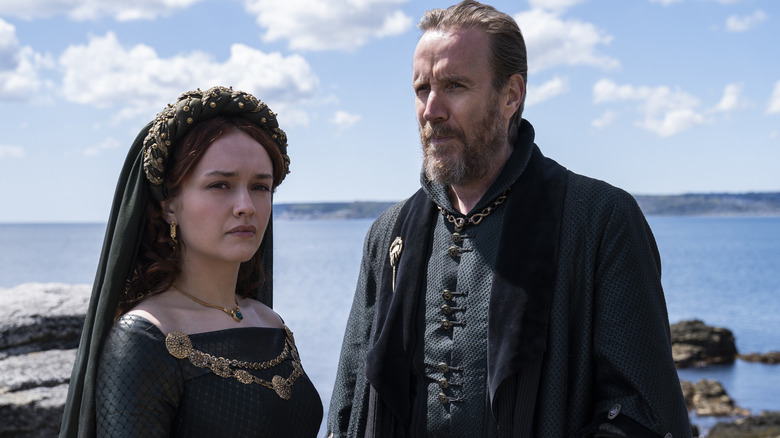 HBO
Quick, name just a single adaptation that improves upon the original source material. Ha, you can't! There's only "Jaws." Okay, there's also "The Godfather." As much as I love J.R.R. Tolkien's defining novels, I'm sure many would cite Peter Jackson's "The Lord of the Rings" trilogy, too. Would "Blade Runner" count, despite only being a loose adaptation of "Do Androids Dream of Electric Sheep"? Okay, so there's actually plenty of examples we can pick from and maybe it's time to retire that tired old chestnut once and for all, eh?
Take "A Song of Ice and Fire" author George R.R. Martin, for instance. When the actual author behind the HBO phenomenon "Game of Thrones" readily admits that the show improved on much of his own original material — he has plenty of opinions about the opposite end of the spectrum, mind you — then that certainly speaks volumes, far louder than any given viewer could.
You may have heard that HBO is returning to the tremendously well-realized world of Westeros with a spin-off/prequel series, titled "House of the Dragon." Obviously, Martin has been privy to rough cuts of the in-progress episodes (as we previously reported on here) and is once again expressing his enthusiasm about what he's seen so far in a personal blog entry — even saying the show improves on certain aspects of his own work. Yes, in addition to typing everything up on an old-fashioned DOS computer (which probably helps explain why he's taking so long to finish the next book in the "ASOIAF" series, "The Winds of Winter"), he still posts updates on his charming throwback blog website. It's endearing, honestly!
'I continue to be impressed'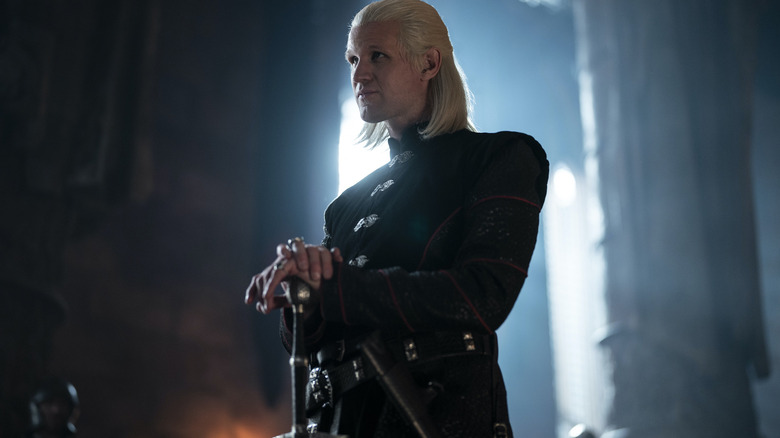 HBO
For those who may have (understandably) let the details of "House of the Dragon" slip through the cracks, the prequel series will take place 200 years before the explosive events of "Game of Thrones." That means going back to a time when Westeros was still ruled by the fearsome dragon-riding family of Targaryens (Daenerys Targaryen's ancestors), though not quite at the same heights of their power that they used to be. The new 10-episode series is based on George R.R. Martin's book "Fire & Blood," which functions as a sort of in-universe historical record of the Targaryen dynasty. If you thought that the author would be more fiercely protective of his work in the aftermath of "Game of Thrones" ending on a dud of a final season, well, think again! As he wrote in his latest blog:
"I've now watched rough cuts of nine of the ten episodes, and I continue to be impressed. I cannot speak to the SFX, many of which are not in yet, but the look of it is great, and the acting, the directing, and writing are first rate."
Now, you might not think that it's all that noteworthy for an author to speak highly of an adaptation of his own work that he's so creatively involved with (Martin retains both "Creator" and "Executive producer" credits on "House of the Dragon," for what it's worth). But as we've seen in the past, the feisty and opinionated author has never been afraid to speak his mind before. In fact, he goes one step further and mentions that "House of the Dragon" even exceeds his book in some respects.
Some improvements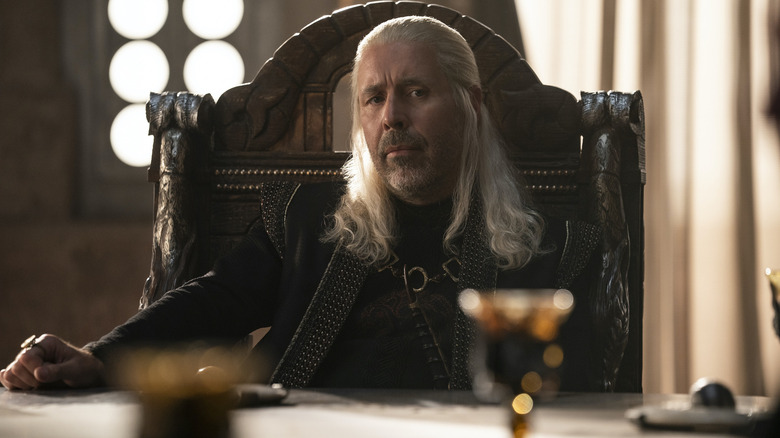 HBO
As with "Game of Thrones," "House of the Dragon" will boast an immense cast of actors breathing life into all sorts of colorful characters. And just like its parent series, the prequel will similarly make necessary adjustments to the source material in order to tell the best live-action story possible. Martin promptly assures fans that "it IS my story," just with certain changes to account for the completely different medium. Citing the original show's depiction of Shae (Sibel Kekilli) as a "deeper, richer, and more nuanced" character than her counterpart in Martin's book ever was, Martin draws the same comparison with Paddy Considine's King Viserys in "House of the Dragon":
"I am vastly impressed by the show's version of King Viserys, played by Paddy Considine, who gives the character a tragic majesty that my book Viserys never quite achieved. Kudos to Paddy, Ryan [Condal] and his writers, and Miguel [Sapochnik] and the other directors."
The series will largely follow the political drama surrounding Viserys, his firstborn daughter Rhaenyra (Emma D'Arcy), his troublesome younger brother and heir apparent Prince Daemon Targaryen (Matt Smith), and Lady Alicent Hightower (Olivia Cooke). The rest of the cast includes Steve Toussaint as Lord Corlys Velaryon, Sonoya Mizuno as Mysaria, Rhys Ifans as Ser Otto Hightower, and many more. Expect the series to premiere on HBO on August 21, 2022.
Oh, and for those still holding out hope for more "The Winds of Winter" updates? First of all, you should probably stop for your own good. Secondly, Martin briefly provides an update on the status of that long in-development novel: 
"Yes, still working. Finally finished a clutch of Cersei chapters that were giving me fits. Now I am wrestling with Jaime and Brienne. The work proceeds, though not as fast as many of you would like."