George R.R. Martin Has Seen Early Cuts Of House Of The Dragon And Is 'Loving Them'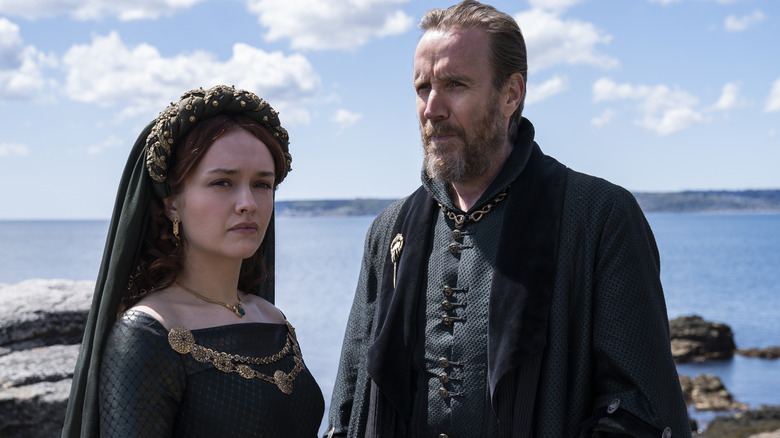 HBO
Usually when I feel the need to procrastinate on important work, you'll catch me aimlessly scrolling through Twitter, reading nerdy scientific articles about stuff normal people wouldn't find terribly interesting (you won't believe which deep-sea animal is crucial to keeping our atmosphere carbon-free!), or just staring off into space, David Puddy-style. Most of us wouldn't really distract ourselves with staying involved in the behind-the-scenes creative process of a new "Game of Thrones" spin-off series ... but, then again, most of us aren't George R.R. Martin.
The famous fantasy author behind one of HBO's biggest-ever shows is once again doing anything and everything besides actually sitting down and finishing writing on the final book(s) of his "A Song of Ice and Fire" series, which served as the basis of "Game of Thrones" and one that he's been working on since — oh, let me just consult a calendar real quick — the early 1990s. Readers of the popular (but still-incomplete) books have grown up, gone through medical school, and even started families in the time since they first started reading the first installment in the series, "A Game of Thrones." (Seriously, the subreddit dedicated to the franchise is filled with those sorts of hilarious, but sort of bleak stories.)
With HBO's "Game of Thrones" having come and gone and a whole new series on its way, we have no choice but to respect the fact that Martin is apparently staying involved with the production of the Targaryen-centric spin-off, titled "House of the Dragon." The prolific author has spent decades posting on his delightfully old-fashioned blog on a weekly or monthly basis, keeping fans apprised of his writing progress (such as there is), major life events, or rantings about how much the New York Giants keep disappointing him. His latest one, posted yesterday on February 17, 2022, gave us a significant update on production of "House of the Dragon." As it turns out, filming has wrapped up on the show and the author has even seen rough cuts of a handful of the episodes. Given his blunt comments in the past, it's no sure thing that this series will get his stamp of approval, of course. But that just makes it all the more meaningful that, in his own words, he's "loving" what he's seeing so far.
House of the Dragon wraps filming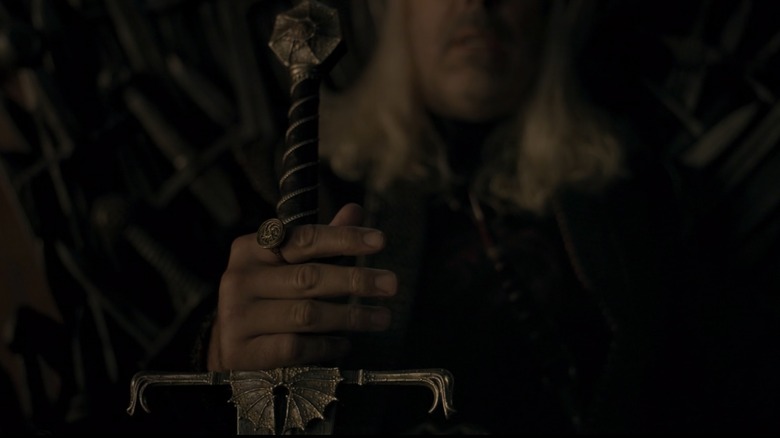 HBO
Arguably, there may not have been a bigger show in all of television during the last decade than "Game of Thrones." At the same time, there may not have been a more divisive ending of any show in the last decade than "Game of Thrones." That unmistakable context sets the stakes pretty high for HBO's first major continuation of the franchise, with "House of the Dragons" taking the form of a prequel series (similar to Amazon's "The Lord of the Rings: The Rings of Power," in case you didn't have enough prestige fantasy shows to watch in the upcoming years). But at the very least, the new series has a major champion in the form of George R.R. Martin himself.
In his latest blog entry, Martin revealed that shooting on all 10 episodes of "House of the Dragon" has finally finished, almost a full year after production first began in April of 2021. In the time until the series finally lands on HBO, the crew will stay busy putting the final touches on the extensive visual effects, color timing, score, editing, and everything else involved in post-production. Unfortunately, Martin has no insights on when exactly the premiere date will be, only teasing that it's "unlikely" to be as soon as this spring. For those looking for any morsel of information about "House of the Dragon," the author previously teased his excitement for the upcoming spin-off soon after the first teaser footage arrived.
HBO is still keeping things close to the vest, but the series has quite the pedigree going for it. Created by Martin and Ryan J. Condal, "House of the Dragon" is run by showrunners Miguel Sapochnik (a "Game of Thrones" veteran) and Condal. Episodes will also be directed by Clare Kilner, Geeta V. Patel, and Greg Yaitanes, with original "Game of Thrones" composer Ramin Djawadi back once more. The ensemble cast stars Paddy Considine, Olivia Cooke, Emma D'Arcy, Matt Smith, Steve Toussaint, Eve Best, Rhys Ifans, Sonoya Mizuno, and more.