One Stranger Things Season 4 VFX Shot Took A Ridiculously Long Time To Create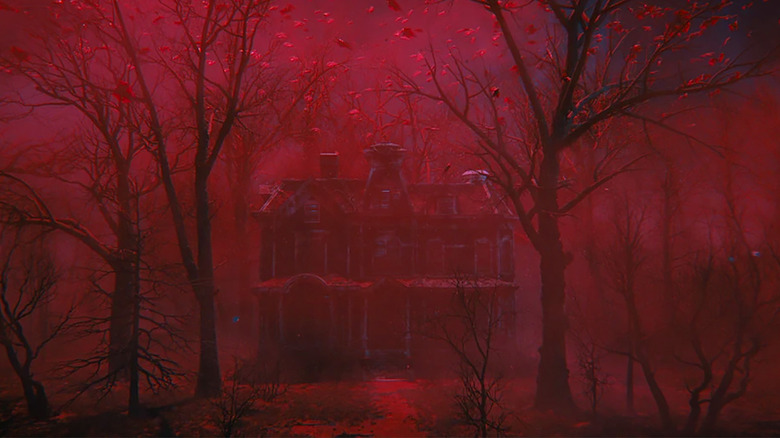 Netflix
Season 4 of "Stranger Things" surely packed a punch. The latest season saw the characters spend a lot of time inside the Upside Down, a twisted mirror of the town of Hawkins that is covered in slimy tentacles that share a hive mind and swarming with demobats that are out to get you. All this dark mayhem comes thanks to the VFX team that was extremely committed to upping the ante this season.
VFX Supervisor Julien Hery recently spoke to Collider about one particular shot in "Stranger Things" season 4 that was two years (!) in the making. Hery explained that the VFX team started working on season 4 as early as 2020, and the pandemic allowed them more time to re-do certain shots in a way that matched the evolved tone of the show. Hery said:
"We started before the pandemic...we started to work on it more than two years ago. We actually started to develop a few looks...And when it [the pandemic] stopped, we kept working on one or two shots. One is a flyover of Hawkins — to follow the bats over Hawkins, and then you land onto the Creel House. And this shot took us almost a year and half or two years of making it happen, changing the animation, and there was plenty of time, so we took like such a long time to develop that shot. So it was pretty cool."
Who knew that mapping a demobat's point of view of the Upside Down would turn out to be so time-consuming? Surely, Hery and his team had good reason to chip away at a single sequence: it is the viewer's first entry-point into the evolved Upside Down in season 4.
Two years or not, the VFX slap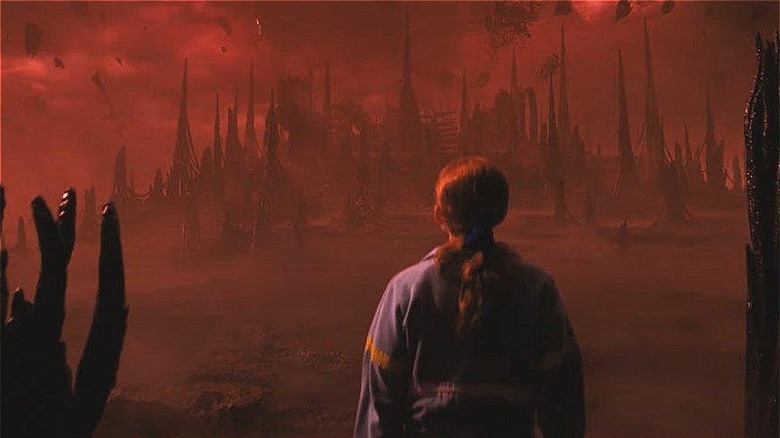 Netflix
The shot that Hery mentions allows viewers to witness how much the Upside Down has molded into a twisted version of Hawkins over time. Although the first three seasons also featured scenes inside the dimension, season 4 saw multiple characters spend a considerable amount of time there. The brilliance of Max's escape from Vecna (Jamie Campbell Bower) the first time can obviously be attributed to multiple reasons (Sadie Sink's performance, Kate Bush's music, the cathartic nature of the scene, etc). However, what seals the deal is the impeccable use of VFX to create a dread-infused atmosphere that helps heighten the gravity of Max's situation.
In terms of the demobat shot that took two years to perfect, the aim of the VFX team was to ensure that the Creel House in the Upside Down looked as ominous as possible. Directly tied to Vecna's origins, the Creel House in Hawkins is appropriately eerie and desolate, especially since it was the scene of several horrific murders. However, its twin version in the Upside Down had to evoke an even more sinister look and feel, as it doubles as Vecna's lair.
I'm guessing that Hery and his team had to chart out these visual differences in excruciating detail, which explains the time taken to create that one shot. Moreover, key locations that connect to a character's past and symbolize their psyche are often modeled on specific concepts and artistic inspirations. It just goes to show you how important the work of visual effects artists is and how effective their artistry can be when given enough time to execute it without overwhelming pressure. 
"Stranger Things" season 4 is currently streaming on Netflix.