Why Sadie Sink Was Almost Rejected From Stranger Things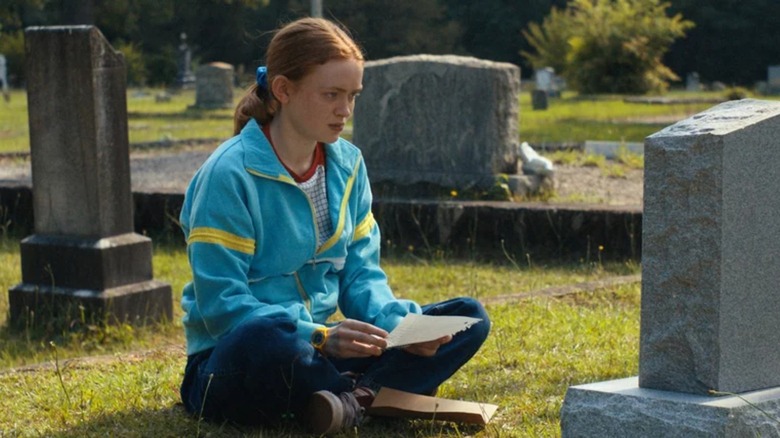 Netflix
Four seasons into its reign as Netflix's biggest show, "Stranger Things" has by now cultivated a sprawling, ever-growing cast of characters. At this point, to stand out in the crowd on "Stranger Things" takes a special talent. Clearly, Sadie Sink has that talent.
The actor emerged on the scene in the second season of "Stranger Things," playing Hawkins Middle School newcomer Max Mayfield, a skateboarding tomboy who just moved to town with her bullying older brother, Billy (Dacre Montgomery). Before appearing on "Stranger Things," Sink had roles in titles like the NBC thriller "American Odyssey" and the Amy Adams-led film "The Glass Castle." But it was the role of Max that put Sink on the map, eventually launching her into award season consideration conversations alongside more seasoned co-stars like David Harbour.
"Stranger Things" fans are lucky to have Sink, but apparently, they almost didn't. In a recent interview with Fashion Magazine, the actor revealed that the "Stranger Things" casting directors initially felt she was too old for the role of Max, despite the fact that she was only 14 when she auditioned. But Sink wasn't ready to give up the part so easily. "I just begged and pleaded with them to give me more material so I could show them something fresh," she told the outlet, explaining that she was eventually able to win the team over and score a callback for a table read.
Casting directors said Sink was too old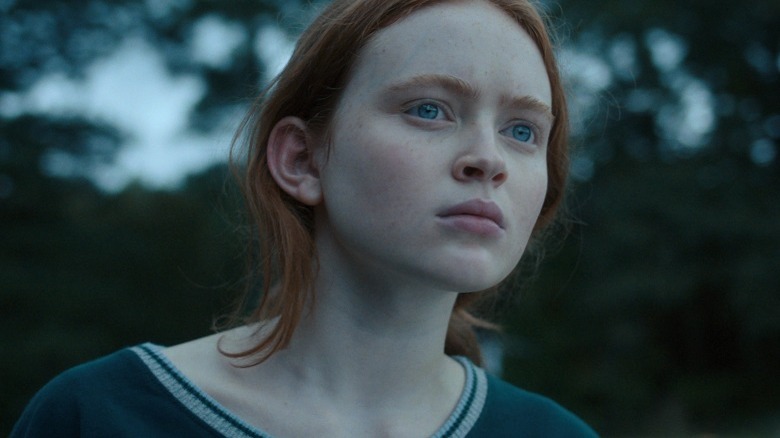 Netflix
Sink then did a chemistry read with her future co-stars, Gaten Matarazzo, who plays geeky Dustin, and Caleb McLaughlin, who plays Max's former and sort-of-current boyfriend Lucas. Apparently, she nailed that read, as she was told she had the part the very next day. Now 20 years old, Sink is only slightly older than a couple of her castmates, and is more than just believable as teenager Max Mayfield: she's one of the highlights of the show.
Apparently, Sink's age wasn't the only thing standing between her and the role of a lifetime. In 2017, she admitted to Coveteur that she lied about being able to skate. When her agent called with news about the audition, Sink had just finished the first season of the series, and was eager to try out for the role of the new girl in Hawkins. "They wanted a girl that had skateboard experience, and I didn't have skateboarding experience at all," she told the outlet. "They asked me, 'Oh, do you have any rollerblading experience?' I was like, 'Uhh sure I do,' which was technically not a lie because I have rollerbladed before."
Sink figured she'd sort out the learning to skate bit later, but when she went in for her audition, she almost psyched herself out after noticing a pair of rollerblades in the corner of the room. "I kept thinking, 'Oh no! Oh no! I literally haven't skated for a year, and they're going to test my rollerblading skills!'" she said. She revealed that she spent the whole audition thinking about what would happen if she had to strap on the skates on the spot, but luckily, it turned out the skates weren't there for audition reasons at all. "I guess the guy that was filming me ... they were his!" she shared.
Now, Sink is a standout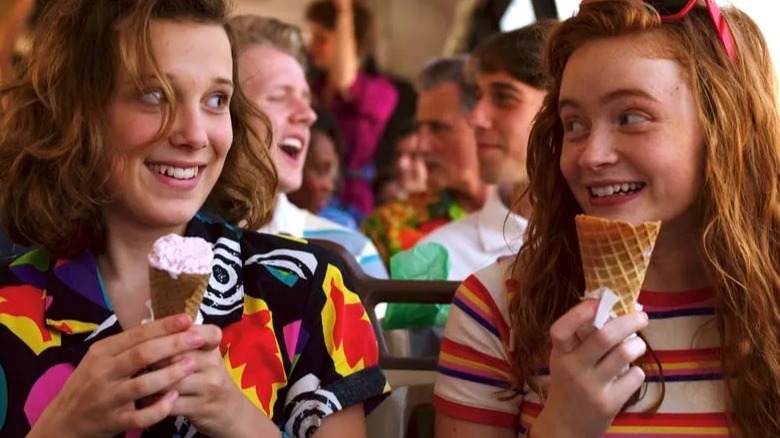 Netflix
Six years later, Max Mayfield is a fan favorite character and an integral part of "Stranger Things." In the penultimate season, the teenager ended up hunted by the horror movie-inspired villain Vecna (Jamie Campbell Bower), narrowly escaping his clutches but ending up in pretty grave condition by the end of the heartbreaking finale. 
Max's season 4 plot is among the series' best to date: She struggled with depression, grief, and guilt, all of which made her the perfect target for Upside Down monster Vecna. Yet she fought the powerful baddie off twice, taking back control with the power of positive memories and Kate Bush's "Running Up That Hill (Deal With God)." With one season left of the juggernaut series, Max has become one of the show's bravest and most resilient characters, and Sink's emotionally raw performance is undoubtedly a huge part of the character's success.
Sink has also made great professional strides since she first landed the role of Max. She headlined the R.L. Stine adaptation trilogy "Fear Street" on Netflix last summer, playing another scrappy teen hero dealing with a slasher scenario. She also showed her acting chops in the short film released in tandem with the extended version of Taylor Swift's "All Too Well." There, she played a precocious, yet in-over-her-head, young woman dating a man several years her senior (Dylan O'Brien). 
Next up, Sink will star opposite Brendan Fraser in "The Whale," Darren Aronofsky's upcoming film which is set to premiere at the Venice Film Festival in September.