Here's How Stranger Things 4 Decided To Use Kate Bush's Running Up That Hill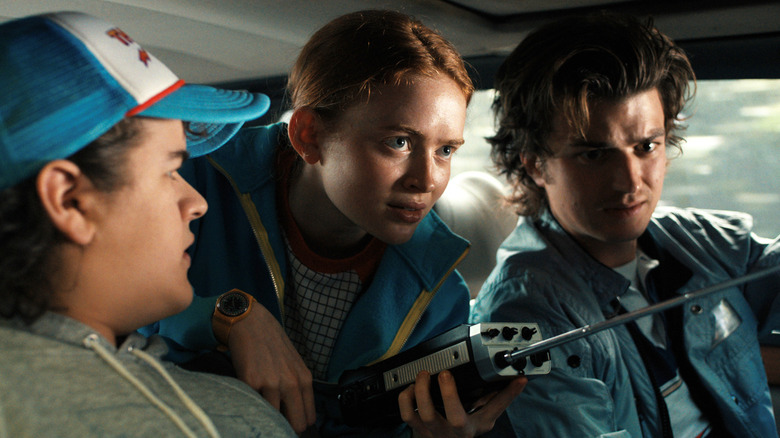 Netflix
As much as "Stranger Things" thrives on mixing and matching elements of nostalgic pop culture for those who grew up on them in the 1980s and '90s, the Duffer Brothers' series also serves as a gateway for "the youths" to learn about these things for the first time. Thanks to episode 4 of the show's fourth season, a whole new generation of people has now been introduced to British alt-pop trail-blazer Kate Bush's classic song "Running Up That Hill (A Deal With God)" four decades after the tune topped the UK singles charts in the mid-'80s. Say what you will about season 4 and "Stranger Things" as a whole, but any show that gets the kids hooked on Kate Bush can't be all bad.
Without getting into spoilers, "Running Up That Hill" plays a key role in Max's (Sadie Sink) arc in season 4, culminating in the moving climax to episode 4. The season finds our favorite skateboarding rebel isolating herself from her pals as she reels from her brother Billy's death at the end of season 3, in the process making her vulnerable to Vecna, a mysterious figure from the Upside Down who preys on teenagers that have suffered horrific tragedies and trauma in their lives. It's an emotional storyline that feels like a natural fit for Bush's hit song, which itself speaks to the value of empathy and trying to see things from someone else's perspective.
In an interview with Variety, "Stranger Things" music supervisor Nora Felder talked about how she and the Duffers came up with the idea to use "Running Up That Hill." As she revealed to the outlet, it fell to her to brainstorm a song that would not only be believable as Max's favorite, but also reflect the character's internal journey in season 4.
The perfect song for Max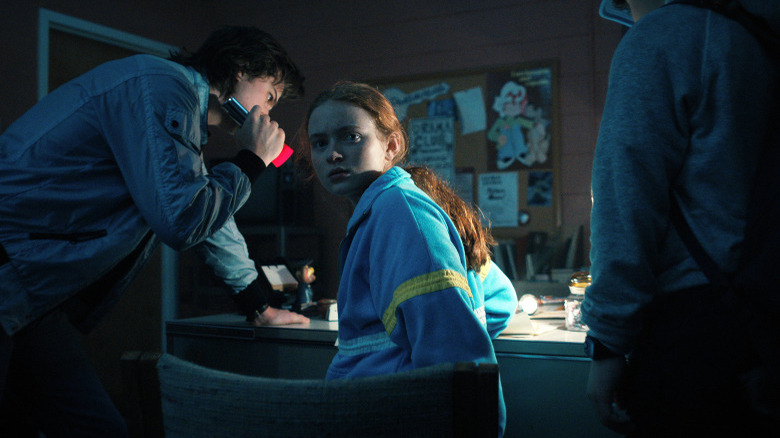 Netflix
Although the Duffer Brothers had already cracked the role Max's favorite song would play in the plot of "Stranger Things" season 4, Nora Felder said they hadn't actually settled on the song itself after finishing the scripts:
"Consequently, each of the prospective song placements in the initial scripts was tagged with the placeholder, 'TBD Max song.' From there, I made an effort to internally align myself with what the Duffers felt were the most important elements needed, and my own intuitive grasp of Max's complex feelings."
In time, Felder listened to "Running Up That Hill," saying the song "immediately" struck her with its "deep chords" and the way the lyrics spoke to Max's struggle to grieve while at the same time being understood by those closest to her. The Duffers were on board with the song when Felder proposed it, which meant the next challenge was convincing Kate Bush to allow the show to use it. This was no small task, either, as Bush is fairly protective of her work and doesn't frequently approve these types of syncs. Said Felder:
"I sat with my clearance coordinator, and laid out all the scripted scenes for song uses that we knew of at that point. Knowing the challenges, we proceeded to create elaborate scene descriptions that provided as much context as possible so that Kate and her camp would have a full understanding of the uses. ... When we finished, we were on edge, but excited and hopeful."
Turns out, Kate Bush is a Stranger Things fan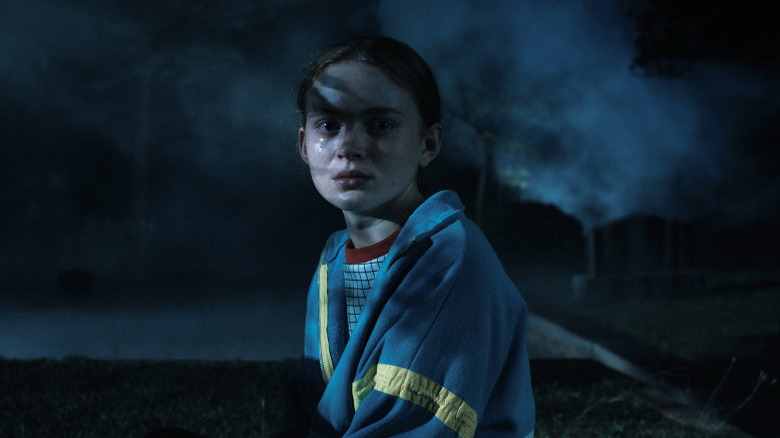 Netflix
"Stranger Things" season 4 was always expected to take longer to make than the previous seasons due to its expanded scale and bigger visual effects. However, because of the pandemic, there was an even longer gap of time than anticipated between Nora Felder putting in a request to use "Running Up That Hill" with the song's current publisher, Sony, and gaining Kate Bush's approval.
Sony Music Publishing executive Wende Crowley explained the situation to Variety:
"Nora Felder came to us pre-pandemic to discuss the idea of using it as Max's 'song' for this season. She wanted to make sure it was within the realm of possibility before she got the Duffer Brothers on board with the idea, since the song was going to be such a focal point to Max's storyline. Kate Bush is selective when it comes to licensing her music and because of that, we made sure to get script pages and footage for her to review so she could see exactly how the song would be used."
Luckily, it turned out Bush was already a "Stranger Things" fan and was firmly behind the way Felder and the Duffers wanted to use her tune. Felder also weighed in on the song's lyrics and their personal meaning to Max, reasoning that "a deal with god" could refer to Max's belief that "only a miracle of unlikely understanding and show of support" could save her. She added:
"In Max's situation, the need for a 'deal with god' can perhaps be metaphorically understood as a desperate cry for love — to manifest the extraordinary understanding and support Max needed while feeling so painfully alone."
"Stranger Things" season 4 Vol. 1 is now streaming on Netflix. Vol. 2 premieres July 1, 2022.