Here's Who Brought The Predator To Life In Prey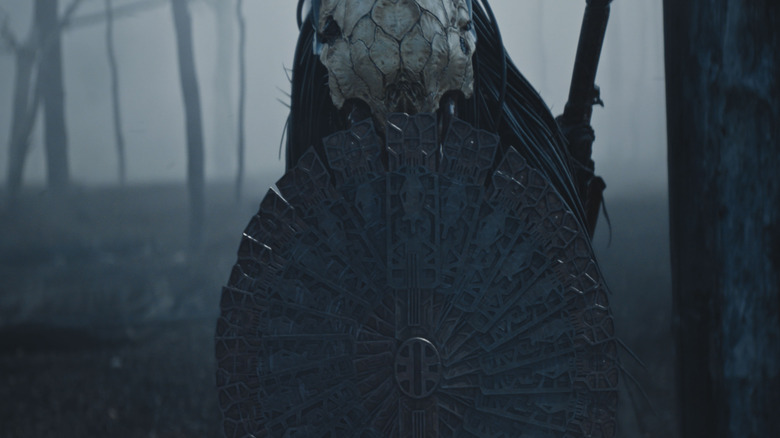 Hulu
There's a new Predator in town. The science fiction-horror franchise that began with John McTiernan's 1987 blockbuster gained a new entry with the stunning prequel "Prey," the fifth film in the "Predator" series, which just dropped on Hulu to rave reviews. Dan Tratchenberg (the filmmaker behind the best "Cloverfield" franchise entry) helms the new feature, which is set in 1719 and concerns Naru (Amber Midthunder), a young Comanche woman who must protect her tribe from attacks by wild beasts, fur traders, and eventually a heat-sighted alien predator that hunts humans for sport.
/Film's own Chris Evangelista praised the story as "a surprisingly successful blend of old and new," but laments that the big game hunter from outer space is cloaked mostly in a digital costume and spills CGI blood as opposed to the practical effects that made the original Predator so terrifying. Indeed, it can be hard to discern the real actor underneath the skull-helmet and digitized tusks, which is why an introduction is in order.
Meet Dane DiLiegro, the man behind the (skull) mask and a new contender for the World's Most Interesting Man. The Massachusetts native put his 6' 9" stature to early use, playing eight years of professional basketball for international teams and taking on a five-year butcher's apprenticeship in Italy before pivoting to acting in 2019. His career is still on the ascent, but his few credits include the Muscle Monster in the Netflix show "Sweet Home," a zombie in "The Walking Dead," and Ba'al in the fifth episode of Ryan Murphy and Brad Falchuck's spinoff series "American Horror Stories."
'I shot this entire movie essentially blind'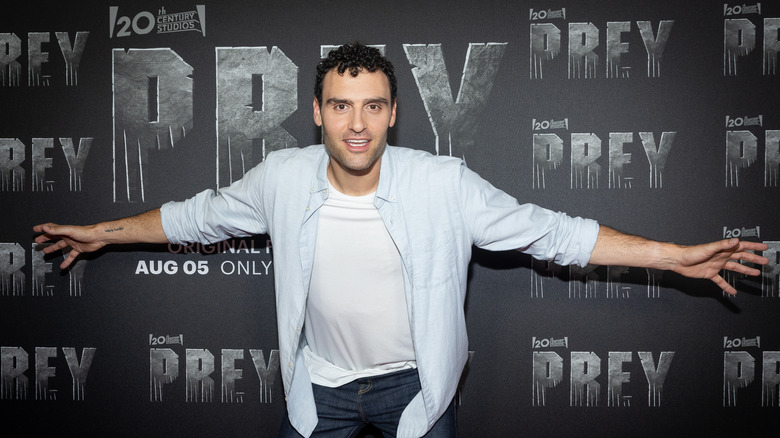 Emma Mcintyre/Getty Images
An interview with EW notes that DiLiegro was initially called in to model the suit for Alec Gillis, whose Amalgamated Dynamics Inc. (ADI) was hired to do the special effects and creature construction. ADI has plenty of experience with the Predator, having worked on prior franchise-adjacent films "Alien vs. Predator" and "Aliens vs. Predator: Requiem" during the aughts. DiLiegro had a vision in mind for this latest iteration of the spine-ripping hunter, and proudly did "all the acting, all the stunts, and all the mo-cap for this character."
Summer gets hot in Calgary, but "Prey" was an especially brutal shoot for anyone wearing a 70 pound foam latex suit like DiLiegro. Not only did he sweat off pounds for (and during) the production, he was also sightless throughout most of his performance, adding a sense of danger whenever the scene called for him to swing at anyone. He explained to EW:
"This is the first time an actor's eyes are not the Predator eyes. My face was in the neck of this character. I shot this entire movie essentially blind. There were two holes in the neck. For the Predator to look forward I had to look straight at the ground and shrug my shoulders. So all my fight scenes, all my acting scenes, everything, [I was] essentially blind. I had a first AD in my ear talking me through everything and we had to lay sticks on the ground to guide me through all of my scenes."
Kudos to that first assistant director, because the towering extraterrestrial huntsman of "Prey" looked anything but blind. Tratchenberg's Predator steps back from the version made famous by Kevin Peter Hall in 1987 and instead reaches toward a more primal, quick-footed, instinct-fueled hunter — one that would be a formidable foe for Comanche warriors.
A lean, mean, monster machine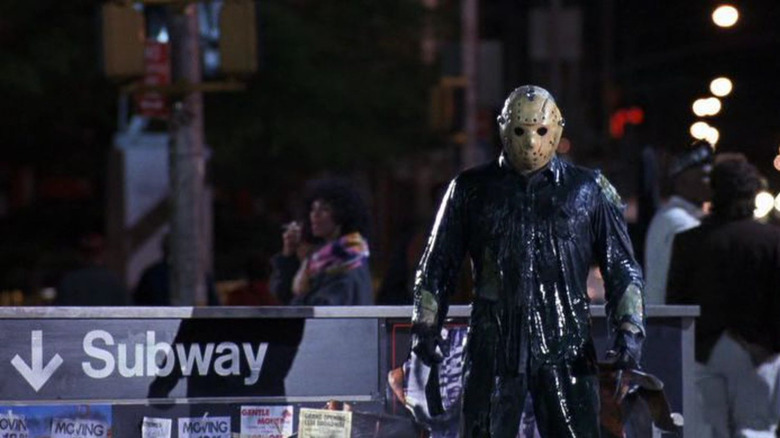 Paramount Pictures
DiLiegro is set to appear in "Monsters of California," the feature directorial debut of Tom DeLonge (yes, the Fender-obsessed guitarist and co-lead singer of alt rock band Blink 182). The film is currently in post-production, and follows a group of teens investigating paranormal events in their Southern Californian town. A teaser is available, which stays coy about its SoCal monsters, but DiLiegro will presumably be portraying one of the west coast creatures.
A recent interview reveals that DiLiegro isn't satisfied with going under the mask for just one '80s-born movie monster. The high-reaching multi-hyphenate says he wants to don a hockey mask next, as Camp Crystal Lake menace Jason Voorhees. If he were to snag such an iconic horror role, he'd be joining eight previous actors (and countless more stunt performers) to play the constant villain of the "Friday the 13th" franchise.
The person most notably associated with Jason is actor Kane Hodder, who portrayed the slasher king in four consecutive F13 sequels from 1988 to 2001. Hodder could be a great source of inspiration for DiLiegro; the "Hatchet" star has represented multiple horror icons across media, doing stunts for Leatherface in the third "Texas Chainsaw Massacre" movie and playing Freddy Krueger's bladed glove in "Jason Goes to Hell: The Final Friday" (in which he also played Jason, and had a mask-free cameo as a security guard). In any case, recent legal proceedings give hope for a new "Friday the 13th" entry, so DiLiegro just might get his wish and become our newest king of the movie monsters.