How To Watch Minions: The Rise Of Gru At Home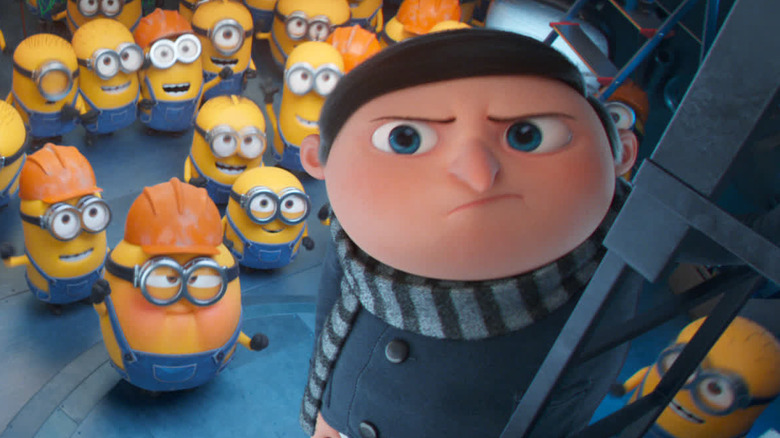 Universal Pictures
"Minions: The Rise of Gru," the latest film featuring the sentient horde of henchmen with a Twinkie-visage, took theaters by storm this summer. The storm, of course, was made of two things: money (it made a lot) and bespoke-suited gentlemen, who hooted and hollered their enthusiastic way through many-a-screening. Beyond the viral TikTok trends, the flash-mobs, and the theatrical theatrics is the 1970s-set story of an early-career Gru (once again voiced by Steve Carell), a supervillain aspirant who idolizes the nefarious group the Vicious 6. We watch Gru hatch yet another master plan, while his ever-loyal Minions help him build his first lair, build their first weapons, ultimately landing him in the crosshairs of evil itself in this charming "Despicable Me" prequel-sequel.
The film lit up the box office, even setting the all-time record for the biggest Fourth of July weekend ever. For the at-home connoisseurs who want to see these loyal yellow hench-Minions without braving ticket lines or suited teens, you're finally in luck: you can finally see "Minions: The Rise of Gru" at home. Here's how.
How to watch Minions: The Rise of Gru at home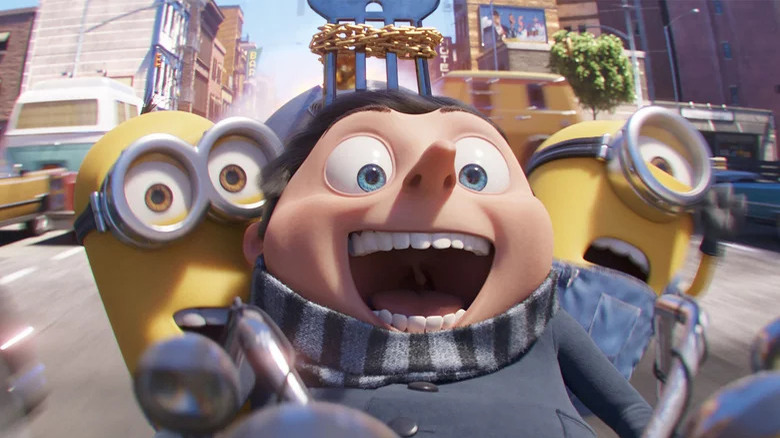 Universal Pictures
"Minions: The Rise of Gru" is now available for rent via any of the major digital retailers, including Prime Video, Apple TV, Xfinity, Vudu, YouTube, and Microsoft. It's certainly an animated outing that works on the silver screen, but the retro vibes, banana-obsessions, and villainous plotting should work just as well at home as they in theaters. If anything, watching it at home confers a few advantages — you have a little more time to translate Minionese into your language of choice, and you can avoid besuited Gen Z crowds. Alternately, of course, you can screen it at home in your own full regalia without any concern about being kicked out of the theater by ushers with a grudge against formal wear — the ball is finally in your court.
Where can I stream Minions: The Rise of Gru?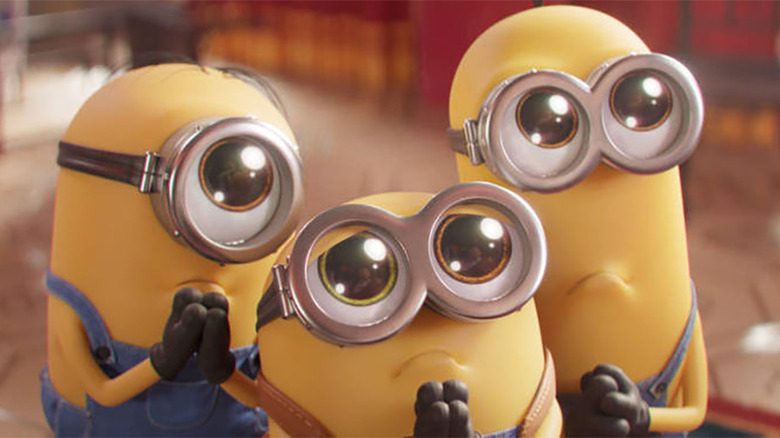 Illumination Entertainment
It may be some time before you can simply stream the "Minions" prequel at home. Given its July 1 premiere date and Universal's typical 45-day theatrical window, the earliest it could have come to streaming is August 15. But with that date having come and gone, we're not sure when it will be available on streaming. Universal has been raking in as much money as it can from theaters an VOD rentals, but "Minions: The Rise of Gru" also hit Peacock on September 23, 2022. 
However, the film will be given a full fledged digital home video release, complete with plenty of bonus features (detailed below), starting on August 30, 2022.
When is Minions: The Rise of Gru coming to 4K UHD, Blu-ray and DVD?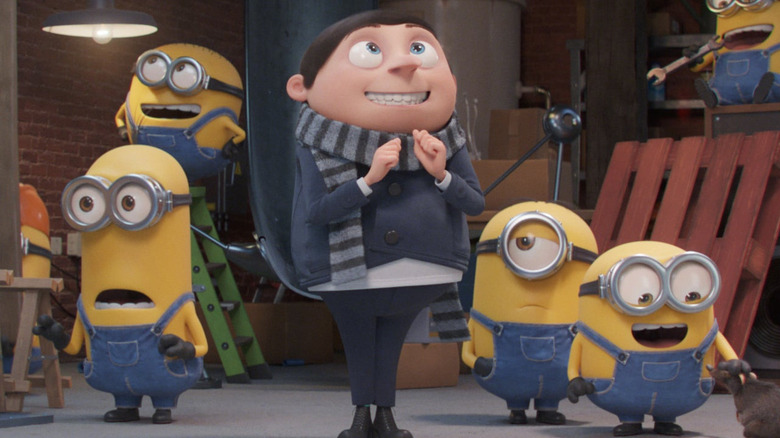 Illumination Entertainment
Universal Pictures Home Entertainment will send "Minions: The Rise of Gru" to physical media this fall, with a 4K UHD, Blu-ray, and DVD release slated for September 6, 2022.
Jam-packed with bonus content, the Collector's Edition home video release includes two all-new mini movies, hilarious outtakes, a how-to draw (and animate) lesson with co-director Brad Ableson, and so much more. Here's the full list of bonus features you'll find on the "Minions: The Rise of Gru" home video release:
BONUS FEATURES ON 4K UHD, BLU-RAYT, DVD AND DIGITAL FOR YOUR COLLECTION:
POST MODERN MINIONS (MINI MOVIE) – Experience one Minion's rise and fall as an artistic genius when he sneaks into a 1970's post-modern art gallery with a fellow Minion and unintentionally creates an explosive new art form that is declared by a snooty art critic as the greatest art he's ever seen. When the critic moves onto the next new artist, our Minion tries everything to get back in the spotlight, which accidentally leads to his next unexpected career.
MINIONS AND MONSTERS (MINI MOVIE) – Follow a newbie Minion as he joins three more experienced Minions in playing a 1970's fantasy role-playing game. After struggling to gain the skills needed to master the game, the newbie unexpectedly rises to the occasion and saves the day, earning him the magical crown and the appreciation of his buddies.
EXTENDED SCENE
OUTTAKES
CHARACTER PROFILES

GRU
WILD KNUCKLES
BELLE BOTTOM
MASTER CHOW
THE VICIOUS 6
BIKER

GRU-VY ANIMATION - Join Steve Carell and the directors as they take us through the animation process. From Concept Art, through Storyboards and on to the Final Film, with every Gru-vy step in between explained in fun and fascinating detail.
THE '70S – FASHION, FOOD & FUNK - A behind the scenes look at the 1970's through the lens of MINIONS: THE RISE OF GRU. From fashion to music, cultural phenomenon and back – the cast and filmmakers are bringing the 1970's to a whole new generation.
MINION MARTIAL ARTS - In this 1970s inspired martial arts movie throwback, we hear from the film's directors about their inspiration, how they created authenticity in animation, the role the many martial artists in the cast played to bring it to life and how you teach a Minion to fight.
HOW TO DRAW (& ANIMATE) WITH BRAD ABLESON - Co-director Brad Ableson shows us how to draw all of our favorite characters.

MINION
YOUNG GRU
KUNG FU STUART

LAIR FLAIR: MAKE YOUR OWN MINION HIDEOUT - The Minions aren't the only ones who can build a secret lair — now you can, too! (And yours doesn't have to be built under Gru's bed.)

THE LAIR
DISCO BUBBLES
JET PACK

SUPER STYLE SHOP - The Minion uniform of overalls and goggles is timeless. Simple yet functional. But sometimes Minions have a casual day out and can abandon their work attire for something more fashionable. Here's how can create fresh new fashion for YOUR Minions!

BELL BOTTOMS AND BANDANA
FRINGE VEST AND CHUNKY NECKLACE