Minions: The Rise Of Gru Review: Just What You'd Expect From A Blaxploitation Movie Starring Minions [Annecy]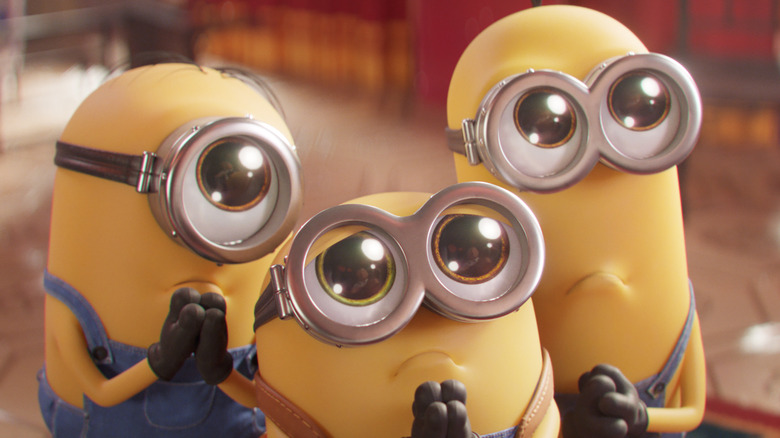 Illumination Entertainment
"Minions: The Rise of Gru" is just what you'd expect from a "Minions" movie. Five movies in, the formula is pretty well established. The humor remains the same here as in every other movie in the franchise, as does the animation style, the visual gags, and most of the story beats. After all, it's the Minions! They practically print money! When you have some of the most recognizable characters on the planet, you don't really have to come up with that many surprises. 
So it's hard to be that negative about a "Minions" movie when you know what you're getting in for. Except "Minions: The Rise of Gru" does have one card up its sleeve: It's actually a Blaxploitation movie starring the Minions, and it's pretty fun.
That's right. After a whole prequel where the Minions spent millions of years wandering the Earth looking for someone evil to serve as their henchmen, this movie finds them already having a long-working relationship with 11-year-old Gru (somehow still voiced by 59-year-old Steve Carell). 
It's the 1970s and there is nothing tiny Gru wants in the world than join his favorite team of supervillains: the Vicious 6. Lucky for Gru, the Vicious 6 just became the Vicious 5 after they plotted a coup and ousted their leader Wild Knuckles (Alan Arkin).
The Minions learn kung fu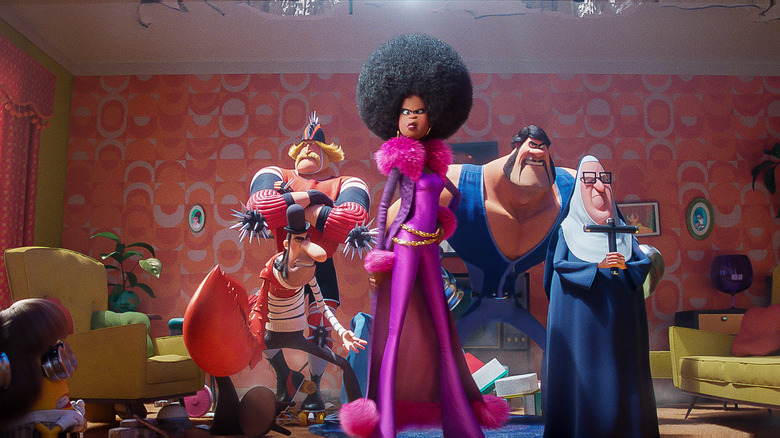 Illumination Entertainment
Things quickly go south when Gru is mocked for just being a kid during an interview to join the Vicious 5, then steals a sacred "Zodiac stone" from the supervillain team in return to prove that he's as good a villain as any of them. Of course, the supervillains don't take being fooled by a kid lightly, so Belle Bottom (Taraji P. Henson), the phenomenally named Jean Clawed (Jean-Claude Van Damme, naturally), Nunchuck (Lucy Lawless playing an actual nun with nunchucks), Svengeance (Dolph Lundgren) and Stronghold (Danny Trejo) all come chasing for Gru.
The film is at its best when it leans heavily into its '70s genre film inspirations, particularly Blaxploitation and Bruce Lee movies. Every character is both a very dumb caricature and hilariously cool and larger-than-life, like the aforementioned nun with nunchucks, or Michelle Yeoh playing an acupuncturist who doubles as a kung-fu master. 
Indeed, fans of "Enter the Dragon," but also "Three the Hard Way" or even "Dolemite" may find plenty to like in "Minions: Rise of Gru," or at least things to point and laugh at, like the mere attempt of Illumination channeling Blaxploitation through the Minions of all things. There are cool jackets, rollerblades, big afros, disco and soul songs, RZA, Taraji P. Henson as one badass supervillain, and even more kung fu training and fighting. Sure, it's still the same lowbrow humor we've come to know from this franchise, but it's hard not to smile and even laugh with the film once Michelle Yeoh starts pushing the Minions to "channel your inner beast."
With the kung-fu comes the most action scenes Illumination has done in a film, and director Kyle Balda proves he's capable of delivering fluid, dynamic action sequences with stakes as well as visual gags.
The Minions cinematic universe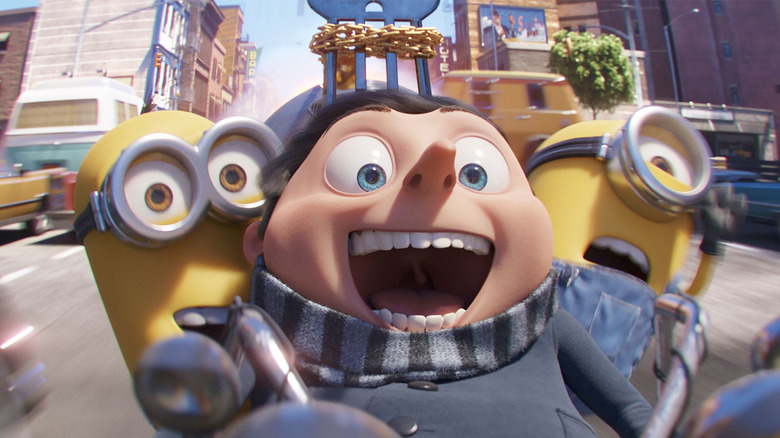 Illumination Entertainment
Of course, this is still a "Minions" movie, and as cool as the villains are, the film spends more time with the titular yellow pill capsule-shaped creatures doing silly things and fighting amongst themselves than anything else. The movie may be titled "Rise of Gru," but the character does little in the film, for better and worse.
What's perhaps most bizarre is the film's treatment of Easter eggs and references to the other films in the franchise — Russell Brand returns as Dr. Nefario, and there are other cameos. The film gives its cameos the same level of gravitas and on-screen time as Marvel does its post-credits scenes and big hold-for-applause moments, but hey, if you're that excited to see Gru hear word of his future nemesis, then more power to you.
"Minions: The Rise of Gru" will not usher in a new era of animation, nor change the way we treat prequels. What it will do is entertain kids with more Minions shenanigans, a fair number of fart jokes, and references to other characters in the franchise. But where the film really shines is in how it takes Bruce Lee and Blaxploitation movies and wraps them around a Minions story. If even one kid comes out of this movie wanting to see more movies with kung fu, killer nuns, and badass Black women, then that'd be enough.
/Film rating: 6 out of 10
"Minions: The Rise of Gru" held its world premiere at the Annecy International Animation Film Festival 2022.