The 17 Blaxploitation Films That Defined The Genre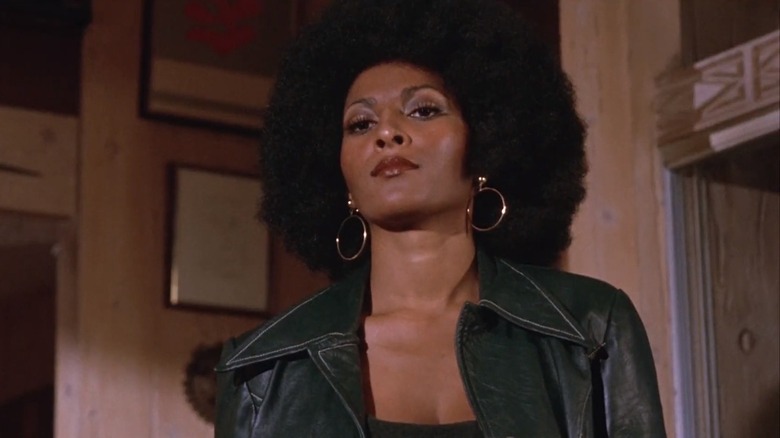 MGM
Blaxploitation is a subgenre of films that were largely made by Black casts and crews and often dealt with racial themes. Because of their status as "exploitation" flicks, many blaxploitation films contain lurid subject matter, including sex, violence, rape, and drugs, and are often lumped in with the wider grindhouse genre. However, the blaxploitation movement is more nuanced than its schlockier contemporaries and ran the gamut across many other genres, including comedy, crime, drama, and horror. Another reason why the blaxploitation genre should be given more credit than the other grindhouse films from that era is that many of the films explored relevant social issues of the day, something that typical blood-and-guts films of the day didn't usually do.
The heyday of blaxploitation films was the early-to-mid-1970s, although blaxploitation films continue to be made today and have been a source of inspiration for many of our generation's top filmmakers. While most blaxploitation films were made on tiny budgets, several of them were bona fide box office hits that did much to promote many Black actors and filmmakers among mainstream audiences. Today, blaxploitation is considered a major part of the history of Black cinema.
When the blaxploitation genre first exploded in the early '70s, there was a flurry of films that were released after the initial boom, making it difficult for someone interested in exploring the movement to know where to start. Luckily, we've created a list that outlines the essential blaxploitation films.
Cleopatra Jones (1973)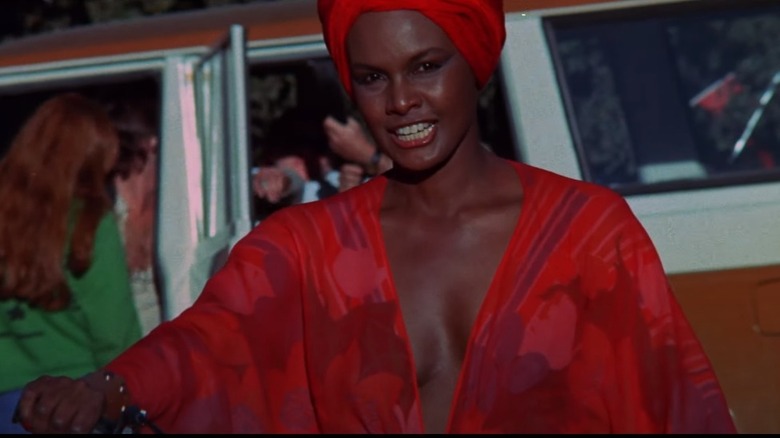 Warner Bros.
"Cleopatra Jones" follows Cleopatra "Cleo" Jones (Tamara Dobson), who poses as an international model by day while working as an agent for the United States government by night. Her most recent mission was destroying a poppy field in Turkey that was used as part of a drug empire headed by a crime boss named Mommy (Shelley Winters). Bothered that her occupation of ruining innocent peoples' lives has been handicapped, Mommy vows revenge on Cleo, who's been tearing apart Mommy's drug enterprise in Los Angeles. Will Mommy's all-male crew of cronies be a match for Cleo's martial arts skills and machine gun-equipped Corvette Stingray?
"Cleopatra Jones" is notable for not only having a strong female lead but for having a strong Black female lead, which was extremely rare in mainstream cinema at the time. Also, the character of Cleo, while exuding sexuality, was not as sexualized as other Black female characters, making the film all the more groundbreaking. While not a huge box office smash, "Cleopatra Jones" was popular enough to warrant a sequel, 1975's "Cleopatra Jones and the Casino of Gold."
Blacula (1972)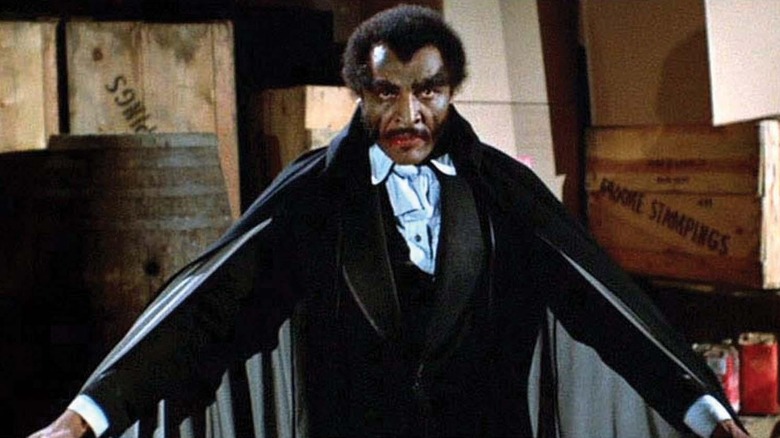 American International Pictures
Leave it to the blaxploitation genre to combine horror and romance with some biting social commentary on race. "Blacula" tells the story of an African prince (William Marshall) who, after asking Count Dracula (Charles Macaulay) for help in ending the slave trade in 1780, is bitten and turned into a vampire himself. Dracula then dubs him "Blacula" and imprisons him in a casket under his castle in Transylvania. However, the prince is pretty bothered by having his name forcibly changed and being prevented from leaving his host's pad for over a century, so he immediately starts chomping on the necks of modern-day Angelenos when he's awakened in 1972 Los Angeles.
"Blacula" may sound like a cheap gimmick, but the filmmakers' decision to give the title character a background that relates to slavery makes it stand out from other low-budget horror films of the 1970s. The film also has the distinction of being the first to win the award for "Best Horror Film" at the inaugural Saturn Awards. The legacy of "Blacula" will live on thanks to a reboot of the character that's currently in the works at MGM.
Dolemite (1975)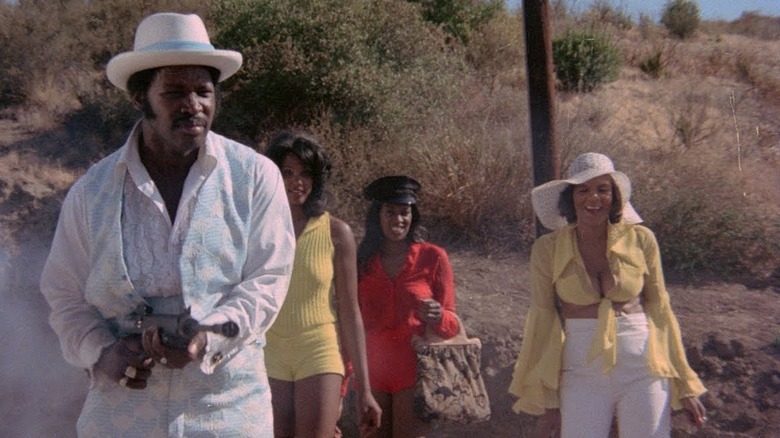 Dimension Pictures
Rudy Ray Moore stars as the eponymous Dolemite, who's a renaissance man of sorts. In addition to his life as a stand-up comic and owner of a nightclub, he's also developed a name for himself in the pimp business (pimps were a common trope in blaxploitation movies, and their influence can even be felt in "Star Wars"). However, this man of many tastes has his respectable career put on hold when he's framed for a crime he didn't commit and given a 20-year prison sentence. Luckily, Dolemite is given another chance at a free and sleazy life when one of his pimp peers convinces the governor to let him out — as long as he helps the authorities bring down the local drug empire.
"Dolemite" features plenty of the hallmarks of classic blaxploitation films and is a cult classic with a long legacy. It spawned two sequels: 1976's "The Human Tornado" and 2002's "The Dolemite Explosion" (alternately titled "The Return of Dolemite"). Also, Netflix released a film about Rudy Ray Moore and the making of "Dolemite," 2019's "Dolemite Is My Name," which features Eddie Murphy as Moore.
Truck Turner (1974)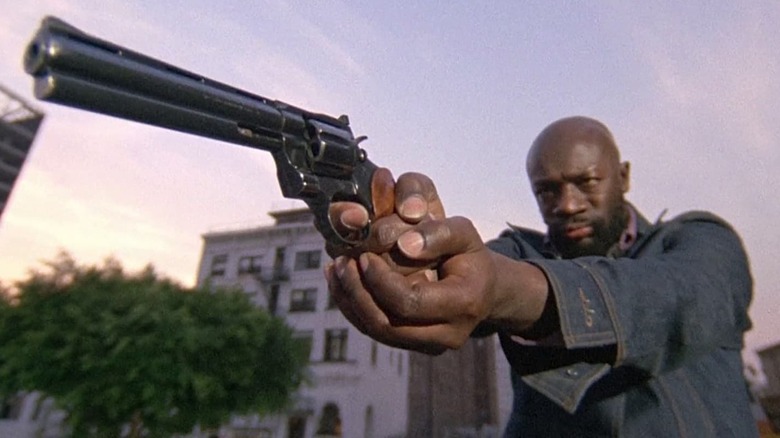 American International Pictures
Isaac Hayes (best known for his musical work on the blaxploitation classic "Shaft"), stars as Mack "Truck" Turner, who works in Los Angeles as a bounty hunter and has dreams of leaving his rough life behind as soon as his girlfriend gets out of jail. When Truck and his partner, Jerry Barnes (Alan Weeks), confront a pimp named Gator (Paul Harris) who owes bail, Gator is killed by the pair when he tries to shoot them. However, Gator's partner in crime, Dorinda (Nichelle Nichols), isn't too happy about her man's death and puts a hit out on Truck and Jerry.
In addition to playing the lead role, Isaac Hayes also provides the soundtrack. Although it's not as renowned as his previous work on "Shaft," Quentin Tarantino did use one of the cues in "Truck Turner" for "Kill Bill: Vol. 1." While Isaac Hayes is an absolute badass in this film, credit should also be given to Nichelle Nichols, who was known mostly for playing Uhura in the original "Star Trek" series. Her turn from stoic space cadet to evil crime boss is delightful and is worth the price of admission alone.
Black Caesar (1973)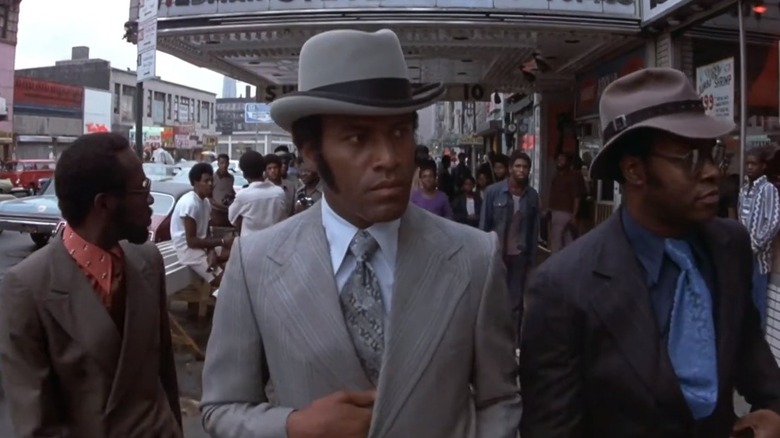 American International Pictures
Tommy Gibbs (Fred Williamson) was beaten up by a police officer as a child in Harlem, which, of course, turned him into one of the biggest crime bosses in New York City by the time he became an adult. His crime dynasty goes to war with the Italian Mob and engages in all kinds of illegitimate behavior. All the while, he records his dealings in his private ledger. Things get complicated for Tommy when he gets involved with a singer named Helen (Gloria Hendry), who soon turns on him for his violent tendencies and offers to work with his rivals.
Tommy Gibbs is played by former football player and B-movie icon Fred Williamson, who would go on to appear in "From Dusk till Dawn," starring and written by blaxploitation superfan Quentin Tarantino. "Black Caesar" is also notable for featuring a score written by the Godfather of Soul himself James Brown, which has been sampled by numerous rappers, including Ice-T, Trick Daddy, Prodigy, and Nas.
Three the Hard Way (1974)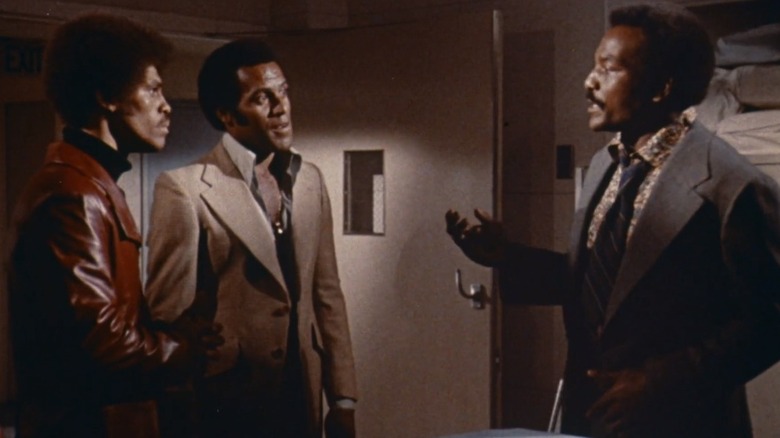 Allied Artists Pictures Corporation
One of the few blaxploitation flicks that seems to have a budget, the filmmakers behind "Three the Hard Way" put that money to good use in the form of big action scenes, impressive stunts, and multiple shooting locations. The film follows music producer Jimmy Lait (Jim Brown) as he stumbles upon a white supremacist plot to carry out the genocide of African Americans with a toxin that's to be deployed into the water supplies of major cities. Jimmy is joined by his friends, businessman Jagger Daniels (Fred Williamson) and martial artist Mister Keyes (Jim Kelly), and together, they arm themselves with guns that apparently never need to be reloaded.
The plot of "Three the Hard Way" is ludicrous, but man, is it fun! Jim Brown as Jimmy, Fred Williamson as Jagger, and Jim Kelly as Mister Keyes are a delight to watch. Plus, the film's multiple locales (Chicago, Los Angeles, New York City, and Washington, D.C.) give the film a James Bond vibe.
Trouble Man (1972)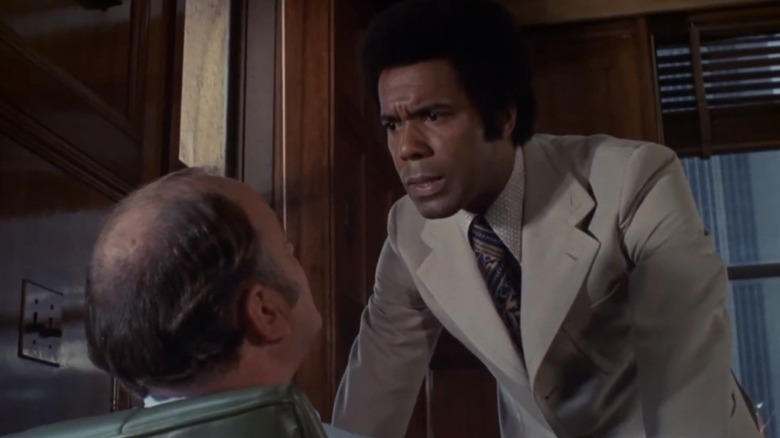 20th Century Fox
Robert Hooks plays a private detective named Mr. T (heh) who's got connections to law enforcement as well as the criminal element of South Central Los Angeles. Mr. T lives a good life, walking that fine line that separates both sides of the law, and displays his good life with his expensive car, apartment, and outfits. He's soon hired to track down a quartet of robbers in what seems like a straightforward gig. However, Mr. T is framed for the murder of a local crime boss' henchman and finds himself hunted by both the criminals and the LAPD.
While "Trouble Man" is every bit as sleazy as its blaxploitation contemporaries, it's noted for a strong performance from classically trained Robert Hooks, who brings a captivating presence to a genre populated by films that were generally led by inexperienced actors and athletes. Plus, who could forget the stellar soundtrack by R&B legend Marvin Gaye?
Coffy (1973)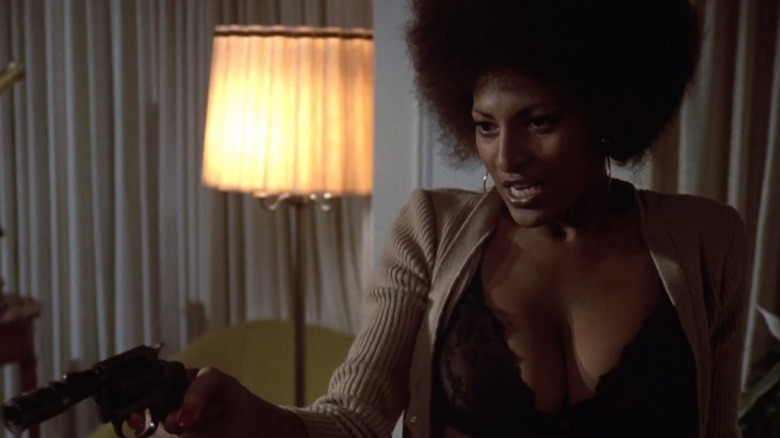 American International Pictures
Why someone whose name is Flower Child Coffin would need a nickname is beyond me, but it's not like blaxploitation flicks are renowned for their subtlety. In this one, Flower Child (called "Coffy" and played by Pam Grier) is a Los Angeles emergency room nurse whose sister is addicted to heroin. Coffy declares war on the crime and depravity that have besieged Los Angeles. She's not afraid to get her hands dirty in this war, either. Her modus operandi is to pretend to be a sex worker with a drug addiction. She seduces pimps and drug dealers, catching them in a trap that generally ends in their brutal deaths.
Blaxploitation films had no shortage of tough-as-nails female leads, and "Coffy" is among the better examples. With this film, Pam Grier established herself as a force to be reckoned with in the genre and would go on to capitalize on her impressive performance a year later in another blaxploitation classic, "Foxy Brown." Of course, trash cinema-lover Quentin Tarantino would have her play the lead in his ode to blaxploitation, 199'7s "Jackie Brown."
Super Fly (1972)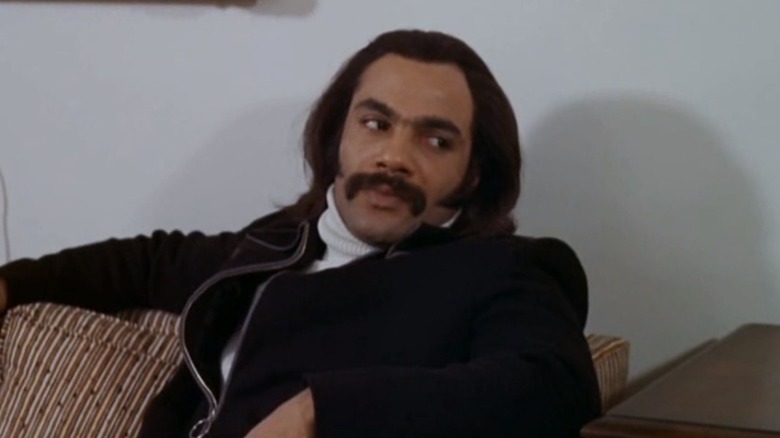 Warner Bros.
After living a life of high-paying crime, Youngblood Priest (Ron O'Neal) is looking to give up his career of selling cocaine but only after one last lucrative score, of course. As proof of his desire to become a decent, law-abiding man, Priest coerces his dealer, Fat Freddie (Charles McGregor), to help him rip off one of their rivals under the threat of pimping out Freddie's wife against her will. As expected, plenty of things go wrong on Priest's quest to join the side of the angels, especially when that one last score involves a million dollars worth of coke.
The subject matter may be typical blaxploitation sleaze, but "Super Fly" is one of the most influential flicks to come out of the genre, leading to two sequels (1973's "Super Fly T.N.T." and 1990's "The Return of Superfly") and a remake in 2018. Ron O'Neal delivers a surprisingly complex performance as Youngblood Priest, giving the film a dramatic heft not often found in other blaxploitation films. "Super Fly" is also notable for its hit soundtrack provided by Curtis Mayfield.
Foxy Brown (1974)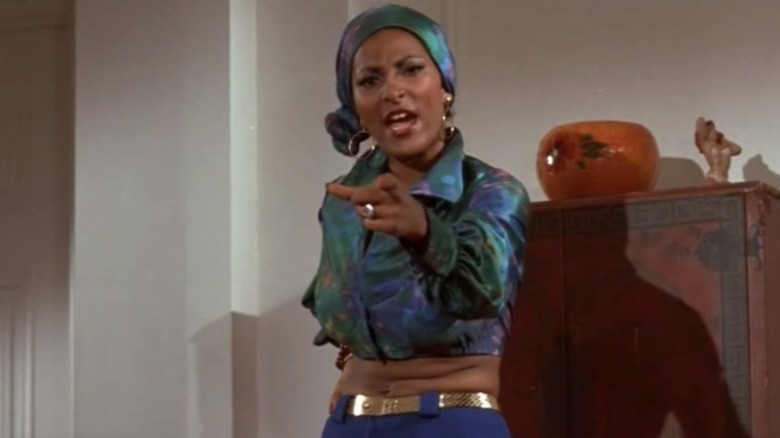 American International Pictures
When her boyfriend is killed by gangsters, Foxy Brown (Pam Grier) sets out to avenge his death and connects his killers to a supposed modeling agency. The agency, however, is just a front for a drug ring that has links to politicians and police officers. Foxy works her way into the agency by presenting herself as a sex worker and even manages to free an innocent Black woman from their clutches. It's not too long before Foxy's ploy is uncovered, and the bosses of the criminal syndicate send her to a drug manufacturing plant to work for them. What they don't know is that Foxy is tougher and more clever than they thought, and she's got a heavy score to settle.
Pam Grier had already established herself as a force to be reckoned with in the previous year's "Coffy," but "Foxy Brown" cemented her reputation as the reigning queen of 1970s Black cinema. In 2016, there was some talk of rebooting "Foxy Brown" in the form of a TV series with Meagan Good in the title role, but there've been no new updates on the project.
Shaft (1971)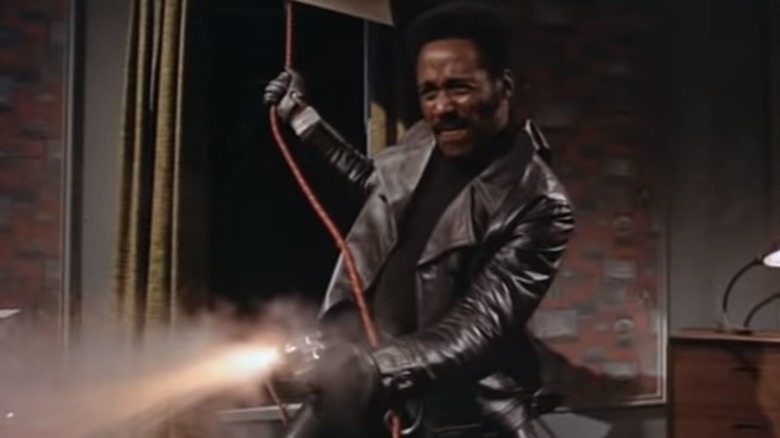 MGM
John Shaft (Richard Roundtree) is a preternaturally cool private detective who, after casually taking out a couple of gangsters, learns that they were sent by a crime boss named Bumpy Jonas (Moses Gunn). Shaft catches the attention of the local police after a fight that ends with one of the gangsters being thrown out of a window. He's given 48 hours to hit the streets and collect intel on what's brewing between various rival gangs. Shaft meets with Bumpy, who wants him to rescue his daughter from mobsters, but this being a blaxploitation film, Shaft's assignment gets real violent real fast.
"Shaft" was an early blaxploitation entry, and is also one of the best. It features many elements that would go on to become hallmarks of the genre: stylish-yet-tough leads, gratuitous shootouts, gang war, racial commentary, and a killer soundtrack. Who could forget Isaac Hayes' legendary theme song? Hayes' classic tune would garner him numerous major awards, including an Oscar, a Golden Globe, and a Grammy.
Ganja & Hess (1973)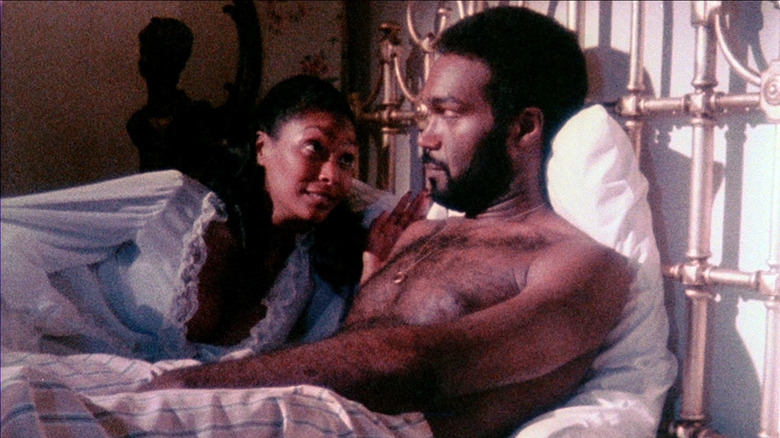 Kelly-Jordan Enterprises
Dr. Hess Green (Duane Jones) is a prominent anthropologist who, along with his colleague George Meda (Bill Gunn), is studying an age-old African tribe called the Myrthians. While this may not seem like a typical setup for a blaxploitation movie, it should be noted that drinking blood was a sacred custom among the Myrthians, and it isn't long before Meda is possessed by the spirit of an ancient evil Myrthian queen and turns Hess into a vampire before killing himself. Hess then seduces Meda's widow, Ganja (Marlene Clark), gets her addicted to blood, and the two go on a lovers' killing spree.
There aren't very many horror movies in the blaxploitation genre, making "Ganja & Hess" stand out from its more crime-oriented contemporaries. However, its sanguine subject matter is artfully portrayed and features some surprisingly experimental elements. It still holds up well today with critics, and its legacy was secured even further when it was remade by Spike Lee in 2014 as "Da Sweet Blood of Jesus."
Penitentiary (1979)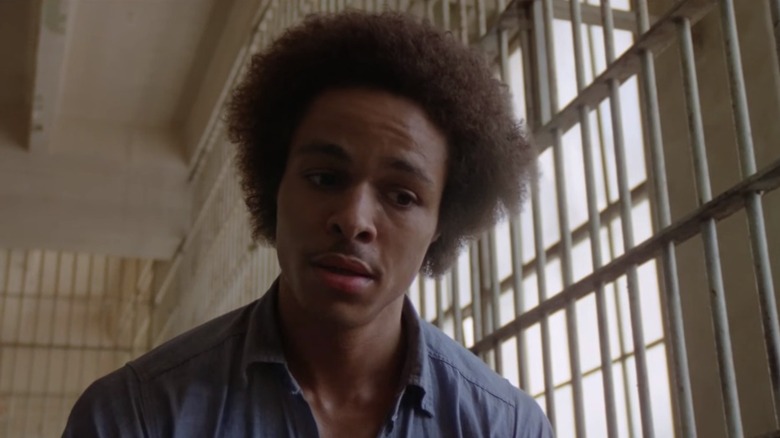 The Jerry Gross Organization
"Penitentiary" follows Martel Gordone (Leon Isaac Kennedy) as he's taken in by an illegal sex worker named Linda (Hazel Spears) who's developed an interest in him. However, when Gordone gets into a fight with a couple of Linda's customers, he ends up knocked out, only to wake up with a murder charge for supposedly killing one of his attackers. Gordone is sent to prison where he takes down one of the toughest inmates in a brutal brawl, leading to him being thrown into another cell. However, upon meeting an elderly inmate (Floyd Chatman) who imparts some wisdom to him, Gordone's inspired to participate in an illegal prison boxing contest put together by a corrupt prison guard. The winner will be released on parole.
A latecomer in the blaxploitation genre, "Penitentiary" stands out for its entertaining mix of crime, prison drama, and boxing. Like many of its contemporaries, the film balances its use of exploitation cliches with plenty of biting commentary about the ways Black people are still being treated long after the progress made by the civil rights movement.
The Mack (1973)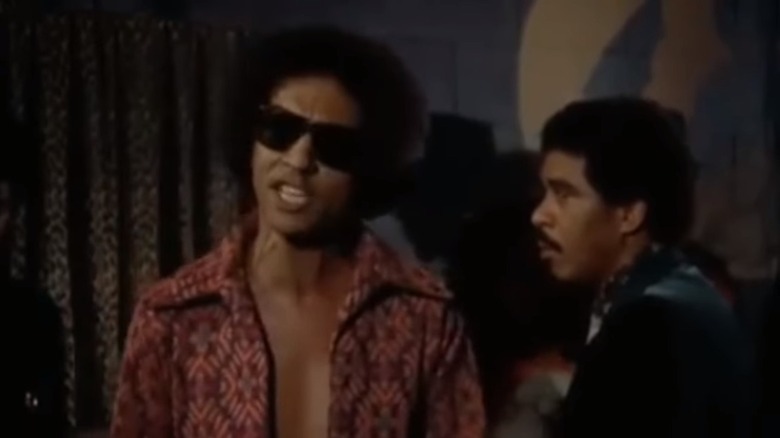 Cinerama Releasing Corporation
John "Goldie" Mickens (Max Julien) has just finished serving five years in the slammer and, having failed to learn that crime doesn't pay, decides to get his life back together by becoming a pimp in Oakland. This upsets Goldie's brother, Olinga (Roger E. Mosley), who's trying to clean up his crime-plagued neighborhood. Ignoring Olinga's pleas to live a straight life, Goldie soon puts together a stable of sex workers and emerges as a luminary in the pimp business. However, Goldie's rapid rise puts him on the radar of Fatman (George Murdock), his previous employer in the heroin sector, and two racist white cops.
The subject matter of "The Mack" is typically sleazy, but there's a surprising amount of social commentary on race and crime. Legendary comedian Richard Pryor (who plays Goldie's partner, Slim) is a delight, and the film features a terrific soundtrack by Motown artist Willie Hutch. One of the tracks, "Brother's Gonna Work it Out," has been sampled by numerous rappers, including Dr. Dre, Chance the Rapper, Chief Keef, and others.
Sweet Sweetback's Baadasssss Song (1971)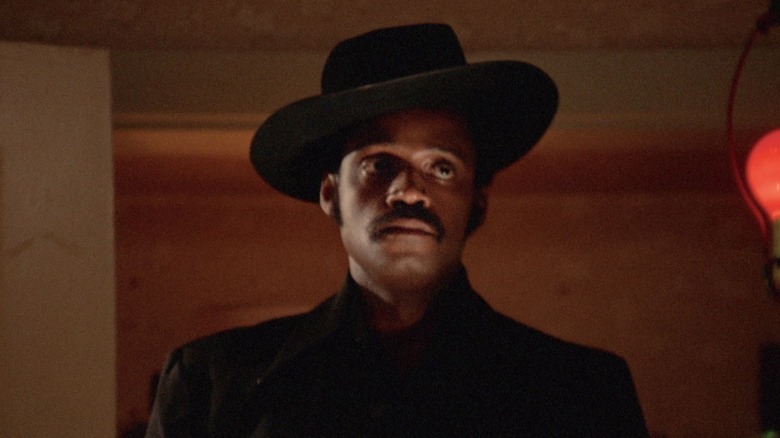 Cinemation Industries
Sweetback (Melvin Van Peebles) spent his childhood as an orphan living in a brothel in Los Angeles, so right off the bat, you know that Yale probably isn't going to be in his future. By the time he's an adult, he's still at the brothel, putting on regular sex shows. However, Sweetback's — ahem — career is interrupted when his boss, Beetle (Simon Chuckster), hands him over to the police, who are looking for a suspect to bring in for the murder of a Black man — even if that suspect is innocent. After Sweetback brutally beats up two police officers for their part in assaulting a Black Panther, he ends up on the run from the law. His journey to Mexico includes plenty of run-ins with the police, hippies, and biker gangs.
"Sweet Sweetback's Baadasssss Song" is quite possibly the first-ever blaxploitation flick. Trashy yet incredibly fun and innovative for its time, the film is the product of Melvin Van Peebles' genius. Van Peebles wrote, directed, starred in, produced, edited, and wrote the score for it. While Van Peebles, unfortunately, passed away in 2021, the making of his masterpiece was immortalized in his son Mario's acclaimed 2003 biographical drama, "Baadasssss!"
Trick Baby (1972)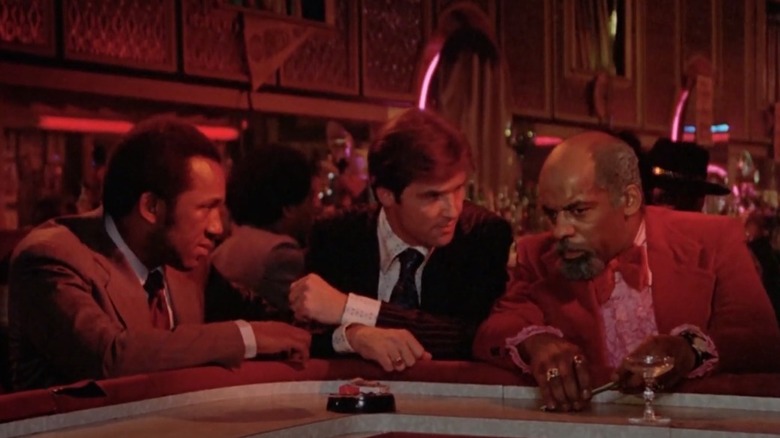 Universal Pictures
"Trick Baby" has a wonderfully ludicrous premise: "Blue" Howard (Mel Stewart), who is Black, and "White Folks" (Kiel Martin), who is half-Black, half-white, are two con artists who use their differing complexions as part of their criminal schemes. The two are able to take advantage of the complicated race relations of the time to pull off some successful scores, but their cons attract the attention of the mobsters they rip off as well as that of the local police.
The film was based on the eponymous novel by Iceberg Slim, a prominent Black author at the time. Despite the absurdity of "Trick Baby," its noirish tone and downbeat ending lend some dramatic heft to what could've been an otherwise forgettable exploitation flick. Because of its critique of the racial dynamics between Black and white people, "Trick Baby" has something thoughtful to say even today and is worth watching for those who want a bit of profundity served with some gritty action.
The Education of Sonny Carson (1974)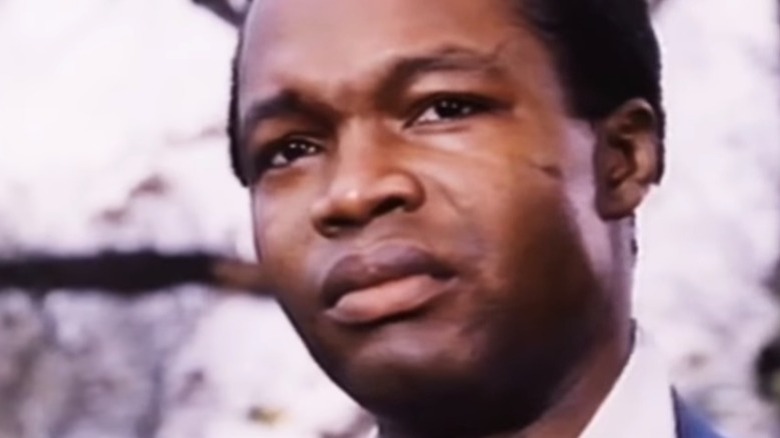 Paramount Pictures
Sonny (Thomas Hicks) is a teenager who spends three months in jail for attempting to rob a local store. While in jail, Sonny is recruited into a gang called the Lords by their leader, Willie (Roger D.A. Davis). As an adult, Sonny (Rony Clanton) has continued his gangster life with the Lords, which includes regular bouts with rival gang, the Hawks. After robbing a man, Sonny is sent back to prison, where he encounters Willie again. After numerous lessons on the brutality of prison life, Sonny begins to question his choices and whether it's worth it to continue his felonious ways.
One of the more dramatic and realistic films in the blaxploitation genre, "The Education of Sonny Carson" gives audiences an unflinching look at the tumultuous experiences many Black people experienced at the time. The film's stark depiction of race comes from its source material, the autobiography of civil rights leader Robert "Sonny" Carson (who later went by the name Mwlina Imiri Abubadika). Popular in the rap world, dialogue from the film has been sampled by such artists as Common, Ghostface Killah, and 2 Chainz.