Minions: The Rise Of Gru Trailer: Despicable Me Returns In Prequel Form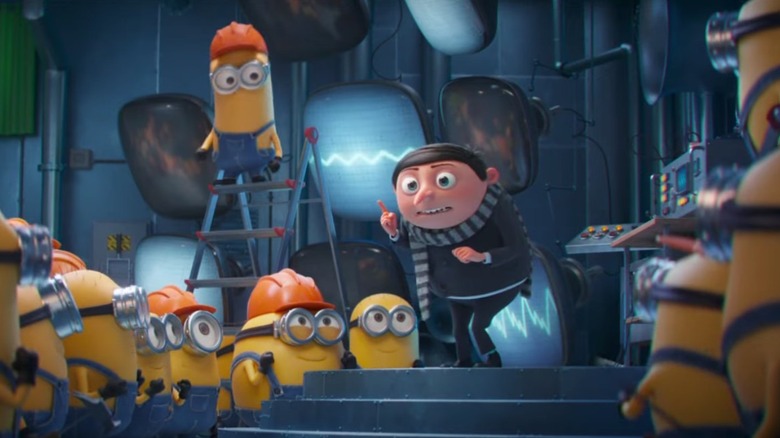 Universal Pictures
You can only keep a cash cow franchise away for so long, and today brings us a brand new trailer for "Minions: The Rise of Gru." Though technically more of a sequel to 2015's "Minions," this is really a return of the "Despicable Me" franchise by way of a prequel showing us, as the title implies, the rise to power of Gru, voiced by Steve Carell. It's kind of the best of both worlds, as we get the character that made this series what it is, as well as some Minions branding in there. Let's see how it looks, shall we?
Minions: The Rise of Gru trailer
More or less, this looks like precisely the movie that anyone entering the fifth movie in this franchise might expect. It's lots of family-friendly gags, evildoers doing evil things, Minions doing their thing, and a great deal of animated action. Perhaps the most surprising thing is that Eminem provides the soundtrack for the trailer. But beyond that, this is exactly in line with expectations.
The absolutely stacked cast for this entry includes Taraji P. Henson, Michelle Yeoh, RZA, Jean-Claude Van Damme, Lucy Lawless, Dolph Lundgren, Danny Trejo, Russell Brand, with Julie Andrews, and Alan Arkin Kyle Balda is in the director's chair, having helmed both "Minions" and "Despicable Me 3." It is also co-directed by Brad Ableson ("The Simpsons") and Jonathan del Val ("The Secret Life of Pets")
As good as printing money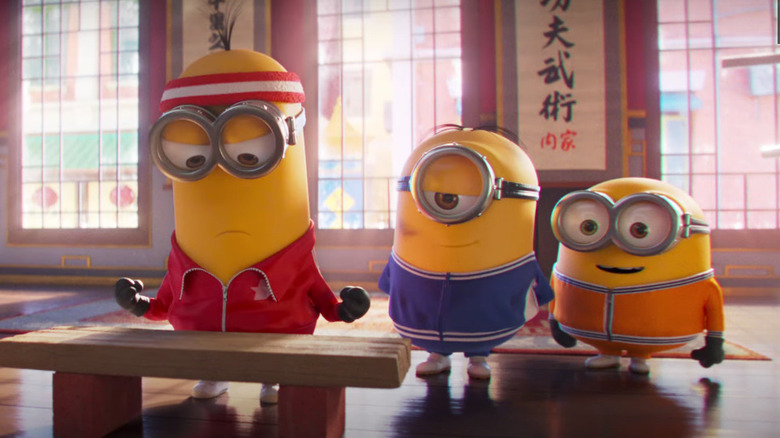 Universal Pictures
Certain moviegoers who perhaps don't have small children might roll their eyes at the idea of another one of these movies. Yet, it is always important to remember that not everything is for everyone. But in this case, there is a downright gigantic global audience for these movies, perhaps bigger than the average person may even realize.
"Despicable Me" was released in 2010 and became a solid hit for Universal and animated studio Illumination, taking in $543 million. But the series only gained steam from there, with both "Minions" and "Despicable Me 3" taking in more than $1 billion at the global box office. Make no mistake, this is one of the biggest franchises in the world right now and its continuation is good for the movie business when theaters could use every guaranteed hit to put meat in seats right now.
"Minions: The Rise of Gru" hits theaters on July 1, 2022.
Long before he becomes the master of evil, Gru (Oscar nominee Steve Carell) is just a 12-year-old boy in 1970s suburbia, plotting to take over the world from his basement. It's not going particularly well. When Gru crosses paths with the Minions, including Kevin, Stuart, Bob, and Otto—a new Minion sporting braces and a desperate need to please—this unexpected family joins forces. Together, they build their first lair, design their first weapons, and strive to execute their first missions.

When the infamous supervillain supergroup, the Vicious 6, oust their leader—legendary martial arts fighter Wild Knuckles (Oscar winner Alan Arkin)— Gru, their most devoted fanboy, interviews to become their newest member. The Vicious 6 is not impressed by the diminutive, wannabe villain, but then Gru outsmarts (and enrages) them, and he suddenly finds himself the mortal enemy of the apex of evil. With Gru on the run, the Minions attempt to master the art of kung fu to help save him, and Gru discovers that even bad guys need a little help from their friends.