Minions: The Rise Of Gru: Release Date, Cast, And More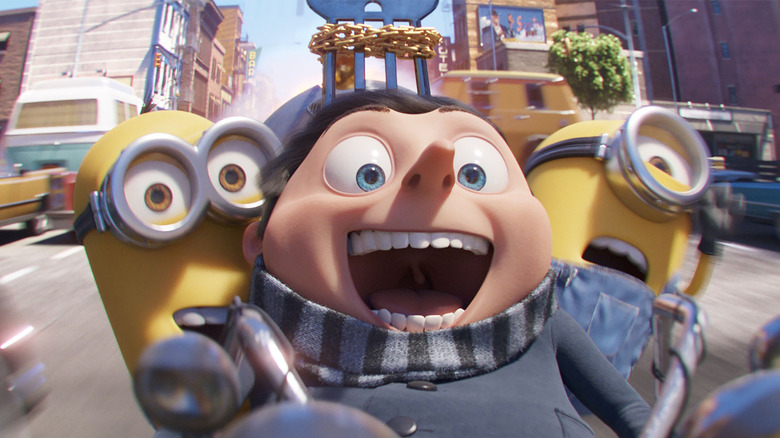 Illumination Entertainment
Kids just can't get enough of those adorable yellow henchmen known as Minions. In fact, they're so popular that the "Despicable Me" franchise name has disappeared in favor of "Minions" branding. Even with a story that focuses on young Gru's origin story as a young child who dreamed of being part of the super-villain group known as the Vicious 6, the movie has been dubbed "Minions: The Rise of Gru." 
"The Rise of Gru" will follow the aspiring bad guy's rise to power, including his relationship with the goofy little Minions. But when can you see it? Find out the "Minions: The Rise of Gru" release date and everything you need to know about the movie below.
Minions: The Rise of Gru Release Date and Where You Can Watch It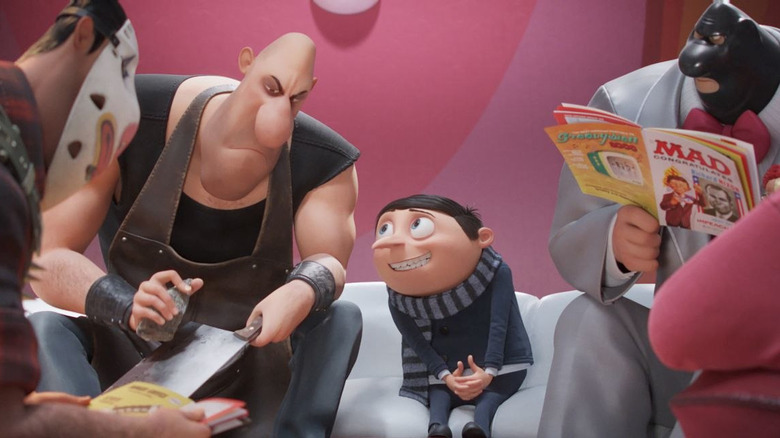 Illumination Entertainment
"Minions: The Rise of Gru" was originally slated to be released in theaters in July 2020, but the COVID-19 pandemic resulted in the movie being delayed to July 2021 instead. However, when it appeared the pandemic hadn't receded enough to give audiences the confidence to return to theaters in the same numbers as before, the prequel was again pushed back another year to a July 1, 2022 release date. So next year you can have a cookout, shoot some fireworks, and learn more about little Gru and his Minions.
What is Minions: The Rise of Gru?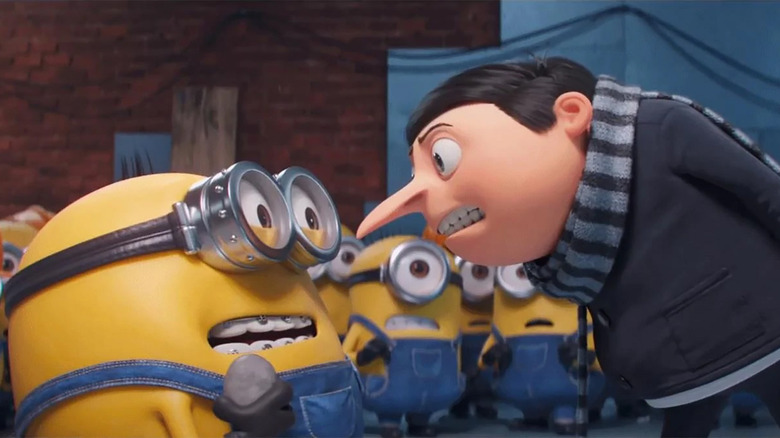 Illumination Entertainment
"Minions: The Rise of Gru" is the latest installment in both the "Despicable Me" and "Minions" animated franchises. Acting as a prequel to the "Despicable Me" franchise, the film picks up where the spin-off "Minions" left off, which also makes it a "Minions" sequel. Everyone on board with that?
After their previous boss, Scarlet Overkill (Sandra Bullock) seemingly met her demise, the Minions were on the hunt for a new villain to assist. Suddenly, they learned that Scarlet survived and was trying to steal the crown of the Queen of England (again). Rather than rejoining Scarlet, the Minions became infatuated with Gru when he froze Scarlet with a freeze gun and fled with the crown on a rocket-powered motorbike. "Minions: The Rise of Gru" finds them working together to turn Gru into the super-villain he so desperately wants to be, and they just might get their chance when there's an opening in the villain team known as the Vicious 6.
The movies in the "Despicable Me" and "Minions" franchises have been huge hits, but they've been hit or miss when it comes to quality. They rely on a lot of slapstick comedy, which is fine for an animated franchise geared towards kids, and the "Despicable Me" movies in particular have plenty of heart to spare. But not all the humor works, and they can veer towards being a little too childish from time to time. Yes, these movies are intended for kids, but that doesn't mean they inherently have to be dumbed down. It'll be interesting to see how "Minions: The Rise of Gru" works as the ultimate crossover between the primary "Despicable Me" franchise and the "Minions" spin-off.
Minions: The Rise of Gru Cast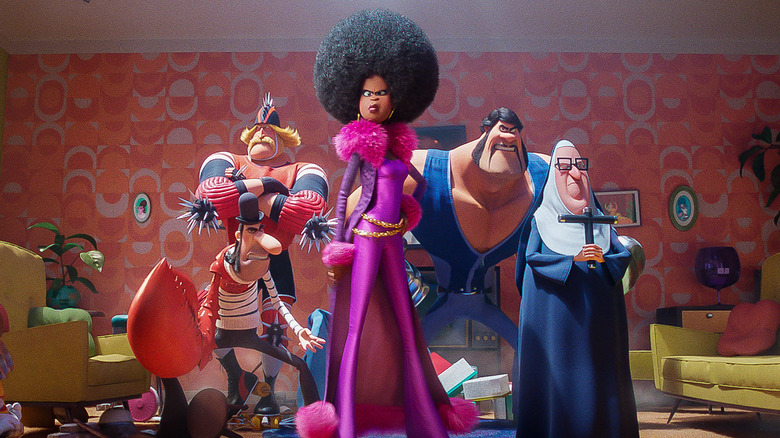 Illumination Entertainment
"Minions: The Rise of Gru" is bringing back French animator and director Pierre Coffin to lend his voice to the main Minions — known as Kevin, Stuart, Bob, and Otto — as well as all the other assorted little guys in the huge crew. Also returning will be Steve Carell as Gru, though his voice will be much higher-pitched than we're used to since this is a childhood Gru we're dealing with. Russell Brand will reprise his role as the absent-minded scientist Dr. Nefario, but this is long before he becomes Gru's assistant.
Then we have an amusing assembly of voice talent making up the Vicious 6. Alan Arkin is voicing Wild Knuckles, the former leader of the Vicious 6, who has since retired from the team. Then we have Taraji P. Henson as Belle Bottom, the new leader of the team, along with Jean-Claude Van Damme as a giant lobster-clawed villain named Jean Clawed (get it?). There's also Lucy Lawless as a villainous nun named Nunchuck, Dolph Lundgren as Svengeance, and Danny Trejo as Stronghold.
Other voices include Michelle Yeoh as Master Chow, Julie Andrews as Gru's mother, and RZA in an undisclosed role.
Minions: The Rise of Gru Director, Writer, and More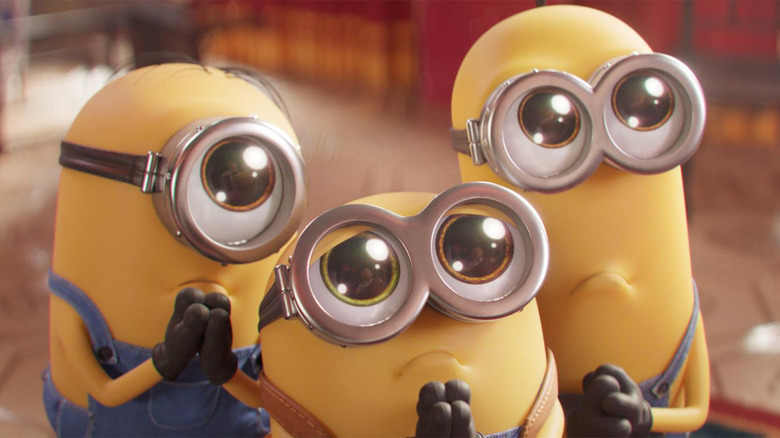 Illumination Entertainment
"Minions: The Rise of Gru" is directed by Kyle Balda, who co-directed "Minions" with Pierre Coffin and "The Lorax" with Chris Renaud. The screenplay comes from Brian Lynch, who also wrote "Minions" and one of Illumination Entertainment's other big animated franchises, "The Secret Life of Pets."
Chris Meledandri is producing along with Chris Renaud and Janet Healy, who have all produced Illumination Entertainment films such as "Sing," "The Grinch," and the "Despicable Me" and "Minions" franchises.
Minions: The Rise of Gru Trailer and Synopsis
Here's the official synopsis for "Minions: The Rise of Gru" from Illumination Entertainment:
In the heart of the 1970s, amidst a flurry of feathered hair and flared jeans, Gru (Steve Carell) is growing up in the suburbs. A fanboy of a supervillain supergroup known as the Vicious 6, Gru hatches a plan to become evil enough to join them. Luckily, he gets some mayhem-making back-up from his loyal followers, the Minions. Together, Kevin, Stuart, Bob, and Otto – a new Minion sporting braces and a desperate need to please – deploy their skills as they and Gru build their first lair, experiment with their first weapons, and pull off their first missions.

When the Vicious 6 oust their leader, legendary fighter Wild Knuckles (Alan Arkin), Gru interviews to become their newest member. It doesn't go well (to say the least), and only gets worse after Gru outsmarts them and suddenly finds himself the mortal enemy of the apex of evil. On the run, Gru will turn to an unlikely source for guidance, Wild Knuckles, and discover that even bad guys need a little help from their friends.