Nick Offerman Won't Follow In Tom Hanks' Footsteps For Amazon's A League Of Their Own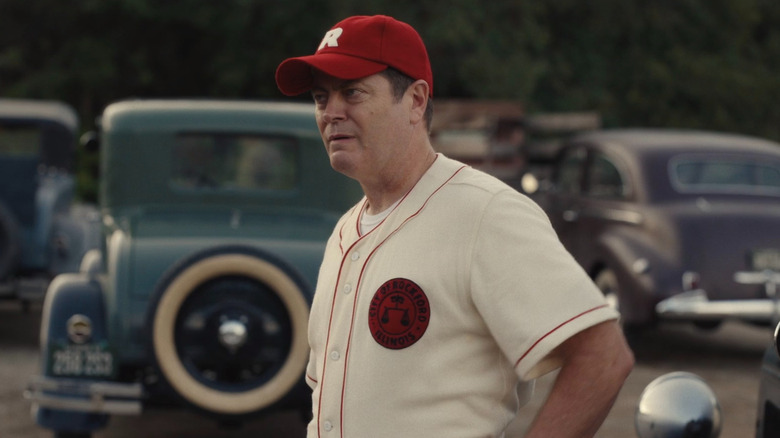 Prime Studios
"A League of Their Own" was one of those highly fêted comfort movies that I didn't get around to watching until just a few years ago, and it's pretty astounding how the Penny Marshall-directed sports drama about a group of talented women vying to join the All-American Girls Baseball League still bats a million. It boasts an impeccable cast with Geena Davis, Madonna, Rosie O'Donnell, and Lori Petty showing everyone how it's done, but arguably the film's most iconic performance belongs to Tom Hanks' Jimmy Dugan.
Any conversation involving this movie will almost inevitably lead to someone reciting Hanks' "There's no crying in baseball!" There was even a script floating around at one point that gave Dugan his own spin-off movie. Hanks' presence is so magnetic, however, that it nearly overshadows the film's already stacked cast.
"Parks and Recreation" star Nick Offerman will be rounding the cast of Amazon Prime's new series adaptation as the Rockford Peaches' coach. But he won't be playing Jimmy Dugan, instead, he'll play a character named Casey "Dove" Porter. Naturally, implementing a new character in the Dugan role calls for an entirely different performance. It's for the best given that it would be futile for him to recreate Hanks' pitch perfect drunken demeanor. But the changes will go beyond the character himself.
A different portrayal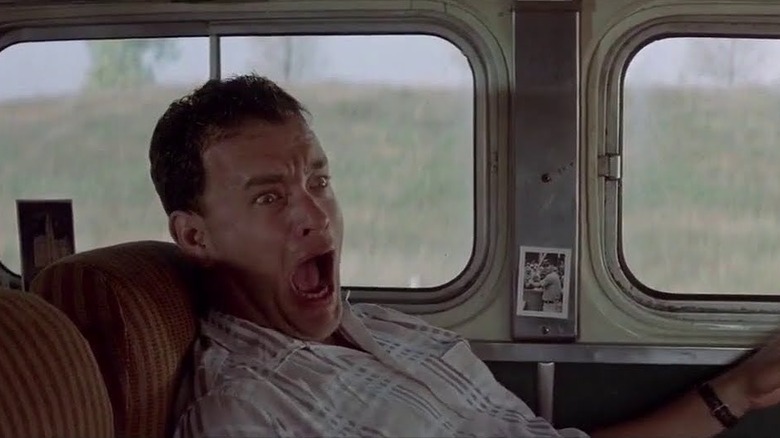 Columbia Pictures
Series co-creator Abbi Jacobson told The Hollywood Reporter that while Offerman won't be an ancillary character, the series won't revolve around the coach character either, unlike Marshall's film:
"In some places where you go to watch the film, the description is that it's about a washed-up player who goes to coach a women's league, and it's like, 'That's what this film is about? [...] Tom Hanks is one of my favorite parts of that movie, but with this telling, the coach is not [at the center], and Nick knew that coming. It's a different portrayal."
The entire point of "A League of Their Own" is to show the disparity of women in sports, and how they have just as much verve to play the game within a white male-dominated industry. Propping up Offerman above the players would kind of defeat the point. Both Jacobson and her co-creator Will Graham wanted to focus on the players at hand.
Jacobson, Chanté Adams, Roberta Colindrez, D'Arcy Carden, Gbemisola Ikumelo, Kelly McCormack, Priscilla Delgado, Molly Ephraim, Melanie Field, Dale Dickey and Kate Berlant all round out this wonderful new cast. With the series comes a chance to shine an even brighter light on this spectacular cast of names joining the Rockford Peaches. I'm looking forward to Offerman's performance, but this is their time to shine on the diamond.
All episodes of "A League of Their Own" will be available to stream on Amazon Prime on August 12, 2022.