The 25 Best Parks And Recreation Episodes, Ranked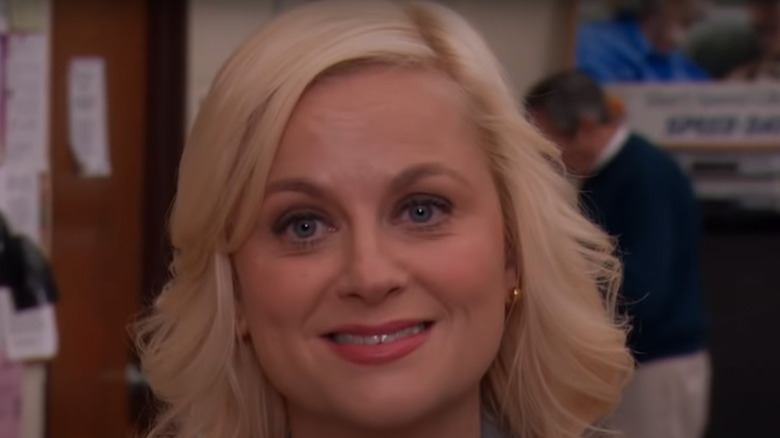 NBC
"Parks and Recreation" will go down as one of the greatest TV comedies in history. Created by Greg Daniels and Michael Schur, the mockumentary-style sitcom explored the depths of a local parks department in Pawnee, Indiana. All things considered, it has more than earned its place next to similarly-written shows like "The Office" and "The Good Place." 
With Leslie Knope (played by show producer Amy Poehler) at its center, the show delivered on its promise to satirize local government through sharp-tongued wit and plenty of physical gags. Amidst its socio-political harpooning, there were real stories told about real people living in middle America. Through humor, such themes as LGBTQ+ equality, relationships, love, and even death were amplified onscreen to give additional weight to the sometimes outlandish situations.
The show also starred Rashida Jones (Ann Perkins), Nick Offerman (Ron Swanson), Aziz Ansari (Tom Haverford), Aubrey Plaza (April Ludgate), Chris Pratt (Andy Dwyer), Retta (Donna Meagle), Jim O'Heir (Jerry Gergich), Adam Scott (Ben Wyatt), and Rob Lowe (Chris Traeger).
It's rare to have a show so consistently strong across the board — but here, we've selected the best episodes and ranked them.
25. The Reporter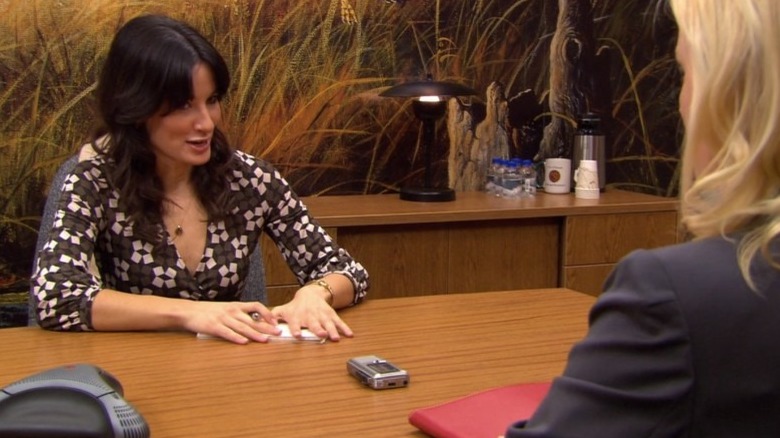 NBC
Pawnee Journal reporter Shauna Malwae-Tweep is first introduced in "The Reporter" (Season 1, Episode 3). Leslie mounts an ambitious plan to turn a giant pit, located next to Ann's house, into a park. But there's too much red tape to get through, so she enlists Shauna to cover the story. Shauna comes to the Parks & Rec office and interviews Tom, Leslie, April, and Andy, who confesses he was drunk the night he fell into the pit. Needless to say, the meeting doesn't go as planned, and Shauna offers to come to the pit on another day.
The following morning, Mark drops Shauna off at the construction site, and she's wearing the same clothes as the day before. Characteristically, Leslie picks up on this detail and cops an attitude with Shauna. As we know, Leslie and Mark once hooked up several years prior, and she still harbors a secret love for him. Leslie tries to clear the air, claiming she had food poisoning during their second meeting, and offers to give a full statement over waffles at her favorite diner, J.J.'s. It goes considerably better, yet Shauna still writes a lukewarm story.
"The Reporter" clues the viewer into Leslie's sometimes neurotic side. It's an early defining episode for Poehler; you can always depend on an endearingly but chaotic performance.
24. Rock Show
NBC
Hardcore fans already know how Leslie is so easily consumed by her work. In "Rock Show" (Season 1, Episode 6), she misinterprets a date (coordinated by her mom) with an older gentleman named George (Ron Perkins) as a work meeting. Despite the potential suitor brushing off her work inquiries, Leslie presses with pit-related questions. It's only after he feeds her chicken that she takes the hint.
Later that night, George accompanies Leslie to a bar where Andy's band is performing. Meanwhile, Ann learns Andy could have had his double-leg casts removed weeks ago. She confronts him and ultimately throws him out of her house.
The season one finale, "Rock Show" engages with character dynamics in a super satisfying way and operates mostly to set up the second season.
23. Pawnee Zoo
The second season kicks off with "Pawnee Zoo," which addresses LGBTQ+ marriage rights. To promote the local zoo, Leslie cooks up a cute little marriage ceremony between two penguins, and it turns out they're both boys. Marcia Langman, a representative for the Society for Family Stability Foundation, demands Leslie issue a public apology and resign from her position, as she believes the government should not take such stances.
After a pit-related injury, Mark spends a few days in the hospital, and Ann nurses him back to health. She reveals she has finally broken things off with Andy and invites him (Mark) over for dinner when he has fully recovered. Of course, Andy breaks up the party, showing up in a suit and claiming he's gotten his life together. When he leaves, the camera follows him down into the pit, where he currently lives inside a tent.
Leslie is later declared a gay hero at the local bar, and they throw a glitter-fueled party in her honor. "Pawnee Zoo" does what the show does best: approach important socio-political issues with humor and heart.
22. Bus Tour
In the final stretch of Leslie's campaign for councilwoman, her opponent Bobby Newport's rich daddy dies. Leslie hasn't yet received the news and takes a political dig at the Newport Family. Bobby's campaign manager Jennifer Barkley (Kathryn Hahn) uses the public slip-up to score additional political points for the win. Ben suggests Leslie needs to have a one-on-one meeting with Bobby to offer her condolences without cameras present. On their way in, the campaign bus crashes into the memorial service.
"Bus Tour" (Season 4, Episode 21) offers up heartfelt commentary about public perception and using tragedy for political gain. Despite Jennifer's blatant manipulation, it comes down to Leslie and her willingness to have a very real, honest moment with her competitor, rather than always seeking ways to exploit the situation.
Other plot elements include Mike O'Malley's guest appearance as a greasy rental company manager, who nearly derails rented vans for the campaign — along with Andy's detective work in determining who pied Jerry.
21. Practice Date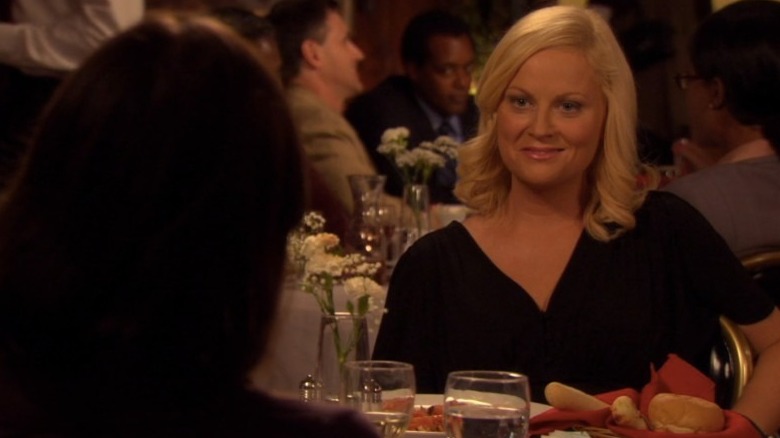 NBC
It's been a hot minute since Leslie went on a proper date. When she readies her first date with policeman Dave Sanderson (Louis C.K.), she turns to Ann for help. In "Practice Date" (Season 2, Episode 4), Ann meets Leslie at a local bar and puts her through an exposure therapy exercise 一 "a tank of bad date," Ann tells the camera. She presents the absolute worst of the worst in terms of first dates, taking on a very bro-y person to prove to Leslie she can handle anything.
Through the evening, Leslie downs several drinks and walks totally plastered back to Dave's house. He takes the moment in stride and offers to give her a ride home.
Back at the office, everyone attempts to unearth the juiciest dirt on one other. Tom uncovers Donna once donated to a prominent KKK figure, whereas Ron discovers Tom and his wife Wendy married so Wendy could get a green card.
20. Jerry's Retirement
We get our first glimpse into Jerry's home life in "Ron and Diane" when Jerry hosts a holiday party. In "Jerry's Retirement" (Season 5, Episode 20), Leslie still worries that Jerry has an empty life after she flips through the last 40 years of his career. He never achieved many of his dreams, so she racks her brain on how best to commemorate his retirement. She attempts to help fulfill a few of his dreams, including meeting a former mayor — but they can't do that (because he died), so Jerry pays his respects at the gravesite instead.
Unsatisfied, Leslie surprises Jerry at his home the following morning and greets his bubbly, weirdly perfect family. Despite everything, Jerry has a life he's proud of, and he has a touching moment with Leslie. "Jerry's Retirement" is a perfect example that perceptions are never everything. With Jerry gone, Tom struggles with what his new role in the office may be.
A subplot revolves around Chris and Ann going to a fertility clinic. After a consultation, they agree that perhaps a more natural route is the best way to go and their child deserves to have a stable home life. If anything, the episode delves into the importance of friendships and relationships in our lives.
19. Ron and Diane
Ron first meets Diane (Lucy Lawless) after she repeatedly requests to have a pothole filled in an early Season 5 episode. She instantly proves to be a worthy partner, possessing many of the same qualities, interests, and morals as Ron. Their relationship experiences the usual speed bumps. One of those occurs in "Ron and Diane" (Season 5, Episode 9), an episode in which Ron is being honored for his woodworking skills.
During the awards dinner, Diane and Leslie are in attendance, as well as Tammy Swanson II (Megan Mullally). Mullally's character resurfaces to provide ample friction in Ron's relationship, but it's actually not Tammy who concerns Diane the most. It's Leslie. In a frank conversation, Diane confesses that their closeness bothers her, and Leslie realizes that her days of protecting Ron are over. He has Diane for that now. "Ron and Diane" includes the usual Tammy shenanigans, as Leslie offers to distract the ex-wife so Ron and Diane can have some alone time. The night ends with Leslie locked in a car trunk, and it's easily one of the show's best gags.
Meanwhile, Tom, Donna, and April learn that it may be long overdue to put their Jerry pranks to rest. On their way out to dinner, Donna decides to invite Jerry and heads to his house, where he is holding a holiday bash. In a gotcha moment, it is revealed Jerry's wife is drop-dead gorgeous (played by Christie Brinkley), and he has a fulfilling life.
18. Ann and Chris
Ann and Chris' departure from the show is a real tearjerker. "Ann and Chris" (Season 6, Episode 13) marks the beginning of the end of the show — or at least signals big changes ahead. In a previous episode, Ann reveals to Leslie that she and Chris plan to move closer to his family in Michigan and will soon be leaving Pawnee behind for good. Well, Leslie doesn't take it too well; in fact, she struggles to accept this important life change.
While Ron, Tom, and Andy search for the perfect departure gift for Chris, Leslie finally breaks ground on the Pawnee Commons. It's an emotional full circle moment, as the pit was how their friendship began. Even April, in her own way, expresses her sadness in Ann leaving. When the moment finally comes, the show delivers with a gut-punching moment as the camera pans out, and Chris and Ann drive off into the distance.
The show has always peppered in insightful, moving moments, but "Ann and Chris" is the most emotional by a wide margin.
17. The Banquet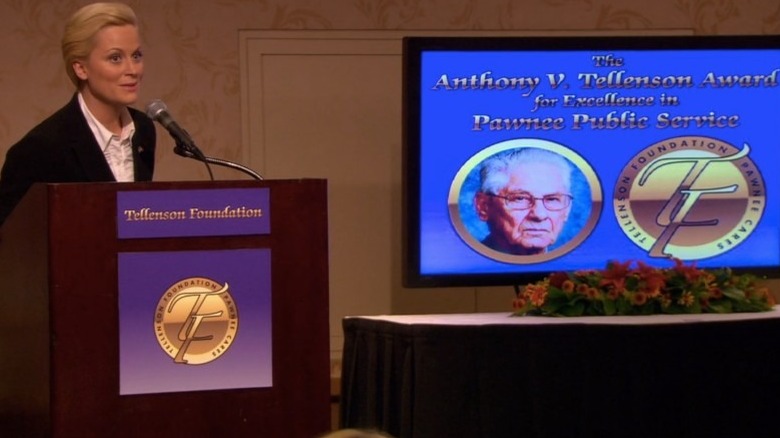 NBC
Marlene Griggs-Knope (Pamela Reed) is part of a local governmental dynasty, and Leslie hopes to live up to her mother's good name. "The Banquet" (Season 1, Episode 5) follows Leslie trying her best to figure out how to get the powers-that-be to pay attention to her Lot 48 campaign (turning it from a pit into a park). During a lavish banquet honoring her mother, Leslie follows her mother's misguided advice to blackmail the zoning board president, and it leads to a rift in her friendship with Ann.
Leslie confronts Janine Restrepo (Loretta Fox) during the main course but is unable to follow through. Instead, she resigns herself to doing things ethically rather than through manipulation and political corruption. "The Banquet" is a necessary episode in acquainting the audience with Leslie. She's not your typical government worker, frequently the moral center of the show. Even when she goes overboard, she is always approaching her work with heart and empathy.
16. Soulmates
Riffing off the popularity of dating sites like Plenty of Fish, "Soulmates" (Season 3, Episode 10) finds Leslie being matched up with Tom. Leslie has just been rejected from Ben (yet again), so Ann helps her fill out a detailed dating profile and answer all manner of questions, including her opinion on turtles. For the record: "They're condescending."
When Tom is a 98% compatible match, Leslie goes on a mission to figure out what kinds of women he likes. She picks his brain over lunch and asks him to rate things based on preference. Tom eventually gets the hint and delivers this iconic line, "You want to date me!" He takes the opportunity to rub it in her face and pours it on thick during their departmental meeting. Leslie yanks Tom out into the hallway, and to prove a point, she kisses him.
In a new health initiative, Chris plans to ban red meat being served in the cafeteria. Ron challenges him to a cook-off with Donna, April, Andy, and Kyle (a shoe-shine stand regular) on the panel. Ron's perfectly-seasoned hamburger wins, of course. "Soulmates" is classic P&R at its silliest.
15. Operation Ann
Ann has the worst luck in love. Actually, she never knows what she wants. Leslie is determined to find Ann a date for an upcoming singles mixer. In "Operation Ann" (Season 4, Episode 14), she encourages Tom, Donna, Jerry, and April to bring a potential date to the event. Those include a male escort (thanks, Jerry!), a juggler, and a sleazy cowboy from the animal shelter.
April doesn't want to help at first, but later suggests Ann give Tom a shot. And she does. When she slips out for the night, Leslie believes she is getting back together with Chris. That's not the case, however, and she trails Ann to a low-light lounge where she meets Tom for cocktails.
Ben is meanwhile failing at a scavenger hunt Leslie put together. In his desperation, he employs Andy and Ron's help to solve 20+ clues and uncover the final location. As the clock quickly runs down, Ron suggests Ben to think back to the beginning of his relationship with Leslie, specifically the Harvest Festival. And it hits him: The key lies with Li'l Sebastian. Ben immediately high-tails it to a memorial statue in one of the parks, finding Leslie sauntering out from the shadows. "Operation Ann" is as the title suggests, primarily an Ann-centric episode, and it's honestly quite refreshing.
14. Woman of the Year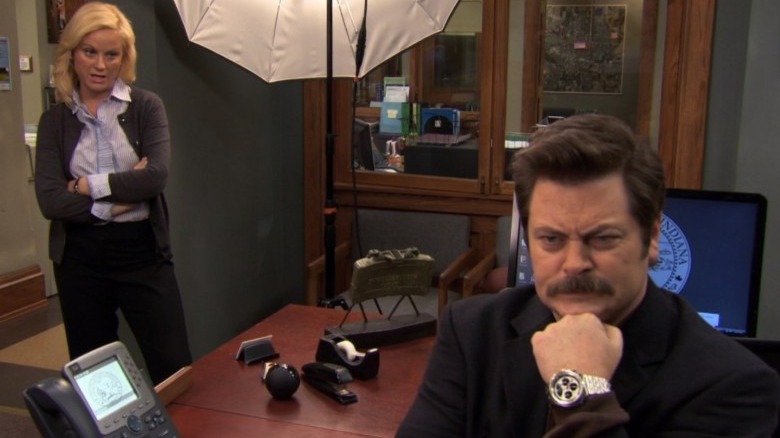 NBC
Leslie is the consummate civil servant, but sometimes her need for recognition gets in her way. With "Woman of the Year" (Season 2, Episode 17), Ron is awarded Indiana Organization of Women's Woman of the Year distinction as a way to garner wide-spread attention to the organization. Leslie reacts as one might expect and rails against the their strange decision. Naturally, Ron takes the opportunity to mock the award, playfully of course. He goes as far as hiring a photographer to take portraits with him holding pots, pans, and a business Barbie doll.
During the ceremony, Ron invites Leslie up to the podium, as he believes she is the rightful winner. The hilariously-awkward exchange leads them both to celebrate each other. Eventually, they decide to discard the plaque into the trashcan 一 only with Leslie retrieving it moments later.
"Woman of the Year," also featuring a subplot with Tom and Jean-Ralphio becoming Snakehole Lounge co-investors, drives home a message about the frivolous nature of awards and always loving the work.
13. Greg Pikitis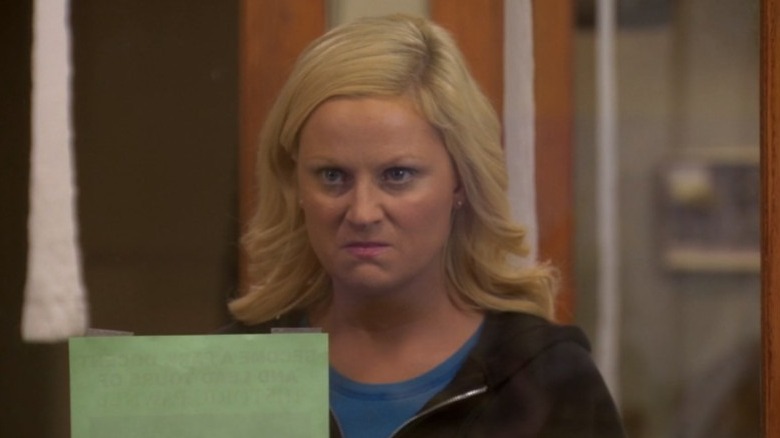 NBC
"Greg Pikitis" (Season 2, Episode 7) is Leslie at her most obsessive. Set over Halloween, Leslie faces off against her arch-nemesis, a high school punk named Greg Pikitis. Like clockwork, the parks department and various statues around town are defaced, and Leslie firmly believes Greg to be the culprit. But she's "never been able to prove it," Leslie seethes. This year is different.
Her romance with policeman Dave Sanderson is escalating, and she does a ride along in his cop car and convinces Dave to stalk Greg. Throughout the evening, they follow him around the neighborhood and eventually hold him hostage at city hall. Later, Greg's mother comes to bail him out and claims she is going to report the incident to higher authorities. Turns out, it was all a ruse (he hired a fake mother on Craigslist) and culminates in an epic showdown in a park that night. The season two standout was early evidence the show was simply not messing around.
12. Ron and Tammys
A running storyline in the show is Ron's ex-wives, both named Tammy. "Ron and Tammys" (Season 4, Episode 2) is the only episode to feature both. Initially, his first ex-wife pretends to be working with the IRS and demands an audit of his finances. When the facade slips, Leslie discovers Tammy is simply trying to weasel her way back into his life. And she does.
Tammy turns him into a "neutered wimp," as Leslie laments. It's a far cry from his "sex-crazed maniac" days with the other Tammy, but it's worse. Ron changes his entire personality. He is no longer a burly, macho-man; he is now mousy, unsure, and kowtows to Tammy in every facet of his life. Leslie eventually turns to Tammy II to save the day, but even she is terrified of Tammy I. Leslie, April, and Andy then venture out to Ron's homestead and convince his gun-toting mother (also named Tammy, or rather Tamara) to help out.
In the finale, Tammy I and Tamera duel it out in a good ole fashion prairie drink-off (with moonshine). If Tamara wins, Ron goes back home, but if Tammy I wins, she gets him. Feeling trapped, Ron throws his proverbial hat into the ring and downs the entire jug of homemade moonshine in one go. "Ron and Tammys" perfectly captures the character of Ron, while also giving guest stars Patricia Clarkson and Paula Pell a chance to flex their comedic chops.
11. Telethon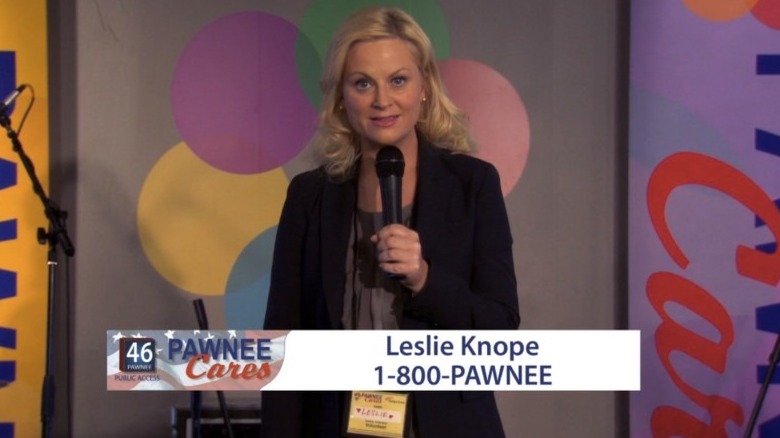 NBC
In "Telethon" (Season 2, Episode 22), Leslie signs the department up for a four-hour block to participate in a 24-hour telethon hosted with "Pawnee Today." During the 2 a.m. to 6 a.m. span, Leslie enlists numerous townsfolk to show off their skills and talents, as well as basketball star Detlef Schrempf. When Tom fails to get Detlef to the telethon in time, Leslie pivots the proceedings with Andy's band kicking off the night.
Since Leslie spent the 24 hours prior making t-shirts, she consumes a handful of Sweetums NutriYum bars to stay awake. Her sugar rush is abruptly punctuated with crashes, and she falls asleep. Meanwhile, Tom has taken Detlef to the Snakehole Lounge to waste time before he needs to be at the studio. When business booms, the owner threatens, "He's not going anywhere." As a result, Tom and Detlef don't arrive until the very end, right at sunrise.
"Telethon" is a surefire spotlight for Amy Poehler, who (once again) expertly delivers on the physical gags.
10. End of the World
Leslie struggles after her breakup with Ben. "End of the World" (Season 4, Episode 6) explores the emotional repercussions of heartbreak, as well as two literal doomsday parties. One is being held by Tom's company 720 Entertainment — after flopping with a mismanaged business model, a joint venture with Jean-Ralphio, they use their last $10,000 for the most epic bash in history.
The other party involves The Reasonabilists, a doomsday cult, who have a frequent party in the park when a member resurfaces claiming a particular date is the apocalypse. During these festivities, Shauna is writing a story on the event and expresses a romantic interest in Ben. Leslie is none too pleased and attempts to wedge between them. She takes Ben on a bogus trip to scope out an abandoned gas station.
What marks "End of the World" as an essential episode is the Leslie/Ben through line. We've become so invested in their on-again/off-again romance that you're just waiting for the inevitable tipping point and for them to get back together... again. The writing is, of course, top notch with some of the best banter between Tom and Jean-Ralphio of the entire series. If anything, they sure do know how to throw a party.
9. One Last Ride
Few television series nail the finale. "Parks and Recreation" wraps up its numerous character and story plots with a double-decker episode called "One Last Ride" (Season 7, Episodes 12 & 13). Everyone descends upon the parks department for one last hurrah, and various flash forwards give viewers a glimpse into where the characters eventually end up.
Donna is seen to be hugely successful in real estate and happily married to Joe. Tom has published a self-help book and becomes a motivational speaker. The most satisfying conclusion comes from Jerry (or Garry): He went on to serve as mayor of Pawnee (serving for 10 terms) and lived to be 100 years old. Each character receives an ending worthy of their stories. It's like being served up a steaming heap of waffles slathered in whipped cream. It's that heartwarming. That delicious! 
Put simply, "One Last Ride" is the most perfect finale for any show ever.
8. Galentine's Day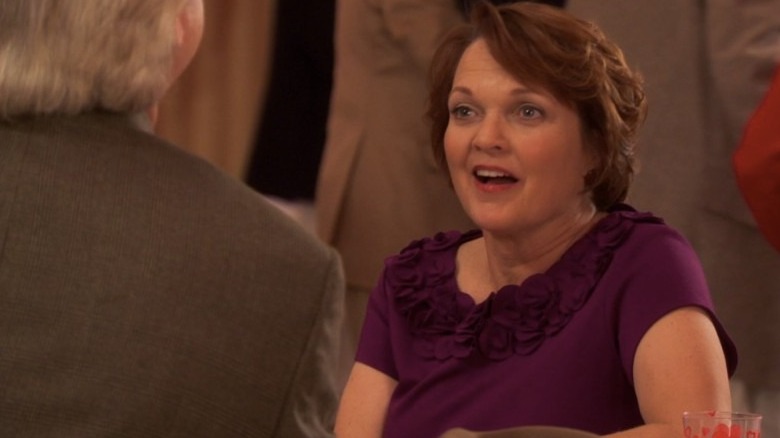 NBC
In addition to celebrating Valentine's Day, Leslie has created her very own holiday: Galentine's Day. The episode of the same name (Season 2, Episode 16) opens with Leslie and all her gal pals getting together at J.J.'s Diner, and swapping gifts and stories of lost love. Her mother recounts a particularly gripping story of the time she nearly drowned at the beach and was saved by a dashing, chisel-jawed hunk named Frank. The story doesn't have a happy ending, as the two lost touch after the incident and Marlene eventually married Leslie's father.
Leslie's new beau Justin suggests the two track down Marlene's old flame and reunite them at the Valentine's Day dance. Upon meeting the gentlemen, Leslie realizes he is a bit of an odd duck and perhaps they should halt their plan. However, Justin pushes to move forward, and it's the ultimate awkward date in history. As it turns out, Frank's life never went the way he hoped 一 and Marlene is just no longer interested.
Playing the dance, Andy and his band launch into a series of classic pop songs turned into indie-rock stunners. Ann grows jealous when Andy dedicates a song to April, one of the first real seeds to their eventual romance. The episode is one of real heart, detailing the adage "the heart wants what the heart wants," as well as time's effect on first love — it's not always as great as you remember it.
7. Harvest Festival
In a last ditch effort to save the Parks Department, Leslie brings back the annual harvest festival and vows that if it's a failure, Ben and Chris can cut the department completely. All the team's hard work comes to a head with "Harvest Festival" (Season 3, Episode 7), which follows the final days of preparation and opening day/night. When Joan Callamezzo comes to report on the festival, Leslie and Ben give her a tour of all the major attractions, including the town celebrity Li'l Sebastian.
The running gag is Ben doesn't "get" what makes the tiny horse so special, but he learns soon enough. Things go off without a hitch 一 until they don't. Tom and Jerry are supposed to be looking after Li'l Sebastian, but someone leaves the corral gate open and he escapes. Andy doesn't say "I love you" back to April, and later, the power goes out. It's Ice Town all over again. It also doesn't help that Wamapoke Tribe chief Ken Hotate put a "curse" on the town 一 but not really. As Ken says to the camera, "I know two things about white people: they love Rachel Ray, and they are terrified of curses."
Everything eventually works itself out, and the comeback festival breaks attendance records. "Harvest Festival" is among the bolder episodes, at least in terms of set design and staging, as it features grand aerial shots of the festival.
6. Jerry's Painting
In one of a few Jerry-centric episodes, "Jerry's Painting" (Season 3, Episode 11) gives Jerry a chance to truly shine. A painter by hobby, Jerry subconciously paints Leslie as a topless centaur and presents the lush, classic portrait during an art exhibit opening. Initial reactions are mostly of shock, but Leslie is immediately drawn to the sense of power and strength the painting radiates.
The painting is expected to be hung in a government building, so naturally Marcia Langman, a conservative activist, demands it to be removed and destroyed. Later, the arts commission lands on Langman's side, but Leslie is unwilling to let it go. Instead, she steals the painting and houses it at Andy and April's for the time being until she cooks up a plan to deceive Langman. She enlists Jerry to create another painting, this time switching out the imagery to be less offensive.
"Jerry's Painting" also includes a subplot with April and Andy learning how to be grown-ups while keeping their quirky personalities intact. Through an outlandish situation, the episode instills important messages about adulthood and sticking to your principles above all else.
5. Li'l Sebastian
Anything involving the death of animals is guaranteed to bring the waterworks. When the town mascot Li'l Sebastian passes away, the town holds a memorial event. Tom uses the tragedy to launch his new company, 720 Entertainment, an entertainment conglomerate with Jean-Ralphio. "Li'l Sebastian" (Season 3, Episode 16) takes the story very seriously, and that adds both heart and hilarity to the proceedings.
The primary subplot revolves around Leslie and Ben attempting to keep their burgeoning romance a secret. During memorial planning, a service worker witnesses them making out, and in her anxiety, Leslie accidentally bribes him. It's a rash decision that later comes back into play once Chris learns of the deception and puts her on trial.
The memorial service is equal parts moving (Andy's performance of "5,000 Candles in the Wind") and hysterical (Ron's eyebrows being singed off). It does what all great season finales do: wraps up all story threads with a big emotional bow.
4. Christmas Scandal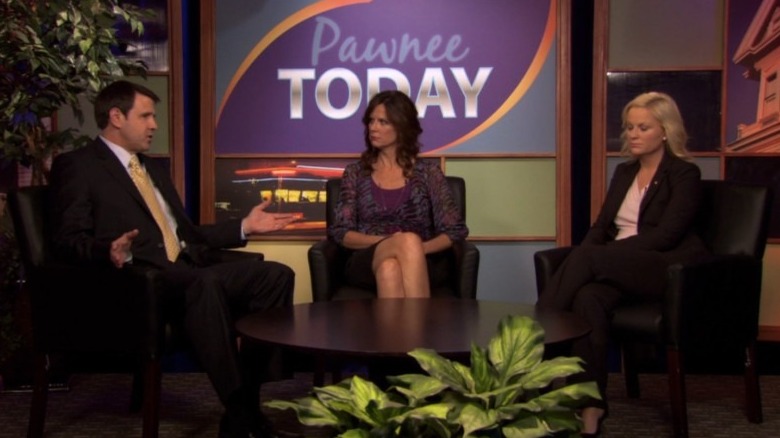 NBC
Leslie lies at the center of a political windstorm in "Christmas Scandal" (Season 2, Episode 12). As holiday festivities are in full swing, including a private government event, she is spotted having a late-evening rendezvous with councilman Bill Dexhart. Paparazzi and tabloids eat it up and claim she is his latest in a long string of mistresses. In her efforts to debunk the rumors, she invites Dexhart over to confront him, but it only fans the flames.
The media frenzy kicks into high gear when "Pawnee Today" discovers a previous video showing Leslie nervously meeting Dexhart for the first time. On Joan Callamezzo's must-see daytime show, Leslie and Dexhart have one last confrontation, and Dexhart finally admits it's all a lie.
Leslie's love life is also going through a little turbulence. Her relationship with Dave is getting super serious, and he asks her to move with him to San Diego, where he is being stationed for a year. Ultimately, Leslie decides she can't possibly leave her hometown, especially given the current political uproar. It's a bittersweet parting and one of the series' most touching.
3. The Fight
While Ann and Leslie are BFF, even they are not immune from petty arguments. In "The Fight" (Season 3, Episode 13), their friendship undergoes the ultimate test. Leslie suggests Ann leave her full-time job as a nurse and take a government position at the parks and recreation department. Leslie goes as far as to set up an interview with Chris and unloads a stack of documents and booklets with which to prepare.
Ann blows off studying to attend an exclusive VIP event at the Snakehole Lounge. Tom is set to launch his high-end new drink called Snake Juice and invites the Parks crew to help him move units. The actual alcohol content per serving is abnormally high, and everyone gets absolutely smashed. Sloshed out of their minds, Ann and Leslie have an explosive fight over Leslie's sometimes overbearing nature.
Snake Juice even has an immense impact on Ron and April, each spiraling into a state of utter delirium. "The Fight" is delightfully outrageous with hilarious knock-out performances across the board. One of the best moments happens the day after when Ben arrives on Ann's doorstep, and she quips about wearing snow pants and wanting to go sledding... in the middle of summer. The episode wraps in the heartfelt revelation that Leslie has a big old high school crush on Ben, who smirks when Ann tells the news.
2. Hunting Trip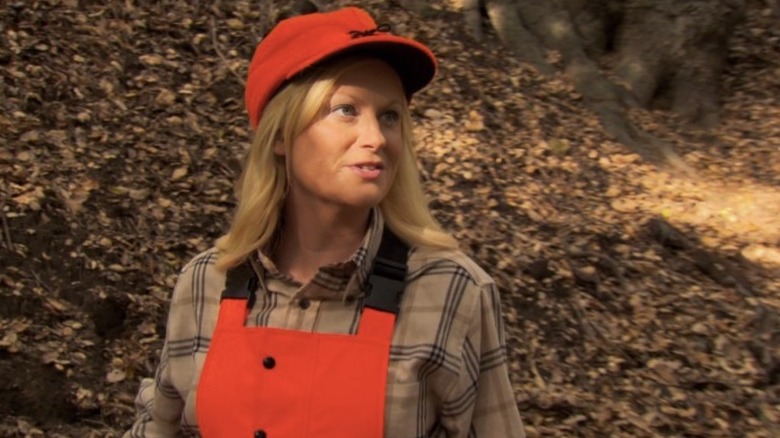 NBC
Every year, the men of the department take a hunting trip out to Ron's cabin. It's an excursion filled with beer, bro-manship, and nature. This time, however, Leslie wants an open invitation to include the women 一 and Tom. Begrudgingly, Ron allows them to tag along in "Hunting Trip" (Season 2, Episode 10). The group — including April, Donna, and Ann — divide into teams of two and wander throughout the surrounding woodlands.
Donna and Tom shoot aimlessly; Leslie proves to be a worthy adversary against Ron; and Ann tries shooting for the first time, even closing her eyes, much to Mark's unease. Amidst the target practice, a ricocheting bullet clips Ron in the back of the head. And everything erupts into utter chaos from there. The culprit dares not reveal their identity, while Ann and Leslie attend to Ron's flesh wound. Eventually, it's revealed Tom not only shot Ron, but he doesn't have a hunting license for the trip.
Always the good natured friend, Leslie takes the blame and eventually earns points with Ron. In a hilarious bit with a forest ranger, she flips through numerous excuses why she allegedly shot Ron, including suffering from tunnel vision, being on her period, and having a crush on the ranger themself. It's easily a top-tier Leslie Knope moment.
1. Ron and Tammy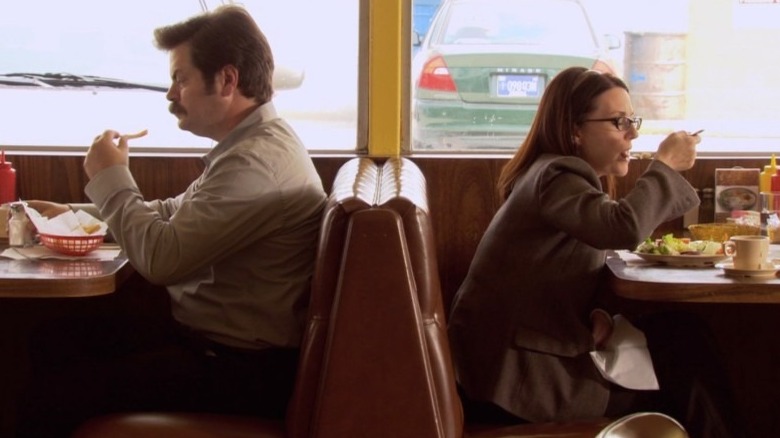 NBC
The pinnacle of "Parks and Recreation" is unequivocally "Ron and Tammy" (Season 2, Episode 8). As Megan Mullally's first guest appearance, the episode introduces Ron's very complicated, hyper-sexual relationship with his second ex-wife named Tammy. While Leslie is making inroads on claiming the land beside Ann's house, the library department, headed by Tammy, files a planning claim instead. Thinking nothing of it, Leslie meets with Tammy to iron out their differences and seemingly come to a compromise. Tammy vows she'll withdraw her motion to give Leslie an easy win.
Later, Tammy comes to the department, at the behest of Leslie, and she goes to get a cup of coffee at a local diner with Ron. Almost immediately, their meeting erupts into a verbal fight before the two rip each other's clothes off and dash away to their usual spot, a sleazy motel on the outskirts of town.
Tammy wraps her tentacles around Ron, literally and metaphorically. It seems all is lost, but Leslie and Ron confront Tammy together and eventually reclaim plot 48. "Ron and Tammy" features the best of everything: slap-stick physical bits with witty wordplay. Workplace comedy doesn't get better than this.