How A League Of Their Own Helped Put Tom Hanks Back On The Map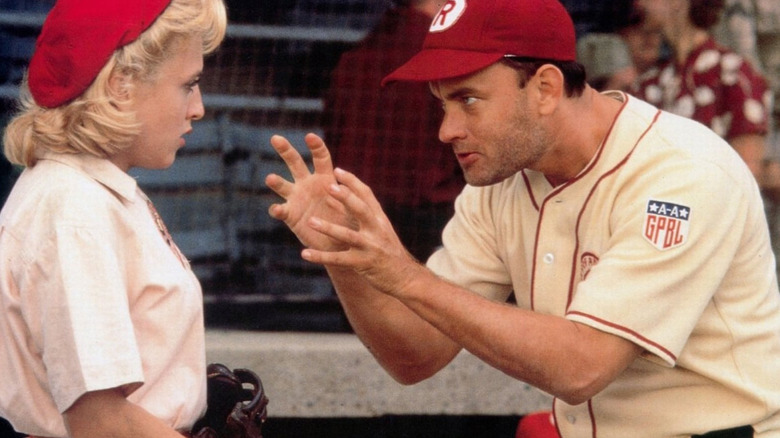 Columbia Pictures
We may receive a commission on purchases made from links.
"There's no crying in baseball!"
So exclaims the Rockford Peaches' disgruntled manager, Jimmy Dugan (Tom Hanks), in Penny Marshall's "A League of Their Own," having berated one of his players to tears after a mid-game misstep. The line would soon embed itself in the public consciousness, much like Marshall's 1992 sports dramedy. In 2005, the American Film Institute ranked Hanks' remark 54th on its "100 Years ... 100 Movie Quotes" list, just four spots behind the actor's classic "Apollo 13" line, "Houston, we have a problem." Another famous Hanks quote — "My mama always said life was like a box of chocolates. You never know what you're gonna get." — sat in the 40th spot.
Looking back from the present, it's easy to forget the time before Hanks cemented his legacy as America's Dad in the 1990s. After breaking out with his role on the early '80s sitcom "Bosom Buddies," the actor found his calling on the comedy scene, starring in films like "Splash," "The Man with One Red Shoe," and "Dragnet" with mixed critical and financial success. Then came 1988's "Big," in which Hanks and Marshall teamed up to tell the funny and often wistful story of a boy whose wish to become an adult is magically granted overnight. The movie was a smash-hit, earning $151.7 million on an $18 million budget and snagging Hanks his first Best Actor Oscar nod.
Between "Big" and "A League of Their Own," however, Hanks went through a rough patch that threatened to derail his career. Per ESPN's oral history of the latter film for its 25th anniversary in 2017, this was also what led to him reuniting with Marshall in the first place.
The Bonfire of the Vanities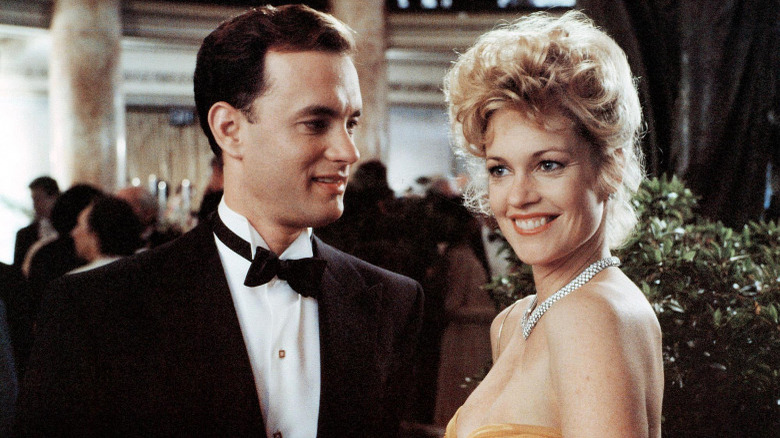 Warner Bros.
1989 to 1992 was quite the busy time for Tom Hanks. This period saw him team up with "Gremlins" director Joe Dante for 1989's "The 'Burbs," a twisted comedy about a suburbanite who suspects his new neighbors are secretly killers. That same year saw the actor star in "Turner & Hooch," a buddy cop comedy in which he's paired with a loveably mischievous Dogue de Bordeaux. Then, in 1990, Hanks and Meg Ryan teamed up to star in "Joe Versus the Volcano," an offbeat rom-com directed by Oscar-winning "Moonstruck" writer John Patrick Shanley. It was also the film that paved the way to Hanks and Ryan's smash-hit '90s rom-coms "Sleepless in Seattle" and "You've Got Mail."
Problem was, save for "Turner & Hooch," these films failed to meet expectations upon their release, with "Joe" only later attaining cult status. Then came Hanks' role in "The Bonfire of the Vanities," director Brian De Palma's 1990 film version of Tom Wolfe's satirical novel about New York City's upper-class in the 1980s. The movie notoriously suffered all sorts of behind-the-scenes woes, enough so to fill up a book — namely, Julie Salamon's book, "The Devil's Candy: The Bonfire of the Vanities Goes to Hollywood." It would gross less than a third of its $47 million budget (a large sum for the time), with critics denouncing it left and right as a glossy, confused misfire.
According to ESPN's oral history, Penny Marshall was speaking at Hudson Union Society in 2012 when she discussed Hanks' involvement with "A League of Their Own." As Marshall told it, the actor flat-out asked for his role in the film, realizing he needed a hit after so many flops in a row ("Bonefire" included). Luckily, his "Big" director was more than up for the task.
Everyone loves a comeback story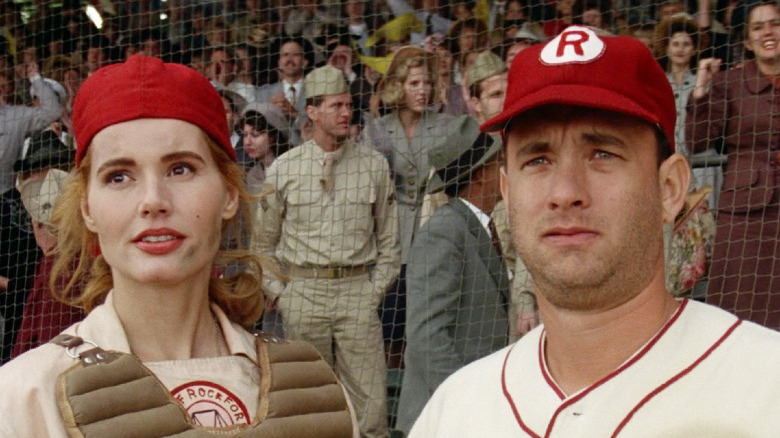 Columbia Pictures
"A League of Their Own" tells a fictional story about the All-American Girls Professional Baseball League (AAGPBL), a real-life organization that existed from 1943-1954. Tom Hanks co-stars as Jimmy Dugan, a former star player for the Chicago Cubs who's fallen on hard times due to his alcoholism. Despite his sexist attitude towards the concept of an all-women baseball league, the cash-strapped Dugan agrees to manage the AAGPBL's Illinois team, the Rockford Peaches. In time, of course, he comes to take his job seriously, slowly learning to be more sensitive to his players (his "There's no crying in baseball!" outburst aside) and, with their help, embracing sobriety.
As memorable (and quotable) as Hanks is as the irascible, regretful Dugan, it's the competitive relationship between Rockford Peaches player Dorothy "Dottie" Hinson (Geena Davis) and her sister Kit (Lori Petty) that forms the true heart and soul of "A League of Their Own." Combined with Penny Marshall's steady-handed direction, the film proved to be exactly the kind of well-reviewed crowd-pleaser Hanks was looking for, grossing more than three times its $40 million budget. That it was as much Hanks' comeback story off-screen as it was Dugan's on-screen just goes to show: if it hadn't been for Marshall, he might've never become America's Dad at all.
"A League of Their Own" is available to stream on multiple platforms.