Why Columbia Scrapped A Tom Hanks Prequel To A League Of Their Own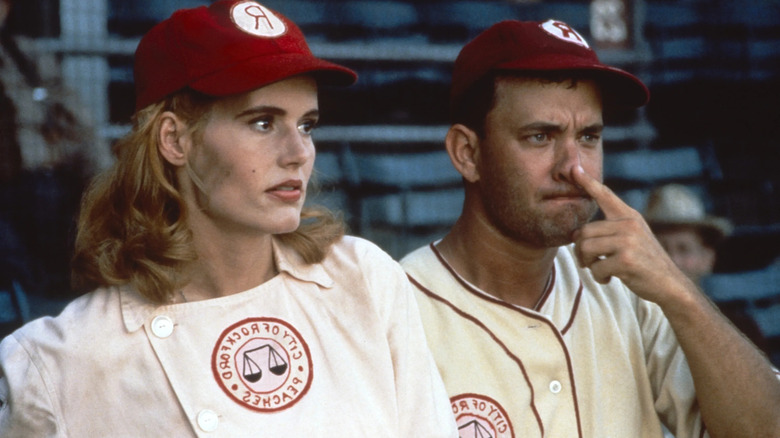 Columbia Pictures
With its gumption, charm, and an empowering story, 1992's "A League of Their Own" is one of the most lovable sports movies ever made. The Penny Marshall-directed comedic drama stars Geena Davis and Lori Petty as two sisters who make it big in the All-American Girls Professional Baseball League in the 1940s. Along the way, they meet a ragtag team of talented gals including Madonna's flirtatious center fielder "All the Way" Mae, Rosie O'Donnell's third baseman Doris, and Tom Hanks' booze-drenched manager, Jimmy Dugan.
Apparently, despite the indelible imprint the vibrant female cast left on pop culture, the team behind the film almost ended up making a prequel film ... about Hanks' character. In a 30th anniversary retrospective with The Hollywood Reporter, co-screenwriter Lowell Ganz, director Marshall, and star Davis revealed plans for an ultimately scrapped prequel about grouchy team lead Dugan.
Jimmy Dugan's prequel never happened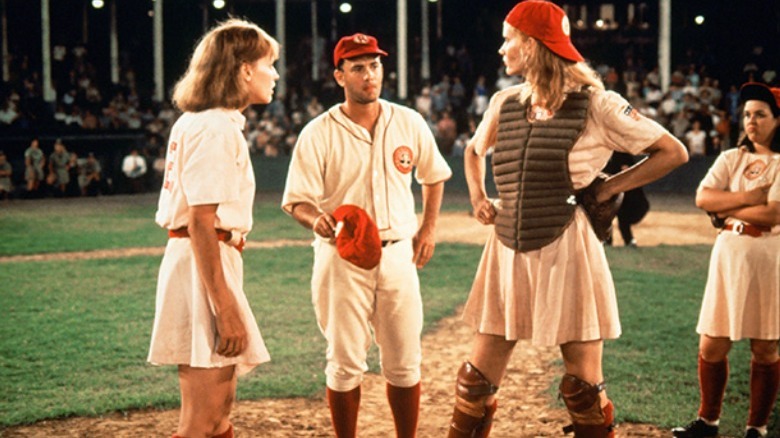 Columbia Pictures
"We wanted to do a movie about Jimmy," Ganz told the outlet, revealing that he and co-writer Babaloo Mandel were paid to write a script for a film that was never realized. Here's the plot, as described by Ganz:
"It was going to talk about his career before he got involved with the women's baseball league, and then it would sort of skip over that, and the last act was going to be his career afterward, where he got a job managing a men's baseball team and actually did a favor for an older Black player that he had met in the prequel part, to give him one last shot. This would be a year or two after Jackie Robinson. Tom was interested, and we couldn't get Columbia to say yes to it."
As Davis then points out, the movie the writers had in mind didn't actually include any of the women from the original film, which seems like a pretty glaring oversight given that the movie is about womanhood and the ways in which the groundbreaking real-life team were able to subvert gender roles during a pretty sexist period in American history. As much as Hanks' "There's no crying in baseball!" line has become a part of our collective pop culture memories, his character is actually a pretty antagonistic presence in the film. Even the world's collective Tom Hanks-mania wouldn't make a prequel that focuses on his character at the expense of all the rest make any sense.
A Little League of Their Own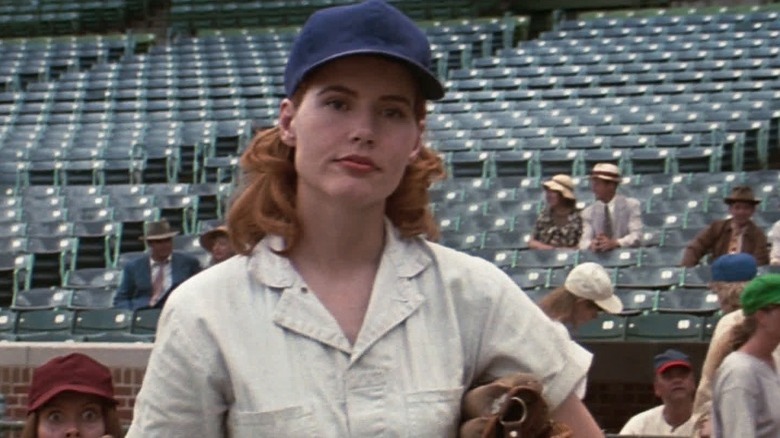 Columbia Pictures
Ganz says the script was written, but that Columbia wanted another movie about the Rockford Peaches instead. "We had nothing else to say about that because we felt like another movie about them would be 'The Bad News Bears Go to Japan,'" Ganz told THR. "We were not seeing eye-to-eye with the Columbia people. They wanted Tom, of course. But they wanted all the ladies as well in a story about what they went on to do, I guess."
The writer says the project ultimately fell apart when he, Mandel, and Marshall couldn't think of another story centering around the women of the team. Ironically, in the same interview, Davis says that she did come up with an idea for a sequel — a film called "A Little League of Their Own," about Dottie:
The player that my character was based on, I believe, had sons who became Major League ballplayers. The idea would be that she has sons who are in the Little League team, and then they won't let a girl join, and [I'm like,] "Oh, boy, I better get back involved with all this."
While the lack of a "League of Their Own" sequel seems more like a failure of imagination on the writers' part than a lack of any good story ideas involving the Rockford Peaches, perhaps it's best that the film stands alone 30 years later. We may not know what the fictionalized Peaches got up to in the years between their star-making season and the reunion that frames the film, but there is a new version of the story set to debut on Prime Video in August. Plus, we'll always have that one fantastic world series to return to, immortalized in the Penny Marshall classic.