The Veil: Everything We Know About The New Elisabeth Moss Series From Peaky Blinders Creator Steven Knight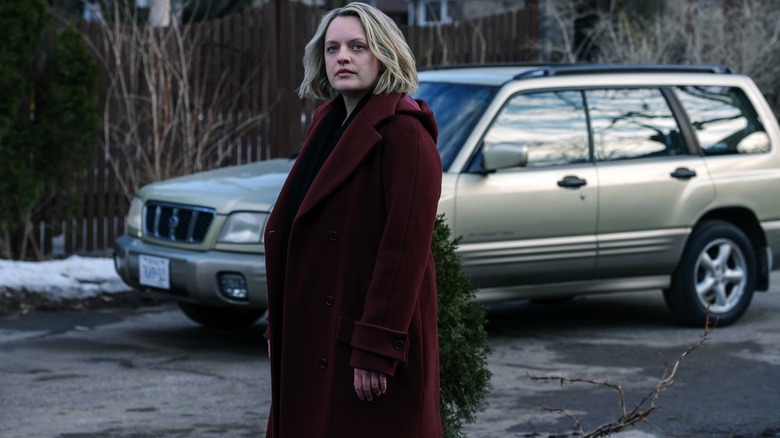 Hulu
Whoever claimed that it's possible for there to be too much of a good thing clearly didn't hear the latest industry news. Here's a headline for you: Incredibly talented actor Elisabeth Moss teams up with "Peaky Blinders" mastermind Steven Knight for a brand-new limited series. Fans of "Mad Men," "The Invisible Man," and obviously "The Handmaid's Tale" (to name but a few!) need no reminder of just what the Emmy Award-winning Moss is capable of when matched with the perfect material. Meanwhile, those who've enjoyed Knight's many, many collaborations over the years with some of the best performers in the business can point to 2013's "Locke," the Kristen Stewart-starring "Spencer," and "Peaky Blinders" as proof of the brilliant projects that the writer already has under his belt. Put the two artists together, and there's simply no telling just how good this upcoming production will be.
Variety reports that Moss and Knight will join forces on "The Veil," an exciting new thriller series that will no doubt stir up plenty of buzz when it's finally ready for viewers to see for themselves. Having just been announced, however, details are still coming in and we'll have to wait quite some time before this inches closer to becoming a reality. Until then, here's everything we know so far about "The Veil."
What we think The Veil will be about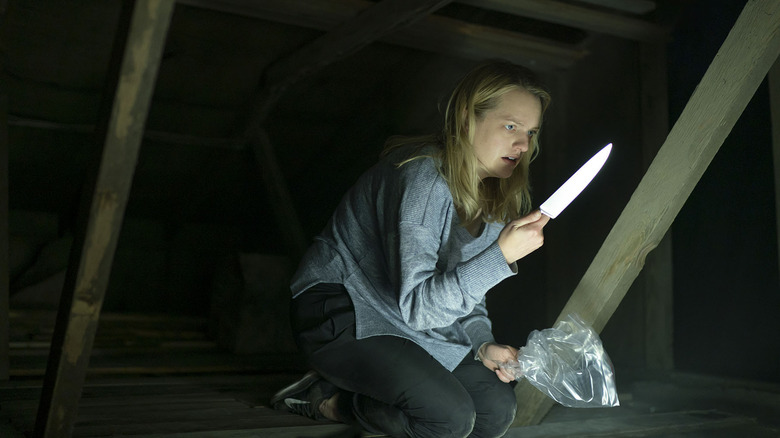 Universal Pictures
Both actor Elisabeth Moss and writer Steven Knight have found themselves drawn to particularly challenging material in their respective careers. Moss has and will star in a range of formidable roles, from Peggy Olson to Shirley Jackson to even Eleanor Coppola, Francis Ford Coppola's wife, in the upcoming movie about the making of "The Godfather." Many of the roles in her career have taken the form of damaged, victimized women who use their ingenuity, strength, and tenacity to get themselves out of whatever problems come their way. That trend stands a good chance of continuing here in "The Veil," though with a twist.
According to Variety, the series is described as:
...a thriller that explores the surprising and fraught relationship between two women who play a deadly game of truth and lies on the road from Istanbul to Paris and London. One woman has a secret, the other a mission to reveal it before thousands of lives are lost.
When and where to watch The Veil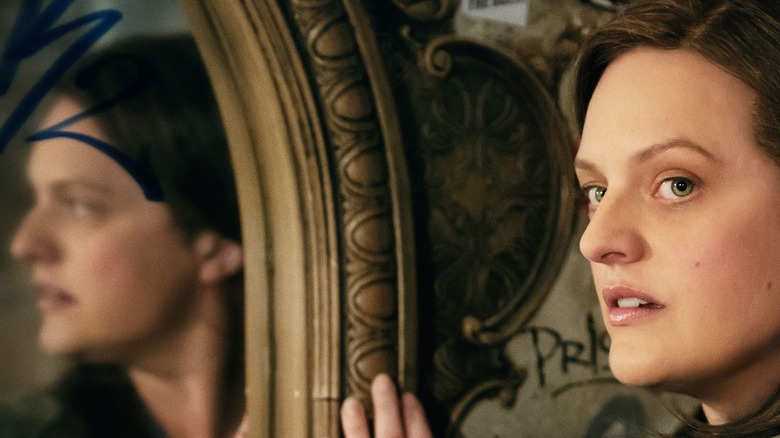 Apple TV+
Fresh off her lead performance in the Apple TV+ series "Shining Girls," Elisabeth Moss is set to once again take her talents to the streaming space with "The Veil." No release date has been announced as of yet, but FX announced that the new show is planned as a limited series that will air exclusively on Hulu. This isn't Moss' first rodeo with FX and Hulu, of course, as "The Handmaid's Tale" is about to premiere its fifth total season on the major streaming service. Steven Knight, on the other hand, will now have worked with the cable network on four total projects over the years. These include the Tom Hardy-starring "Taboo," 2019's "A Christmas Carol" starring Guy Pearce, and the upcoming adaptation of "Great Expectations" with star Olivia Colman attached to play the lead role.
Both FX and Steven Knight seem wholly optimistic about the show's prospects. In a statement, FX president of original programming Nick Grad had this to say:
"We're excited to continue our partnership with Steven Knight on 'The Veil' and thrilled to have Elisabeth Moss sign on for the lead role. Steven's scripts are riveting and no doubt will showcase Elisabeth's exceptional talent."
As for Knight, he says he's "absolutely thrilled" to be telling the story, which he calls "truly international and very contemporary." He continued:
"We have gathered together some of the most talented people in the business. Working with [executive producer] Denise Di Novi is always a pleasure and I've wanted to work with Elisabeth Moss for a long time. Of course, FX and I are old friends. I think this will be a landmark television event."
Stay tuned to /Film as more updates come in.