Tom Hardy's Tight Schedule Puts The Screws On Peaky Blinders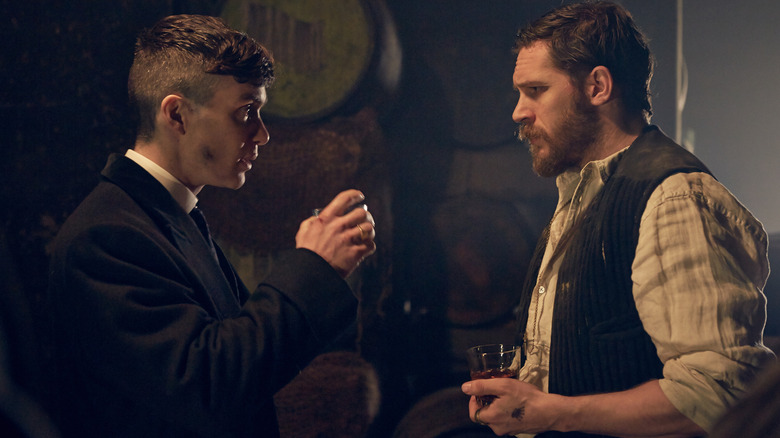 BBC/Netflix
With popular actor Cillian Murphy in the lead role as gangster Tommy Shelby and a formidable ensemble cast backing him up, "Peaky Blinders" has never shied away from star power. From the series premiere in 2013 to this year's grand finale (an upcoming feature film will continue the adventures of the Shelby clan), every season has featured a name-brand star or well-known character actor taking on the role of the main villain. That impressive list includes such esteemed names as Sam Neill, Noah Taylor (of "Game of Thrones" and "Preacher" fame), "House of the Dragon" star Paddy Considine, Sam Claflin ("The Hunger Games") as the fascist Sir Oswald Moseley, and even Adrien Brody chewing the scenery for everything it was worth.
But of all the famous faces to have taken a stroll through the smog-choked streets of early 1900s Birmingham, perhaps none managed to make as much of an impact in as little screen time (relatively speaking, of course) as Tom Hardy's Alfie Solomons. While that certainly applies to the actual nuts and bolts of the show's plot — though at one point presumed dead, the rival gangster has almost singlehandedly swayed the balance of power for (and against!) the Peaky Blinders on several occasions throughout the seasons — it has also come true among the actual cast and crew of the series during filming, as well.
As it turns out, Tom Hardy's ever-busy schedule had a major effect on the production of "Peaky Blinders."
'He comes in a whirlwind, and leaves in a whirlwind'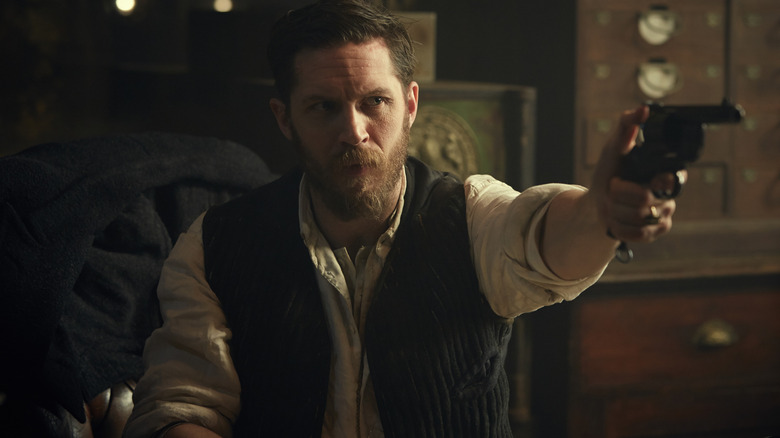 BBC/Netflix
Ask anyone in the business (or those who cover this business!) to name one of the more eccentric actors currently working, and chances are you'll end up with Tom Hardy near the top of quite a few lists. Of course, that's also exactly the quality that has turned the "Star Trek: Nemesis" (never forget!), "Bronson," and "Mad Max: Fury Road" actor into such an in-demand star in the first place. When cast on the recently-concluded BBC series "Peaky Blinders" as Alfie Solomons, many thought it was an absolute coup. What fans couldn't have known, however, was just how difficult it would be to continue maintaining his appearances as the gangster while balancing his many, many other commitments.
In an interview with Interview Magazine, casting director Shaheen Baig spoke up about what the experience was like of having Hardy visit the set briefly to film all his scenes in one go:
"We get a few days with Tom. He comes in a whirlwind, and leaves in a whirlwind. Those days are packed because we've got to get all his stuff done. It's wonderful because suddenly you get a bigger audience tune in and it's a real thrill. He's a 100 percent movie star, and him and Cillian going toe-to-toe is an absolute joy. We've got Adrien Brody this season. A movie star will rock up and do a couple of weeks, and then off they go again. It's fun. We feel pretty happy about that."
'There is a lot of improvisation that is very exciting'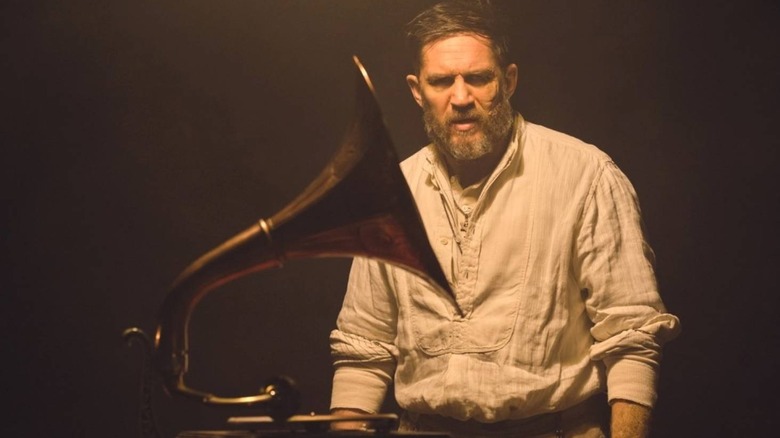 BBC/Netflix
In addition to working around his understandably hectic schedule, the crew of "Peaky Blinders" also had to become experts in massaging egos and learning to collaborate smoothly with a performer as prickly as Hardy has been known to be. As charismatic and entertaining as Hardy is in the role, particularly in his many blow-ups and team-ups with Murphy's Tommy Shelby over the years, it would appear that the actor's behind-the-scenes process brought just as much to the table.
In an interview with the BBC, series creator Steven Knight elaborated more on Hardy as an actor and how he helped shape the direction of the character beyond what was necessarily in the script:
"On the page is the 'stuff'; the stuff he's got to do and he has to make it from A to B and with Tom in particular, almost exclusively, there is a lot of improvisation that is very exciting. But the most important thing is that Tom arrives with the character and the character is so manufactured in the moment that it is fantastic to watch his performances unfold."
Thanks to Hardy's work, the sometimes grating (yet always compelling) character of Alfie Solomons has gone from a low-level supporting character who was constantly at Tommy Shelby's throat to a major player in England's (and, as of the final season, America's) gangster landscape, having developed a grudging mutual respect with the show's main character. Here's hoping the upcoming film finds plenty of room to bring Hardy back as one of the most fascinating characters in the entire story.