Olivia Colman Has Been Exquisitely Cast As Miss Havisham In FX's Great Expectations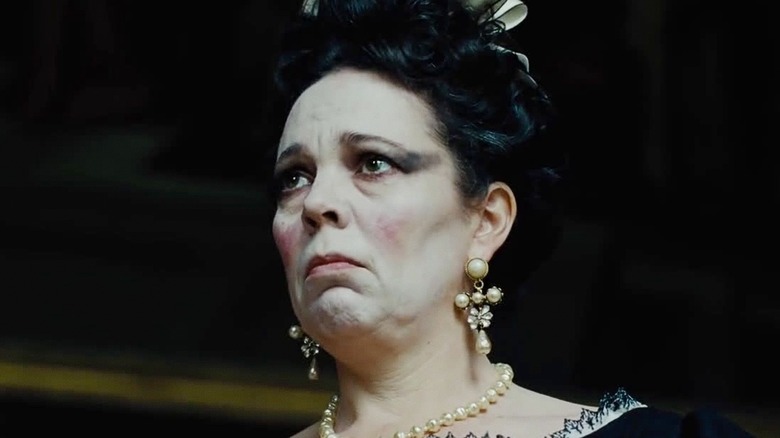 Fox Searchlight Pictures
FX and BBC have announced the cast for their six part limited series adaptation of Charles Dickens' "Great Expectations." The series comes to us from Academy Award nominee and BAFTA winner Steven Knight ("Peaky Blinders"), and the biggest name in the cast is Olivia Colman, who will play the role of Miss Havisham — the jilted bride who goes a little off the rails. 
This is perfect casting, though in a way, it seems strange to say so. Every interview I've ever watched with Olivia Colman in has shown her to be joyous, bright, and stunning. It's just that she's so good at playing women who don't have it all together. If you've ever watched "The Favourite," you'll know what I mean; Queen Anne is a powerful woman, but so very broken from her illness, her losses, and everyone around her using her for something. Even watching Colman play Queen Elizabeth in the Netflix series "The Crown," she infuses the performance with hints of damage behind the monarch's icy exterior. And in Colman's recent film "The Lost Daughter," you can see how brilliantly she plays ... I guess the best way to say this is, women with a sad and difficult past. 
Miss Havisham is an older woman (some scholars have argued that, according to clues in the book, she's really only around 40, despite being cast rather older in many versions of Dickens' work) who was left at the altar and swindled out of her fortune by her ex. She breaks down, setting all the clocks in her house to the exact time she lost hope in her future, wears only one shoe, leaves out her uneaten wedding cake, and refuses to take off her wedding dress. Her bitterness poisons one of the main relationships in the book. Essentially, it's a role that plays to all of Olivia Colman's strengths.
Passing on the bitterness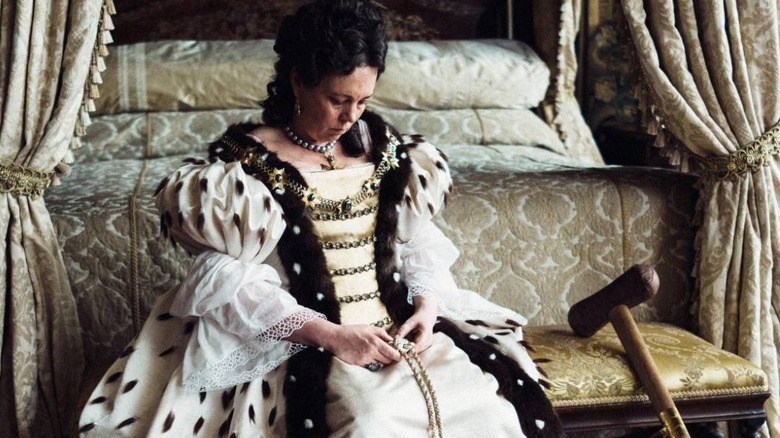 Fox Searchlight Pictures
The role of Miss Havisham has been taken on by some heavy hitters in the past. Anne Bancroft, Gillian Anderson, and Helena Bonham Carter have all donned the single-shoed wedding attire. She isn't the only cast member I'm excited about though; Fionn Whitehead ("Dunkirk") will play the lead role of Pip, Shalom Brune-Franklin ("Cursed") will play Miss Havisham's ward Estella, and the great Matt Berry ("What We Do in the Shadows") will play Mr. Pumblechuck (Mr. Pumblechook in the book), the man who introduces Pip to Miss Havisham, setting him on his journey. Other cast members include Ashley Thomas, Johnny Harris, Hayley Squires, Owen McDonnell, and Trystan Gravelle.
"Great Expectations" will be written and executive produced by Knight. Also executive producing are Tom Hardy, Ridley Scott, Dean Baker, David W. Zucker, Kate Crowe, and Mona Qureshi for the BBC. FX Productions will produce in association with BBC, Scott Free, and Hardy Son & Baker. Lucy Forbes ("In My Skin") will be lead director. Charles Dickens' "Great Expectations" was written in a series of weekly chapters starting in December 1860, then later published as a novel. It's the story of an orphan named Pip who tries to change his circumstances in life. 
No news yet on when "Great Expectations" will air on BBC and FX, but we'll keep you updated on all the latest news.