The Next Episode Of Better Call Saul Is Titled, Uh, Breaking Bad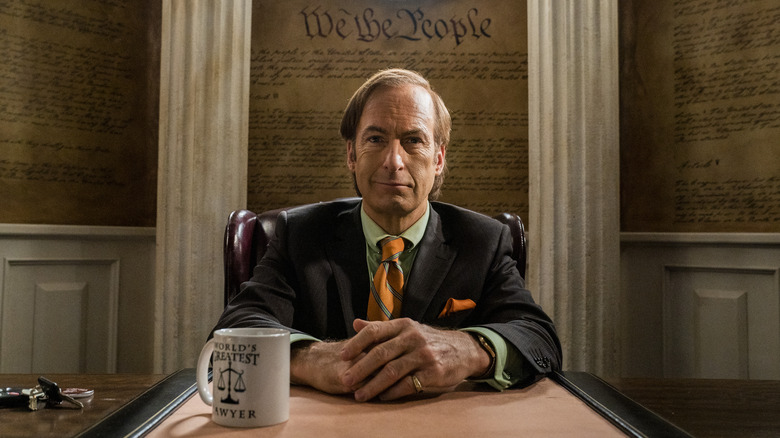 AMC
On April 26, 2009, a certain hit series about a high school chemistry teacher with a preternatural talent for cooking pure meth called "Breaking Bad" aired the eighth episode of its second season. In it, we were introduced to an absurdly over-the-top criminal lawyer (or, as Aaron Paul's Jesse Pinkman would eloquently put it, a criminal lawyer, yo) by the name of Saul Goodman (Bob Odenkirk). The name of that episode? "Better Call Saul." Not even creators Vince Gilligan and Peter Gould would fully grasp what that episode would eventually lead to, with the spin-off/prequel series of the same name now routinely inspiring debates over which show is better (/Film's Erin Brady made a convincing case for "Better Call Saul" here).
After the last episode's fully black-and-white adventure, all eyes turn to the precious few remaining episodes for a hint of how Jimmy McGill's tragic story will ultimately conclude. Though the brief previews at the end of every new episode have kept things tightly under wraps, usually teasing a single line of dialogue in the next episode while keeping the camera on a single (and usually empty) location, we might just have a better idea of what to expect next Monday.
Upon discovering unsubstantiated reports of next week's episode title and episode description from TVPassport, The AV Club verified with AMC that the title for the upcoming episode will be called, quite tellingly (and poetically!), "Breaking Bad." Let's dig into just what that might imply below.
Is Better Call Saul about to break bad?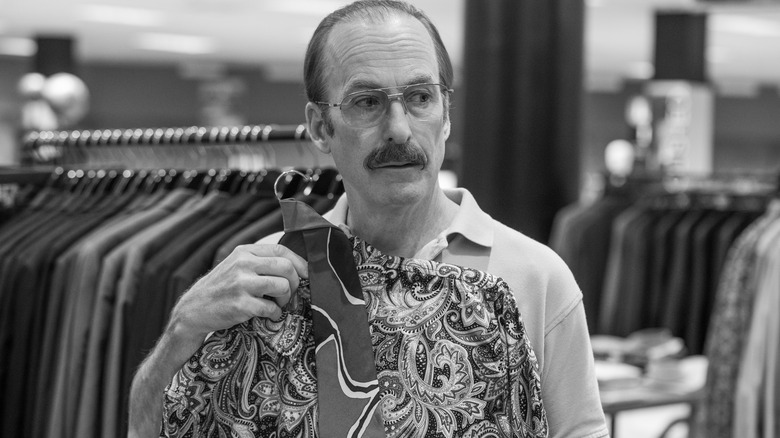 AMC
After much of this final season of "Better Call Saul" maintained a breakneck pace, leading to the shocking deaths of both Howard Hamlin (Patrick Fabian) and Lalo Salamanca (Tony Dalton) in quick succession, viewers were thrown a bit of a curveball when the last episode took an abrupt break from the current-day storyline of Jimmy and Kim Wexler's relationship dissolving in real-time in order to catch up with Cinnabon Gene Takovic, Jimmy/Saul's alias while in hiding after the events of "Breaking Bad." Questions remain as to whether that was the last we'll see of Gene's lonely existence in Nebraska — not to mention the aftermath of Jimmy's heartbreak over seeing Kim pack up and walk out the door, for both of their sakes — but here's at least one major implication for next week's episode.
Thanks to the creative team's refusal to play coy about the imminent cameos of Aaron Paul's Jesse Pinkman and Bryan Cranston's Walter White, we've known that the two biggest characters from the "Breaking Bad" universe were slated to cross paths with the spin-off/prequel series at some point during this final season. Based on the title, that would seem to be happening in this very next episode. However, it remains to be seen when exactly this might take place. As wryly noted by Gould, not a single fan-theory even comes close to figuring out how they'll factor into "Better Call Saul." My money is on an extended sequence set during Saul Goodman's "peak" in some previously-unseen corner of the "Breaking Bad" timeline, to balance out last week's full-length flashforward, but we'll just have to wait and see.
"Better Call Saul" airs new episode every Monday on AMC.