Walter White And Jesse Pinkman Will Appear In Better Call Saul Season 6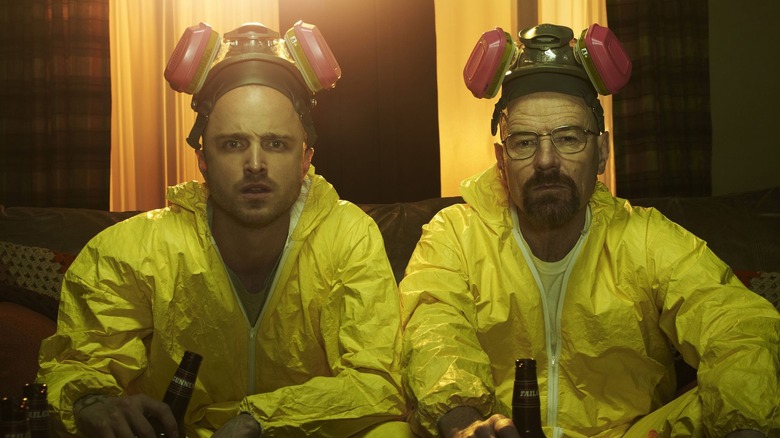 AMC
It's official! Bryan Cranston and Aaron Paul will appear in the sixth and final season of "Better Call Saul," reprising their "Breaking Bad" roles as Walter White and Jessie Pinkman.
Co-showrunner Peter Gould confirmed the news in a panel at PaleyFest, the annual TV promotion event in Los Angeles. The verified "Better Call Saul" Twitter account then posted an image of the two actors with the words, "They're coming back," followed by a #BetterCallSaul hashtag.
They're coming back. #BetterCallSaul pic.twitter.com/IXDq6KarcN

— Better Call Saul (@BetterCallSaul) April 10, 2022
Vince Gilligan, the creator of "Breaking Bad" and co-creator of "Better Call Saul" with Gould, had previously said that "it would be a damn shame" for the Bob Odenkirk-led spin-off to conclude its six-season run without an appearance by Cranston and Paul. At PaleyFest, Gould did not reveal any specifics as to how "Better Call Saul" would incorporate their characters, but he was open about it happening in some way. Gould told Variety:
"I don't want to spoil things for the audience, but I will say the first question we had when we started the show was, 'Are we gonna see Walt and Jesse on the show?' Instead of evading, I'll just say yeah. How or the circumstances or anything, you'll just have to discover that for yourself, but I have to say that's one of many things that I think you'll discover this season."
'The two shows ... are entwined even more than ever'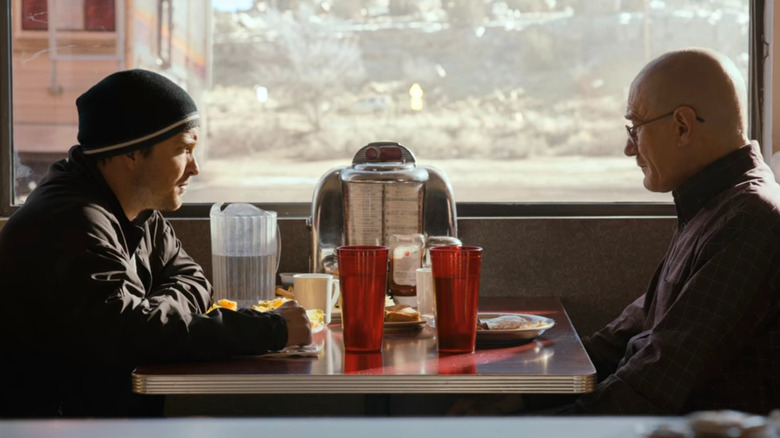 Netflix
In addition to making both Mike Ehrmantraut (Jonathan Banks) and not-a-villain Gus Fring (Giancarlo Esposito) main characters, "Better Call Saul" has already brought back numerous other "Breaking Bad" characters for guest appearances. We've also seen Walter and Jessie reunite once already in "El Camino: A Breaking Bad Movie," where Cranston donned a bald cap for one scene.
It's possible that Walter and Jessie could simply cameo in "Better Call Saul" season 6, the way Hank Schrader (Dean Norris) and Steven Gomez (Steven Michael Quezada) did in the season 5 episode, "The Guy for This." However, at PaleyFest, Odenkirk seemed to tease that season 6 might embrace the crossover elements between the two shows even more, revealing new hidden layers to "Breaking Bad" that would give it an even deeper dimension on a rewatch. On the red carpet, he said:
"I personally feel that the two shows — 'Breaking Bad' and 'Better Call Saul' — are entwined even more than ever in the final season. And I think that's surprising and cool, and it's gonna make you want to watch 'Breaking Bad' again."
The final season of "Better Call Saul" will be split into two parts, with the first seven episodes airing in April and May and the last six episodes airing in July and August. Season 6 of "Better Call Saul" premieres its first two episodes on AMC on Monday, April 18, 2022.