DC League Of Super-Pets Features A Very Cool Superman Deep-Cut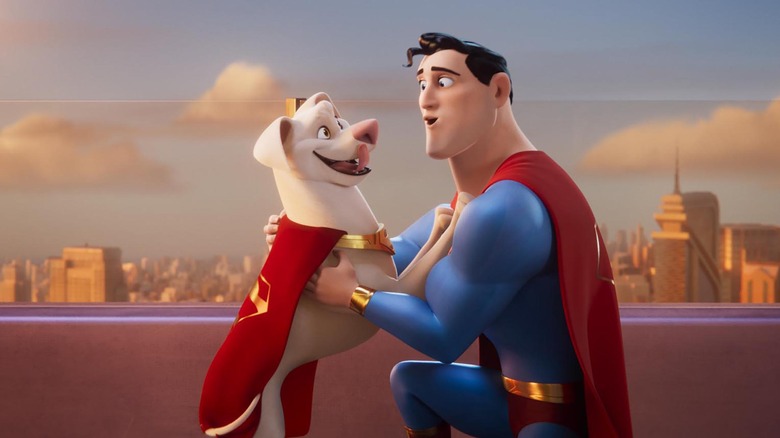 Warner Bros.
As Dwayne "The Rock" Johnson's Black Adam is fond of saying: the hierarchy of the DC Universe is about to change. It's probably safe to say that the movie star wasn't referring to the upcoming animated "DC League of Super-Pets" movie — which /Film's Josh Spiegel reviewed here – but maybe he should've been. Featuring a voice cast that includes Johnson himself as Krypto the Superdog, pal Kevin Hart as Ace, Marc Maron as Lex Luthor, Keanu Reeves as Batman, Daveed Diggs as Cyborg, Jameela Jamil as Wonder Woman, John Krasinski as Superman, and many, many more, "DC League of Super-Pets" packs enough fan-service and references to greater DC lore that viewers (well, kids at least) might not think that DC movies get any better than this.
Of the many surprises and Easter eggs, however, one stands out from the rest as notable to longtime Superman fans who truly know their stuff. After making many viewers' dreams come true with his thrilling (and, uh, short-lived) cameo in "Doctor Strange in the Multiverse of Madness," Krasinski is pulling double-duty as an even more legendary superhero, this time on the DC side of things. As an added bonus, his Superman design comes with a neat little reference that fans will no doubt have picked up on. 
Hint: It has to do with that shiny and very distinct logo.
The Max Fleischer effect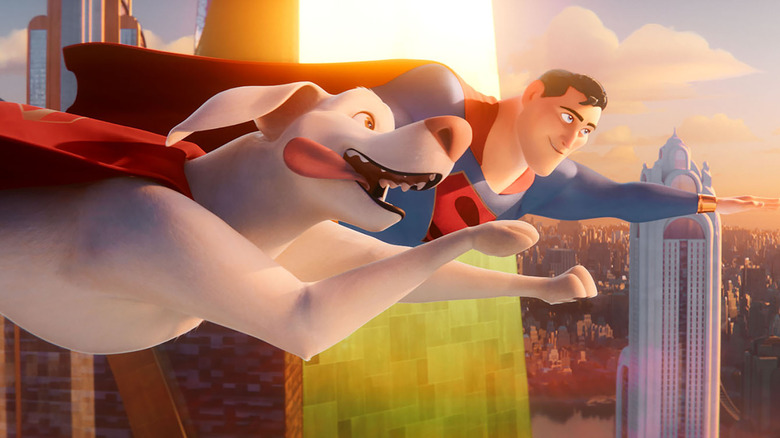 Warner Bros.
Many DC fans hold up the 1940s Max Fleischer animated "Superman" shorts as a gold standard for the popular superhero, and for good reason. Running for 17 episodes and serving as the character's first animated appearance ever, the legacy of the cartoons continues to reverberate to this day, from the characterization of the superhero to the animation style itself to the impressive visual design of Superman's impressively realized outfit. As it turns out, Superman fans have long gravitated towards the distinctive red and black design of the Superman logo first introduced in those Fleischer animated shorts. It even popped up again in the CW's ongoing "Superman & Lois" series in flashbacks regarding Tyler Hoechlin's Superman.
That eye-popping design will once again receive its time in the sun, thanks to the animators and creative team on "DC League of Super-Pets." As noted by ComicBook.com back when John Krasinski first revealed Superman's look in the film, the superhero's logo is pulled directly from the Max Fleischer cartoon in a sly homage to the character's storied history. As silly and disposable as the animated movie may be to those outside of its intended demographic, there's something to be said for the storytellers in charge putting their genuine love for the character at the forefront of the visual designs. Believe it or not, but filmmakers tend to be even bigger fans than any of us!
After some lengthy delays, "DC League of Super-pets" will finally come to theaters on July 29, 2022.