Dwayne Johnson Wants Black Adam To 'Usher In A New Era For The DC Universe' [Comic-Con]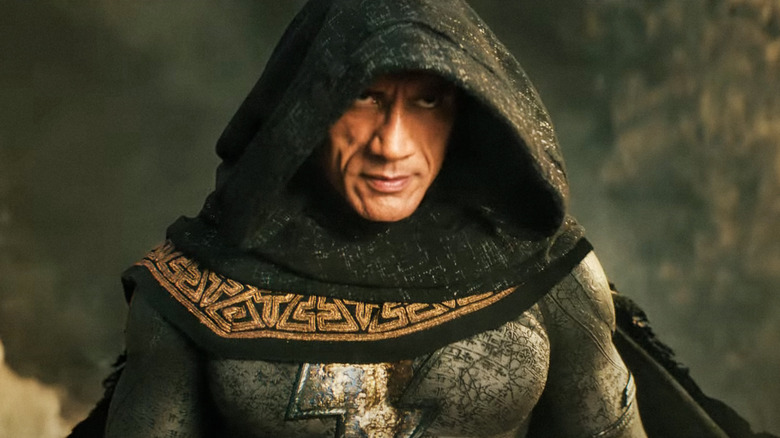 Warner Bros. Pictures
Warner Bros. and DC Films showcased their upcoming movies at San Diego Comic-Con 2022, and /Film has a team planted firmly in Hall H to bring you every bit of news from the event. Following a fresh look at "Shazam! Fury of the Gods," "Black Adam" took to the stage, with star Dwayne Johnson and director Jaume Collet-Serra giving fans the lowdown on what audiences are going to see with the Justice Society forming. 
The hierarchy of power in the DC Extended Universe is about to change, it seems. Dwayne Johnson has been telling us that for some time on social media and in interviews. We're getting not only Teth-Adam/Black Adam as an antihero, but also meeting the likes of Hawkman (Aldis Hodge), Atom Smasher (Noah Centineo), Cyclone (Quintessa Swindell), and Dr. Fate (Pierce Brosnan). 
On the stage, Johnson praised Collet-Serra, while also letting the audience in on the fact that the director is very shy. Collet-Serra previously worked with Johnson on "Jungle Cruise," and had apparently been in discussion as the director for "Black Adam" "for years," according to Johnson. 
'A new era for the DC Universe'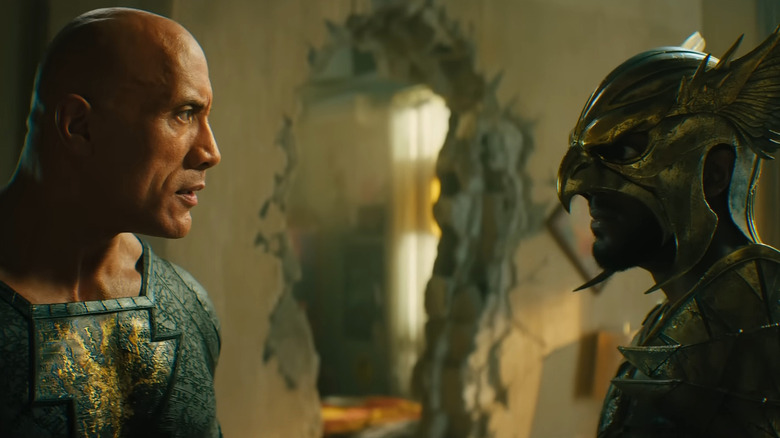 Warner Bros. Pictures
Johnson also said of Jaume Collet-Serra: 
"He also comes from a highly regarded cadre of Spanish filmmakers who really deliver quality, and when we made 'Jungle Cruise,' the experience was great. But when it came to 'Black Adam,' the idea was, well, how could we create something that is fresh, unique ... It's an ambitious movie, but shows great things that have never been done. But also, if our goal, my goal, and Seven Bucks' [Productions] goal and the studio's goal too as well ... is to usher in a new era for the DC universe, what does that mean? And what does that character mean, and then, what does it mean to build out the DC universe with the Justice Society, as well too, so [applause] Jaume is really not only prolific, but also he's just the perfect director for this. I cannot wait for you guys to see the movie.
Collet-Serra has also directed "House of Wax," "Orphan," "Unknown," "The Shallows," "Run All Night," and "The Commuter." At an earlier event for a small group of press (including /Film), Johnson revealed that before they started production, the director asked him about his favorite Clint Eastwood movie. Johnson said "Dirty Harry" or "Unforgiven" were the ones that came to mind. Collet-Serra said "We wanted to strike a tone that — in a world where [everything is] black and white — not everything is black and white. "You need to kind of operate in that gray area." 
It will be interesting to see how an incredibly powerful antihero like Black Adam works with the current superheroes in the DCEU.
"Black Adam" will hit theaters on October 11, 2022.