The 14 Greatest Francis Ford Coppola Scenes, Ranked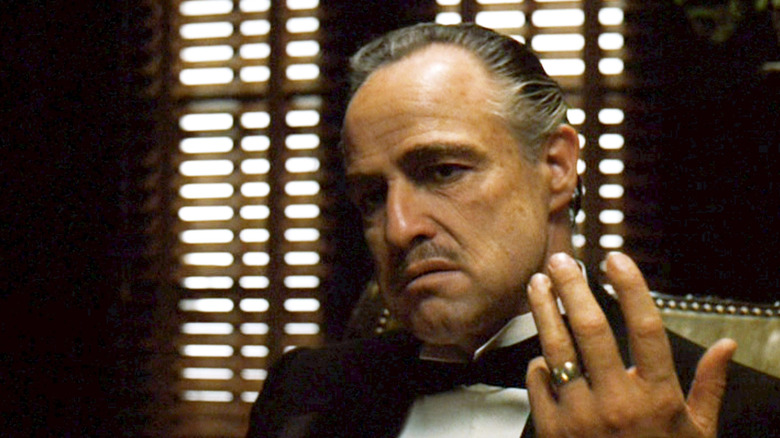 Paramount Pictures
It was recently announced that legendary filmmaker Francis Ford Coppola would be returning to filmmaking with the science fiction drama "Megalopolis."  Coppola is personally financing the film, which is set to star Adam Driver and Nathalie Emmanuel. If there's any filmmaker who has earned the right to indulge himself with a passion project, it's Coppola. Coppola's track record speaks for itself. "The Godfather" celebrated its 50th anniversary this year, and film fans were reminded why it is regarded as one of the greatest films of all time. 
While "The Godfather" made Coppola a legend, he's a much more versatile filmmaker than he's given credit for. Having directed conspiracy thrillers ("The Conversation"), romantic comedies ("Peggy Sue Got Married"), old-fashioned horror films ("Bram Stoker's Dracula"), courtroom dramas ("The Rainmaker"), coming-of-age stories ("The Outsiders"), and even earnest biopics ("Tucker: The Man and His Dream"), Coppola has proven that he is a master of many genres. 
Here are the 14 greatest scenes from Francis Ford Coppola's films, ranked.
14. Vito's family Is killed — The Godfather Part II (1974)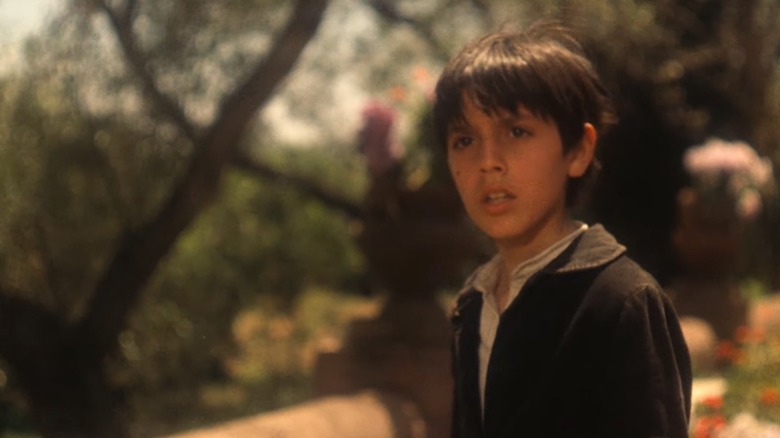 Paramount Pictures
"The Godfather Part II" took a wildly different approach to the concept of a movie sequel. Instead of simply picking up where the first film ended, "The Godfather Part II" is divided into two intersecting storylines. While half of the film continues the story of Michael Corleone's (Al Pacino) rise to power and familial relationships, the other half shows the childhood of Michael's father, Vito Corleone. Marlon Brando turned Vito into an iconic character in "The Godfather," so it was interesting to see how the vicious mobster earned his reputation.
A majority of the flashbacks in "The Godfather Part II" star Robert De Niro as the young Vito, but the film's opening scene goes back even further in the timeline. It explores Vito's childhood in Sicily. In 1901, the young Vito Andolini (Oreste Baldini) loses his entire family after his father offends a local mobster. Scared and alone, Vito flees his home country and escapes to New York. To forge a new life for himself, he takes on the name "Vito Corleone."
This is a great example of Coppola playing with the audience's expectations. In "The Godfather," Vito is always in command and rarely shows signs of weakness. It is fascinating to see him in such a vulnerable state. The flashbacks explain why Vito has such a hardened worldview.
13. Vito plays with his grandson — The Godfather (1972)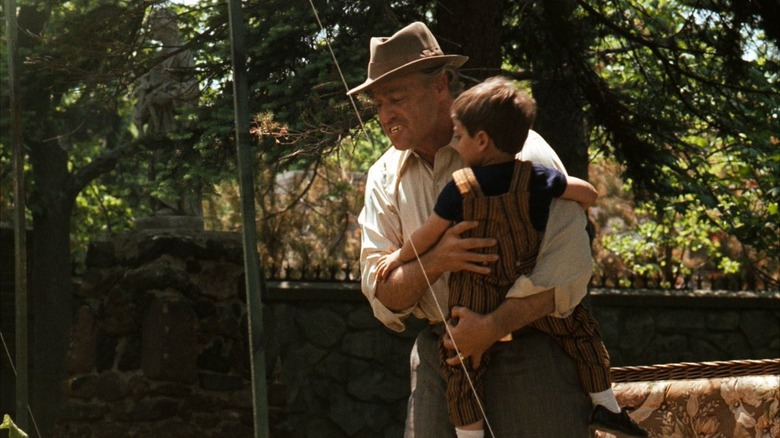 Paramount Pictures
Although it is often cited as the quintessential "mob movie," "The Godfather" is really about the internal struggles of an American family. In the Corleone family, nothing is more important than loyalty. "The Godfather" took viewers off guard because it was able to generate empathy for the characters. When you're watching the older Vito (Marlon Brando) interact with his grandson, Anthony (Anthony Gounaris), you're not watching a dangerous crime boss anymore. You're simply watching a loving grandfather play with his heir.
Francis Ford Coppola inserts a lovely moment between Anthony and Vito in which they spend time together in a garden. Vito is playful and charming as he horses around with the young boy. It's a touching moment that is followed by tragedy. Vito dies of a heart attack. It was an ironic way to kill such a powerful character. Although viewers may have expected Vito to be murdered by one of the other mob families, he simply succumbs to his aging body's weaknesses.
12. Johnny's death — The Outsiders (1983)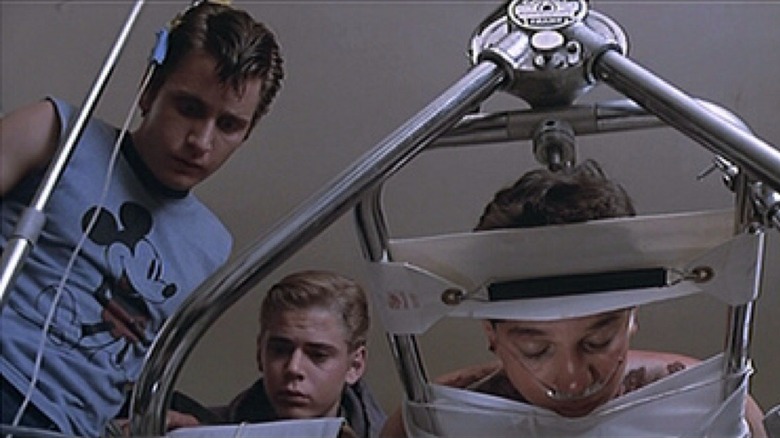 Warner Bros.
Originally, Francis Ford Coppola had no interest in creating an adaptation of S. E. Hinton's young adult novel "The Outsiders." However, he received a letter from Jo Ellen Misakian, a librarian from Lone Star Elementary School in Fresno, California. Misakian attached letters from the seventh and eighth-grade students at her school, asking Coppola to adapt the novel. Coppola was deeply moved by the correspondence.
Coppola found that he was just as excited about the potent themes in "The Outsiders" as the students that had written to him. He was able to relate to the story, which centered around the clashes between students from different social classes in the 1950s. This reminded Coppola of his childhood. As a result, "The Outsiders" is one of Coppola's most personal films. Coppola paid close attention to the book because "The Outsiders" is an incredibly faithful adaptation that utilizes many of the novel's recurring motifs and phrases.
One of the most famous lines in "The Outsiders" is "Stay gold, Ponyboy." Various characters tell Ponyboy Curtis (C. Thomas Howell) that he needs to cling to his youthful innocence. In one of the most moving scenes in the film, Ponyboy visits his friend Johnny (Ralph Macchio). In the hospital. Johnny tells him to "stay gold" before he dies.
11. The Lightbulb Motif — Tetro (2009)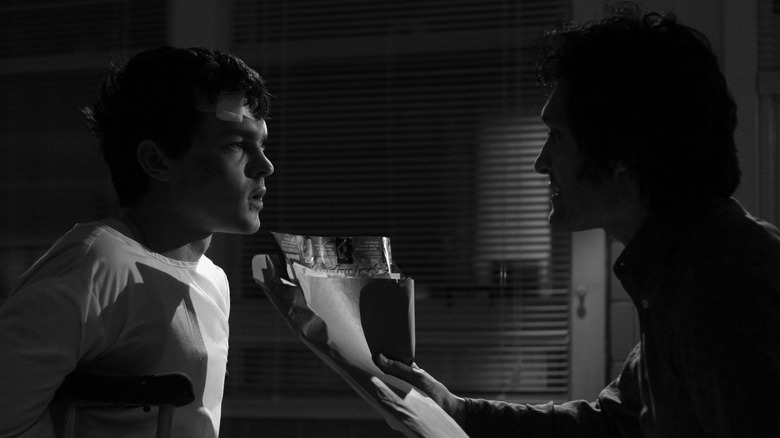 American Zoetrope
Francis Ford Coppola returned to his roots with this small personal story of familial relationships and artistic inspiration. Even though the Argentinian setting is new, "Tetro" has many of the same themes that are present in most of Coppola's best work. The film also allowed Coppola to reminisce about his youth, as he told a story about a young man finding his voice through artistic expression.
"Tetro" follows the reunion of two brothers, Tetro (Vincent Gallo) and Bennie (Alden Ehrenreich). The two young men are both bonded and driven apart by their creative passions. Unlike "The Godfather" or "The Conversation," which are very plot-centric, "Tetro" is a much more ambulatory and expressionistic film. One of the recurring motifs in the story is a flickering lightbulb. Coppola uses this to signify the burning impulses of a young artist.
"Tetro" is distinct from Coppola's later work because it was shot in black-and-white. The black-and-white photography gives the story the atmosphere of a classic noir film and makes some of the recurring images more memorable. The lightbulb is beautiful and is a perfect way to initiate the story. It creates a sense of mystery that pays off later with a major plot twist.
10. Michael reacts to his daughter's death — The Godfather Part III (1990)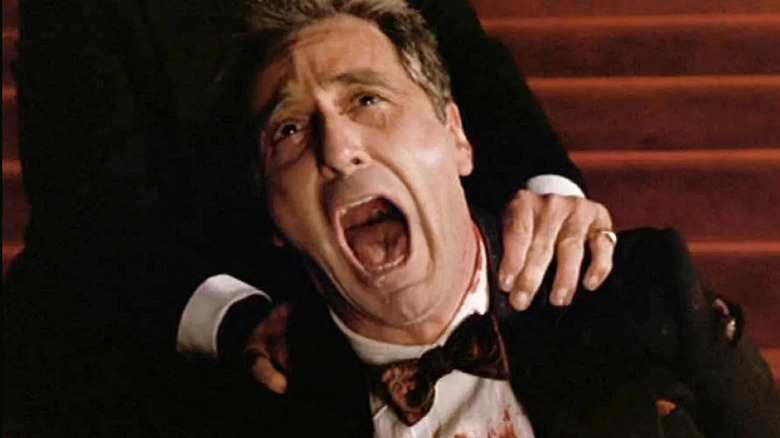 Paramount Pictures
Considering how great the first two films are, "The Godfather Part III" had impossible expectations to live up to. To say that "The Godfather Part III" is a "good movie" is not an insult, and by most standards, it's much better film than it is given credit for. However, "The Godfather: Part III" is judged by how it holds up against two of the best films ever made, so naturally, it pales in comparison. Although Francis Ford Coppola's director's cut is an improvement, it is still an underwhelming conclusion to one of the greatest film trilogies of all time.
Francis Ford Coppola takes a bold narrative risk with "The Godfather Part III." By the end of "The Godfather Part II," Michael Corleone (Al Pacino) has turned into an almost irredeemable villain. However, Michael seeks to make amends for his past crimes in "The Godfather: Part III." An older Michael attempts to turn his family crime operation into a legitimate business. Although this sometimes feels like a betrayal of the character, "The Godfather Part III" does not forget the most important theme of the first two movies: family.
Michael is very close with his daughter, Mary (Sofia Coppola). During one of the final scenes in the film, Mary is gunned down outside an opera house. Michael has a complete emotional breakdown and screams in agony.
9. Vlad the Impaler finds his wife's body — Bram Stoker's Dracula (1992)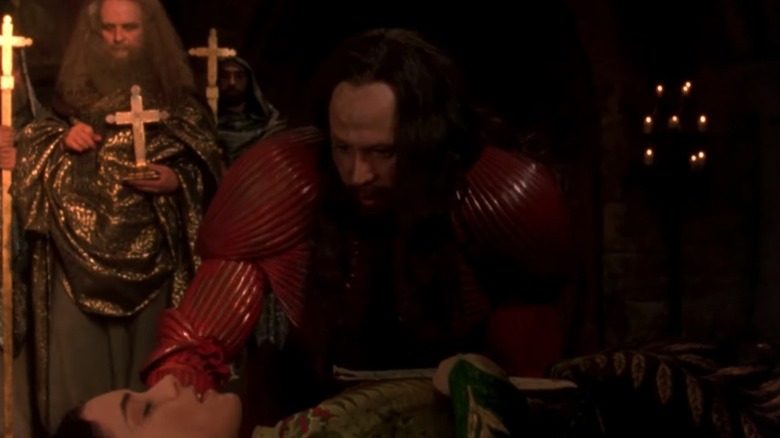 Columbia Pictures
Film fans are likely familiar with the story of Dracula. According to the Guinness Book of World Records, there have been over 500 different screen depictions of the iconic vampire. Some of these films, such as the 1922 German Expressionist film "Nosferatu," the 1931 Universal monster movie "Dracula," and the 1958 Hammer production of "The Horror of Dracula" are classics in their own right. However, Francis Ford Coppola was brave enough to try revitalizing the story once more. Unlike many of the other adaptations, Coppola's 1992 film "Bram Stoker's Dracula" is somewhat more faithful to the novel.
Coppola didn't make "Bram Stoker's Dracula" just another horror film with jump scares and cheap gags. He honored the romantic tragedy in the original text and treated the film like a historical epic. Coppola spared no expense with the attention that he paid to the film's historical details, and "Bram Stoker's Dracula" took home the Academy Awards for best costume design, best makeup, and best sound effects editing.
"Bram Stoker's Dracula" opens with Vlad the Impaler's (Gary Oldman) wartime success in his battles against the Ottoman Empire. However, Vlad has no reason to celebrate once he returns to his home. He finds that his wife, Elisabeta (Winona Ryder), died by suicide. Oldman reacts to the heartbreaking tragedy. Audiences may be surprised that they feel bad for Dracula.
If you or anyone you know is having suicidal thoughts, please call the National Suicide Prevention Lifeline by dialing 988 or by calling 1-800-273-TALK (8255)​.
8. Dixie Dwyer enters the club — The Cotton Club (1984)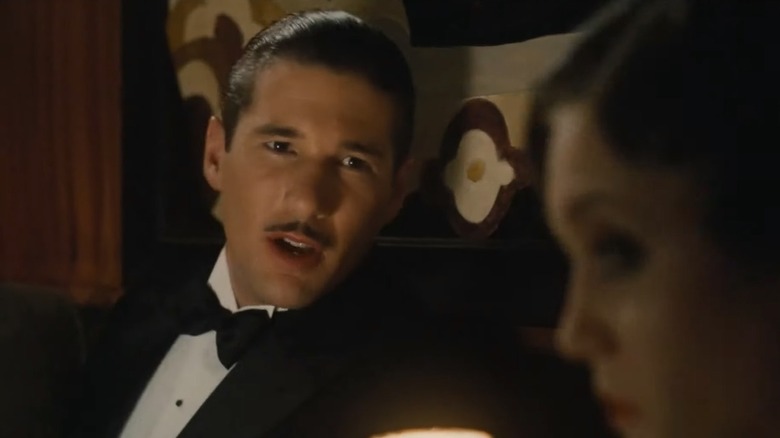 Orion Pictures
"The Cotton Club" is one of Francis Ford Coppola's most underrated films. It was a notorious financial disappointment when it was first released, and various production challenges forced Coppola to go over his original budget. Still, Coppola is proud of what he accomplished. At the 2017 Telluride Film Festival, he released a restored version of the film that he personally financed.
Painstakingly crafted with period-accurate detail, "The Cotton Club" is another one of Coppola's historical epics. The film tells the true story of the titular Harlem jazz club and its association with various criminal organizations throughout the 1930s. Although Coppola packs in a lot of historical details, the film takes time to celebrate the amazing Black artists who performed at the Cotton Club.
Coppola allows the audience to observe the club at its peak just as the characters do. The film is told from the perspective of Dixie Dwyer (Richard Gere), a musician who eventually becomes a Hollywood film star. Dixie is in awe of the raw talent on display at the Cotton Club when he enters it for the first time.
7. Charlie bears his soul to Peggy — Peggy Sue Got Married (1986)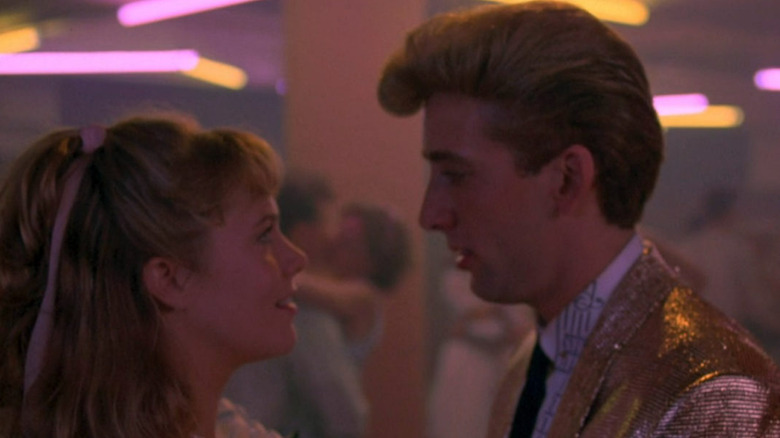 Tri-Star Pictures
The Coppola family is one of the most prominent dynasties in Hollywood. Francis Ford Coppola helped his nephew Nicolas Cage in the earliest days of his career. Cage had changed his last name in order to put some distance between himself and his famous uncle. However, Cage would not have been the star that he eventually became if it wasn't for Francis Ford Coppola. His transformative performance as "Crazy Charlie" Bodell in the 1986 film "Peggy Sue Got Married" showed all of the charisma, pathos, and eccentricities that Cage is capable of.
When he is first introduced in "Peggy Sue Got Married," Charlie is washed up and unsuccessful. Although Peggy Sue (Kathleen Turner) fell in love with Charlie when they were in high school, their teenage romance was not meant to last. Charlie and Peggy are now separated because of Charlie's numerous affairs with other women. Peggy Sue is disappointed by the man that he has become, but she is reminded of why she loved Charlie in the first place after she travels back in time to her senior year of high school.
In the film's emotional climax, Charlie dedicates his life to Peggy Sue and proposes to her. Although Peggy Sue has been trying to avoid making the same mistakes, she is taken aback by how sincere Charlie's pleading is. She is so moved that she realizes that she was always meant to be with Charlie.
6. Preston Tucker's final speech — Tucker: The Man and His Dream (1988)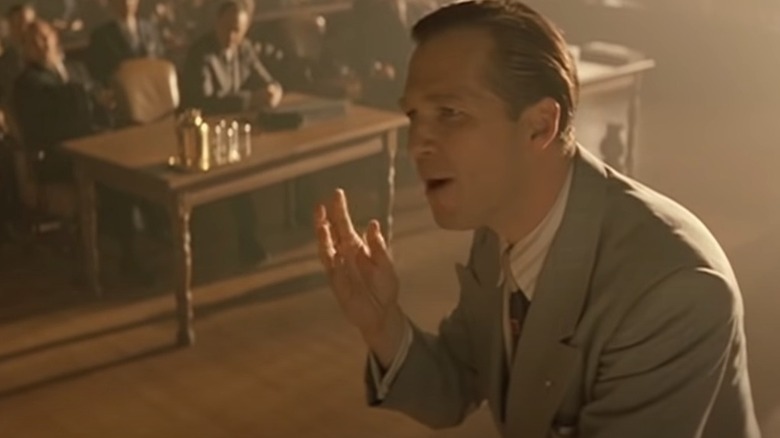 Paramount Pictures
Although Francis Ford Coppola has directed many historical dramas, 1988's "Tucker: The Man and His Dream" is a much more subversive look at the past. In the beginning, it appears that this biopic of genius automobile entrepreneur Preston Tucker (Jeff Bridges) will be just another generic, "inspirational" story of American exceptionalism. However, Coppola shows that the "American Dream" is much more complex. As Tucker's business is weathered by the influence of the "Big Three" automobile manufacturers, he realizes that corporations will always dominate the economy and suppress innovators.
Tucker sums up the themes of the film during a rousing speech at his trial. Although he was once hailed as a hero, Tucker's public image has been eroded by the news media's negative coverage. Tucker delivers an impassioned monologue about the evils of capitalism and how it destroys individualism. One of Coppola's greatest talents is simply allowing an actor to be in their element. Bridges is at his most charismatic in this showcase scene.
5. The trial — The Rainmaker (1997)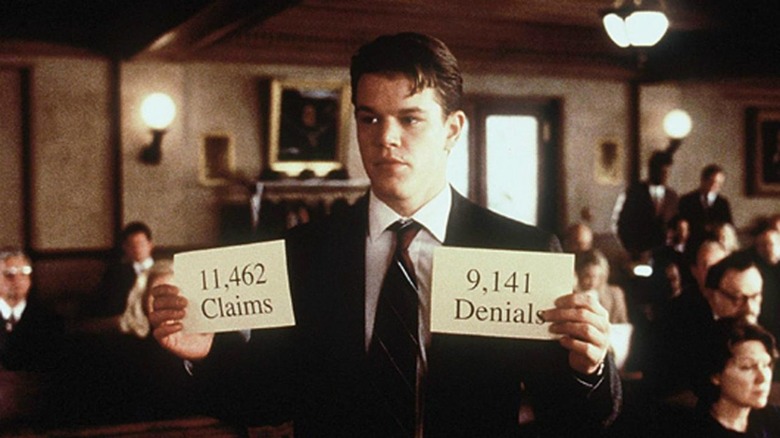 Paramount Pictures
Francis Ford Coppola is known for his meticulous attention to detail. He is also a passionate advocate for causes that he believes are worthwhile. In many ways, he is like a cinematic lawyer. This made Coppola the perfect choice to direct an adaptation of John Grishman's legal thriller "The Rainmaker." "The Rainmaker" is a true underdog story. It follows University of Memphis Law School graduate Rudy Baylor (Matt Damon) as he takes on the corrupt insurance company Great Benefit. Great Benefit is responsible for denying coverage to a dying young man.
In the film's climactic trial sequence, Rudy presents damning evidence to the jury but appeals to their emotions as well. When Rudy cross-examines Wilfred Keeley (Roy Schneider), the president of Great Benefit, he finally gets the company to own up to its mistakes. The jury is moved by a powerful video of a young man named Donny Ray Black (Johnny Whitworth) that was filmed before his death. This makes Rudy's victory even more satisfying.
4. Michael kisses Fredo — The Godfather: Part II (1974)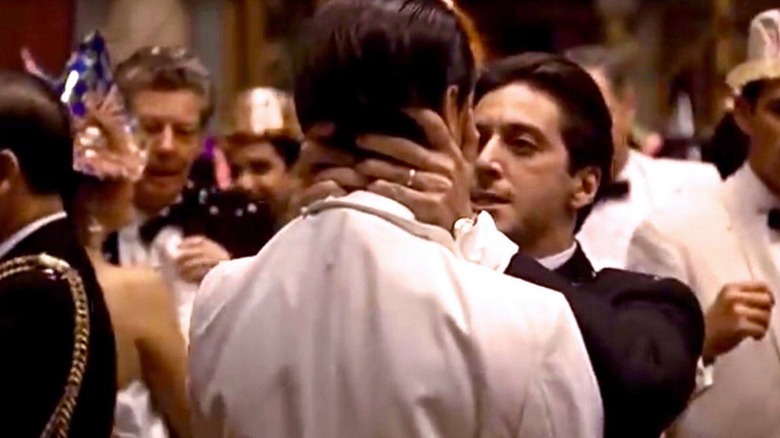 Paramount Pictures
Michael Corleone is one of the most complex characters that Francis Ford Coppola ever brought to life. Michael becomes more and more like his father as he tries to sustain his family's business in "The Godfather Part II." Although he claims that nothing is more important than family, Michael admits to Tommy Hagen (Robert Duvall) that he suspects that there is a traitor in their midst.
Michael reveals to his brother Fredo (John Cazale) that he knows he is the traitor at a New Year's Eve party in Havana. Fredo inadvertently reveals his deception to Michael when he pretends to not recognize Johnny Ola (Dominic Chianese). "I know it was you, Fredo," Michael says as he kisses his brother on the lips. "You broke my heart."
This scene pays off later when Michael and Fredo attend their mother's funeral. Now that the family matriarch is dead, Michael can proceed with his plan to assassinate Fredo. Fredo is killed by Michael's hitman, Al Neri (Richard Bright), at the end of the film.
3. Harry Caul returns to his apartment — The Conversation (1974)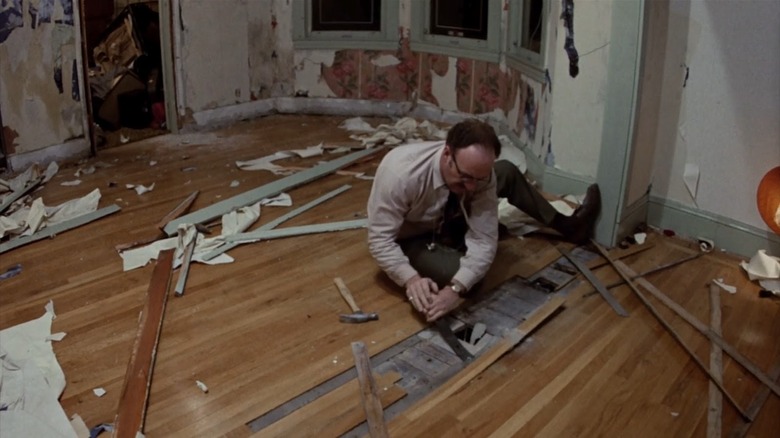 Paramount Pictures
"The Conversation" is one of the most anxiety-inducing spy films ever made. In the 1970s, paranoia about surveillance and government oversight was at an all-time high in the wake of several political scandals. Hollywood took note and created many classic films that dealt with these relevant issues. In "The Conversation," Coppola explores the morality of keeping secrets. Even though the film went into production at an earlier date, it was released right before President Richard Nixon resigned from office. This made the film's themes even eerier.
Coppola ends the film on a terrifying note. After Harry Caul (Gene Hackman) is threatened by government agent Martin Stett (Harrison Ford), he returns home to find that his apartment has been ransacked. Caul desperately searches for clues, but he's unable to find any recording devices. Caul has been scared of being watched for the entire film. This is his worst nightmare.
2. Colonel Kurtz is revealed — Apocalypse Now (1979)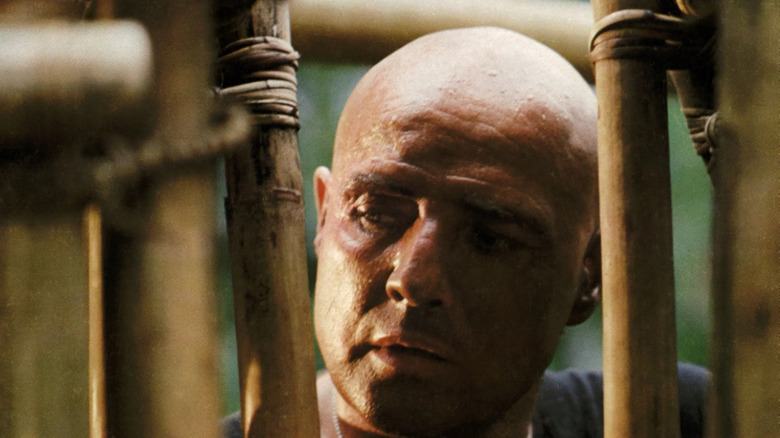 United Artists
Francis Ford Coppola's terrifying masterpiece, "Apocalypse Now," was a notoriously difficult production. Coppola was obsessed with perfecting his stirring war drama, and he finally released his restored director's cut in 2019. "Apocalypse Now" is inspired by Joseph Conrad's novella "Heart of Darkness." Coppola thought that the novella's themes were relevant to the Vietnam War. Initially, Coppola's friend George Lucas was to direct "Apocalypse Now," but he dropped out to concentrate on his own project, which would become the original "Star Wars." 
Coppola reunited with his "The Godfather" star Marlon Brando for what would be one of the best films of both of their careers. Brando co-stars as Colonel Walter Kurtz, a former military leader who has gone down a very dark path. Kurtz and his obsessive followers have ventured deep into the jungle. Kurtz is not revealed in full until a haunting sequence in which his men capture U.S. Army Capt. Benjamin Willard (Martin Sheen).
1. The wedding scene — The Godfather (1972)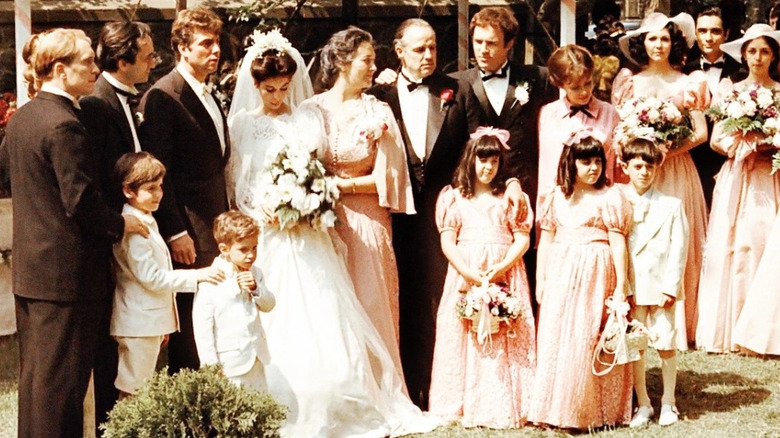 Paramount Pictures
There are very few movies that can be described as perfect. "The Godfather" is one of them. Francis Ford Coppola starts the film on a splendid note with the iconic wedding sequence. This influential scene shows the Corleone family at the height of their power. Coppola brilliantly introduces all the main characters as they gather for Connie's (Talia Shire) wedding to Carlo (Gianni Russo). The opening shot brilliantly shows how influential Vito Corleone is in his community.
While it is clear that Vito is remorseless, he is framed as the loving patriarch of his family. This is part of the reason why "The Godfather" is such a game-changer. Coppola doesn't just depict the Coreleones as violent gangsters. They are a real family that truly loves each other. The wedding sequence introduces Michael as he returns from war. It foreshadows how Michael is destined to replace his father as the head of the family.