The 20 Best Nicolas Cage Movies Ranked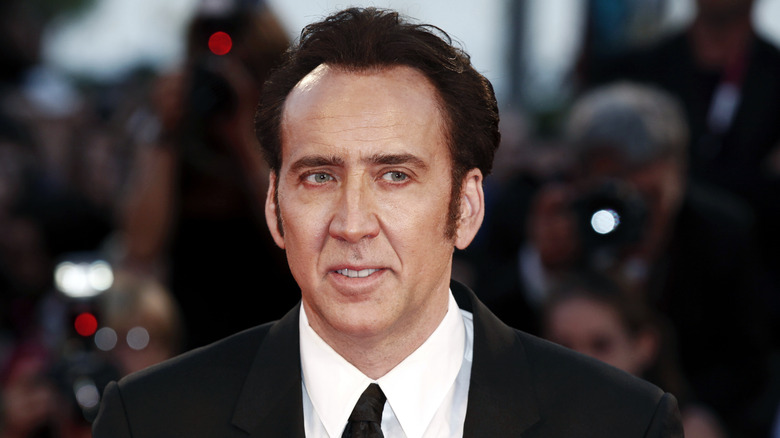 Andrea Raffin/Shutterstock
There isn't anyone in the film industry who has had as wild of a career as Nicolas Cage. What can you say about a man who defies all expectations? Cage has given performances that are both beloved and derided; he's an award-winning actor, and has often been the laughing stock of the Internet. Cage's trajectory is just as unpredictable as his performances are.
In the last couple of decades, Cage faced financial setbacks. In order to pay for his mounting personal expenses, he began starring in direct-to-video or VOD films. These low-budgeted movies were routinely mocked, but Cage's over-the-top performances attracted a cult Internet following. Fans were fascinated by his strange acting choices (and memorable facial expressions). Cage says he doesn't regret taking on any of these roles; he's never been less than 100% committed.
Recently, many film fans have reconsidered their stance on Cage. Although he still stars in many B-movie titles, Cage has delivered several critically acclaimed performances in smaller, independent films. In his new movie, "The Unbearable Weight Of Massive Talent," he plays the most eccentric character of his entire career: himself. It's never a bad time to celebrate one of the most unique actors of all time, so here are the 20 greatest Nicolas Cage movies ranked. 
20. Knowing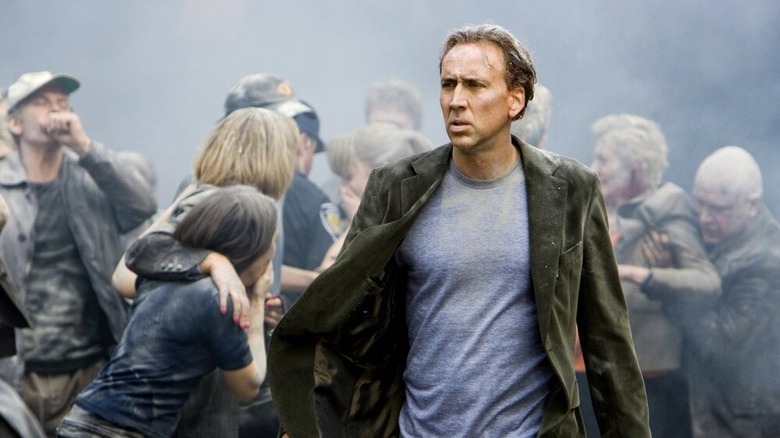 Summit Distribution
Alex Proyas' 2009 science fiction mystery "Knowing" is by no means a perfect movie. It can be hard to follow the complex series of events, and many of the conclusions that the film draws seem ludicrous. However, Proyas asks interesting questions about religious prophecies that make the movie worth seeking out. It's the type of bold, original science fiction project that requires compelling characters for the viewer to invest in. Nicolas Cage delivers a surprisingly understated performance as a grieving father who comes to believe that he has the power to save humanity from an upcoming disaster.
"Knowing" follows the MIT astrophysics professor John Koestler (Cage), who has struggled to connect with his son, Caleb (Chandler Canterbury), after his wife's death. There are few things that excite John anymore, but he grows interested in the recovery of a time capsule at his son's elementary school. John discovers a sheet of figures in the capsule that he begins analyzing. He starts to suspect that the writing is a prophecy, and has information about natural disasters.
19. Bringing Out the Dead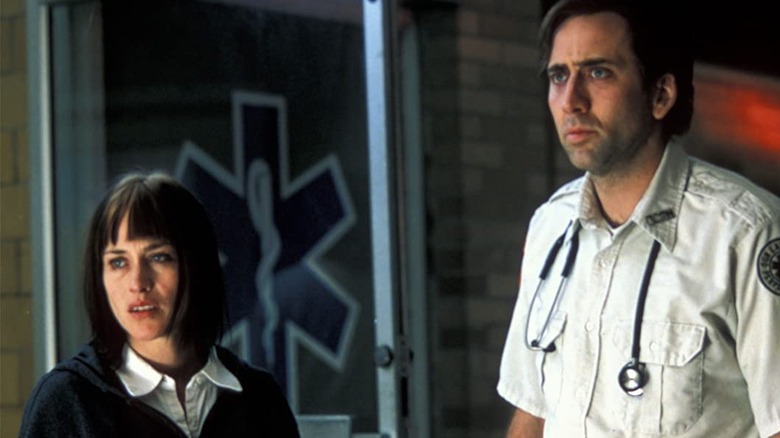 Paramount Pictures
It's a shame that Nicolas Cage has not worked with director Martin Scorsese more often. Scorsese is renowned for his work in the mafia genre, but "Bringing Out the Dead" is distinct within his filmography. The 1999 film is a psychological thriller with elements of horror throughout. However, the movie still focuses on the philosophical and religious themes that are common in many of Scorsese's films. In this movie, Cage helped capture the essence of a man falling into madness.
Cage stars as paramedic Frank Pierce, who suffers from debilitating depression and begins to experience elaborate delusions as he works a graveyard shift. After several drug addicts die under mysterious circumstances, Pierce begins investigating a mysterious new brand of heroin called "Red Death." He takes pity on a young addict, Mary Burke (Patricia Arquette), after he saves her father from cardiac arrest. As he solves the mystery, Frank must separate his nightmarish visions from reality.
If you or anyone you know is struggling with addiction issues, help is available. Visit the Substance Abuse and Mental Health Services Administration website or contact SAMHSA's National Helpline at 1-800-662-HELP (4357).
If you or someone you know is struggling with mental health, please contact the Crisis Text Line by texting HOME to 741741, call the National Alliance on Mental Illness helpline at 1-800-950-NAMI (6264), or visit the National Institute of Mental Health website.
18. Red Rock West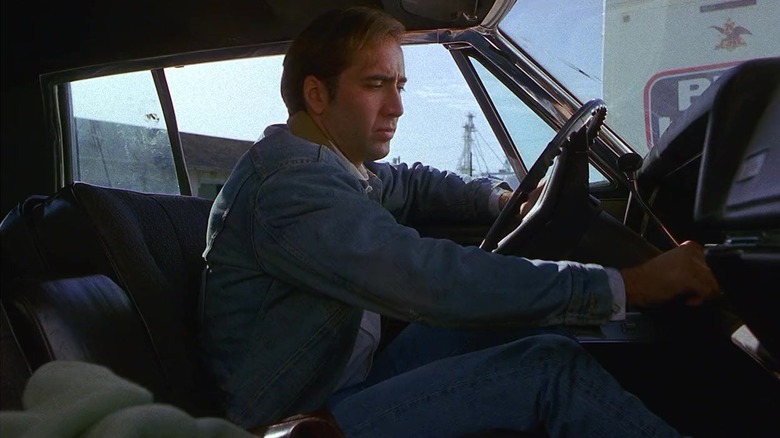 Roxie Releasing
1993's "Red Rock West" is one of the most underrated films of Nicolas Cage's career. Despite gaining critical acclaim when it debuted at the Toronto International Film Festival, the film, unfortunately, failed to be an art-house hit and did not make back its budget. "Red Rock West" is the type of confined thriller that really benefits from someone like Cage. Director John Dahl's intimate approach makes the movie feel like a stage play.
"Red Rock West" follows the aimless drifter Michael Williams (Cage), who is mistaken for the hitman Lyle (Dennis Hopper) when he visits a bar in Red Rock, Wyoming. Michael benefits from the confusion; Lyle is owed a stack of cash, which Michael takes for himself. However, the real Lyle shows up and tries to track him down. Michael falls in love with Suzanne (Lara Flynn Boyle), who is married to the local sheriff, Wayne (J.T. Walsh). Michael and Suzanne try to escape from Wayne and Lyle and steal the cash.
17. The Weather Man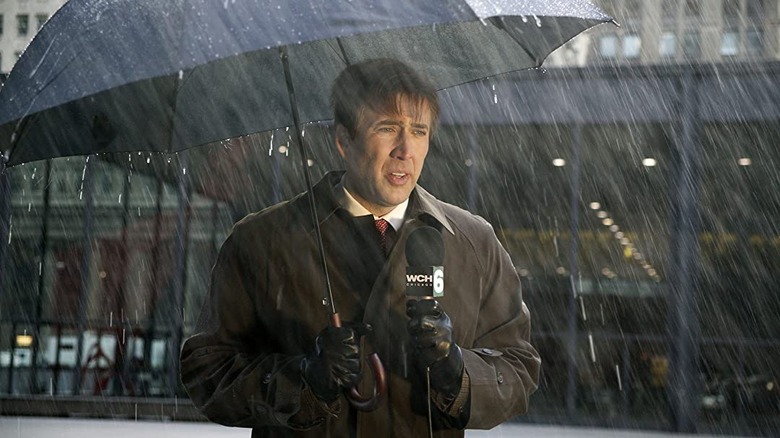 Paramount Pictures
Some Hollywood stars might struggle to play realistic characters because of how famous they are, but Nicolas Cage has shown he can play someone the audience is able to relate to. In Gore Verbinski's highly underrated 2005 dark comedy "The Weather Man," Cage's character is having a midlife crisis. He deals with severe depression, and those who find themselves in a similar situation may appreciate Cage's empathetic performance.
"The Weather Man" follows Chicago news anchor David Spritz (Cage), who is hated by most of his viewers. Although Spritz is financially successful, he is constantly heckled by angry viewers when he walks down the street. Spritz struggles to take care of his two children, Mike (Nicholas Hoult) and Shelly (Gemmenne de la Peña). Mike accuses his therapist of abusing him, and Shelly struggles with her body image. David is forced to put his career on hold and focus on his family's well-being.
If you or someone you know is struggling with mental health, please contact the Crisis Text Line by texting HOME to 741741, call the National Alliance on Mental Illness helpline at 1-800-950-NAMI (6264), or visit the National Institute of Mental Health website.
16. Matchstick Men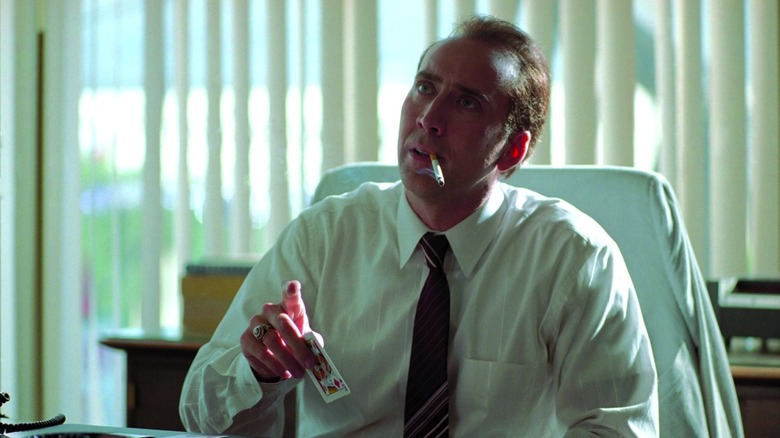 Warner Bros.
Nicolas Cage often elevates his costars. In Ridley Scott's 2003 black comedy "Matchstick Men," Cage was able to spotlight Alison Lohman when she was a child actress. Working alongside younger actors is not always easy, but Cage and Lohman created a realistic father-daughter relationship and helped crack the satirical tone of the film. Although Scott examines how con artists destroy their victims' lives, Cage and Lohman manage to play empathetic characters.
The film follows Los Angeles conman Roy Waller (Cage), who suffers from severe Tourette's syndrome and obsessive-compulsive disorder. Roy runs a fake lottery scheme with his partner, Frank Mercer (Sam Rockwell). Roy and Frank convince elderly people that they have a winning ticket, then pretend to be financial services agents.
Roy's ex-wife Heather unexpectedly calls him and informs him about his teenage daughter, Angela (Lohman). Roy is surprised to find that Angela is the perfect new partner; her youthful energy helps with his deceptions, and he teaches her the tricks of the trade. However, Roy must determine what steps he should take next — he knows that Angela could be a great asset, but he doesn't want to destroy her future.
15. The Cotton Club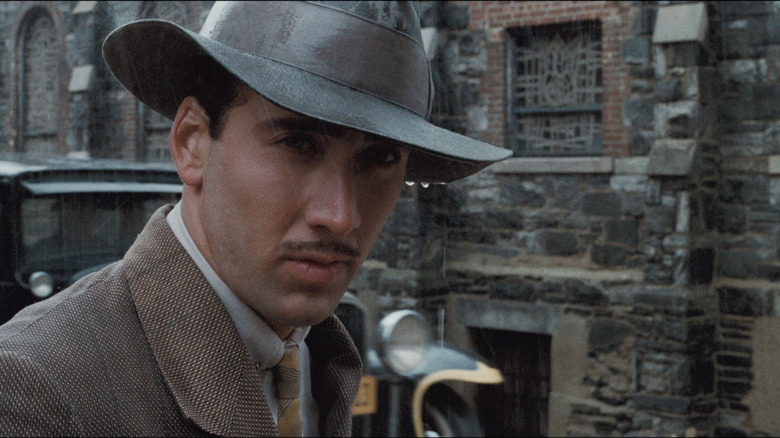 Orion Pictures
Nicolas Cage's uncle, Francis Ford Coppola, is one of the greatest directors of all time; there aren't a lot of directors in history who have made quite as many classics. However, Coppola faced many setbacks during part of his career, and some of his films were not widely appreciated when they were first released. His 1984 historical drama "The Cotton Club" unfortunately went over budget, and became a financial disaster. As a result, many Coppola fans that love "The Godfather" and "Apocalypse Now" have not had the chance to see one of his best works, which features an excellent early performance from Cage.
"The Cotton Club" shows the rise and fall of a Harlem jazz club, which is under the control of the mafia. Richard Gere stars as Dixie Dwyer, a talented jazz musician with ties to the mob. Dixie wants to abandon his criminal lifestyle after he falls in love with Vera Cicero (Diane Lane). Unfortunately for him, Vera is already in a relationship with kingpin Dutch Schultz (James Remar). Dixie's volatile brother, Vincent (Cage), is already working for Schultz. Cage and Gere crafted an interesting sibling relationship in the movie. Vincent's unpredictable behavior creates tension when Dixie attempts to escape from the nightclub scene with Vera.
14. Moonstruck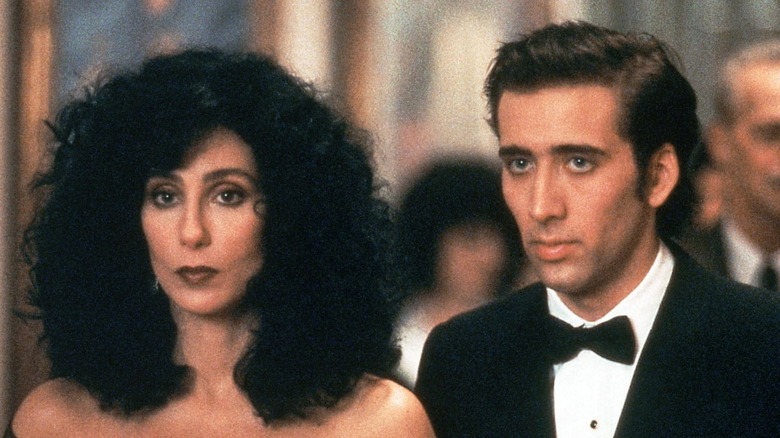 MGM
Although he is capable of being subtle, Nicolas Cage knows how to be classically charming. He can play a charismatic romantic lead, even when his character is a bit bizarre. Cage was perfect for the madcap energy of the 1987 romantic comedy "Moonstruck." He and his costar Cher leaned into the film's farcical depiction of Italian culture, but didn't turn their characters into generic caricatures by conforming to stereotypes. They showed insight and empathy for Italian families, while also poking fun at them.
"Moonstruck" follows the widow Loretta Castorini (Cher), who works as a bookkeeper in the Brooklyn Heights area of New York City. Loretta's boyfriend, Johnny (Danny Aiello), unexpectedly proposes to her, wanting to get the proposal out of the way before he visits his dying mother in Sicily. Loretta is overwhelmed when Johnny insists that she convince his estranged brother, Ronny (Cage), to come to the ceremony. When Loretta stops by Ronny's house, she discovers that the younger man is nothing like his well-mannered brother. Ronny falls madly in love with her, and as Johnny travels overseas, Loretta tries to avoid Ronny's advances. However, she finds herself surprisingly charmed by how insistent he is, mostly because of a lack of passion from Johnny. 
13. Lord of War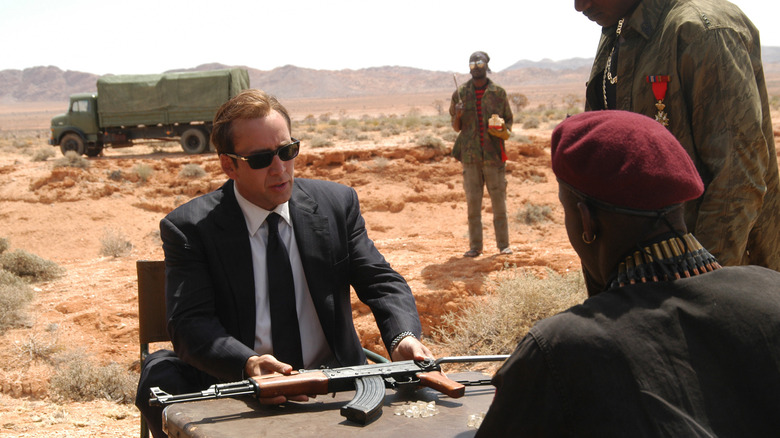 Lionsgate
Nicolas Cage's exaggerated performances are most effective when a director understands how to utilize them. Writer-director Andrew Niccol decided to use Cage's eccentricities for satirical purposes in "Lord of War," a darkly comedic examination of the international arms trafficking black market. It explores the various wealthy profiteers that benefit from death, destruction, and chaos. Virtually every character in the film is completely unlikable, as they were inspired by real-world figures. Although Cage's character, Yuri Orlov, is fictitious, he represents an actual ongoing crisis.
Cage's Yuri is a Ukrainian refugee. He and his brother, Vitaly (Jared Leto), escape from their home country and witness a series of assassinations by the Russian mafia. Yuri is fascinated by how the Russian gangsters acquired the illegal weapons, and decides to become an arms dealer. He and Vitaly gain prominence by selling guns and explosives to both the Israeli and Lebanese militaries. However, their success gains the attention of the Interpol agent Jack Valentine (Ethan Hawke). Valentine is determined to track down the Orlov brothers and bring them to justice. As his allies dwindle, Vitaly becomes addicted to cocaine, and Yuri is forced to watch his life crumble around him.
If you or anyone you know is struggling with addiction issues, help is available. Visit the Substance Abuse and Mental Health Services Administration website or contact SAMHSA's National Helpline at 1-800-662-HELP (4357).
12. Joe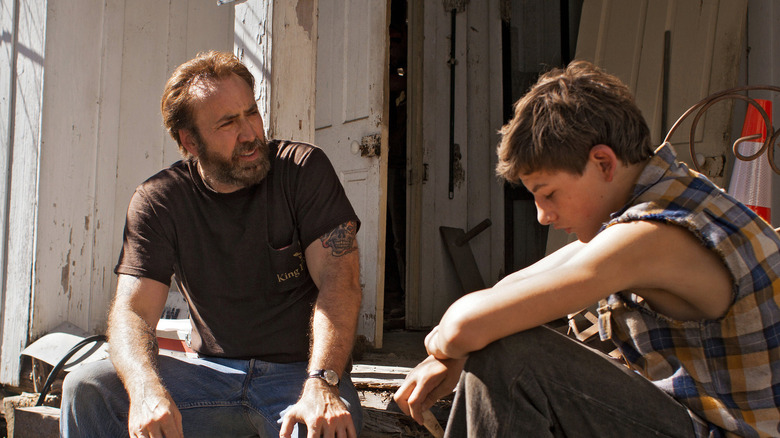 Lionsgate
Despite all the attention his over-the-top performances have received, Nicolas Cage has shown time and time again that he can do subtle, mannered acting as well. In a decade where he was mostly working on direct-to-video projects, Cage delivered one of his most heartbreaking performances ever in David Gordon Green's drama "Joe." "Joe" was a different type of low-budget feature than the action-thriller and crime movies Cage had been starring in at the time. Green's independent film took place on the edge of the Texas wilderness, and employed many non-actors. Sadly, a real homeless man named Gary Poulter, who had acted alongside Cage in the film, died a few months before it was released. Cage had bonded with Poulter during the shoot, and it gave him the chance to deliver a beautiful swan song performance.
In the movie, Cage stars as the titular Texas foreman Joe Ransom, who operates a tree-poisoning business in the middle of the woods. Joe has struggled with alcoholism for his entire life, rarely interacting with anyone, and isolating his crew so that his personal life only includes the people he trusts. Joe is skeptical of a young boy, Gary Jones (Tye Sheridan), who asks for a job. However, Joe is impressed by how quickly Gary learns to poison trees, and how anxious he is to have a job. Joe learns that Gary's father is also an alcoholic who abuses him physically and emotionally, resulting in Joe reluctantly becoming Gary's mentor.
If you or anyone you know is struggling with addiction issues, help is available. Visit the Substance Abuse and Mental Health Services Administration website or contact SAMHSA's National Helpline at 1-800-662-HELP (4357).
If you or someone you know may be the victim of child abuse, please contact the Childhelp National Child Abuse Hotline at 1-800-4-A-Child (1-800-422-4453) or contact their live chat services.
11. Face/Off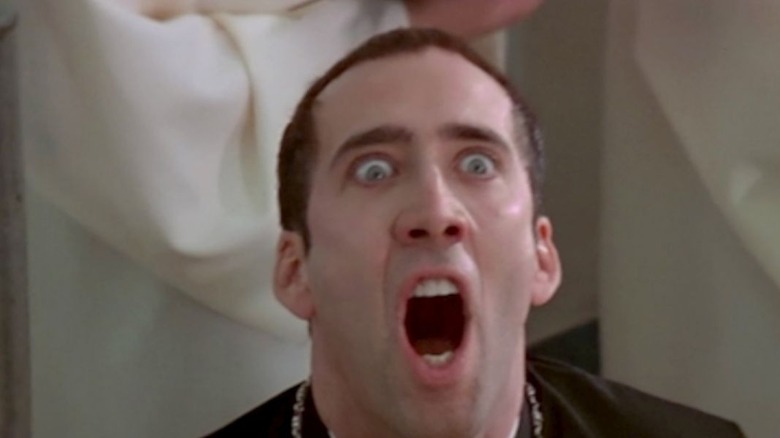 Paramount Pictures
With "Face/Off," Nicolas Cage finally found a screen partner who could almost match his wild energy. John Travolta does his best to keep up with Cage's antics, but even when he's at his hammiest, Travolta doesn't quite reach the same level of absurdity that Cage does. The opening scene is Cage at the height of his powers. Thankfully, director John Woo understood the type of performances he was getting. Woo plays every emotion in the film to the extreme, and creates extremely entertaining (yet completely implausible) action sequences.
"Face/Off" has one of the weirdest premises in movie history. The film begins with a cat-and-mouse chase between FBI Special Agent Sean Archer (Travolta) and the psychotic murderer Castor Troy (Cage). Archer has a personal reason for trying to track down Troy: Six years earlier, the sociopathic criminal accidentally killed Archer's son. Now, Troy plans to detonate a massive explosion in Los Angeles. After he is knocked unconscious, Archer comes up with a plan to convince Troy's brother, Pollux (Alessandro Nivola), to reveal the device's location. He undergoes experimental surgery to change his face to Troy's so he can go undercover.
However, Troy unexpectedly wakes up from his coma and discovers that his face is gone. After his criminal allies break him out of prison, Troy decides to undergo the same procedure, changing his face to Archer's. These two sworn enemies are now forced to live each others' lives as the cat-and-mouse game continues.
10. Valley Girl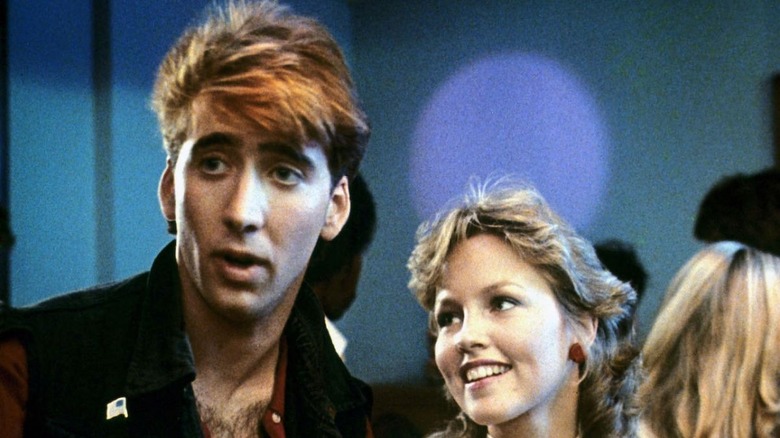 Atlantic Releasing
One of Nicolas Cage's greatest abilities is elevating films that would have been relatively straightforward otherwise. The 1983 teen romance film "Valley Girl" doesn't necessarily tell a unique story. It is hardly the first high school movie to draw inspiration from William Shakespeare's classic tragedy, "Romeo and Juliet." However, the broad appeal of "Valley Girl" shouldn't overshadow the film's genuine insights on class relations. The central two characters are introduced as caricatures of their respective lifestyles, who both find themselves dissatisfied with the social parameters that they are living under.
Despite the more experimental route he took with his later projects, Cage was a bit of a heartthrob in the 1980s. He was able to make even the cheesiest romantic phrases sound sincere. "Valley Girl" follows an affluent high school girl named Julie Richman (Deborah Foreman). Julie has grown irritated with her obnoxious boyfriend, Tommy (Michael Bowen). Tommy is rude and arrogant, and Julie can't imagine spending her future with him. When she goes on a shopping trip with her friends, she notices a young Hollywood punk named Randy (Cage).
Although she has almost nothing in common with Randy's social circle, she finds herself charmed by his honesty. Compared to her wealthy friends, Randy has no illusions about himself. Julie feels boxed in by the expectations that her parents have for her, but with Randy, she feels like anything is possible. They meet again later at a party, and escape to share a passionate night together.
9. Wild at Heart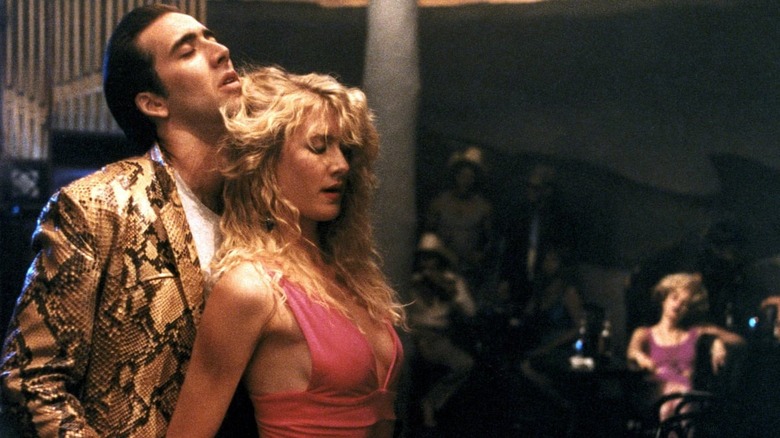 The Samuel Goldwyn Company
David Lynch is a totally unparalleled filmmaker whose works are both sincerely emotional and baffling obtuse. The graphic content in Lynch's work can also be extremely disturbing. Given Lynch's unique way of making films, he often works with a similar group of actors who appear in many of his projects. However, Lynch took a gamble on a major Hollywood star when he cast Nicolas Cage as one of the leads in his 1990 black comedy crime thriller "Wild at Heart."
The gamble paid off. "Wild at Heart" is a seemingly antithetical film. It focuses on two disillusioned lovers who are drawn into a dark world of violence and depravity. Despite the grim subject matter, the movie contains popular cultural references to things like Elvis Presley's music, "The Wizard of Oz," and classical Hollywood romance films. Lynch used the central romance to shine a light on the cruel world that surrounded these two young lovers. Cage and his costar Laura Dern struck the right tone; they made the characters feel empathetic and despicable at the same time.
"Wild at Heart" follows a Bonnie and Clyde-like romance between the charismatic outlaw Sailor Ripley (Cage) and his girlfriend, Lula Pace Fortune (Dern). Lula's deranged mother, Marietta (Diane Ladd), disapproves of their relationship. She sends a group of bounty hunters to kill Sailor, forcing Sailor and Lula to go on the run.
8. Peggy Sue Got Married
TriStar Pictures
Admirably, Nicolas Cage has never taken his prominent Hollywood family for granted. He changed his credited last name from Coppola to Cage early on in his career in order to distinguish himself. However, Cage did work with his uncle, Francis Ford Coppola, several times during his early career, including in the 1986 fantasy dramedy, "Peggy Sue Got Married." 
It was a very impressive performance for a young actor to give. Cage had to play a slavish alcoholic, who was significantly older than him. He then had to flashback to 25 years earlier, and make that same character charming. "Peggy Sue Got Married" features many comedic moments due to the time travel premise and became a box office hit for Coppola, who reckoned with the ways youthful ambitions are diluted over time.
The film centers on single mother Peggy Sue Bodell (Kathleen Turner), who raises her daughter Beth (Helen Hunt) by herself. Peggy Sue is separated from her husband, Charlie (Cage), because of his numerous affairs. Although they now barely talk to each other, Peggy Sue and Charlie had fallen in love when they were still in high school. Their upcoming 25th high school class reunion forces Peggy Sue to think about how her adolescent decision determined her future. During the ceremony, Peggy Sue faints and wakes up in the past, where she must decide what different decisions she could make this time around. 
If you or anyone you know is struggling with addiction issues, help is available. Visit the Substance Abuse and Mental Health Services Administration website or contact SAMHSA's National Helpline at 1-800-662-HELP (4357).
7. Bad Lieutenant: Port of Call New Orleans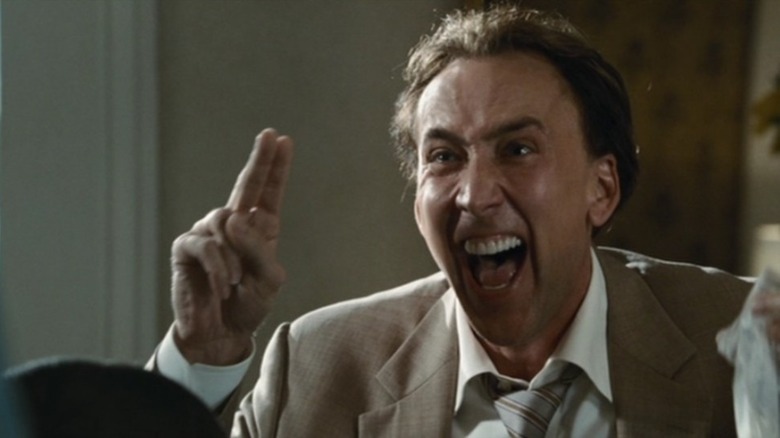 First Look Pictures
Abel Ferrara's 1992 crime thriller "Bad Lieutenant" was one of the most controversial films of the decade. The film's shocking violence and explicit sexual content earned it an NC-17 rating from the MPAA, though critics praised the incredibly committed lead performance by Harvey Keitel. The acclaimed German filmmaker Werner Herzog was handed the script for a remake, but he wanted nothing to do with the original film. Herzog wanted to create a totally original investigative thriller, centered around a different troubled protagonist. Thankfully, his 2009 film "Bad Lieutenant: Port of Call New Orleans" was easily able to distinguish itself thanks to Nicolas Cage. 
The film might just contain the most unhinged Cage performance of all time, which is no small statement. Cage chews the scenery in every single scene. Unlike his direct-to-video movies, Cage had a director who could channel his energy and fit it within the parameters of the story. 
In the film, Herzog focuses on the seedy criminal world of New Orleans. Lieutenant Terence McDonagh (Cage) is completely corrupt and addicted to drugs. He's free to do whatever he wants because of how understaffed the city's police department is. McDonagh still has some sense of decency, becoming an unlikely hero. Many critics recognized what a complex character Cage had created, with Roger Ebert describing his work as "fearless." Herzog himself considers "Bad Lieutenant: Port of Call New Orleans" to be among his best.
If you or anyone you know is struggling with addiction issues, help is available. Visit the Substance Abuse and Mental Health Services Administration website or contact SAMHSA's National Helpline at 1-800-662-HELP (4357).
6. Con Air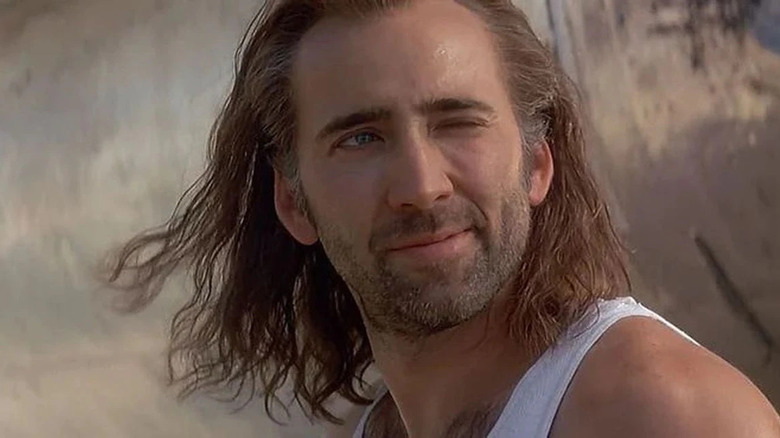 Buena Vista Pictures
"Con Air" is one of the most ridiculous action movies of the 1990s, and one of the most entertaining. Nicolas Cage was a different type of action hero than the other '90s blockbuster stars, such as Sylvester Stallone, Arnold Schwarzenegger, Bruce Willis, and Jean-Claude Van Damme. He certainly had the right physicality to be believable in big action sequences. However, Cage also had enough dramatic gravitas to give his characters actual depth. He wasn't just a stand-in who was only there to sell action figures. Cage was also willing to poke fun at himself, and that was never more evident than in "Con Air."
"Con Air" follows the former Army Ranger Cameron Poe (Cage), who was honorably discharged from duty. However, his planned reunion with his pregnant wife, Tricia (Monica Potter), is short-lived. Tricia is assaulted by men at a bar, and Poe accidentally kills one of her attackers. He is sentenced to a decade in prison. As a result, Poe misses most of his daughter's childhood, and he anxiously awaits the day he will be released. Unfortunately, his flight home is hijacked by a gang of criminals, led by the serial killer Cyrus 'The Virus' Grissom (John Malkovich). Poe must pretend to align himself with Cyrus' criminal gang, while secretly passing along the information to the FBI.
5. The Rock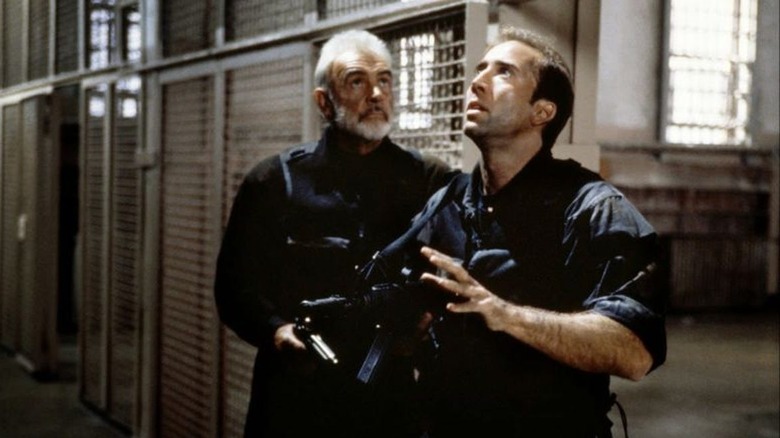 Buena Vista Pictures
Today, Michael Bay's name represents everything wrong with blockbuster movies. However, in the 1990s, Bay actually showed signs that he was a promising filmmaker who could create enjoyably ludicrous action films. "The Rock" arguably remains his best film to this day. While the plot makes absolutely no sense, "The Rock" has just enough amazing action, savvy soundtrack choices, and self-aware humor to be the perfect summer spectacle.
"The Rock" follows a risky heist to break into the highly secure prison facility of Alcatraz. A disillusioned U.S. Force Recon Brigadier, General Hummel (Ed Harris), has decided to turn against his country. Hummel steals a stockpile of nuclear weapons. In order to stop Hummel and his rogue military syndicate from starting a war, the U.S. government sends in a batch of Navy SEALs to hunt him down. Commanding the mission are two men that the government is reluctant to trust: Alcatraz escapee Captain John Mason (Sean Connery), and the bizarre FBI chemist Dr. Stanley Goodspeed (Nicolas Cage). Connery and Cage do a great job in the frequent action sequences. While the nonstop chases and explosions could have become overwhelming, their comedic back-and-forth dialogue provides some levity.
4. Leaving Las Vegas
MGM
Nicolas Cage reached the height of Hollywood glory with his performance in the 1995 film "Leaving Las Vegas," which earned him the Academy Award for Best Actor. Sometimes, actors don't receive this type of recognition until they are overdue; they end up winning for a film that isn't among their best. This wasn't the case with "Leaving Las Vegas," though — Cage won on merit alone. It's not hard to see why Academy voters respected what he did in the film. "Leaving Las Vegas" deconstructs the grueling nature of the movie industry and the struggles that artists face.
The movie follows alcoholic screenwriter Ben Sanderson (Cage), who is in the middle of the biggest slump of his entire career. Sanderson was once a highly respected writer, but now he's unable to find any work. He has also lost touch with both his friends and family. After receiving a severance check from his boss, and seeing no other alternatives, Sanderson decides to take a road trip to Las Vegas and drink himself to death. However, Sanderson strikes up an unusual friendship with a sex worker named Sera (Elizabeth Shue) during one of his late-night drinking binges. He sees the abuse she endures and has sympathy for her. As they fall in love, Sanderson begins to find a reason to live.
If you or anyone you know is struggling with addiction issues, help is available. Visit the Substance Abuse and Mental Health Services Administration website or contact SAMHSA's National Helpline at 1-800-662-HELP (4357).
3. Raising Arizona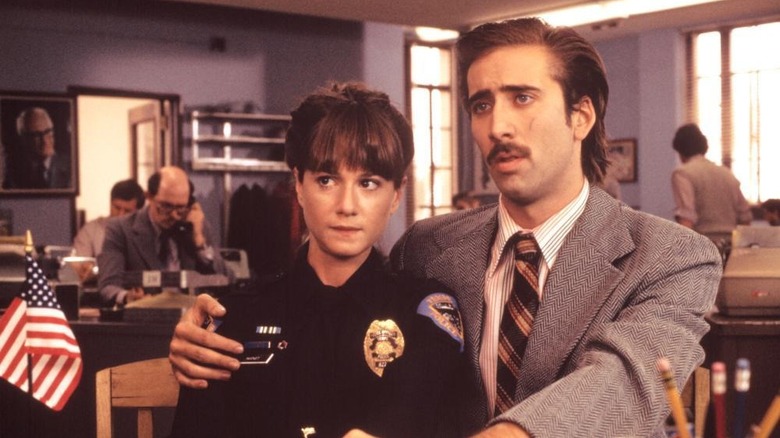 20th Century Fox
"Raising Arizona" follows the small-time crook Herbert McDunnough (Nicolas Cage) as he robs a series of convenience stores. Herbert doesn't mind getting arrested; it gives him a chance to flirt with Edwina (Holly Hunter), the police officer who takes his mugshots. Initially, Edwina wants nothing to do with him. After being arrested several times, Herbert learns why she is so miserable. Edwina's fiancé recently left her, so Herbert decides to make an impromptu marriage proposal. Herbert and Edwina enjoy a happy marriage and move to a mobile home in the middle of the desert. They plan to start a family, but unfortunately, Edwina is unable to conceive a child.
One of the strengths that the Coen brothers have as filmmakers is giving their characters realistic motivations, even if they go to extreme lengths to achieve them. Herbert and Edwina decide to steal an infant child from the wealthy furniture seller, Nathan Arizona (Trey Wilson). Cage and Hunter do a great job at making this foolish crime feel sympathetic.
2. Adaptation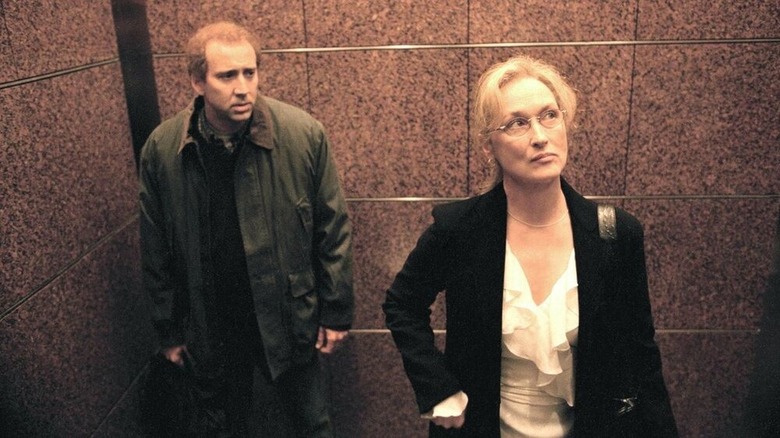 Columbia Pictures
If there's anyone who could possibly understand the idiosyncratic creative mind of screenwriter Charlie Kaufman, it's Nicolas Cage. Kaufman is a totally unique storyteller, who tells unusual stories centered on strange characters. Kaufman had been attempting to adapt Susan Orlean's novel, "The Orchid Thief," into a feature film screenplay, but he faced creative setbacks. Instead of writing a traditional adaptation, Kaufman wrote a film about his writing process.
"Adaptation" starred Cage as both Kaufman and his fictionalized twin brother, Donald. Donald is a product of Kaufman's imagination and represents all of his doubt and self-loathing. Charlie tirelessly tries to crack the story of "The Orchid Thief," but Donald keeps popping up to distract him. There are many extended conversations between Charlie and Donald, and they bounce ideas off of each other. (Cage had to literally talk to himself.) Charlie shows signs of both genius and madness in the movie; is there anyone who could capture that quite like Cage?
The film simultaneously explores Orlean's (Meryl Streep) writing process and her relationship with Kaufman. Orlean travels to Florida, the setting of "The Orchid Thief," and Charlie secretly follows her. He discovers that Orlean has a secret romantic relationship with an actual orchid thief named John Laroche (Chris Cooper), on who she based the protagonist of her book on. Kaufman disrupts their reunion, angering John. It's a great deconstruction of how writers draw inspiration from their personal lives.
1. Pig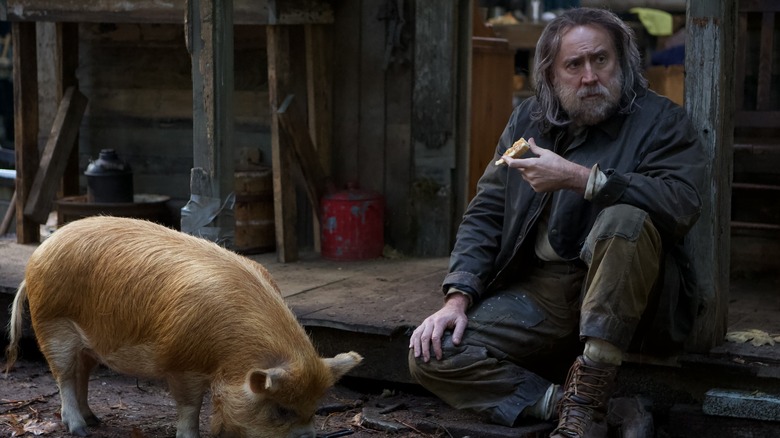 Neon
After years of playing eccentric, over-the-top characters, Nicolas Cage shocked everyone and delivered the most sensitive, stripped-back performance of his career. Based on the premise alone, "Pig" sounded like it would be just another one of Cage's ludicrous revenge thrillers; it was anything but. Co-writer and director Michael Sarnoski created an emotional character study of a man who has abandoned his former life. There are not a lot of actors that would take a risk on such seemingly unusual material, but if there's one thing that we know about Cage, it is that he is willing to take risks.
"Pig" follows a former chef named Robin Feld (Cage), who lives in the wilderness outside of Portland. Although he was once a member of the affluent urban society, Robin now lives in isolation working as a truffle hunter. His only companion is a truffle pig, who helps him find rare ingredients. Robin's only connection to the outside world is his client, a young restaurant supplier named Amir (Alex Wolff). After a group of robbers attack him and steal his pig, Robin is forced to return to his former life in order to find the only friend he has left.
As Robin returns to the city, Amir learns why he abandoned high society for a simpler life. He grows to understand why Cage's character is so invested in rescuing the pig. Robin's compassion is never played for laughs, and Cage has never been as subtle and methodical.