Here's Where You Can Stream Game Of Thrones In 4K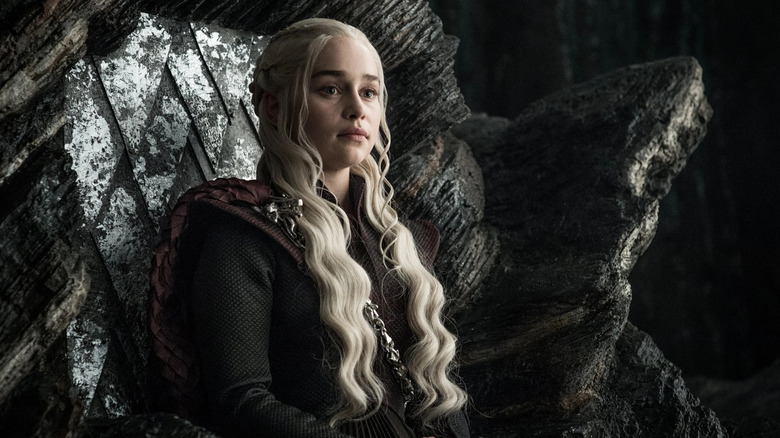 HBO
Ahead of "House of the Dragon" debuting in just a few weeks, the braver among us have ventured back into the lore of Westeros with a "Game of Thrones" rewatch. It's a pretty bleak march forward when you know where it all ends, so maybe in the hopes of distracting from that controversial ending, HBO is sweetening the deal by making all eight seasons of "Game of Thrones" available to stream in 4K Ultra HD, HDR 10, Dolby Vision and Dolby Atmos on HBO Max (via Variety).
For 73 episodes, you can now watch the Starks suffer in higher quality than ever! Previously, the series was only available in 4K on Blu-ray discs or through Fandango's Vudu. With the streaming option, only those who subscribe to HBO Max's ad-free plan (for $14.99/month or $149.99/year) will get access to the new formats. But on the bright side, it saves you from spending upwards of $150 on a 4K boxset.
This announcement arrives just a few weeks before "House of the Dragon" premieres, so depending on how quickly you can clear your schedule, there might still be time to hop aboard the rewatch train. Or at the very least, you'll have plenty of time to revisit "The Long Night," an episode that the new richly detailed video format may finally allow viewers to actually see! When the biggest battle in "Thrones" history originally aired back in 2019, it reignited the great debate of TV video settings when fans complained that the episode was literally too dark to watch. Perhaps 4K is the answer we were waiting for. 
To actually stream 4K Ultra HD with Dolby Atmos audio on HBO Max, customers must have a broadband connection of 25 Mbps or higher (50-plus Mbps is recommended); a 4K HDR TV that displays Dolby Vision or HDR10; and a Dolby Atmos-capable sound system.
House of the Dragon is coming soon... in 4K!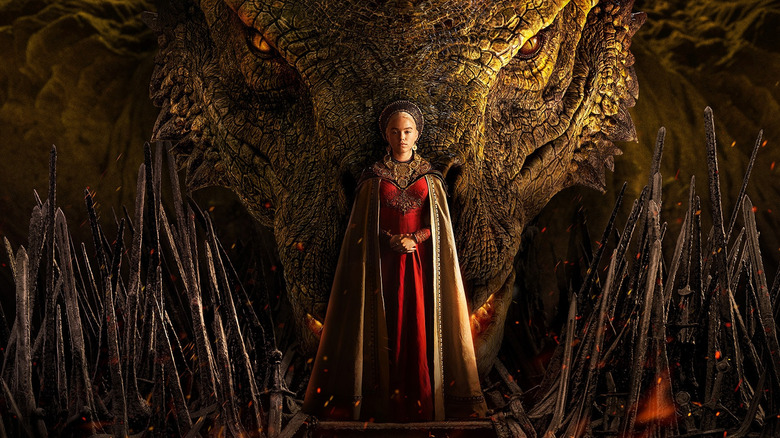 HBO
While HBO hasn't clarified an exact date for when the 4K episodes of "Game of Thrones" will be available to stream, expect them to arrive within the next month. "House of the Dragon," set to debut on August 21, will enjoy the same enhanced treatment, arriving in 4K, HDR 10, Dolby Vision, and Dolby Atmos. Between that and all the dragon fire, seeing the Targaryens battle for dominance should be no trouble at all.
The first of the many "Game of Thrones" spin-offs, the prequel series traces a period of civil war in the Targaryen dynasty, with family members turning against one another, dragon riders attacking cities, and everyone vying for the pleasure of sitting atop a very spiky throne. The more things change, the more they stay the same. The series features Matt Smith as Prince Daemon Targaryen, Emma D'Arcy as Princess Rhaenyra Targaryen, Olivia Cooke as Alicent Hightower, Rhys Ifans as otto Hightower, Steve Toussaint as Lord Corlys Velaryon, Paddy Considine as King Viserys Targaryen, John Macmillan as Ser Laenor Velaryon, Savannah Steyn as Lady Laena Velaryon, and Theo Nate as Ser Laenor Velaryon.
Based on George R.R. Martin's book "Fire & Blood," "House of the Dragon" will premiere on HBO and HBO Max on August 21, 2022.