Could Ash Vs. Evil Dead Continue As An Animated Series?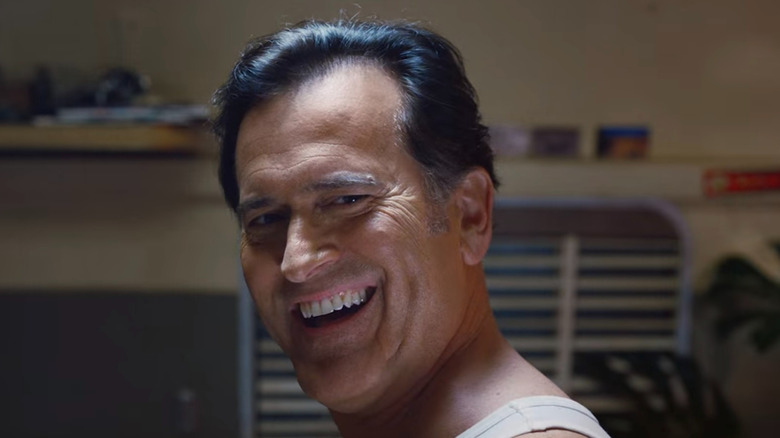 Starz
It's a miracle that we even got "Ash vs Evil Dead" to begin with, let alone three gloriously gory seasons of Bruce Cambell's Ash Williams showing those relentless deadites a whole lot of boomstick. Even then, it's a shame that low viewership ultimately led to its cancelation in 2018. Since then, Campbell has made it clear many, many times that he's hung up the boomstick for good, which signaled the end of our favorite deadite slayer. But all is not lost!
"Evil Dead" fans should be rejoicing, for not only are "Army of Darkness" and Fede Alvarez's "Evil Dead" getting 4K Blu-rays, but Lee Cronin's upcoming "Evil Dead Rise" – which has franchise creator Sam Raimi's stamp of approval — hits HBO Max later this year. Even Campbell went slightly back on his word to voice Ash in "Evil Dead: The Video Game."
And after years of insisting that Ash was retired, it appears that the smart-mouthed slayer of evil might be coming back, albeit in a much different manner than he was presented in the live-action Starz series.
Groovy post-apocalyptic adventures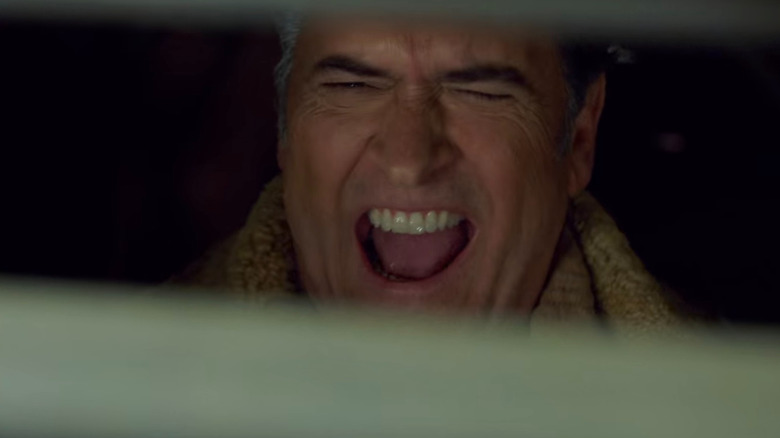 Starz
When asked by Collider if there was any future for "Ash vs Evil Dead" after the dangling thread at the end of season 3, Campbell expressed interest in bringing Ash to the world of animation:
"You can do the future a lot easier in animation. I still sound like Ash, and you know, my voice hasn't been as beat up as my body has been so I can still do that crap. So I'll still do the video game. And we're already talking about an animated [series]."
If Campbell is serious, this is a really exciting possibility. And makes sense for him to continue the character through voiceover, given the physical strains all the live-action stunts put him through. But where could this show go? Well, at the end of season 3, Ash makes the ultimate sacrifice to save the world by fighting Kandar the Destroyer one-on-one. After saving the day, he's knocked out, and wakes up in the future, which is a post-apocalyptic wasteland. But the adventures of Ash are only getting started as he revs up his "Mad Max" modified Delta 88.
It felt like a good place to leave the character, even with no guarantee of renewal on the horizon, but it also leaves the door wide open for Campbell to keep on showing these primitive screwheads of the future who he is. Needless to say, the future of "Evil Dead" has never looked brighter. Stay groovy, everyone!
Every season of "Ash vs Evil Dead" is currently streaming on Netflix and Amazon Prime.