Evil Dead Star Bruce Campbell Is Done Playing Ash: 'I Physically Just Can't Any More'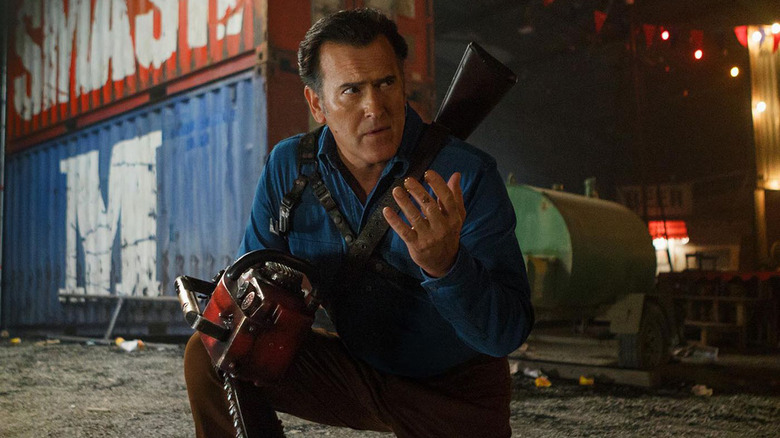 Starz
After 40 years of deadite killing, boomstick wielding, and one-liner delivering, the strongest chin in horror is putting his most iconic character out to pasture. In a recent interview with Collider, Bruce Campbell confirmed his retirement from playing Ashley J. Williams of "The Evil Dead" series. "Whatever the cliched phrase is, I left it all on the table. I've got nothing left to give," said Campbell. 
"The Evil Dead" launched the careers of both Bruce Campbell and the film's writer/director Sam Raimi, and evolved into a mega media franchise including two sequels, a soft reboot, video games, comic books, and the follow-up TV series "Ash vs. Evil Dead." While Bruce Campbell has enjoyed a highly successful acting career in non-horror properties, his bequest as arguably horror's greatest male protagonist turned him into a pop culture icon.
34 years after the first "The Evil Dead" film was released, Campbell proved he still had all of the charisma to bring Ash back to life for "Ash Vs. The Evil Dead." But now, at 63 years old, he's hanging up the chainsaw and retiring the legendary character. "There's not gonna be any traditional form of 'Evil Dead' anymore," Campbell says. "Ash is gone. I've retired the character because I physically just can't do him anymore, so why bother?"
Campbell first mentioned retiring Ash back in 2018, but many were holding out hope that he'd change his mind. Well, he's not. Playing Ash was extremely physically demanding and Campbell is setting necessary boundaries for himself and for the legacy of the character.
Playing Ash Was Physically Painful for Campbell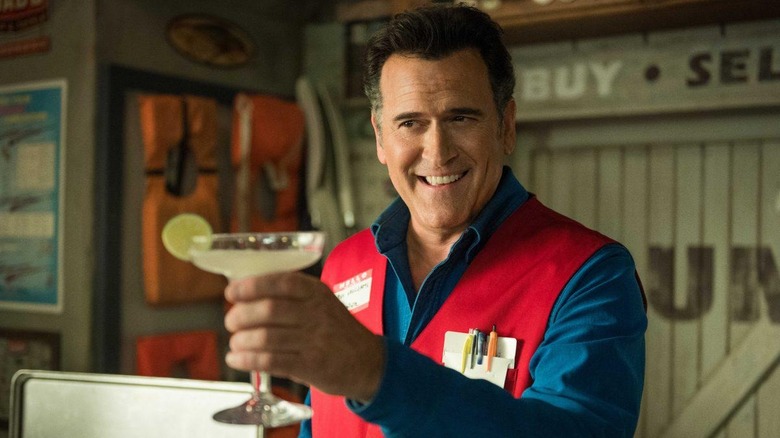 Starz
There are plenty who struggle to leave behind their beloved characters (Julie Newmar's Catwoman comes to mind) but Campbell has given Ash all he can, especially physically. "The three seasons were the longest seasons of my life," he says in reference to "Ash Vs. Evil Dead." He continues in the interview saying:
"If you saw the emails pleading with various directors that were like, 'Hey, my knee's not working right.' 'Be careful about tomorrow.' 'Let's have the stunt guy nearby.' 'Hey, I can't run anymore.' It just was an endless physical struggle. I'm really glad we did it because we saw Ash's home, we went into his bedroom, we met his girlfriends, we met his daughter that we never knew he had and that he never knew he had, and we met his father, played by the great Lee Majors. 

"I feel we really pushed all the buttons and he fulfilled his destiny written in that ancient book. He was the guy destined to defeat evil in the past, present and future, and he took off with a hot robot chick at the end to go kick in the future. What else do you need? We knew the ratings were bad. We knew, going into the last season, that we had to have an end because we didn't think Starz was gonna re-up us and we were right. So, thank God we did that."
It's hard to say goodbye to the beloved character, but no one needs or should want a broken-down Ash.
The Evil Dead (and Bruce Campbell) Will Continue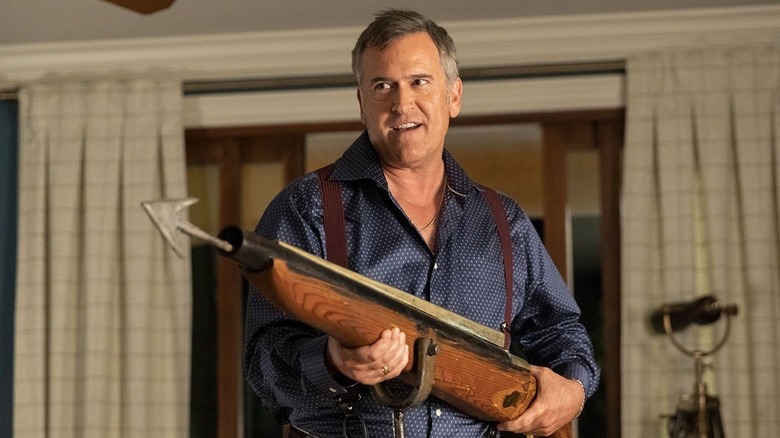 Screen Media Films
While Ash is the bleeding heart of "The Evil Dead," Fede Alvarez' soft reboot from 2013 proved that the universe Raimi created can exist without Ash. "I'm done playing Ash, so that determines a lot of where we go with the franchise without that character, but there are more stories," said Campbell. "That darn book gets around, and that's how we play it." Campbell is of course referring to the Necronomicon, the book responsible for possessing trees, hands, taxidermied deer, and the undead. "That book wound up in an urban environment with a single mom, so let's see what happens, it's fun to fiddle with it."
Campbell also noted that Raimi handpicked Alvarez for the reboot, and has again handpicked Lee Cronin ("The Hole in the Ground") for the upcoming "Evil Dead Rise." Campbell describes them both as Sam Raimi proteges that he hopes "will do a good job." 
Campbell may be retiring Ash, but he's not retiring himself. His newest venture is the horror comedy "Black Friday" with Devon Sawa, now available in theaters and on VOD.
Hail to the king, baby.