Barbarian Early Buzz: 'The WTF Movie Of The Year' [Comic-Con]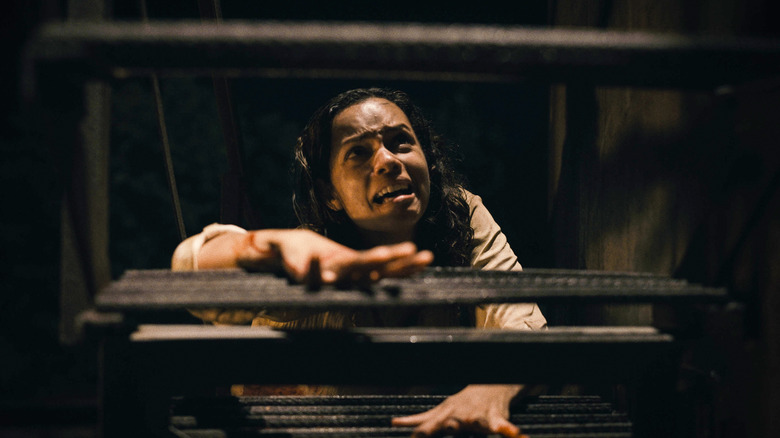 20th Century Studios
There are early movie screenings, and then there are early movie screenings at San Diego Comic-Con. There's just something about the atmosphere of the nerd-friendly event that makes it all hit differently and, if you ask us, we simply wouldn't have it any other way. The convention's grand return after taking a pandemic-induced break features multiple special screenings: first up was director Dan Trachtenberg's latest entry in the "Predator" franchise, simply (and evocatively!) titled "Prey." Needless to say, the reactions have been nothing but glowing.
Next comes "Barbarian," the horror movie with a premise that resembles the unholy union between haunted house and home invasion thrillers. Written and directed by Zach Cregger ("Miss March," "Wrecked"), "Barbarian" stars Georgina Campbell as the unfortunate protagonist whose visit to a Detroit-based rental home takes a turn for the surreal. Met at the door by unexpected squatter Keith (Bill Skarsgård), one thing leads to another and their tense arrangement inevitably leads to, ah, complications. The rest of the cast includes Justin Long, Matthew Patrick Davis, Richard Brake, Kurt Braunohler, Jaymes Butler, and more. 
Early social media reactions have begun pouring in from Comic-Con, so read on to see what those lucky enough to be in attendance have to say, and check out a new clip from "Barbarian" below.
Barbarian early buzz
Folks, sometimes it's best to listen to your instincts and say no to the sinister man inviting you to stay the night. Then again, where would the fun be in that? "Barbarian" unleashed its thrills and scares upon eager audiences at this year's Comic-Con special screening, with /Film's own Ryan Scott in attendance. Here's what he had to say about the horror flick:
BARBARIAN is absolutely insane, scary, unpredictable, tense and brilliant. Also funny! Truly awesome stuff and perhaps my favorite movie of the year so far. Go in as blind as possible. But go. #SDCC pic.twitter.com/nirjuzYwjR

— Ryan @ #SDCC Scott (@RyanScottWrites) July 23, 2022
Other critics and horror fans who saw "Barbarian" were similarly wowed:
Had the absolute pleasure of seeing an early screening of #Barbarian and my god is the film a total blast! The film will have you laughing, screaming, and yelling at the screen in the best of ways! Essential to see this with a crowd when it releases September 9th! pic.twitter.com/GpGMpA3qmG

— Carson Timar (@BP_MovieReviews) July 23, 2022
"Barbarian" is the WTF movie of the year! 😂 🤣
I shit you not, the whole time I was like, 'what in the blue hell am I watching here?!?!?!?' 😆
Twisted, ludicrous and nasty.
It'll make you think twice the next time you rent an Airbnb.#Barbarian #BarbarianMovie #BillSkarsgard pic.twitter.com/0sUiUParwh

— Rama's Screen @ SDCC '22 (@RamasScreen) July 23, 2022
I saw #Barbarian tonight at a special #SDCC screening and holy 🤬 it is a WILD RIDE. pic.twitter.com/ScW58oob1s

— Kofi Outlaw (@KofiOutlaw) July 23, 2022
Here's the deal. Don't talk to anyone about #Barbarian. Don't even look at someone who's seen it before you. Just. Go. See. It. Blind. As soon as it's out.@zcregger's new twist on horror is 🔥Georgina Campbell is amazing, Bill SkarsgÃ¥rd is great, @justinlong plays horror so well

— Phil Diego Comic Con (@FilDimo) July 23, 2022
The way 2022 has offered up a myriad of horror titles, is a delight. I can't wait until I can talk about #Barbarian

Just finished my #SDCC2022 screening of: pic.twitter.com/eP5Iqgzb1e

— Darth Ro (@BookBlerd) July 23, 2022
Sure, #Barbarian will make you think twice before booking your Airbnb, but this horror flick is full of surprises. Avoid spoilers for the best experience… and take a group of friends with you to the theater to yell at the screen together 😱 pic.twitter.com/ZEF4VP72Yd

— That Hashtag Show (Official) (@ThatHashtagShow) July 23, 2022
Wow. Just got out of the #sdcc Barbarian screener! It had me stressed, while also laughing, with a hit of camp. Oh, and @justinlong back in horror! GO SEE IT!#Barbarian pic.twitter.com/8FgMQFRaN5

— SmellsLikeTeenAngst (@SLTAngst) July 23, 2022
For the rest of us, "Barbarian" opens wide in theaters on on September 9, 2022.
In "Barbarian," a young woman traveling to Detroit for a job interview books a rental home. But when she arrives late at night, she discovers that the house is double-booked, and a strange man is already staying there. Against her better judgement, she decides to spend the evening, but soon discovers that there's a lot more to fear than just an unexpected house guest.