Barbarian Trailer: This Is Why You Don't Go In The Basement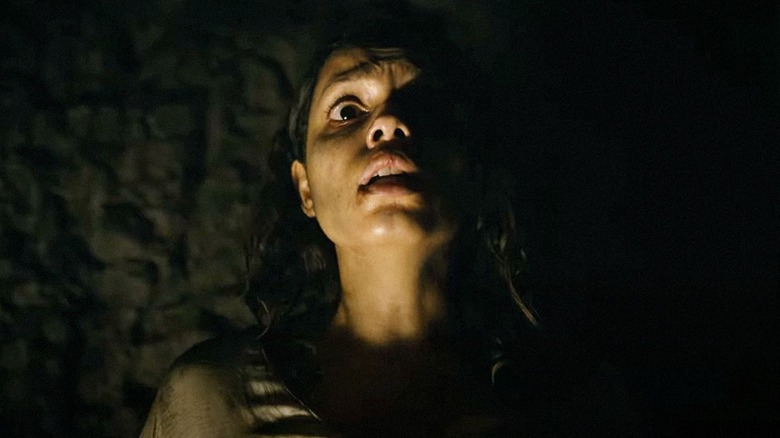 20th Century Studios
Something extremely weird is going on in a rental home in the middle of nowhere. No, truly, I have no idea what the heck is going on.
I'm talking about the brand new trailer for the upcoming horror thriller, "Barbarian," in which a young woman arrives at the rental home she booked and finds another guest has already made himself at home. Directed by Zach Cregger ("Miss March," "Wrecked"), "Barbarian" at first seems to have a standard "stranger danger" premise, but the trailer hints that things take a mysterious and unexpected turn down the line.
There's no dearth of haunted house and home invasion films in the horror genre, which is replete with shady basements (almost always the site for trapped victims or ritualistic offerings) and characters who are not what they seem to be. However, "Barbarian" seems to be playing with this oft-used premise as the trailer suggests the real threat is not the house, but what lurks underneath it.
Some never leave...
A young woman (Georgina Campbell) travels to Detroit for a job interview, booking a rental home to stay in for a few days. However, the house is already being occupied by a man called Keith (Bill Skarsgård), who is disgruntled by the mix-up but invites her and even offers her the only bedroom. Now, while random strangers can be kind to you without harboring ill intentions, this is almost never the case within the context of a creepy horror setting. Deciding to stay for the night against her better judgment, she soon discovers unimaginable horror awaiting her in the basement of the suburban home.
The "Barbarian" trailer is a tense one, and there's a lot going on, obviously. The basement has a secret door that leads to interconnected, underground tunnels (I would have noped out right there), and our protagonist soon discovers that there's some sort of secret society that holds renters against their will, possibly torturing them for ... some reason.
Apart from Skarsgård and Campbell, "Barbarian" also stars Justin Long, Matthew Patrick Davis, Richard Brake, Kurt Braunohler, and Jaymes Butler. Have a look at the official synopsis:
In "Barbarian," a young woman traveling to Detroit for a job interview books a rental home. But when she arrives late at night, she discovers that the house is double-booked, and a strange man is already staying there. Against her better judgement, she decides to spend the evening, but soon discovers that there's a lot more to fear than just an unexpected house guest.
"Barbarian" hits theaters on August 31, 2022.