Prey Early Buzz: The Latest Predator Movie Is A Brutal, Gritty Creature Feature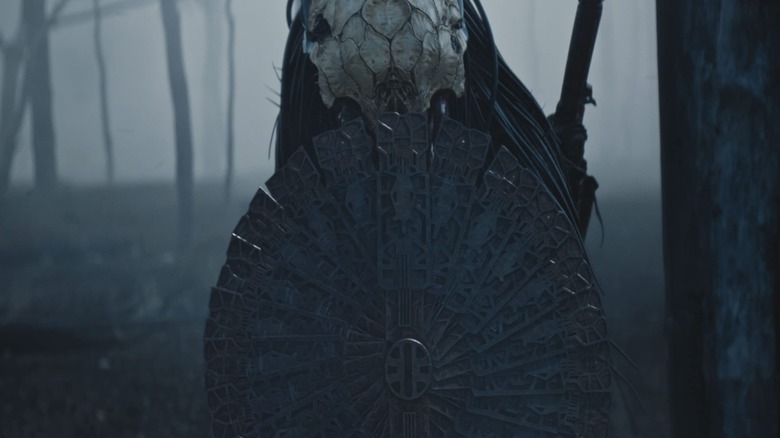 Hulu
Dan Trachtenberg's "Prey" is a highly-anticipated entry in the "Predator" franchise, and rightly so. The film follows the story of a young woman named Naru (Amber Midthunder), a fierce warrior on the hunt for a prey, which turns out to be an exceptionally-evolved alien predator. The premise alone warrants a clash or showdown between the two species, as it eventually turns into a fight for survival, with the winner coming out on top as the apex predator. 
While most of us will have to wait for some time for the movie to release in theaters, the early reactions to "Prey" are in, and most of them are overwhelmingly positive. Critics praise the film's brutal take on a classic interspecies fight for dominance; the blood and gore justified by the film's unflinching premise. However, how does "Prey" compare to the other entries in the "Predator" franchise, and is it a worthy successor to 2018's "The Predator?" 
"Prey" received an early screening at the ongoing San Diego Comic-Con (which we are covering extensively), which led to critics sharing their thoughts about the latest "Predator" film on social media short after. Is "Prey" worth the anticipation? Let's find out. 
Prey early buzz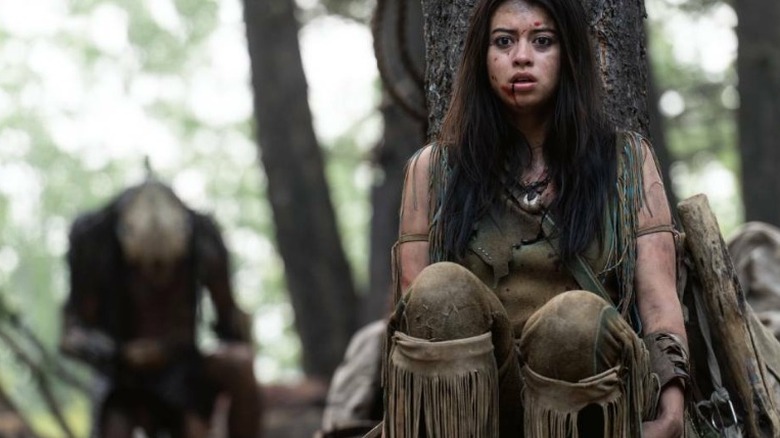 Hulu
"Prey" is set 300 years in the past in the Comanche Nation, wherein warrior tribes adept at surviving amist harsh conditions live. Most of the "Predator" films have fairly contemporary settings — for instance, in 2018's "The Predator," a predator spaceship lands on Earth, and the human protagonists are tasked with taking out these advanced aliens before they manage to invade the planet. Tonally and thematically, "Prey" has a more primal, survivalist tone that very literally hinges on the survival of the fittest. Does this shift in premise work in favor of the latest installment? 
/Film's very own Chris Evangelista touches upon this aspect, saying that it feels more like a "revisionist Western" than a clear-cut "Predator" sequel, while emphasizing that this does not necessarily mar the viewing experience, and the film is enjoyable as a whole: 
PREY feels less like a PREDATOR sequel and more like a revisionist Western that a Predator suddenly crash lands into. And I dug that! Could do without the abundance of CGI blood, but there are some gorgeous visuals here that really should've been given a shot on the big screen. pic.twitter.com/zAQM7Iji6W

— Chris Evangelista (@cevangelista413) July 22, 2022
/Film and Bloody Disgusting's Matt Donato says that "Prey" might be the most solid entry into the franchise since "Predator," while praising Midthunder's stellar performance and recognizing that the true essence of the franchise lies in brutality-fueled action:
#PREY is, indeed, the best Predator entry since PREDATOR. All praise to Amber Midthunder who owns the screen against her alien foe. It's back to the bloody basics of a thrilling hunt that delivers everything I want from a Predator flick in its brutally primal glory. pic.twitter.com/2QWpwOgwGI

— Matt Donato (@DoNatoBomb) July 22, 2022
/Film's Jeff Ewing also praises the film, calling it the best since the original.
#Prey is an excellent, action packed entry to the franchise that creatively takes it in new directions. It's the best since the original, with great central characters and a fun, menacing new Yautja design. Loved it.

— Jeff Ewing's gettin' weird @FantasiaFest (@ReelJeffEwing) July 22, 2022
Fandom's Eric Goldman also maintains that "Prey" is the best entry since the original, and offers appreciation for Midthunder and the visceral action sequences that feature a human vs predator showdown: 
Oh, hey, the #Prey embargo lifted. I loved this movie! It's so cool. Delivers really great and exciting action sequences featuring a badass Predator vs. an awesome Amber Midthunder. Totally makes the most of its premise and easily the best Predator movie since the original. pic.twitter.com/Zn6XvNRAoF

— Eric Goldman (@TheEricGoldman) July 22, 2022
Shannon McGrew of Nightmarish Conjurings also echoes a similar sentiment, while stating that while "Prey" manages etch its own distinct identity, it also carries with it the essence of the franchise, featuring action-heavy sequences that are worth watching: 
#Prey is one of the best entries in the Predator franchise. Distinctly different from its predecessors, PREY still captures the spirit of the films while also featuring an unexpected hero that's easy to root for. Visually stunning and intensely violent, prepare for heads to roll. pic.twitter.com/zZw9jNqARi

— Shannon McGrew 🎃🍭 @ Screaming Into the Void (@shannon_mcgrew) July 22, 2022
Near-universal praise for Prey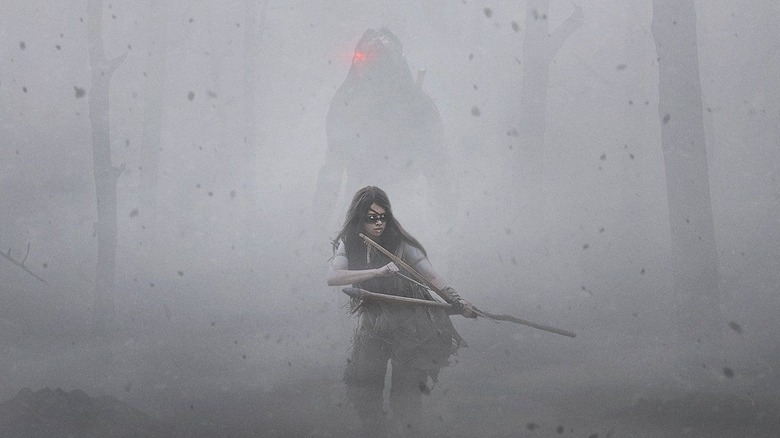 Hulu
Most of the reactions are glowing for the most part, with a huge chunk of critics hailing "Prey" as one of the best, if not the best entry, in the franchise, while praising Midthunder's character who is very easy to root for, and the gore aspect of the film that is immensely enjoyable for many reasons. The film is being hailed for its gritty, primal elements and the deeply personal nature of the protagonist's journey.
#Prey is my favorite Predator movie. (Coming from someone who's a big fan of the original and also 2010's Predators.) Love how the story is a deeply personal journey — one powered by Comanche tradition just as much as it is by Predator-sparked thrills. pic.twitter.com/2hjoGhk2Mw

— Perri Nemiroff (@PNemiroff) July 22, 2022
Ive said this to several people since seeing #Prey…. I FUCKING LOVED THIS MOVIE!! I love the first #Predator movie, nostalgia place in my heart for Predator 2, liked Predators, didn't like last one, BUT THIS ONE – Easily The Best Since The Original. Knocked it out the park pic.twitter.com/qPYHT7yQtU

— Greg Alba (@TheGregAlba) July 22, 2022
#Preymovie absolutely slays. By setting it 300 years ago and stripping away the alien hunter's high tech hunting gadgetry, we get a primal David vs Goliath story. Amber Midthunder is fierce, and Datoka Beavers rocks in his debut! It's just an awesome gritty B-movie pic.twitter.com/ZaNsIXYSDc

— Michael Lee (@IamMichaelJLee) July 22, 2022
I'm at the #PREY premiere at #SDCC2022 and this thing justifiably earned a huge, rousing standing ovation. Easily my favorite PREDATOR movie since the original. @DannyTRS and team have made a primal and emotional survival epic. @AmberMidthunder is a total badass in this too. pic.twitter.com/7r9KnBW0jY

— Charles de Lauzirika @ SDCC (@Lauzirika) July 22, 2022
Prey is absolutely awesome. It makes the Predator scary once again, features some callbacks to Predator 1 and 2, and Amber Midthunder is utterly badass. Such a great action movie, disappointing that it's not going to theaters. #Prey #Predator pic.twitter.com/6xsGnGXLHZ

— Hunter Bolding (@HunterBVideo) July 22, 2022
By now you might have guessed that early reactions to "Prey" are resoundingly good, and the praise does not end:
#PREY is the best Predator film since the original. @AmberMidthunder kicks ass in this awesome, no-nonsense, hunter/prey thriller that injects new life to the iconic sci-fi franchise. Director @DannyTRS delivers thrills, kills and sweet visuals. Really enjoyed it. pic.twitter.com/ulntXImBG2

— Fico (@FicoCangiano) July 22, 2022
I honestly think #Prey might be the best Predator movie. Not since the first movie, just best, period. It's got all the tense action, but it adds compelling characters, Amber Midthunder as Naru is a revelation, It's Predator broken down to its core elements and rebuilt better. pic.twitter.com/Hml1dhPuQl

— Stephen "Dirk" Libbey (@childe_dirk) July 22, 2022
#Prey slays. (Is this a thing?) @DannyTRS has crafted a whip-smart reinvention of the franchise and a moving, elegantly photographed coming-of-age tale (@AmberMidthunder is so great), with buckets of blood and super fun monster mayhem. Expected to enjoy it but wound up loving it. pic.twitter.com/WYRkzHD5qD

— Drew Taylor (@DrewTailored) July 22, 2022
Prey is exactly what fans want in a Predator movie — bloody deaths, insane weapons, and ties to other films in the franchise.

Technically the first Predator movie, Prey is an absolute blast thanks to crazy kills and jump scares.

Get ready to love Amber Midthunder!#Prey pic.twitter.com/rZziP66jBo

— Tessa Smith – Mama's Geeky (@MamasGeeky) July 22, 2022
Seems like "Prey" has really hit the mark, and we have to find out how it fares when it premieres on August 5, 2022 on Hulu.