I Am Groot Footage Reaction: Everyone's Favorite Tree Is Back For Little Adventures [Comic-Con]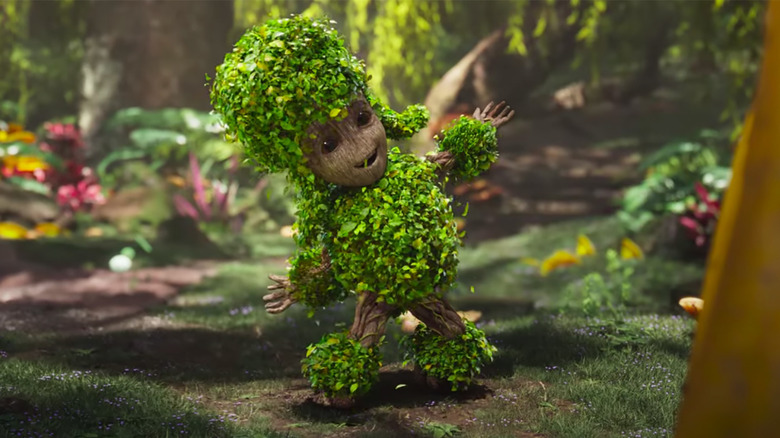 Marvel Studios
Marvel is putting a lot of effort into building up its new animation studio. After starting off with "What If...?" anthology stories, Marvel has animated shows such as "X-Men '97" (a sequel to "X-Men: The Animated Series"), an adaptation of "Marvel Zombies," and a new wallcrawling series titled "Spider-Man: Freshman Year." 
First out of the gate will be "I Am Groot," a series of five original short films coming to Disney+ in August. However, rather than being a full-fledged cartoon style series, this series of shorts will feature photoreal computer animation, making Groot appear just as he does in the Marvel Cinematic Universe, complete with the voice of Vin Diesel. 
The first installment of "I Am Groot" was shown during the Marvel Animation panel and Comic-Con, and our own Ryan Scott was there to check it out. So if you want to know what these shorts are going to be like, keep reading.
Groot is a fashionista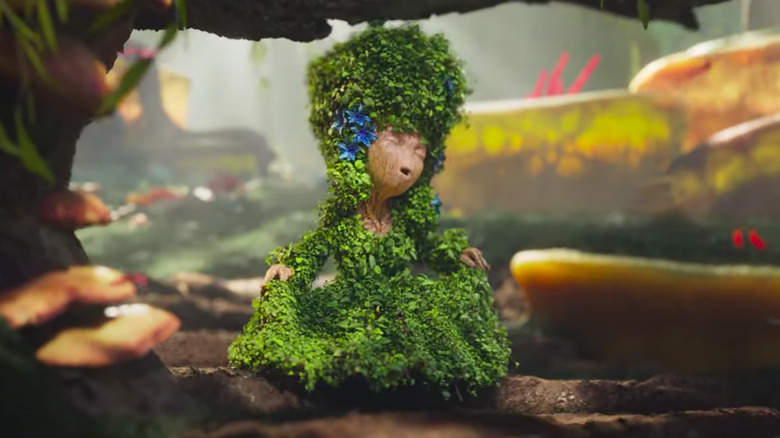 Marvel Studios
In the episode of "I Am Groot" shown at Comic-Con, our little tree pal is on a lush, plant-filled planet. While walking around, he discovers a muddy hot spring and dives right in. When he sees a firefly-like bug in the spring, he squeezes the bug's insides into the mud. Suddenly, it gets very colorful, and Groot covers himself in mud, placing fruit on his eyes, and dressing up like a little kid would in whatever they could find around the house.
But the bug-filled mud bath has a surprising side effect: Groot has suddenly sprouted leaves all over his tree body. He likes what he sees in his reflection, but he decides to make a meal out of this development and has a montage of different appearances that he creates by using his fingers as scissors to style and shape the leaves into various looks. When he wants a new look, he jumps back into the muddy spring to get all leafed up again. He crafts himself a leafy horse and a beautiful dress. 
A nearby bird has grown annoyed with Groot throughout all this. Not only was he awakened by Groot's shenanigans, but he's just had enough of the tree's goofing around. So the bird attacks him. Before you know it the mud bath is gone, and Groot can't have anymore fun with his foliage fashion. But that's when the bird comes in handy. Groot shaves the foul fowl and uses his leaves as a colorful scarf before leaving the planet. 
We are Groot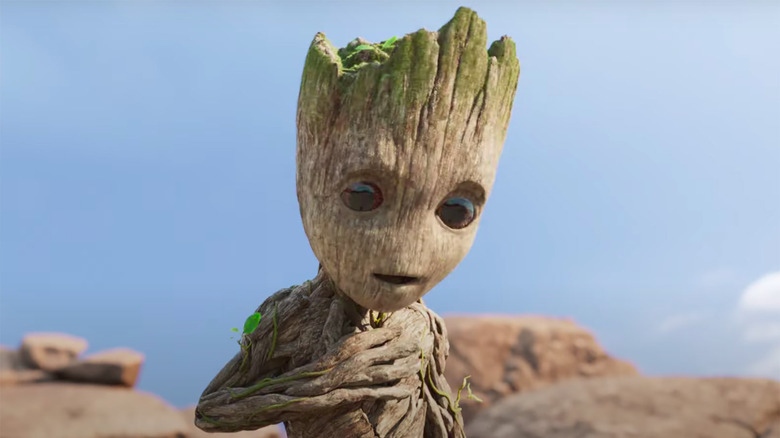 Marvel Studios
These shorts sound breezy and fun for the whole family, and our own Ryan Scott echoed those sentiments after seeing the first short, adding, "The vibe is very light and these should be delightful little MCU nuggets." 
At the very least, they'll be a good way to keep kids entertained until "Guardians of the Galaxy Vol. 3" (or "The Guardians of the Galaxy Holiday Special") comes along. The animation style certainly makes them at home in the MCU, and it makes great use of Groot's childlike behavior at this stage in his life. He won't be the only key Marvel character we get to see in the series either. Rocket Raccoon will make an appearance, and Bradley Cooper will again lend his voice to the trash panda.
Here's the official synopsis for "I Am Groot," executive produced by Kevin Feige, Louis D'Esposito, Victoria Alonso, Brad Winderbaum, and James Gunn:
There's no guarding the galaxy from this mischievous toddler! So get ready as Baby Groot takes center stage in his very own collection of shorts, exploring his glory days growing up — and getting into trouble — among the stars. I Am Groot, five original shorts featuring several new and unusual characters, stars everyone's favorite little tree, Baby Groot, voiced by Vin Diesel, who voices Groot in the Guardians of the Galaxy franchise.
"I Am Groot" comes to Disney+ on August 10, 2022.