I Am Groot Trailer: A Hero Of Few Words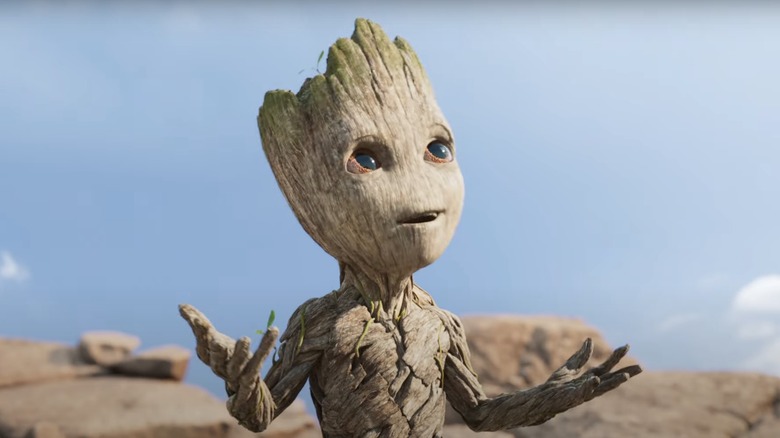 Marvel
San Diego Comic-Con is in full swing, and the overpacked, overhyped event just revealed a new trailer for "I Am Groot." The upcoming Disney+ title isn't exactly a full show — it's actually five shorts, all featuring everyone's favorite monosyllabic tree-person, Groot. Vin Diesel is back again to voice Groot, and Bradley Cooper will also return as the voice of Rocket. Kirsten Lepore directs. 
Groot and Rocket will return again, of course, in "Guardians of the Galaxy Vol. 3." For now, though, we'll have to make do with this, which admittedly looks cute and harmless. Watch the "I Am Groot" trailer below as you await the five shorts, which are debuting in August on Disney+! And then put on your favorite playlist and dance around. It's what Groot would want. 
I Am Groot trailer
Groot quickly became a fan favorite in "Guardians of the Galaxy," and that fandom only increased when the character was reincarnated as Baby Groot. He's Teenage Groot right now in the current timeline, but that doesn't mean there's not more Baby Groot action on the way — in the form of "I Am Groot." Here's how the upcoming Disney+ title is being described:
Each short follows Baby Groot as he grows up in the galaxy, going on adventures with new and unusual characters that get him into trouble
The collection of five shorts starts streaming on August 10, 2022 on Disney+. "Guardians of the Galaxy Vol. 3," meanwhile, is due out on May 5, 2023. But before that, we're getting "The Guardians of the Galaxy Holiday Special," which will arrive on Disney+ some time in December.