Severance Experience At San Diego Comic-Con Lets You Explore Your Innie As New Lumon Employee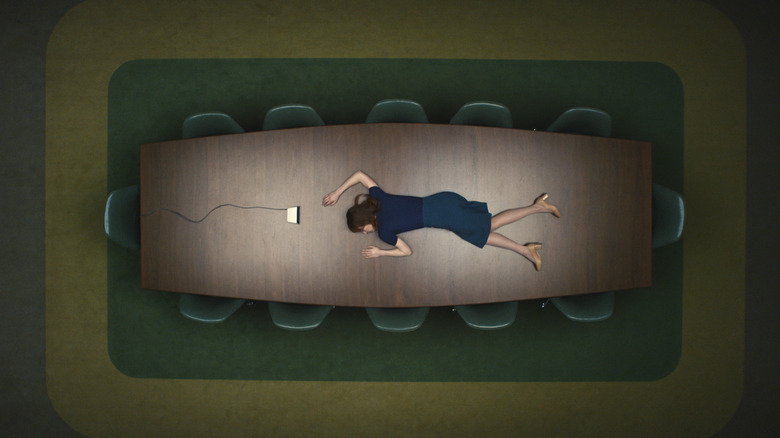 Apple TV+
The Apple TV+ series "Severance" is based on a premise that takes work-life balance to a dystopian level: What if you had no memory of your time at the office, and your work-self (a.k.a. your Innie) had no knowledge or memories of their life outside?
The result is a nail-biting thriller (and one of the best shows of the year) where we follow Mark's Innie and Outtie selves (both played by Adam Scott) as they become entangled in the capitalistic and arguably messianic machinations of the corporate overlord, Lumon, a company with a cult founder who founded the technology that cuts people's lives in half.
One of the remarkable things about the show is the look of the Severed floor where the Innie's work. It is a windowless, white-walled, maze-like space with a brutalist feel reminiscent of '60s office space. And now at San Diego Comic-Con, you can visit the Severed floor yourself, interact with other employees, and maybe even get your groove on to some Defiant Jazz.
Read on to find out more about the "Severance" activation at San Diego Comic-Con, including when it's open, where it is, and what parts of Lumon you get to explore.
'Who are you?'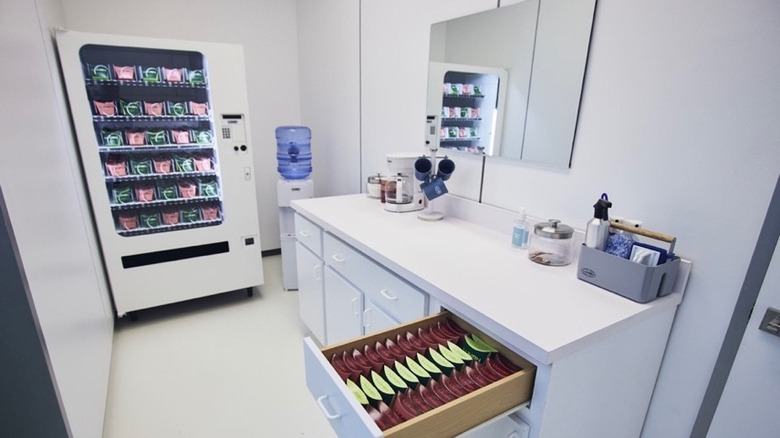 Apple TV+
After watching a welcome video from everyone's favorite manager Milchik (Tramell Tillman), you and a handful of other new Lumon employees enter the green-carpeted conference room virtually identical to the one Helly (Britt Lower) finds herself in in the first episode. The recreation is amazing — you really feel like you've entered the show's very specific aesthetic, and there's even the old school speaker who goes through the same preamble that Mark does when he introduces Helly to the hell that will be her entire life.
After getting assigned your Innie name from an eager Lumon employee, you're guided through one of the floor's many white hallways toward the Optics and Design department where you can marvel on the many portraits of Kier before getting your own Wellness session (although someone else besides Ms. Casey (Dichen Lachman) tells you secret things about your Outtie. From there, you get to check out the security room and that creepy wall of teeth (you might even see a goat through one of the doors) before heading to your new workspace in Macrodata Refinement. 
The MDR room not only has a vending machine where you get can snacks using the Lumon token you got at orientation, but also has the cubicles where Mark and his team spent their lives. Want to see what numbers fell "bad?" You can! And to top things off, you also get to dance with maracas and tambourines to Defiant Jazz before taking the elevator up to your Outtie self. You'll have things to remember your Severed time, however, — a tote with Lumon's handbook, two badges, a pin, and a photo of you and your Severed colleagues that you can enjoy forever.
At San Diego Comic-Con? Here's how to apply to Lumon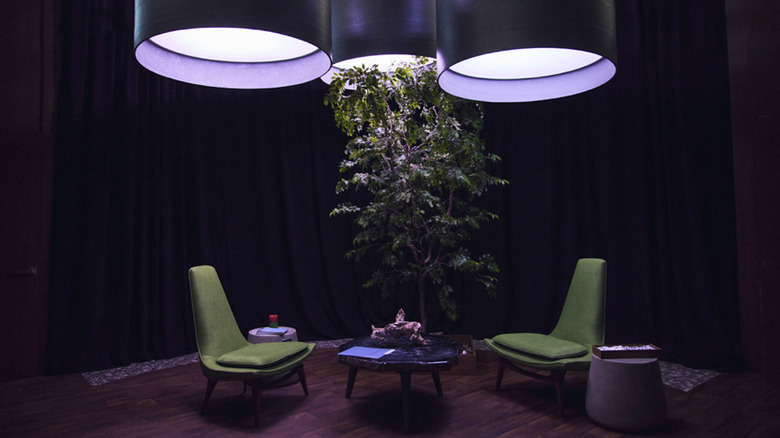 Apple TV+
Apple TV+ has provided the following information about the experience, which is in the Hard Rock Hotel at 207 Fifth Ave in San Diego:
Beginning Thursday, July 21 at 6:00 a.m. PT, and continuing throughout the weekend, fans will be able secure a reserved time to experience Lumon's employee orientation, at welcometolumon.com. Additional slots will be released each day at 6:00 a.m. PT and a standby line will be available for those without a reservation. In accordance with Comic-Con's COVID policy, proof of vaccination or a negative COVID test will be required for entry, along with face masks and identification.
The first season of "Severance" is currently streaming on Apple TV+, with the show already greenlit for a second season (Praise Kier!).