John Wick: Chapter 4 Trailer: Once Again, We're Thinking He's Back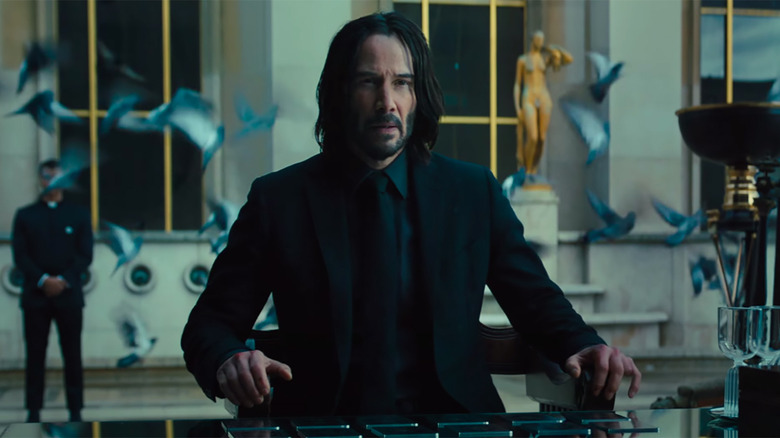 Lionsgate
The man who can't be stopped has spawned a thrilling action franchise that simply won't stop.
The rags-to-riches story of the "John Wick" franchise is practically unheard-of these days — an original and modestly-budgeted film with an incredibly straightforward premise (a man goes on a quest for revenge after gangsters kill his dog!) debuted to relatively subdued acclaim, eventually established a strong and vocal following over the years, and finally built enough momentum to justify breakout sequels that successfully attracted millions of mainstream moviegoers. In an era of relentlessly loud superhero movies and cardboard cutout Netflix blockbusters, the quietly efficient and back-to-basics approach of the "John Wick" movies (thanks in no small part to star Keanu Reeves' dedication to doing his own stunts) continues to make them stand apart as a breath of fresh air for genre fans.
The release of "John Wick: Chapter 3 — Parabellum" in 2019 left fans eagerly awaiting the next installment, though COVID concerns have continually pushed the fourth film back. Technically our first "look" at "John Wick: Chapter 4" came with reactions to exclusive CinemaCon footage in April of 2022, but there's nothing quite like an actual publicly-released trailer to get tongues wagging. Thanks to the ongoing spectacle of San Diego Comic-Con, that first trailer — and an official title for the film — have finally arrived. Check out all the gun-toting, fisticuff-heavy action below!
Watch the John Wick Chapter 4 trailer
Yeah, you already know what we're about to say — we're thinking he's back, baby. After the explosive events of "Parabellum" (which is a Latin term for, essentially, "prepare for war") left John Wick on the run from his fellow assassins, the legendary High Table, and pretty much anyone else with a weapon handy, our favorite former-hitman-turned-boogeyman with an epic-sized grudge to settle has once again been left with few allies and an army of combatants looking to take him down.
Our own Jacob Hall watched this on the big screen in Hall H at Comic-Con, and he simply said, "It rules." We can't disagree, especially when Keanu Reeves is kicking butt with nunchaku.
As with the previous sequels, stuntman/filmmaker Chad Stahelski returns to direct "John Wick: Chapter 4" from a script by Michael Finch and Shay Hatten. Reeves is once again joined by "The Matrix" co-star Laurence Fishburne as the Bowery King, Lance Reddick as the mysterious hotel clerk Charon, and Ian McShane as the indomitable Winston (who appeared to betray Wick in the closing moments of "Parabellum," but likely only so he could escape mostly unscathed). They'll be joined by franchise newcomers Donnie Yen, Hiroyuki Sanada, Bill Skarsgård, Scott Adkins, Rina Sawayama, Shamier Anderson, Marko Zaror, and Clancy Brown.
John Wick will make his triumphant return to theaters on March 24, 2023.