John Wick 4: Total Badass Clancy Brown Shares Details On Who He's Playing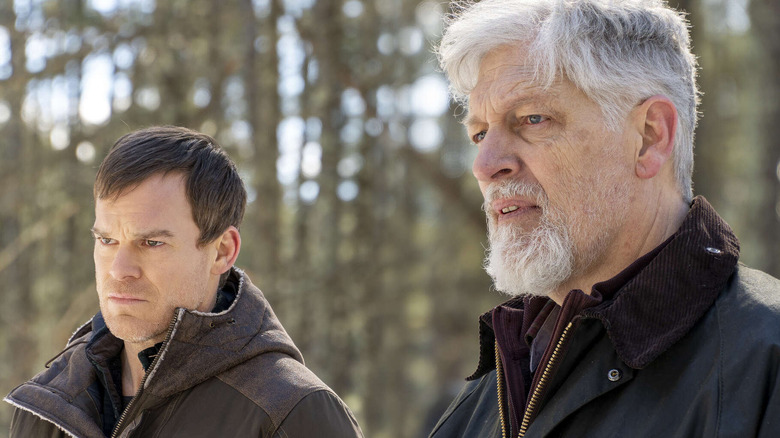 Showtime
There aren't many actors around these days who can still bring it the way Clancy Brown does, folks. The actor's filmography is filled with a seemingly countless number of roles that we could never imagine anyone else embodying, from "Highlander" to "The Shawshank Redemption" to "Starship Troopers." Millennials are familiar with Brown from voicing the irrepressible Mr. Krabs in "Spongebob Squarepants" and animation fans in general know him from voicing Lex Luthor in "Superman: The Animated Series," the "Justice League" television series, and "Justice League Unlimited," Long Feng in "Avatar: The Last Airbender," various voice roles in "The Spectacular Spider-Man," Savage Opress in "Star Wars: The Clone Wars" (which is just an incredible "Star Wars" name), and even Surtur in both "Thor: Ragnarok" and an episode of "What If...?"
In short, Clancy Brown has enjoyed a prolific career spanning multiple decades, culminating with his recent casting in "John Wick: Chapter 4." The hard-hitting action franchise makes great use out of one-and-done supporting roles for talented stars, starting with Willem Dafoe and Michael Nyqvist in the original 2014 film and continuing over the years with Common, Ruby Rose, Halle Berry, NBA athlete Boban Marjanović, and much more. Brown will surely bring plenty of screen presence to the "Wick" universe, but until now, we didn't have many details about what exactly his role would entail. In a new interview, the legendary actor has finally given us a taste of what we can expect in the next film, and action junkies are going to be thrilled.
Be Seeing You, Clancy Brown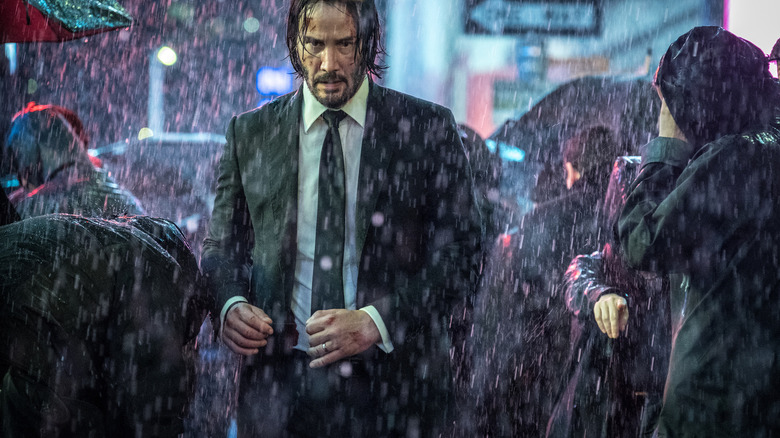 Lionsgate
The cast of "John Wick: Chapter 4" is shaping up to be one for the ages ... so why not go ahead and add Clancy Brown into the mix? Brown can be seen in the "Dexter: New Blood" revival as the main antagonist of the series and recently spoke with Collider, who got him to open up a bit about his upcoming role in "John Wick." It certainly sounds like action fans and those who've enjoyed the intricate world-building in the Keanu Reeves-led films will have a lot to look forward to. According to Brown:
"I will say it's more of the Table revealed. More of the High Table, the kind of intricacies of that authority structure is revealed. With my guy. And I am in a couple of scenes that you could argue are action scenes, I suppose. A lot of my scenes are with Bill Skarsgård, which was a lot of fun."
We've received glimpses of the formidable High Table throughout the sequels, though they've mostly stayed in the shadows. That all changed by the end of "John Wick: Chapter 3 — Parabellum," with Wick now explicitly defying the High Table and left to fend for himself. It's intriguing to hear that the High Table seems to be taking more of an active role in the action, even if predominantly through Brown's new character. Though he doesn't spill any more plot-centric details, Brown does take the time to heap some more praise on Hollywood's most lovable actor, Keanu Reeves:
"And I was there for Lance [Reddick]'s last evening, which was good. It was good because I really wanted to meet Lance... and all the reporting about what Keanu is is absolutely true, absolutely right. Keanu made it a point to come and celebrate Lance a bit in that last moment, which was really nice. Good guy. He's a good guy, that Mr. Reeves."
The phrase "Never meet your heroes" clearly doesn't apply to Reeves. To be spoken of this highly by Brown, who's seen a thing or two in his time, says it all. Now, here's hoping his real-life admiration for Reeves doesn't translate to the actual movie and we get to see some nasty brawls between the two stars.
"John Wick: Chapter 4" was recently delayed, but fans can look forward to seeing the film on March 24, 2023.