John Wick: Chapter 4 Delayed Until 2023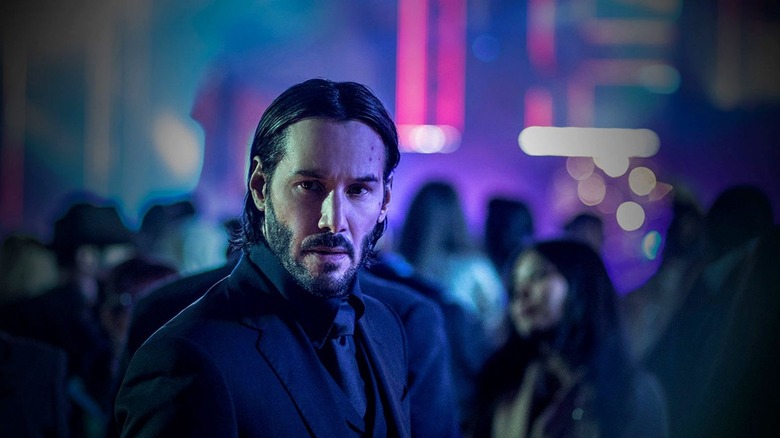 Lionsgate
Bad news, John Wick fans: We won't be returning to the Continental until 2023. "John Wick: Chapter 4" has been pushed back once more. While it was originally set to come out opposite "The Matrix Resurrections" on May 21, 2021, COVID-19 forced those plans to go out the window. The movie was pushed back to May 27, 2022, which would have put it opposite "Top Gun: Maverick," another major action contender. But with concerns over the rise of coronavirus variants and spikes in infections, it's not a huge surprise that Lionsgate has now pushed the massive action franchise sequel to a later date. 
Wick Will Hopefully Hit Theaters in March 2023
Lionsgate put out an announcement video for the new date, with the lovely folks who work to keep the world's assassins organized delivering the news in proper Wick-universe fashion. They reveal that "John Wick: Chapter 4" is now set to premiere in theaters on March 24, 2023. That's almost two full years after the original planned release date, though circumstances haven't exactly been ideal lately. While late March isn't traditionally a huge blockbuster weekend, maybe execs are hoping that teenagers and college kids will be on spring break and can rush to theaters to check out the latest entry in the Wick saga.
Movie and TV show premiere dates have been getting switched around quite a bit in the age of Covid, and it's not looking like that's going to slow down any time soon. If anything, "John Wick 4" being pushed for another year might be one of the first big delays we see for 2022 releases.
Looking Forward to 2023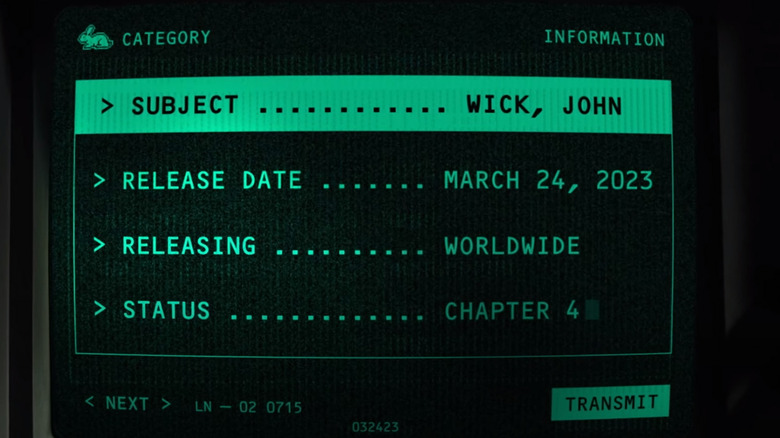 Lionsgate
All of this is a major bummer, but at least we'll have more John Wick to look forward to. The highly-popular action franchise, helmed by director Chad Stahelski, follows top-class assassin John Wick (Keanu Reeves) as he gets revenge on the guys who killed his dog. From there, he's sucked into all kinds of wild assassination attempts and rejoins the world of killers-for-hire. The "Wick" flicks are set in a world that's a little more fantastical than your average action movie, which gives it a fun twist on standard assassin movie tropes.
Filming on the highly anticipated fourth entry in the franchise began in June 2021, so it's entirely possible that production and post-production are just going to take a little longer, too. Whatever the reasoning behind Lionsgate's decision to push "John Wick 4" to 2023, at least we can be glad we're getting another "John Wick" at all.