John Wick 4: Release Date, Cast And More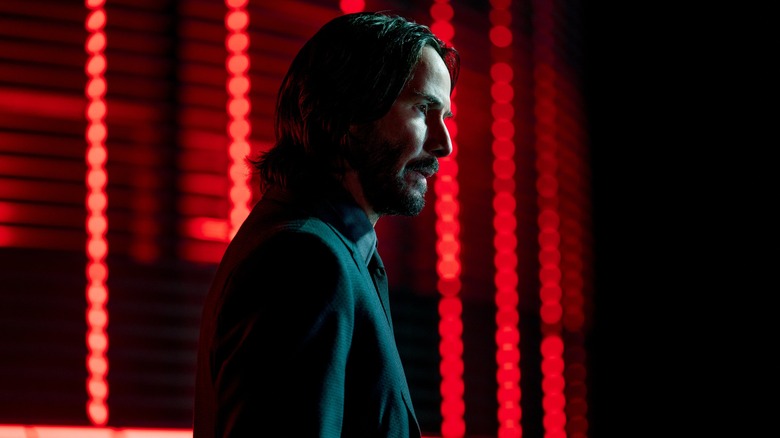 Lionsgate
(Welcome to ...And More, our no-frills, zero B.S. guide to when and where you can watch upcoming movies and shows, and everything else you could possibly stand to know.)
This spring, John Wick is back ... again. And he's angry. The latest entry in the action-packed shoot-em-up franchise was originally supposed to arrive two years ago, but we all know that didn't happen. Now we'll have to wait just a few more months. But while we wait, I've rounded up everything you need to know about "John Wick: Chapter 4" below.
What is the John Wick 4 release date, and where can you watch it?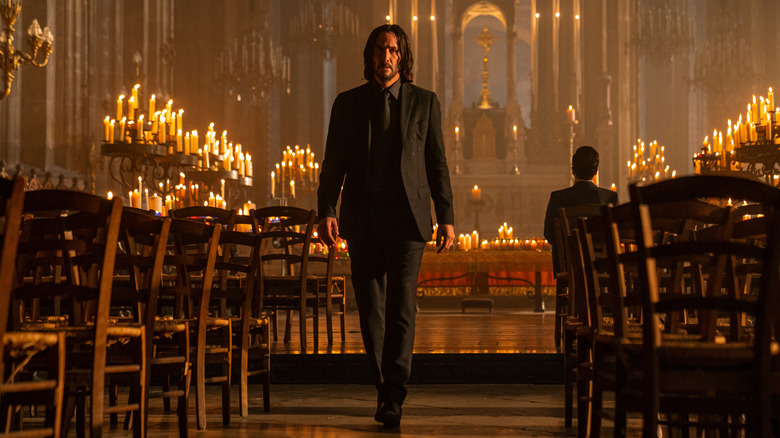 Lionsgate
"John Wick: Chapter 4" is currently set to open on March 24, 2023. Once upon a time, the plan was to release the film on May 21, 2021, which was also the original release date of "The Matrix Resurrections." But the gods said, "No! You cannot have that much Keanu Reeves awesomeness in one day!" And, of course, COVID-19 got in the way, too. But now that theaters have slowly begun to rebound from the pandemic (everyone say, "Thank you, James Cameron"), "John Wick: Chapter 4" will look to continue the box office success of one of the best action franchises around once it releases in theaters nationwide.
What is John Wick: Chapter 4 about?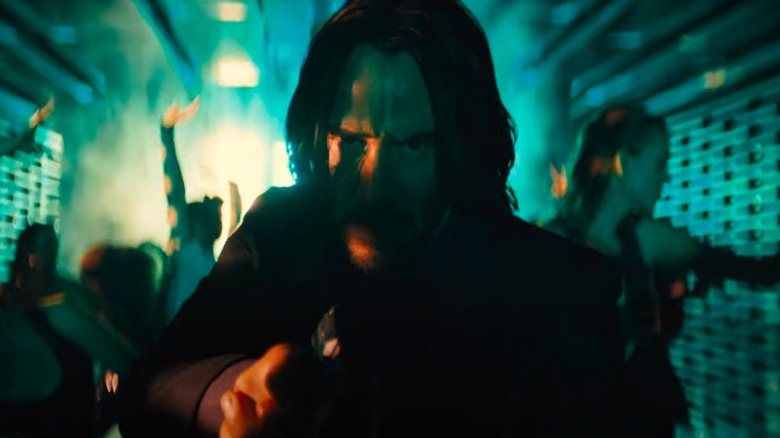 Lionsgate
"John Wick: Chapter 4" is the fourth entry in the wildly entertaining "John Wick" franchise. It's kind of wild to think that this turned into a series, but it did. And it's even inspiring spin-offs, like the Ana de Armas-starring movie "Ballerina" and the miniseries "The Continental." I can remember hearing the premise of the first "John Wick" — Keanu Reeves goes after people who killed his dog — and thinking, "Wow, that's a little silly!" And then the movie turned out to kick all kinds of ass, and I couldn't wait for more. I don't know much more they can squeeze out of this series, but as long as they're making "John Wick" movies, I will watch them.
"Chapter 4" will continue the story where the third film, "Parabellum," left off. John Wick was shot multiple times by his friend Winston (Ian McShane), and then he fell off a roof. But since John Wick takes a licking and keeps on ticking, he survived the fall. Badly injured, John was taken to an underground location where he reunited with the injured Bowery King (Laurence Fishburne). From that, we can guess that John (and the Bowery King) are going to go after the High Table, the group of powerful crime lords who run the underworld.
Where can I watch the previous John Wick movies?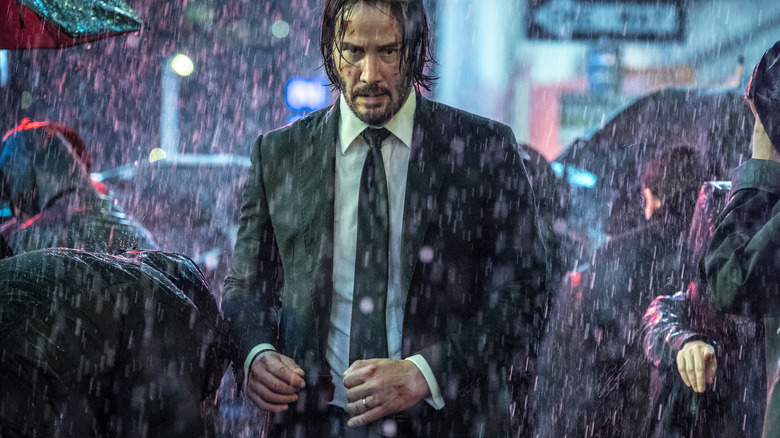 Lionsgate
Think of it as the little trigger-happy assassin that could. The first "John Wick" came out of nowhere in 2014 to become a sleeper hit among action junkies, boasting impossibly slick choreography, a simple and straightforward emotional hook, and the unofficial start of the Keanu Reevaissance. Who knew that the relatively small-budget and original thriller would eventually go on to inspire four sequels (and counting), a spin-off series, a spin-off movie, and probably even more to come? With the fourth film in this franchise set to arrive soon, it stands to reason that viewers would want to take a bullet-ridden trip back on memory lane and revisit the movies that have come before.
Well, you're in luck. As of the time of this publishing, "John Wick," "John Wick: Chapter 2," and "John Wick: Chapter 3 – Parabellum" are all currently available to stream on HBO Max. Other streaming options also include AMC+, DirectTV, and even the USA Network for those who haven't yet cut the cord. Should none of those options quite strike your fancy, you can also rent or buy the movies digitally on your preferred platform. Of course, there's also the DVD/Blu-ray/4K sets for the physical media defenders among us, of which there are many!
How long is John Wick: Chapter 4?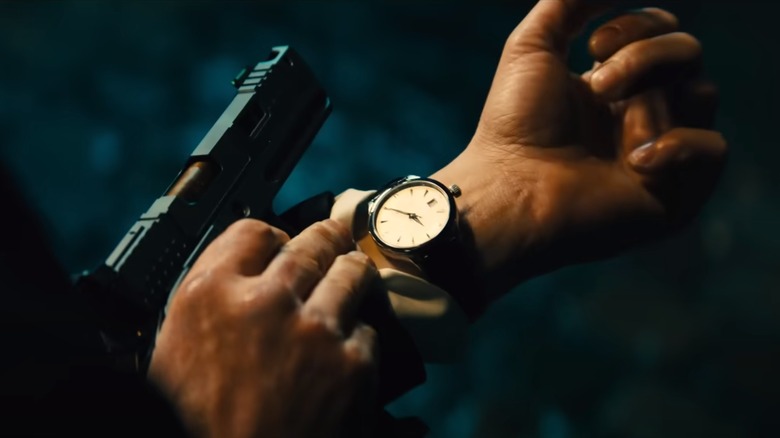 Lionsgate
The greatest enemy John Wick keeps coming up against, over and over again, isn't any of the nameless henchmen or sword-wielding bosses or even the basketball player that one time. No, as always, the biggest villain in these movies is time. No matter what our favorite assassin does, he just keeps running out of the precious commodity at the most ill-fated moments. From being robbed of more time spent with his dearly departed wife and puppy to racing against the clock to outrun the hit placed on his head by the Table, every second counts ... and that goes double for audiences who will be devoting their time and energy to catching this movie in theaters.
For those wondering just how long they'll have to hold in their bathroom breaks, "John Wick: Chapter 4" has been confirmed to be the longest movie in the franchise. In an interview with Collider, director Chad Stahelski stopped short of revealing an exact runtime, but did disclose the intriguing tidbit that it will ultimately be in the 2 hour and 30 minute range. As he explained:
"...we wrote a longer movie. We wrote a bigger movie. We wrote a longer script. We wrote at least a third more scenes than the last one. We expect it to be more. We've always expected it to be more. And I think the test, or at least what we're judging ourselves by, is that worth it with how we executed what we want it to be more or not? And I think the answer's yes."
Who's in the cast and crew of John Wick: Chapter 4?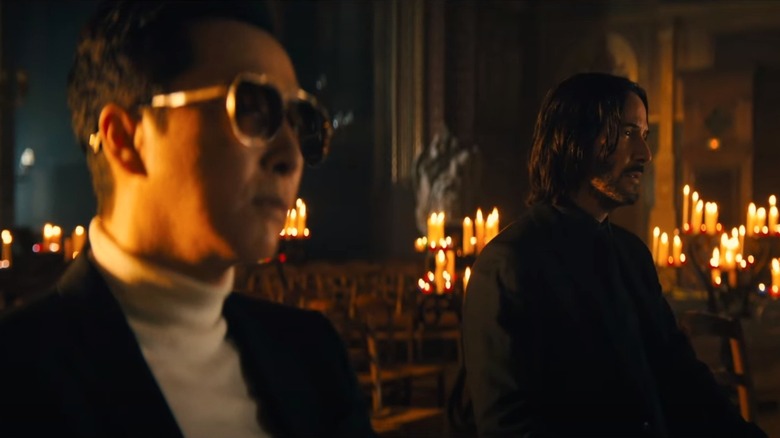 Lionsgate
Chad Stahelski, who directed the three other "John Wick" movies, is back to direct "John Wick: Chapter 4." The screenplay comes from Shay Hatten and Michael Finch, based on characters created by Derek Kolstad. Stahelski, Basil Iwanyk, and Erica Lee are the producers. Tyler Bates and Joel J. Richard are responsible for the musical score. Dan Laustsen is the cinematographer.
The fourth film stars Keanu Reeves, obviously. The rest of the cast includes returning faces Laurence Fishburne as the Bowery King, Lance Reddick as the Continental hotel concierge Charon, and Ian McShane as hotel manager Winston Scott. New additions include legendary Hong Kong martial arts star Donnie Yen as a blind former assassin named Caine, pop artist Rina Sawayama making her feature film debut as a character named Akira, and Bill Skarsgård as the enigmatic and villainous Marquis de Gramont. Shamier Andersonm, DTV action hero Scott Adkins, Hiroyuki Sanada, Marko Zaror, and Clancy Brown all round out the star-studded cast in undisclosed roles.
Will there be a John Wick 5?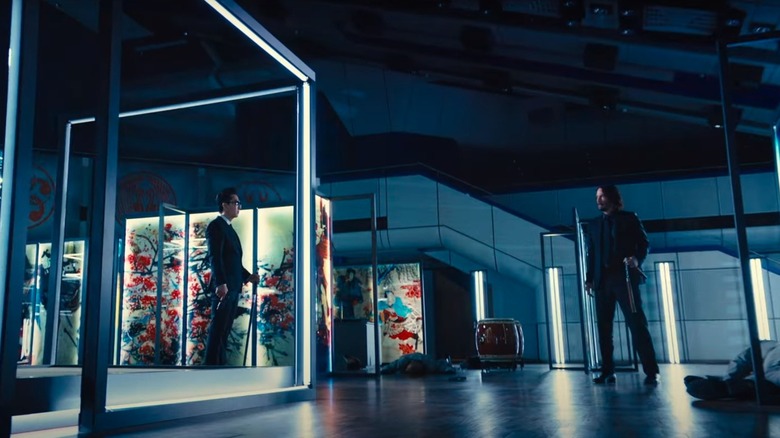 Lionsgate
My, my, how impatient are we! "John Wick: Chapter 4" has yet to release and we're already looking ahead to the possibility of the next one? Okay, that's basically the nature of the beast these days, so I get it. Plus, it's not as if John Wick has shown any signs of being mortal, either, so why not keep the good times rolling? We've received hints and teases over the years about the franchise possibly reaching a fifth film, with previous reports from 2020 indicating that "John Wick 5" was officially a go at Lionsgate. Further news indicated that the fifth film, should it move forward, would not involve franchise architect and writer Derek Kolstad.
Most recently, however, we heard from Total Film that another sequel may not be a sure thing just yet. According to Reeves himself, we're fully in "wait and see" mode until audiences decide whether to put their money where their mouths are when "Chapter 4" comes to theaters this year:
"You have to see how the audience responds to what we did. The only reason we've had a chance to make these movies is that people have liked what we have done. So I think we have to wait and see how the audience responds to it. Hopefully they'll like it."
Watch the John Wick: Chapter 4 trailer
Here's the official synopsis for "John Wick: Chapter 4" from Lionsgate:
​​John Wick (Keanu Reeves) uncovers a path to defeating the High Table. But before he can earn his freedom, Wick must face off against a new enemy with powerful alliances across the globe and forces that turn old friends into foes.