Hasbro Will Soon Let You Become An Action Figure From Star Wars, Marvel, Ghostbusters & More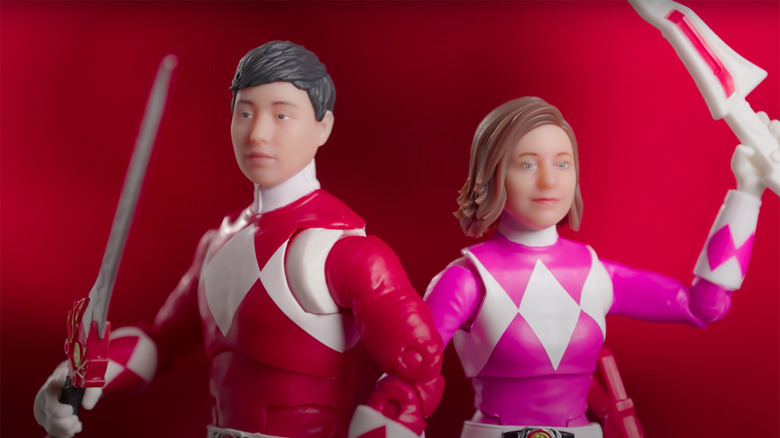 Hasbro
If you're a kid with a pile of action figures, you probably put yourself in the shoes of your favorite characters from your favorite movies and TV shows that took the major merchandise route. Now, thanks to the magic of modern technology, you can turn yourself into an action figure from one of your favorite franchises, and it won't cost you a truckload of money. 
Hasbro has unveiled the Selfie Series, a new personalization platform that allows fans to create their own 6-inch action figure in their likeness, featuring a variety of toy lines seen from popular films, television series, and comics, such as "Star Wars," "Ghostbusters," Marvel Legends, and more. You no longer have to be a movie star to get your very own action figure. Get the details below.
Play with yourself
What makes this opportunity even cooler is that you won't just be slapping your head on a generic action figure wearing a cape or wielding some nondescript weapons. Instead, fans can have their heads put on the bodies of signature characters from "Star Wars," "Ghostbusters," "Mighty Morphin Power Rangers," "G.I. Joe," and the Marvel Cinematic Universe.
Here's how Hasbro described their new Selfie Series initiative that will officially be launching this fall:
Hasbro Selfie Series figures are Hasbro's first introduction to its innovative, new personalization platform. Using proprietary software and in partnership with a leading 3D printing company, Formlabs, Hasbro is giving fans a chance to digitally transform themselves into the action figure with the costume from the heroes they see on-screen and imagine themselves as part of the stories they love. From a Star Wars Rebel Alliance X-wing pilot, morphing into a Power Ranger, silently stalking Cobra as Snake Eyes, or swinging through the New York cityscape like Spider-Man, fans can indulge in the ultimate consumer experience with Hasbro Selfie Series figures.
Just check out the options that will be available at launch:
Formlabs previously teamed up with Hasbro to offer an extremely limited amount of fans (five to be exact) the chance to turn themselves into action figures. However, in the years since, the technology that 3D prints the face sculpts for action figures — especially those based on movie stars playing characters in movies and TV shows — has improved significantly. Now it's much easier for toy makers to get the details they need to skillfully and economically create a 3D-printed version of anyone's face and put it on an action figure.
You are a child's play-thing!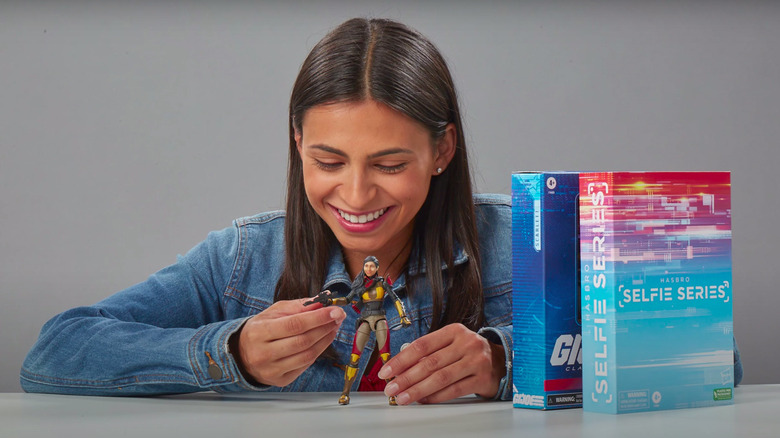 Hasbro
If you're heading to San Diego Comic-Con next week, you might have a chance at being among the first to order your own Hasbro Selfie Series figure. A select number of fans will be able to start the process. Attendees can visit the Hasbro Pulse Info Desk in booth #3213 to obtain a ticket for an assigned time slot. But the figures won't be shipping until this fall, which is also when this program will launch for the general public.
We don't know the full details of how this will work yet, but they'll cost $60 each. Considering an action figure from these toy lines without your face on it can cost between $20 and $30, that's not a bad deal, especially when the roster of potential action figure bodies is pretty great. But personally, I'm hoping that we'll see some kind of Jedi figure in the "Star Wars" line, as well as a Green Ranger from the "Power Rangers" brand. Then again, as soon as you get your own sculpted head, you should hopefully be able to pop it on any Hasbro action figure from recent years. 
"We are super excited to dive into the world of personalization and customization with Hasbro Selfie Series. We have done extensive research to truly understand the fan's ask for a personalized product, and the team has done a fantastic job at making that dream a reality," says Brian Chapman, Hasbro President of Design, Development and Innovation. "The innovation on this proprietary technology is truly remarkable, and we cannot wait to give fans the opportunity to add themselves to their collections."
For the latest updates on the Hasbro Selfie Series, you can sign up to receive more info over at Hasbro's launchpad for the new initiative.