How Chris Hemsworth Landed The Role Of Captain Kirk's Father In J.J. Abrams' Star Trek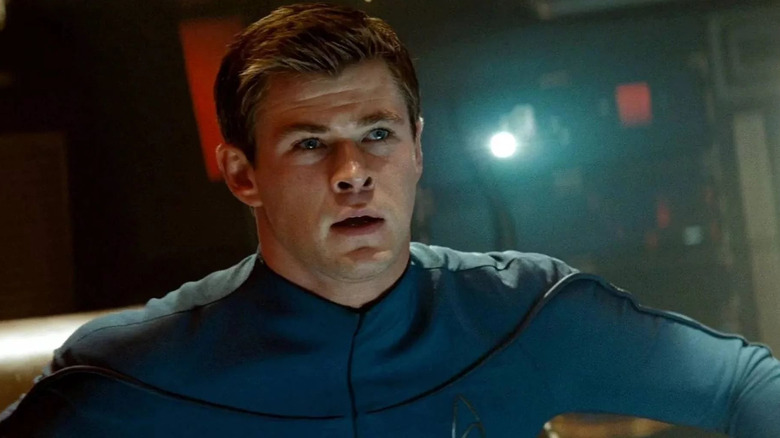 Paramount Pictures
J.J. Abrams' "Star Trek" reboot has one of the best opening sequences of all time. As the Federation starship USS Kelvin is investigating a mysterious lightning storm in space, they're suddenly bombarded by a Romulan ship emerging from the storm, and a massive space battle begins. Kelvin's Captain Robau (Faran Tahir) attempts to negotiate a truce in order to avoid the demise of his ship and its crew, but during the tense discussion with Romulan leader Nero (Eric Bana), a new wrinkle emerges in this confrontation: Nero and his ship are from another place in time. Frustrated by the discussion going nowhere, Nero kills Captain Robau, leaving the USS Kelvin in the hands of Chris Hemsworth as first officer George Kirk, who will become the father of future USS Enterprise Captain James T. Kirk, a newborn baby about to arrive in the middle of the chaos.
Back in 2009, almost no one knew Chris Hemsworth was. He was an up-and-coming Australian actor who hadn't yet picked up Mjolnir as Marvel's Thor. But in this opening sequence, which packs as much emotional punch and action as the conclusion of a feature film, Hemsworth showed impressive command, not just of the USS Kelvin but of the big screen. This guy was clearly going to be a star. But funnily enough, Hemsworth only got this role at the last minute, and this was after he failed to land the role of James T. Kirk.
'I didn't know how big this production was going to be'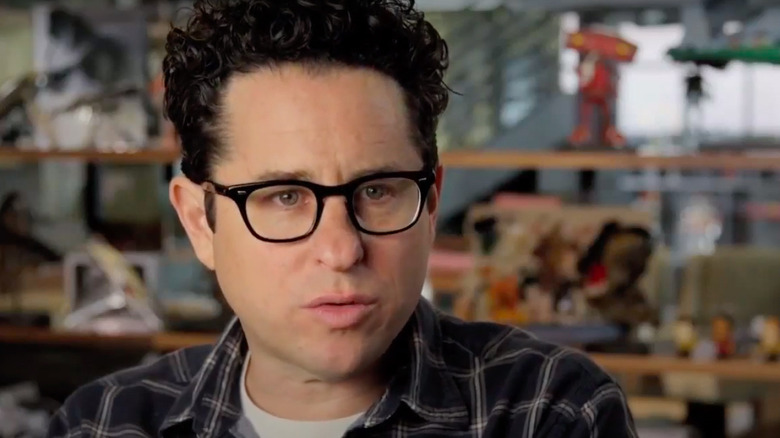 Paramount Pictures
For Vanity Fair, Chris Hemsworth broke down some of the key roles in his career so far, which included this breakthrough turn in "Star Trek." The actor revealed that he'd been called back into J.J. Abrams' office at Bad Robot after he auditioned to play James T. Kirk, a role he obviously missed out on and ended up going to Chris Pine. Hemsworth recalled how he was surprisingly and suddenly brought back into the "Star Trek" fold while speaking with TrekMovie.com:
"[J.J. Abrams] tracked me down and asked me to come in and read the scene. I came in and he hands me the pages and says, 'I loved your audition from six months ago. I just re-watched it. Can you read this scene for me?' This was right at his desk. So I did the scene. I was reading, and he was reading, and he said, 'OK, stop. You got the part. See you on Monday." And I was like "What?' I was excited, but I had no idea what it was going to be. I hadn't grown up on 'Star Trek.' I didn't know how big this production was going to be. And that was a good thing, because when I got on set I was kind of pretty casual and loose with it. If I'd have known it was this $150 million thing, and J.J. Abrams was who he was, it probably would have scared the hell out of me."
Hemsworth read for the role on a Friday and was shooting on set the following Monday, cementing him in the history of one of the biggest sci-fi franchises of all time. However, that job didn't exactly make him a star overnight, and "Star Trek" wouldn't be the last time an audition didn't get him a big lead role (at least at first).
'I had about eight or nine months where I couldn't get a job'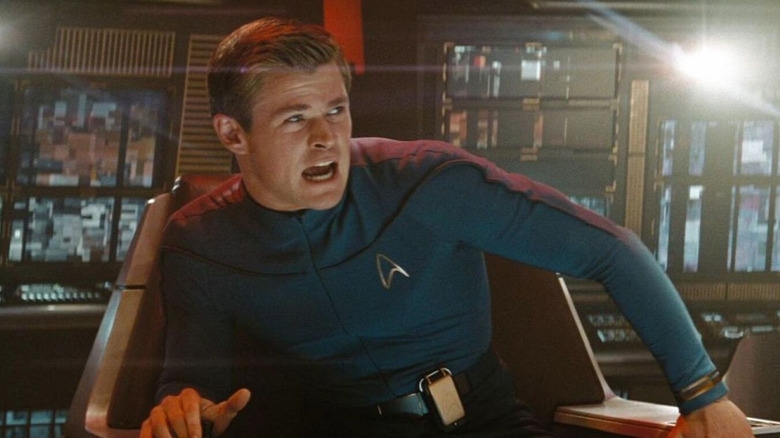 Paramount Pictures
Hemsworth may have landed a pivotal role as George Kirk, but as the actor recalled, "I shot 'Star Trek,' and then I had about eight or nine months where I couldn't get a job." Thankfully, that changed when the film came out, and if you've seen "Star Trek," then you know exactly why. Hemsworth has such confidence and subtle swagger as George Kirk, giving us the perfect basis for the cocky yet charismatic character that would be Chris Pine's interpretation of James T. Kirk. With an assist from Michael Giacchino's incredible score and a brief supporting turn by Jennifer Morrison, Hemsworth makes you care for this character in a surprisingly short amount of time.
However, even though "Star Trek" gave him some momentum, Hemsworth's original audition to take the lead in Marvel's "Thor" didn't go very well. The actor even went so far to say that his audition "sucked." In fact, his brother Liam Hemsworth actually went further in the audition process before Marvel went back to the drawing board for the casting of the God of Thunder. But just as J.J. Abrams came back to cast Hemsworth as George Kirk, Marvel Studios and director Kenneth Branagh circled back around and found the Asgardian they were looking for. 
It's a shame we only got to see Hemsworth as George Kirk in those opening moments of "Star Trek," especially knowing that a time traveling sequel was once in the works that would have found Chris Pine's James T. Kirk meeting his father and embarking on a mission alongside him. Sadly, that project has fallen by the wayside. Reports pegged salary negotiations as the crux of the hold-up, but Hemsworth also thought the script wasn't in the best shape at the time. So for now, it sounds like that "Star Trek" story may never see the light of day, even though the cast of Abrams' franchise may still return. But we'll be keeping our fingers crossed that Chris Pine and Chris Hemsworth get a chance to revisit the final frontier.