Future Of 'Star Trek 4' In Doubt As Chris Pine And Chris Hemsworth Depart Over Salary Negotiations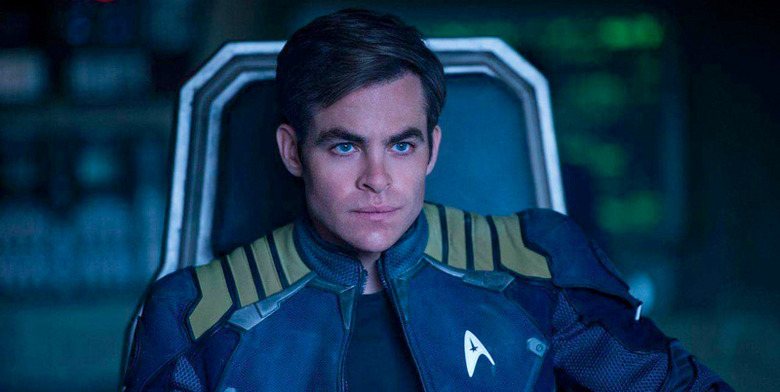 Captain...we have a problem.
Chris Pine and Chris Hemsworth have both walked away from Star Trek 4 following failed salary negotiations. Pine was going to reprise his role as Captain James T. Kirk for the fourth time. Hemsworth was going to return via time travel as Kirk's father, who was introduced in the 2009 reboot's memorable prologue. What happens next, especially since the rest of the cast is still on board, remains uncertain.The Hollywood Reporter has the story, and it offers up a dark side to a franchise built upon hope and optimism. After all, money doesn't exist in the utopian world created by Gene Roddenberry over 50 years ago...but it sure as hell exists right here and now, and Pine and Hemsworth felt they weren't getting enough of it to step aboard the bridge again. Or rather, they felt Paramount was not honoring an existing deal.
According to THR, the actors and their reps "insist they have deals in place and that the studios are reneging on them, forcing them to take pay cuts as they try to budget a movie that is following a mediocre performer." That mediocre performer is Star Trek Beyond, a very good movie that massively underperformed when it opened in 2016. That film grossed $343 million worldwide, but it cost $190 million. That's not a great ratio when other franchise films regularly cross the $1 billion mark these days.
Still, it's hard to blame Pine and Hemsworth for sticking to their guns and walking away if they're not getting paid what they believe they should be paid. If you want to point fingers at someone, point them at Paramount.
So what does this mean for Star Trek 4? Well, Zoe Saldana, Zachary Quinto, Karl Urban, Simon Pegg and John Cho are all expected to close their deals and return as Uhura, Spock, Dr. McCoy, Scotty, and Sulu, respectively. It's possible that Kirk and his father could be recast. It's also possible that Pine and Hemsworth return to the negotiating table and everything gets worked out. It's also possible that they split the difference – cough up the cash for Pine since he's the face of the rebooted franchise and recast his dearly departed dad with someone less expensive.
In any case, I'll just come right out and say it: this flat-out sucks. I've been critical of the new Trek movies, but two of them have been winners, overcoming their flaws to reflect what makes this series so damn special. Pine did the impossible – he proved that someone else was capable of filling William Shatner's boots. And Hemsworth's entire career was built on his powerful scenes as George Kirk and seeing him return would have been a thrill. Then there's the rest of the crew, played to perfection by a perfectly cast ensemble who give new life to beloved characters. I'd watch a Star Trek 4 starring everyone but Kirk, but would Paramount even consider making that?
It's especially a bummer since Star Trek 4 was going to mark the first time a female director was going to steer a Trek movie. What does this mean for S.J. Clarkson? Will she stick around if things have to get retooled?
Anyway, it's not like this spells the end of Star Trek. The recent series Star Trek: Discovery is returning for its second season next year and there's a new TV show starring Patrick Stewart, reprising his role as Captain Picard, in the pipeline. And Pine has the Wonder Woman movies and Hemsworth has Thor and the rest of the cast are in high-demand. In the end, nothing and no one is irreparably damaged.
But still, it was a thrill to see Trek back on the big screen ever couple of years. I'll cross my fingers and hope they can work this one out.