Thor: Love And Thunder Director Taika Waititi Spaced On Natalie Portman's Role In The Star Wars Prequels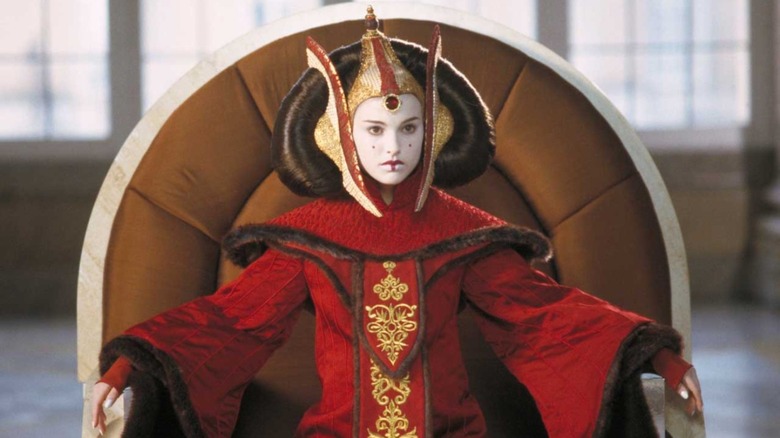 Lucasfilm
"Thor: Love and Thunder" serves as an interesting "Star Wars" union of sorts, marrying the past with the future of the franchise. Natalie Portman is starring in the film, returning as Jane Foster to the Marvel Cinematic Universe for the first time since "Thor: The Dark World" while taking up the mantle as the Mighty Thor. And, as fans will surely remember, she played Padme Amidala in the "Star Wars" prequel trilogy. Meanwhile, director Taika Waititi, who is also reprising his role as Korg, is currently writing a new movie set within a galaxy far, far away that he intends to direct. Not to mention that Waititi also starred as IG-11 in "The Mandalorian" in addition to directing several episodes of that series.
Even though the two share a bit of a connection, having both had big roles to play in two of the biggest franchises on the planet, it may have slipped Waititi's mind that Portman was one of the major characters in the "Star Wars" prequels. Whoops.
'Have you ever wanted to be in a Star Wars movie?'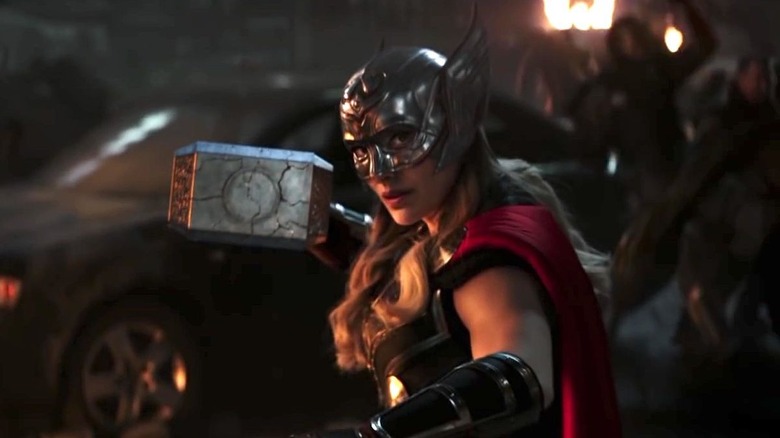 Marvel Studios
While making the press rounds to promote the release of "Love and Thunder," Waititi spoke with Rolling Stone. At one point, he was addressing how he got Portman to return to the MCU after all these years and, in explaining how that came to pass, he shared an anecdote revealing that he completely forgot she was in "Star Wars" in the first place:
"Natalie said to me, what do you do next? And I said 'I'm trying to work on a Star Wars thing. Have you ever wanted to be in a Star Wars movie?' She said, 'I've been in Star Wars movies.' I forgot about those ones. [Laughs]"
Indeed, Portman was in "The Phantom Menace," "Attack of the Clones," and "Revenge of the Sith." At one point, there was a giant section of the fanbase that wanted to forget all about the prequels. However, in large part thanks to the younger generation that grew up with them coming of age, as well as shows like "The Clone Wars," the prequel era has become beloved. Padme is a big part of that. *PRESSES SARCASM BUTTON* Shame, Mr. Waititi! Shame!
A busy man, an honest mistake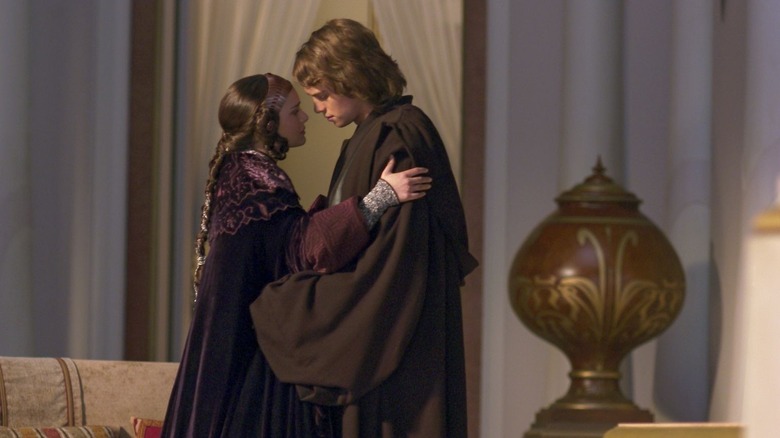 Lucasfilm
Here's the thing: on the surface, it seems like forgetting a large chunk of a very famous actor's career is a big deal. And Waititi seems to have a sense of humor about it, for whatever that may be worth. But let's not forget that Waititi is also one of the busiest men in Hollywood these days. In addition to "Love and Thunder," he's a producer on FX's "What We Do in the Shadows" and he's a key player onscreen and off in HBO Max's "Our Flag Means Death." Plus, he's got his next film, the sports story "Next Goal Wins," already in the can, not to mention the "Star Wars" movie he's working on.
All of this to say, in a casual conversation on set when Waititi surely had a million other plates spinning, it's easy to imagine that something could slip his mind — even if it was a big something. At the very least, we can safely assume that Waititi isn't planning on doing anything in the prequel era with his "Star Wars" movie.