Moulin Rouge! Nearly Had A Very Different A-List Lead In Place Of Ewan McGregor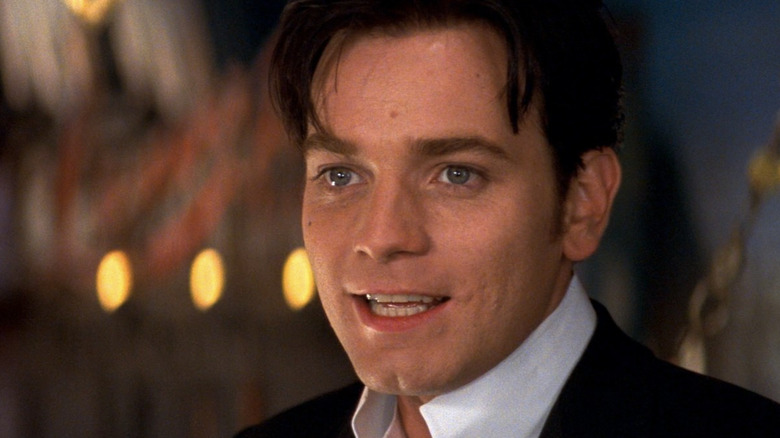 20th Century Studios
Thanks to his "Elvis" biopic, the king of cinematic excess is back on our minds, with plenty waxing poetic about how no one out there makes movies quite like Baz Luhrmann. Known for his larger than life films like "Strictly Ballroom," "Romeo + Juliet," and "The Great Gatsby," Luhrmann has become synonymous with spectacle, flashy production design, and soundtracks that make audiences feel alive in their seats. Sure, that does mean Luhrmann is unafraid to take whatever creative liberties he sees fit to execute his vision, so if you're looking toward the filmography of the man who turned Mercutio into a show-stopping drag queen (and the best damn character in the play) in "Romeo + Juliet" for textually authentic adaptations, you might want to look elsewhere. However, it is that very same anachronistic approach to storytelling that makes his films so special.
In 2001, Baz Luhrmann reinvented the movie musical with the romantic and electric jukebox musical "Moulin Rouge!" Ewan McGregor and Nicole Kidman star in his end of the "Red Curtain Trilogy," (including "Strictly Ballroom" and "Romeo + Juliet") as two star-crossed lovers in 1900s Paris caught in a whirlwind of "spectacular, spectacular" drama, love, glamour, theatre, and *checks notes* ah yes, a fatal diagnosis of tuberculosis in and around the famous Moulin Rouge performance space. Kidman and McGregor blew audiences away with their love story, with Kidman even nabbing a Best Actress nomination at the Academy Awards for her performance as Satine, but had Luhrmann gone in a younger direction with the casting of McGregor's Christian, the tale of "Moulin Rouge!" would have been very different.
Christian was almost played by Mr. Music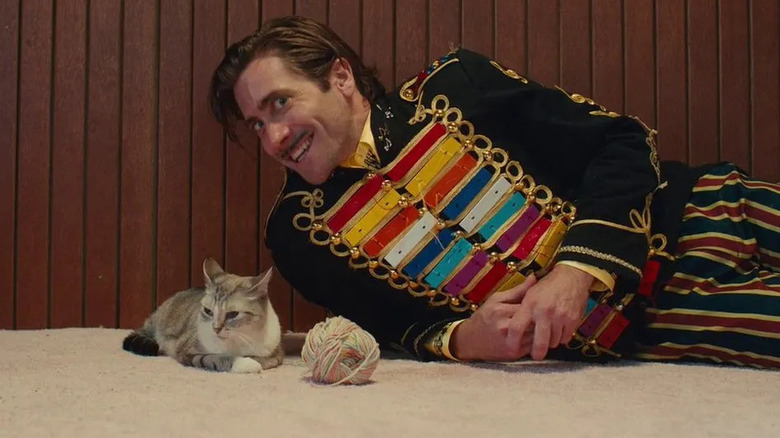 Netflix
Few realized McGregor could sing his face off before "Moulin Rouge!," due in large part to his reputation for starring in "capital-D Drama" films, period pieces, the fact the general public hadn't seen his killer performance in "Velvet Goldmine," and a little role called Obi-Wan Kenobi. McGregor made for a perfect Christian, but he wasn't the only option at the time. Leonardo DiCaprio was considered for the role after playing Romeo in Luhrmann's "Romeo + Juliet," but two other actors who were a bit on the younger side at the time blew Luhrmann away.
In an interview with the Happy Sad Confused podcast, Luhrmann revealed that both Jake Gyllenhaal and Heath Ledger both delivered impressive video auditions for the role. "I think about Jake Gyllenhaal, for example, who was very close, very young for the role, but he can really sing," Luhrmann said. "He's a really great musical artist." 
Gyllenhaal was barely out of his teen years when he auditioned, and had not yet become the megastar he is today. His breakthrough performance in "Donnie Darko" would be released the same year as "Moulin Rouge!" Another actor around the same time, Heath Ledger, had also given an impressive audition. Ledger was at the time a hot, young, star on the rise, having wooed audiences with his role in "10 Things I Hate About You" in 1999. He may have missed out on "Moulin Rouge!" but he did star in "A Knight's Tale" the same year, which helped solidify his place as a millennial heartthrob.