How Baz Luhrmann Reinvented The Musical With Moulin Rouge!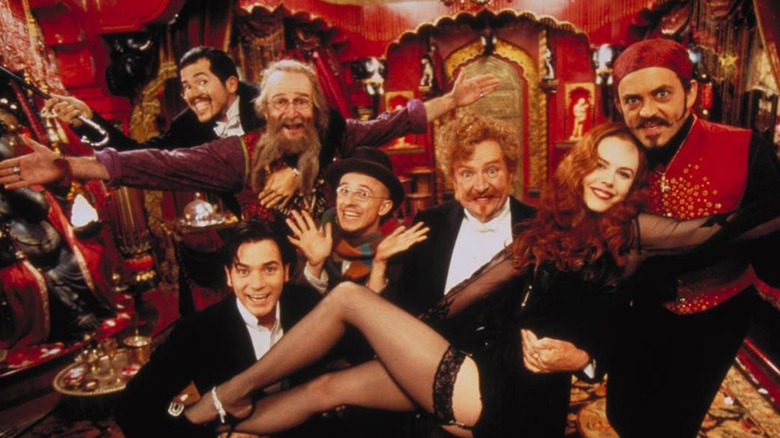 20th Century Studios
If you read the reviews for "Elvis," the long-awaited biopic of the king of rock and roll starring Austin Butler and Tom Hanks, you'll see a lot of the same descriptions from critics who loved the movie as well as those who hated it: it's messy, bombastic, vibrant to the point of retina-searing, often anachronistic in ways that confuse and/or delight, camp, and sort-of ridiculous. All in all, it's basically a Baz Luhrmann movie.
The Australian director has made his name with his overstuffed brand of technicolor melodrama that combines '90s MTV, golden age Hollywood musicals, 19th-century opera, and the end results of an exceedingly full-on drug trip. He exploded onto the scene, and helped to usher in a new era of Australian cinema, with "Strictly Ballroom," a romantic comedy set in the high-low-stakes world of ballroom dancing where everyone treats the cha-cha like a life-or-death situation. Luhrmann followed that up with "William Shakespeare's Romeo + Juliet," the epitome of the decade's revival of the Bard as an achingly cool modern-day storyteller. An entire generation of kids discovered the most famous romantic tragedy in the English language through this dizzying adaptation that blew the dust off those high school textbooks. The success of that movie allowed Luhrmann to do whatever he wanted with his next film, and he chose to make a musical, one that would reinvent the genre for the 21st century.
Moulin Rouge! became a surprise hit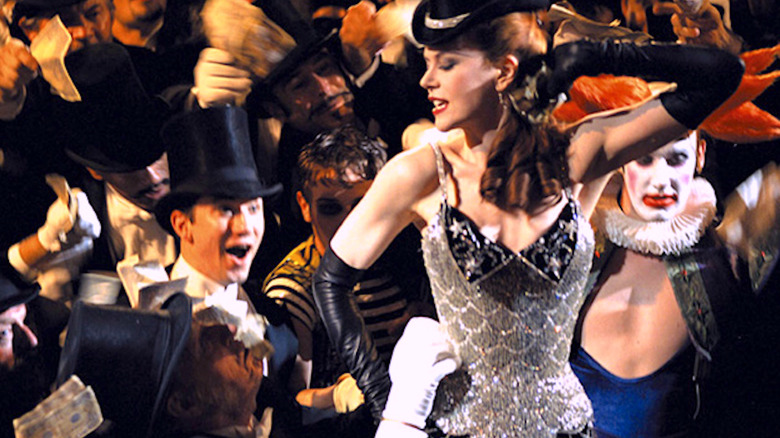 20th Century Studios
Nobody expected "Moulin Rouge!" to be the mega-hit it became. Musicals were a dying breed at the time in American cinema, seldom seen on the big screen except for Disney films. A live-action musical hadn't been nominated for the Best Picture Oscar since "All That Jazz" in 1980. There was a general sense that musicals were old-fashioned, the stuff of kids' movies or your grandmother's video collection. Indeed, when it came time for Luhrmann to plan his musical, he didn't turn to the American cinema of the era for inspiration. He borrowed elements from the Puccini opera "La bohème," a production of which he directed at the Sydney Opera House in 1993, and Bollywood cinema. He wanted to make something that would "get past that cerebral cool and perceived cool" he felt had overwhelmed English language films. Luhrmann was utterly disinterested in the '90s Gen-X default of postmodern irony, and he wanted to make something that demanded its audience be wholly sincere about what they were seeing. This is a filmmaker who has never had much time for snark. What's wrong with allowing yourself to be fully overwhelmed by emotion?
"Overwhelming" is a great word to describe Luhrmann's intentions and what he achieved with "Moulin Rouge!" Everything is Too Much in the best way possible, including the exclamation point in the title. This tale of the poor writer Christian (Ewan McGregor) and the doomed courtesan Satine (Nicole Kidman) whose love inspires art, fury, and determination, turns up every visual and thematic aspect to 11. The colors are glaringly sharp. The editing is frenetic. McGregor and Kidman's performances are straight out of an opera (or maybe a soap opera). Richard Roxburgh's villainous duke wouldn't be out of place in a Bond movie, while Jim Broadbent's Harold Zidler often seems on the verge of a hernia with his immense presence. And then there are the songs. This is a jukebox musical mash-up frenzy that blends together some of the most iconic songs of the prior five decades. Kidman sings Marilyn Monroe's "Diamonds Are a Girl's Best Friend" while the Moulin Rouge dancers take to the floor accompanied by Patti LaBelle and Nirvana. Christian's ultimate declaration of love features KISS, Phil Collins, U2, and Whitney Houston. Not a single musical number could be described as low-key, even the ballads. That would defeat the purpose.
Why Moulin Rouge! succeeds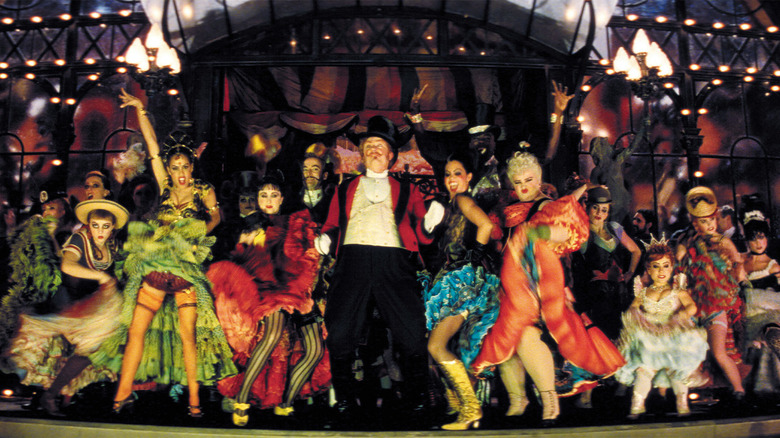 20th Century Studios
Luhrmann's films succeed when he is allowed to reject the real while maintaining a firm grip on the emotional center of his story. The plots might be ludicrous but the emotions, as enlarged as he presents them, are still potent and familiar. Everyone's had that moment where they've felt like their joy or anger or sadness could smother them, that sensation of feeling like you've experienced every feeling you'll ever have. Luhrmann captures that intensity, taking it seriously while being willing to reveal its silliness. It's an approach that takes more from the past than the cultural present, and it wields the tools of cinema for maximum effect. Luhrmann took advantage of the kind of technical magic one can only do with film, allowing for quick cuts, songs that cut between various lavish set-pieces, and cinematographic flourishes lifted from silent cinema and music videos.
"Moulin Rouge!" grossed $179.2 million on a $50 million budget. It received eight Oscar nominations, including one for Best Picture. It busted open the doors for the return of the cinematic musical. The next year, Best Picture would go to a musical, "Chicago," for the first time since 1969, and they had Luhrmann to thank for it. Soon, the major studios were leaping at the chance to jump on this new bandwagon. The results, however, were mixed. Rather than investing in new musicals or focusing on that intrinsically cinematic style, producers optioned stage hits and struggled to recapture the magic. "Rent" sapped its source material of all edge. "The Producers" felt as though the director plopped a static camera on stage and then left the cast to bellow through their songs. The long-awaited adaptation of "The Phantom of the Opera" proved to be hugely disappointing. But there were exceptions, like Julie Taymor's psychedelic Beatles musical "Across the Universe" and Tim Burton's Hammer-esque take on "Sweeney Todd: The Demon Barber of Fleet Street."
But the influence of "Moulin Rouge!" lingered elsewhere. You can see the fingerprints of Luhrmann all over shows like "Riverdale," movies like "Birds of Prey," and figures like Lin-Manuel Miranda. The West End and Broadway stages soon became saturated with jukebox musicals, including one of "Moulin Rouge!" that went on to win the Tony for Best Musical. The past two decades of musicals have been trying to chase the critical and commercial high of "Moulin Rouge!", but few have succeeded. Even Luhrmann has struggled to recapture the magic, as evidenced by his misguided take on "The Great Gatsby," complete with Jay-Z and Lana del Rey songs.
Luhrmann is a storyteller who believes in love and that it should be given the biggest and most adorned (and expensive) canvas possible. Doubters need not apply. His approach is an increasing rarity at a time when the mid-budget non-IP movie is disappearing. There's a time and a place for cynicism but not in Luhrmann's landscape, and that can't help but feel reviving in our current era. Sometimes, we just need to let the music take us away from everything, and Luhrmann is here to provide that journey.