'Moulin Rouge!' Is The Next Movie Musical Getting A Stage Adaptation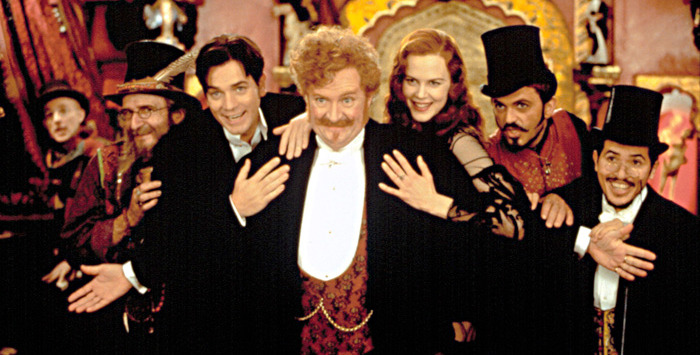 Hot on the heels of news that Tim Burton's horror comedy Beetlejuice would be turned into a Broadway musical, another major motion picture will be getting the stage treatment. However, unlike Beetlejuice and many other movies to be turned into musicals in recent years, this particular Best Picture nominated film was a musical to begin with.
Moulin Rouge! is Baz Luhrmann's magnificent musical that blends original music with an eclectic mix of chart-topping pop and rock tues repurposed for a vibrant, wild, Bohemian romance. It's easily one of the best musicals to grace the big screen in the 21st century, and now it's heading to the stage.Variety reports Moulin Rouge! is getting a stage adaptation by Global Creatures, and they've hired Skyfall writer John Logan to write the book while Alex Timbers, who is also working on the Beetlejuice musical, is supposed to be on board to direct. This won't be the first time the company has taken on Baz Luhrmann's work as they previously adapted Strictly Ballroom into a stage production. However, Moulin Rouge! is a much more grandiose and stylized film that Luhrmann's earlier film.
If you've never seen Moulin Rouge!, the story is set in the Montmartre Quarter of Paris, France in the year 1900. Ewan McGregor plays a penniless writer who is recruited to develop a play for the titular theater and ends up falling in love with the show's star (Nicole Kidman), who also happens to be a courtesan whose hand has been promised to the play's financier. In a great bit of meta storytelling, the play they're working on tells a similar story as the romance that unfolds in the movie.
Part of what makes Moulin Rouge! a great movie musical is the frenetic energy with which it's pieced together. That's something that might be hard to replicate in the form of a stage musical, but the soundtrack should help with that. After all, there are few musicals that feature the tunes of David Bowie, Nirvana, Elton John, Christina Aguilera, Madonna, Beck, Fatboy Slim and even The Sound of Music on their soundtracks. Plus, there will likely be more musical numbers added to the mix, perhaps even incorporating some music released in the years since the film hit theaters in 2002. Here's a prime example:
Not all movies translate well into musicals, and sometimes even movie musicals have a hard time transferring to the stage. At the very least, I'm interested to see what Alex Timbers can do by creating this Moulin Rouge stage musical. Unfortunately, as someone who lives in the Midwest, unless it gets big enough to have a touring company take it around the country, I probably won't ever get to see it. But at least I can rewatch the movie.