Matt Damon Didn't Need To Act For The Martian's Emotional Climax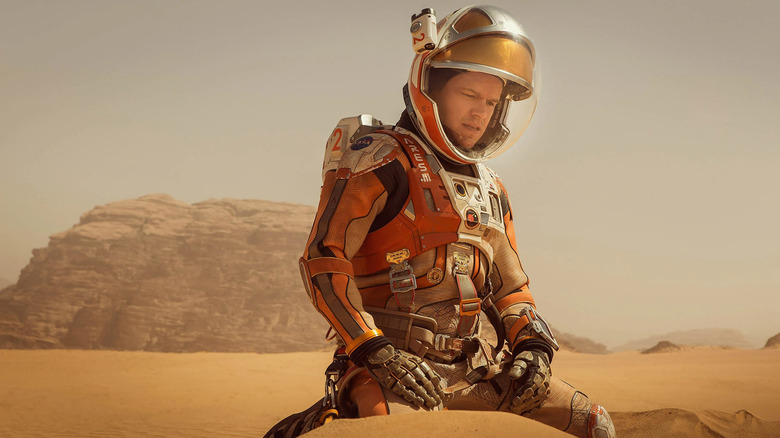 20th Century Fox
"The Martian" might be best known as a sci-fi film, but at its core, it's an exploration of loneliness and the will to live. The 2015 Ridley Scott film is based on the novel of the same name by Andy Weir and stars Matt Damon as Mark Watney, a scientist mistakenly left on Mars during a 2035 mission. Weir is a former computer programmer who dug deep into the science behind Watney's survival on the Red Planet when writing the novel, which he originally self-published online.
Weir's book was meticulous in its accuracy. The Wall Street Journal described "The Martian" novel as "a detailed survival manual, with heavy doses of brain-cramping physics and chemistry" as the film's protagonist attempts to "work the problem" to stay alive. But the novel also provided an opportunity for plenty of emotional moments amid the intense focus on science.
That was the challenge for Scott, who had to find a balance between science and emotion to connect viewers to the Mark Watney character. Matt Damon's everyman appeal helped the cause, but Scott found a unique way to enhance the film's most emotional, climactic moment.
Damon's experience mimicked his character's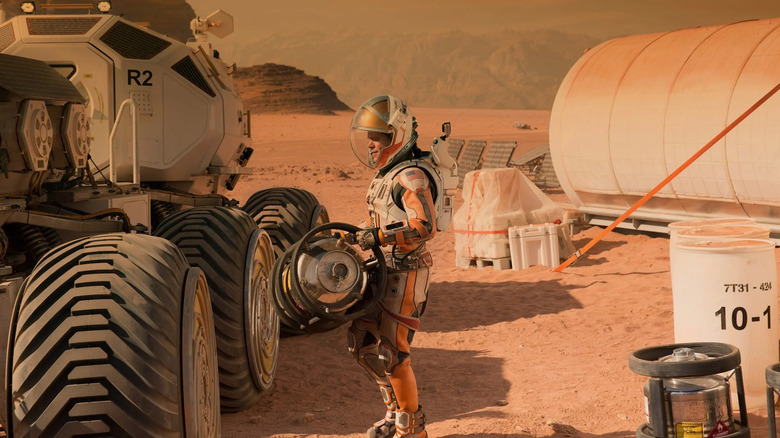 20th Century Fox
In "The Martian," Watney spends a month with five of his fellow Ares III crewmates before being left behind, presumed dead, on an uninhabitable planet. According to Architectural Digest, the production for the Mars scenes and the artificial habitat, known as "The Hab," took place on one of the world's biggest soundstages in Budapest, Hungary, and in the deserts of Wadi Rum, Jordan. The film's production designer, Arthur Max, said:
"For reasons of authenticity, I showed everybody some [Mars rover] Curiosity photos of actual Mars landscapes and some location pictures I'd taken in Wadi Rum and said, 'Can you tell me which one is Mars?' And no one was able to tell the difference."
And although "The Martian" boasts an impressive supporting cast that includes Jessica Chastain and Jeff Daniels, the film is effectively a one-man show centering on Damon. The majority of the movie is Damon alone on Mars; his character is stranded there for nearly 600 days, trying to survive and find a way back to Earth. Once Damon's cast mates were done with production, which took about a week, they left "Mars" to return home. That meant Damon had seven weeks of solitary production time in a place meant to look and feel like the surface of Mars.
That is, until Scott intervened and found a way to make the film's final moments even more emotional for Damon.
Scott surprised Damon with an unexpected return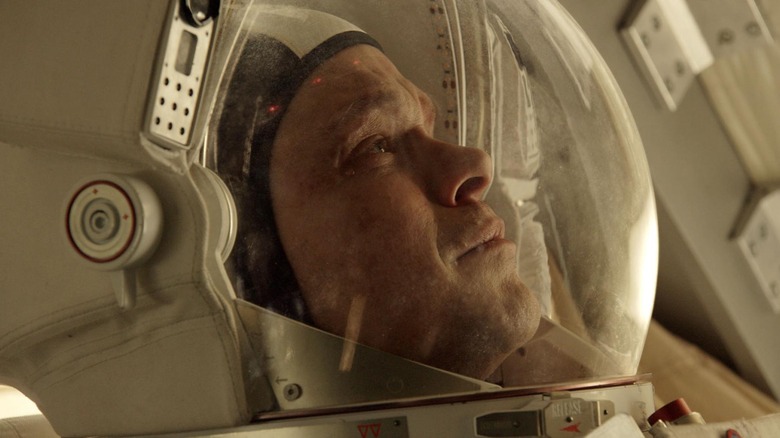 20th Century Fox
The irony for a movie described as a "survival manual" for enduring Mars is that the by-the-book Mark Watney is forced to throw caution to the wind and make a three-month trek across the barren planet to the Ares IV spacecraft, his only means of rescue. For that, Ridley Scott had something special planned. When Watney finally arrives at the Ares IV ship and makes contact with his former crew mates, Scott wanted Damon to feel the same sense of relief.
According to the L.A. Times, Scott played the voices of Damon's co-stars in the actor's helmet while filming the scene. It was something Damon wasn't expecting because his fellow actors had all previously returned to the U.S., having long wrapped on production. Damon said:
"There's a scene where I finally crack, and that really happened. I was going to do my side of the dialogue and suddenly in my ear, I heard their voices. And it kind of struck me in this moment that it didn't matter if [Watney] survived. That I had human contact again. It was this real thing that happened, and it was completely engineered by Ridley."
It was one of Scott's many directing tricks that Damon got to see firsthand, which is one of the main reasons he took the role. "The Martian" was nominated for seven Academy Awards, including Best Picture and Best Performance by an Actor in a Leading Role by Damon. It is /Film's top ranked Ridley Scott sci-fi film. "The Martian" was also a box office smash, grossing more than $630 million worldwide, according to Box Office Mojo. For a story that began as a self-published novel, that's a performance that is downright out of this world.